We're joined this week by Stacy of Urban Fantasy Investigations, helping us deconstruct the lighting, framing, and paranormal elements that make for a appealing Urban Fantasy cover.  Enjoy!
 If you're a blogger interested in joining in on the commenting fun, fill out our Guest Commentator form here!
Unforgotten (Unremembered #2) by Jessica Brody
Expected publication: February 25th 2014 by Farrar, Straus and Giroux (BYR)
Source: Bewitched Bookworms
Covers in Series
Some memories are better left forgotten… 
After a daring escape from the scientists at Diotech who created her, Seraphina believes she is finally safe from the horrors of her past. But new threats await Sera and her boyfriend, Zen, at every turn as Zen falls prey to a mysterious illness and Sera's extraordinary abilities make it more and more difficult to stay hidden. Meanwhile, Diotech has developed a dangerous new weapon designed to apprehend her. A weapon that even Sera will be powerless to stop. Her only hope of saving Zen's life and defeating the company that made her is a secret buried deep within her mind. A secret that Diotech will kill to protect. And it won't stay forgotten for long.
Packed with mystery, suspense, and romance, this riveting second installment of Jessica Brody's Unremembered trilogy delivers more heart-pounding action as loyalties are tested, love becomes a weapon, and no one's memories are safe.
No Author Comment Available.
Abigail Says 
Two seconds after looking at this I forgot what it looked like. The wash, the closeup, the flare. It's all too much without anything distinct enough to grab me. 
Stacy Says 
It definitely catches the eye, but it's because it makes my eyes bug out looking at it. A little less red maybe? 
Kristina Says 
The lens flare is bugging me. Other than that it is kind of 'meh' and doesn't really reflect any of the sci-fi elements in the description.
The Offering (The Pledge #2) by Kimberly Derting
Expected publication: January 7th 2014 by Margaret K. McElderry (Simon & Schuster)
Source: Author's Blog
Covers in Series
True love—and world war—is at stake in the conclusion to The Pledge trilogy, a dark and romantic blend of dystopia and fantasy.
Charlie, otherwise known as Queen Charlaina of Ludania, has become comfortable as a leader and a ruler. She's done admirable work to restore Ludania's broken communications systems with other Queendoms, and she's mastered the art of ignoring Sabara, the evil former queen whose Essence is alive within Charlie. Or so she thinks.
When the negotiation of a peace agreement with the Queendom of Astonia goes awry, Charlie receives a brutal message that threatens Ludania, and it seems her only option is to sacrifice herself in exchange for Ludanian freedom.
But things aren't always as they seem. Charlie is walking into a trap—one set by Sabara, who is determined to reclaim the Queendoms at any cost.
"Isn't it gorgeous? I mean…look at the blue? And the glow? And Charlie…???" – Kimberly Derting
Abigail Says 
Best of the series. Her expression is that lovely mix of desperation and vulnerability and I do love the blue. 
Stacy Says 
Oh I like! It fits the design of the past 2 books but also brings something new. 
Kristina Says 
Ditto on the liking this very much. I am usually not a fan of the hair in the face covers but this one is working especially with her expression. And the color/lighting is amazing.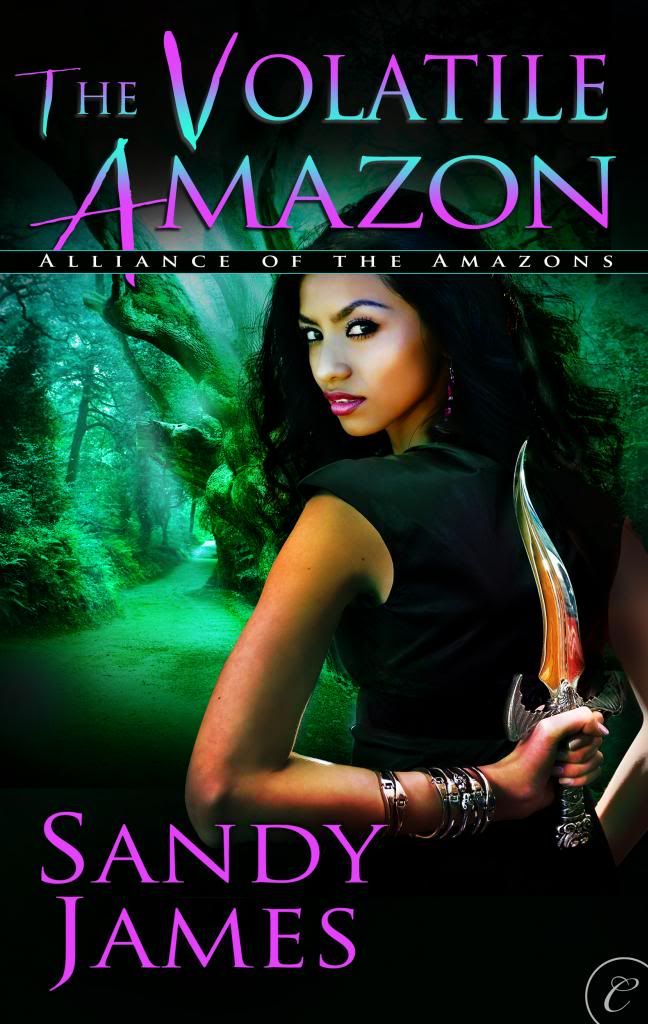 Expected publication: September 30th 2013 by Carina Press
Source: Author's Blog
Covers in Series
Sarita Neeraj has never felt like a real Amazon. Compared to the obvious strengths of her sisters, her Water powers seem small as her stature. She's determined to prove herself—unfortunately, all that gets her is captured by an enemy.
Ian serves a twisted goddess, preferring this to an empty afterlife. He's taken Sarita hostage to coax the other Amazons from their safe haven. But in his ancient Scottish castle, the passion and love Ian finds for Sarita resurrect his honor, until he chafes at the dark will of his mistress.
Sarita has finally found happiness—but before she can enjoy it, she's "rescued" by her furious sisters. To save Ian from destruction at the hands of the Amazons, Sarita must risk wielding magick that could change her very nature. Only then can she prove the Water Amazon is the strongest of the four—and save them all from destruction.
Meet Earth, Fire, and Air in The Reluctant Amazon, The Impetuous Amazon, and The Brazen Amazon.
No Author Comment Available.
Abigail Says 
That may be the best book dagger of all time. I still wish over all that this series toned down the neon colors a bit, but this is still good. 
Stacy Says 
I agree with Kristina, the dagger is a nice touch. To me it kinda looks like she was just plopped on the background as a last thought. I don't think that her and the background blend together much. 
Kristina Says 
Very classic UF cover and I am a sucker for a shiny ornate dagger. Although it may be just me or the way she is standing but it looks like her is backwards or something…
Fates (Fates #1) by Lanie Bross
Expected publication: February 11th 2014 by Delacorte Books for Young Readers
Source: Goodreads
Covers in Series
N/A
What if your destiny was to kill the one you love?
One moment. One foolish desire. One mistake. And Corinthe lost everything.
She fell from her tranquil life in Pyralis Terra and found herself exiled to the human world. Her punishment? To make sure people's fates unfold according to plan. Now, years later, Corinthe has one last assignment: kill Lucas Kaller. His death will be her ticket home.
But for the first time, Corinthe feels a tingle of doubt. It begins as a lump in her throat, then grows toward her heart, and suddenly she feels like she's falling all over again—this time for a boy she knows she can never have. Because it is written: one of them must live, and one of them must die.
In a universe where every moment, every second, every fate has already been decided, where does love fit in?
No Author Comment Available.
Abigail Says 
I love the softness of the colors and the whole setting with the waterfall. Totally draws me in. 
Stacy Says 
This is pretty to look at. I would pick this book up to see what it was about. 
Kristina Says 
That waterfall is so pretty and I like the soft colors.
Hexed (The Witch Hunter #1) by Michelle Krys
Expected publication: June 10th 2014 by Delacorte Press/Random House Children's Books
Source: YA Book Central
Covers in Series
N/A
If high school is all about social status, Indigo Blackwood has it made. Sure, her quirky mom owns an occult shop, and a nerd just won't stop trying to be her friend, but Indie is a popular cheerleader with a football-star boyfriend and a social circle powerful enough to ruin everyone at school. Who wouldn't want to be her?
Then a guy dies right before her eyes. And the dusty old family Bible her mom is freakishly possessive of is stolen. But it's when a frustratingly sexy stranger named Bishop enters Indie's world that she learns her destiny involves a lot more than pom-poms and parties. If she doesn't get the Bible back, every witch on the planet will die. And that's seriously bad news for Indie, because according to Bishop, she's a witch too.
Suddenly forced into a centuries-old war between witches and sorcerers, Indie's about to uncover the many dark truths about her life—and a future unlike any she ever imagined on top of the cheer pyramid.
No Author Comment Available.
Abigail Says 
Love how the 'X' of the title is wrapping around her 
Stacy Says 
She looks mysterious. I also like the way the X is, it looks magical. 
Kristina Says 
She has hair that I would love to have! The glow on her hair is awesome. Aside from my obsession with her hair I like the little swish on the X.
Gretel and the Dark by Eliza Granville
Expected publication: February 6th 2014 by Penguin Books UK
Source: Goodreads
Covers in Series
N/A
Gretel and the Dark is Eliza Granville's dazzling novel of darkness, evil – and hope.Vienna, 1899.
Josef Breuer – celebrated psychoanalyst – is about to encounter his strangest case yet. Found by the lunatic asylum, thin, head shaved, she claims to have no name, no feelings – to be, in fact, not even human. Intrigued, Breuer determines to fathom the roots of her disturbance.
Years later, in Germany, we meet Krysta. Krysta's Papa is busy working in the infirmary with the 'animal people', so little Krysta plays alone, lost in the stories of Hansel and Gretel, the Pied Piper, and more. And when everything changes and the real world around her becomes as frightening as any fairy tale, Krysta finds that her imagination holds powers beyond what she could have ever guessed . . .
Eliza Granville was born in Worcestershire and currently lives in Bath. She has had a life-long fascination with the enduring quality of fairytales and their symbolism, and the idea for Gretel and the Dark was sparked when she became interested in the emphasis placed on these stories during the Third Reich. Gretel and the Dark is her first novel to be published by a major publisher.
No Author Comment Available.
Abigail Says 
The only thing that captures my attention here the the title. Everything else is excruciatingly plain and lackluster. 
Stacy Says 
Nothing really sticks out in this one. It feels plain. 
Kristina Says 
Needs something more…
Expected publication: February 4th 2014 by Feiwel and Friends
Source: Goodreads
Covers in Series
Rapunzel's tower is a satellite. She can't let down her hair – or her guard.
In this third book in the bestselling Lunar Chronicles series, Cinder and Captain Thorne are fugitives on the run, with Scarlet and Wolf in tow. Together, they're plotting to overthrow Queen Levana and her army.
Their best hope lies with Cress, who has been trapped on a satellite since childhood with only her netscreens as company. All that screen time has made Cress an excellent hacker – unfortunately, she's just received orders from Levana to track down Cinder and her handsome accomplice.
When a daring rescue goes awry, the group is separated. Cress finally has her freedom, but it comes at a high price. Meanwhile, Queen Levana will let nothing stop her marriage to Emperor Kai. Cress, Scarlet, and Cinder may not have signed up to save the world, but they may be the only ones who can.
No Author Comment Available.
Abigail Says 
Still can't top CINDER, but miles better than SCARLET. The purple is a perfect contrast to the red ribbon. 
Stacy Says 
Rapunzel is here. I like it, it tells you what the book is about without getting too technical. It fits with the other books in the series. 
Kristina Says 
I love Rapunzel's hair! The red ribbon and blue go well together. It ties in well with the other books in the series.
Silence for the Dead by Simone St. James
Expected publication: April 1st 2014 by NAL
Source: Author's Website
Covers in Series
N/A
"Portis House emerged from the fog as we approached, showing itself slowly as a long, low shadow…."
In 1919, Kitty Weekes, pretty, resourceful, and on the run, falsifies her background to obtain a nursing position at Portis House, a remote hospital for soldiers left shell-shocked by the horrors of the Great War. Hiding the shame of their mental instability in what was once a magnificent private estate, the patients suffer from nervous attacks and tormenting dreams. But something more is going on at Portis House—its plaster is crumbling, its plumbing makes eerie noises, and strange breaths of cold waft through the empty rooms. It's known that the former occupants left abruptly, but where did they go? And why do the patients all seem to share the same nightmare, one so horrific that they dare not speak of it?
Kitty finds a dangerous ally in Jack Yates, an inmate who may be a war hero, a madman… or maybe both. But even as Kitty and Jack create a secret, intimate alliance to uncover the truth, disturbing revelations suggest the presence of powerful spectral forces. And when a medical catastrophe leaves them even more isolated, they must battle the menace on their own, caught in the heart of a mystery that could destroy them both.
No Author Comment Available.
Abigail Says 
Another completely generic cover. This one is made worse for it's lack of genre indicators. Is it contemporary women's fiction? a cozy mystery? Not getting ghosts from this at all. 
Stacy Says 
Looks washed out and boring. Was this made decades ago? Looks it. 
Kristina Says 
Boring. It could be any genre.
Expected publication: March 11th 2014 by Titan Books
Source: Amazon
Covers in Series
No Description Available.
No Author Comment Available.
Abigail Says 
Great smirk from him and I love the aged look, but the girls both look a little uncomfortable 
Stacy Says 
The cover makes me think the story will take place in the old wild west. Ehh, doesnt really catch my attention, I would walk right by it without giving it a second glance. 
Kristina Says 
Very steampunk-y although I would like a better look at that machine in the back.
Dreams of the Golden Age (Golden Age #2) by Carrie Vaughn
Expected publication: January 7th 2014 by Tor Books
Source: Goodreads
Covers in Series
No Description Available.
No Author Comment Available.
Abigail Says 
No! The debut had a fantastic cover…what is this? Where is the 'golden age' super hero? So disappointing. 
Stacy Says 
This is really dark. Took me a second to realize she was sitting on a roof of some sort. It could be worse and I have not read this series, but I dont think its horrible. 
Kristina Says 
Not as good as the first books. Is this supposed to be a 'hero stands on a dark ledge over looking his/her domain' and broods" thing? If it is then the brooding is not being done right on this cover. She needs a cape/overcoat to swish in the wind as she ponders the responsibilities given to her as she looks over a darkened city. Okay I haven't read the first book and don't know what happened in it but still…brood better, woman!
Code Zero (Joe Ledger #6) by Jonathan Maberry
Expected publication: March 2014 by St. Martin's Griffin
Source: Goodreads
Covers in Series
"It'll be a direct sequel to Patient Zero."
"The book wil be #6, and will take place after Extinction Machine, but Joe goes hunting for a terrorist who has stolen some of the deadliest weapons from the DMS…including the Seif al Din pathogen." –J.Maberry @ Facebook
"CODE Z (just sold, not yet written) will be the 6th Joe Ledger book. Storyline picks up the ‪#zombie‬ plague from Patient Zero" – J.Maberry @ Twitter
No Author Comment Available.
Abigail Says 
Gross and pretty at the same time. That may be a first for me. 
Stacy Says 
This one just isn't working for me. I am especially grossed out by the finger in the cut action. ick 
Kristina Says 
The fingers cutting the wrists are grossing me out. I couldn't even look at the cover that long.
Independent Study (The Testing #2) by Joelle Charbonneau
Expected publication: January 7th 2014 by HMH Books for Young Readers
Source: Goodreads
Covers in Series
In the series debut The Testing, sixteen-year-old Cia Vale was chosen by the United Commonwealth government as one of the best and brightest graduates of all the colonies . . . a promising leader in the effort to revitalize postwar civilization. In Independent Study, Cia is a freshman at the University in Tosu City with her hometown sweetheart, Tomas—and though the government has tried to erase her memory of the brutal horrors of The Testing, Cia remembers. Her attempts to expose the ugly truth behind the government's murderous programs put her—and her loved ones—in a world of danger. But the future of the Commonwealth depends on her.
No Author Comment Available.
Abigail Says 
I get a strong Divergent series vibe from these covers, but they aren't as exciting. 
Stacy Says 
Abigail hit the nail on the head. Divergent was the same exact thought I had when I saw this. This cover does not excite me though. 
Kristina Says 
It looks clean and simple but its reminding me of some economics or math textbook from college and I didn't like that math class.
Expected publication: March 11th 2014 by RandomHouse
Source: Goodreads
Covers in Series
Jane Nickerson's second novel, also set in the "Strands" world, is based on the Scottish 'Ballad of Tam Lin,' and is set in Mississippi during the Civil War. Violet Dancey, a 17-year-old whose father has left to fight in the Civil War, is forced to confront Thomas, a hurt Union solider near her home. She must decide how to approach the enemy–and how to deal with her growing attraction to him.
No Author Comment Available.
Abigail Says 
I like the forlorn feeling, but It's not memorable. 
Stacy Says 
Spooky and dark come to mind. Not bad, but not fantastic either. 
Kristina Says 
I like the dark enchanted forest look and that glow of light around the girl is really cool looking.
Expected publication: April 1st 2014 by Entangled: Teen
Source: Goodreads
Covers in Series
Heartbroken but more determined than ever after a tense showdown in the woods, sixteen-year-old Tess once again returns to the safety of her community of Isolationists. Bolstered by new alliances and desperate to protect those she loves, this time she knows she can return stronger and more powerful than ever to take back what is hers.
As she trains in combat and grows more confident, Tess receives beautiful letters penned by her forbidden love, the chosen one James, from his prison in Templeton. He is now serving as a bodyguard to the creators—the team of scientists who created artificial life in the first place. And what he has discovered about the true origin of the illness that halted natural life could change everything.
Enemy will become ally and death will bring new hope in this stunning conclusion to Tiffany Truitt's epic Lost Souls trilogy.
No Author Comment Available.
Abigail Says 
Very pretty and enticing with the various floral motifs in her shirt, font, and growing out of the parched earth. 
Stacy Says 
The model looks so elegant against the decrepit background. 
Kristina Says 
I love the sleeve pattern and it is a very pretty cover in general.
Til Death (Fractured Souls Series) by Kate Evangelista
Expected publication: March 4th 2014 by Entangled: Teen
Source: Goodreads
Covers in Series
N/A
Sixteen-year old Selena Fallon is a dreamer.
Not a day-dreamer, but an I-see-the-future kind of dreamer. Normally this is not a problem as she has gotten pretty good at keeping her weird card hidden from everyone in her small town. Except from her best friend Kyle and her grandparents, of course. But when Selena dreams of her own rather bloody death, things get a little too freaky even for her.
Enter Dillan Sloan. Selena has seen the new guy in a different dream, and he is even more droolworthy in person. Beyond the peircing blue eyes and tossled dark hair, there is something else that draws her to him. Something…electric. Unfortunately, Dillan makes it more than clear that he does not feel the same. They just met, so why would he act like he hates her?When Dillan and Selena are forced together one weekend to work on a school project, Selena prepares to be ignored as usual. But when she stumbles across a few undead in the backyard, Dillan comes to her rescue and reveals a whole lot more.
Not only is he part of a society that hunts otherworldly creatures…she is too. And she is being targeted by a force bigger and darker than anything she ever imagined. Despite her death dream, Selena is not going to give up easy, especially when she discovers that Dillan might not actually hate her after all.
No Author Comment Available.
Abigail Says 
I'm rolling my eyes at the cutesy tagline, but the spectacular blood spray is drawing me in. 
Stacy Says 
Interesting and eye drawing. You have to really look at it to notice that its blood spray but I imagine that is the point. 
Kristina Says 
Wow. I really did not see the blood spray. It looks so naturally part of the grass…I like how the grass and blood match well with the colors on the dress.

And our picks for Best & Worst covers of the week…
Best
Worst
What are your picks for Best and Worst covers? See even more covers on ATUF's Pinterest boards.

---
Have a cover we should include in an upcoming post? Fill out our Cover Submit form