Today's Deadly Destination is from Diana Rowland's Angel Crawford on St. Edwards Parish, Louisiana from WHITE TRASH ZOMBIE APOCALYPSE (published on July 2, 2013 by DAW). Want to win a copy? Enter via the widget below.
Diana Rowland's Angel Crawford on St. Edwards Parish, Louisiana from White Trash Zombie Apocalypse
My name's Angel Crawford, and I hear you're planning a trip to St. Edwards Parish. I'm not sure why the hell you're stopping here, but hey, whatever floats your boat!
We're located in the heartland of southeast Louisiana, and boast beautiful scenery, excellent hunting and fishing, idyllic back woods living, and—for those who crave it—some of the best-tasting brains this side of the Mississippi!
Yes, we have a pretty decent zombie population in these parts, mainly due to Pietro taking care of a bunch of us. But we're pretty well fed, for the most part, so you non-zoms don't need to worry…much.
For the zombies among you, there are a few zombie-friendly places in the area that have a secret menu. If you go to MiraLou's Chow Hut, be sure to ask for the Sesame Chicken with "extra anchovies." They'll know you want the brains and garlic dressing! And at Sam's Smoothie Station, asking for a "megadeath" shake will get you a cup of brains blended in with banana, blueberry, and chocolate. Yum! But watch out for the sleazy zombie pickup artist who comes on to you at Merle's Bar with the line, "Hey, baby, I have some awesome pudding at my place." Unless you're in the market for a little lewd lovin', tell that undead dude to take a hike!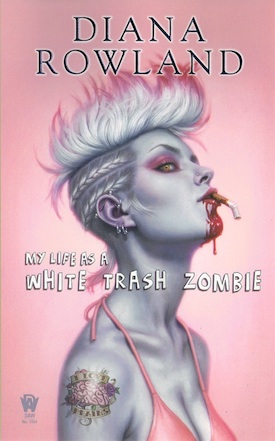 Now, that said, if you're not of the zombie persuasion, there are a few things you might want to watch out for in these parts. Is your smoothie lumpy? That may not be fruit in there, and you might want to ask Sam to make you a new one. Is the smelly guy in line at the bait shop sniffing at the back of your skull? That stench probably isn't the shrimp. You'd best get the heck away from him. Better yet, go buy him a Sam's Smoothie Megadeath! Same goes for the lady on the bus with droopy eyes and raspy breathing. Unless she reaches for an asthma inhaler, it'd probably be a good idea to get off at the next stop.
While you're in the area, there are a couple of places that might just draw your interest. For starters, St. Edwards Parish is home to the Tucker Point High School Fighting Nutria and their state champion football team! Y'all be sure to check out their brand new multi-million dollar stadium, where the movie High School Zombie Apocalypse!! was recently filmed. It's sure to be a blockbuster, and you'll see plenty of local faces in the crowd scenes. Even the mayor has a bit part, though he "dies" in the first ten minutes of the movie. Those zombie cheerleaders can be vicious, I tell you.
You'd also do well to take a stroll down by the Kreeger river just south of the Saberton Industries plant. Be sure to take your camera because, if you're lucky, you might just see one of the famous six-legged bullfrogs. You'll for sure hear them with their distinct blarp-pah-TOOOO instead of a croak!
Oh yeah, one last thing. Clothes. It's mid-summer and it's hot. And humid. And there are so many mosquitos you're gonna start dreaming about vampires rather than zombies. So if you want to get an idea what it feels like before you get here, turn your shower on full hot and let it run. Go out of the bathroom and close the door. Put on whatever you're planning on wearing. Give it about five minutes then go back in the bathroom, turn the water to just the warm side of cool and step in for a count of one-one-thousand, two-one-thousand. Step right back out, shut the water off, and that's pretty much what you're going to feel like anytime you're outside. So, unless you're from these parts or that felt really good, you might just want to hole up in the hotel, enjoy the air conditioning and room service—zombies ask for the Brain Power Special—and watch High School Zombie Apocalypse!!
Diana Rowland has worked as a bartender, a blackjack dealer, a pit boss, a street cop, a detective, a computer forensics specialist, a crime scene investigator, and a morgue assistant, which means that she's seen a lot of weird crap. She won the marksmanship award in her Police Academy class, has a black belt in Hapkido, has handled numerous dead bodies in various states of decomposition, and can't rollerblade to save her life.
She presently lives in south Louisiana with her husband and her daughter where she is deeply grateful for the existence of air conditioning.
Website | Blog | Twitter | Facebook 
Two copies of White Trash Zombie Apocalypse
Available on July 2, 2013 by DAW
Description:
Our favorite white trash zombie, Angel Crawford, has enough problems of her own, what with dealing with her alcoholic, deadbeat dad, issues with her not-quite boyfriend, the zombie mafia, industrial espionage and evil corporations. Oh, and it's raining, and won't let up.
But things get even crazier when a zombie movie starts filming in town, and Angel begins to suspect that it's not just the plot of the movie that's rotten. Soon she's fighting her way through mud, blood, bullets and intrigue, even as zombies, both real and fake, prowl the streets.
Angel's been through more than her share of crap, but this time she's in way over her head. She'll need plenty of brainpower to fit all the pieces—and body parts—together in order to save herself, her town, and quite possibly the human race.
Enter the giveaway via the widget below – Open to Anywhere

Click below for more Deadly Destinations
See all the upcoming DD posts 
Enter all the previous giveaways
More DD on Dark Faerie Tales