With the introduction of two new members to the All Things Urban Fantasy group, we've had a lot of fun shuffling things around and getting Kate and Chris off to a good start.  Cover Art Coverage is such a fun feature for each of us, we wanted to include our new reviewers without wallpapering your screen with five thumbs per cover… and so The Great Cover Art Shuffle was born.  This week Abigail, Kristina, and Kate give their thoughts and preferences on everything from ominous, apocalyptic landscapes to awkward abs and Photoshop bombs, hope you enjoy!
Tied (Fire Born #1) by Laney McMann
Expected publication: September 9th 2013 by J. Taylor Publishing
Source: E-mail from Publisher
Covers in Series
N/A
Normal people don't believe their nightmares stalk them. They don't fall in love with boys who don't exist, either. Seventeen-year-old Layla Labelle, though, is far from normal. Her delusions walk the earth. Her hallucinations hunt her, and her skin heats to a burn every time her anger flares. Or is that all in her head? Layla doesn't know what to believe any more because if none of that's true, Max MacLarnon must be an illusion, and her heart must still be broken. No matter how much she wants to believe Max is real, doing so would mean everything else is, too. How, then, is that possible? The answers lie in an age-old legend the supernatural aren't prepared to reveal, and with a curse that could tear Layla and Max apart forever—if it doesn't kill them both first. In TIED, book one in the Fire Born trilogy, learning the truth will mean fighting an arsenal of demons, and being with Max will put Layla on a path toward her own destruction. Just how far will Layla go to protect the one she loves? The answer may never be far enough … away.
No Author's Comment Available.
Abigail Says 
Sort of reminds my of the HUSH HUSH cover with him falling like that. One of my favorite covers from this publisher. 
Kristina Says 
Wow that is very cool. Is he falling or being pulled up? This cover would really make me want to read the description. 
Kate Says 
This looks a little unfinished to me- but I do like the design in the flames and the gargoyle.
Sweet Legacy (Medusa Girls #3) by Tera Lynn Childs
Expected publication: September 3rd 2013
Source: Author's Blog
Covers in Series
No Description Available.
"Isn't it gorgeous? I'm so in love with it!! What are your thoughts?" – Tera Lynn Childs
Abigail Says 
The girl looks quite a bit older on this cover, and it's hard to top the perfect subtlety of the debut, but the colors compliment nicely and the font is great. 
Kristina Says 
She looks very pretty the makeup job on her does make her look older. She has a nice glow too. 
Kate Says 
It's so pretty! I really like how the colors of the shirt, title and background all go together.
Don't Look Now (PERSEFoNE #2) by Michelle Gagnon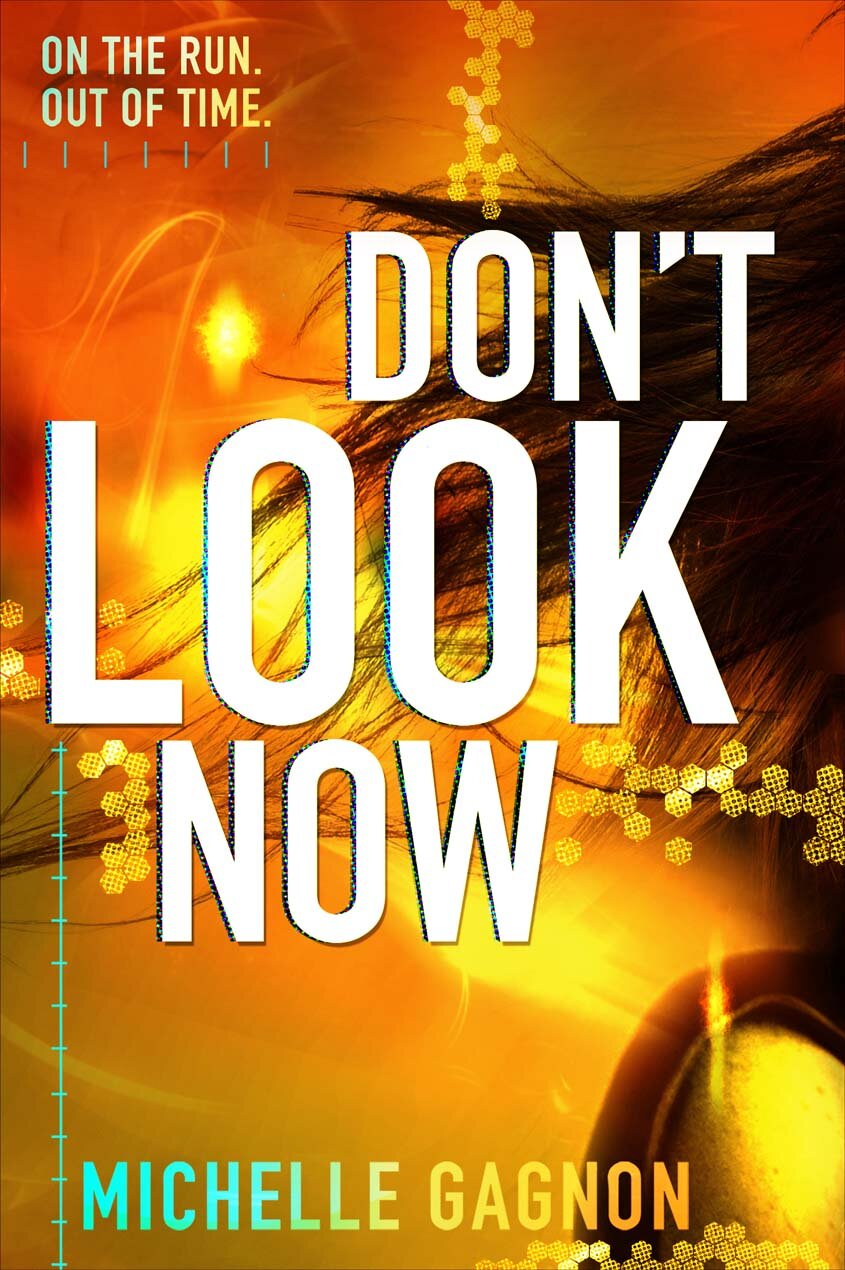 Expected publication: August 27th 2013 by Harpercollins
Source: Pitch Dark
Covers in Series
No Description Available.
No Author's Comment Available.
Abigail Says 
I don't really love covers that a primarily just font, at least when the font is this basic. 
Kristina Says 
I like the color and the small patterns and the shading of the font is cool. 
Kate Says 
I like the hair on the side, because it looks like it's moving, which goes with the tagline. And I like the color combo.
Not a Drop to Drink by Mindy McGinnis
Expected publication: September 10th 2013 by Katherine Tegen Books
Source: YA Books Central
Covers in Series
N/A
Regret was for people with nothing to defend, people who had no water.  Lynn knows every threat to her pond: drought, a snowless winter, coyotes, and, most importantly, people looking for a drink. She makes sure anyone who comes near the pond leaves thirsty, or doesn't leave at all. Confident in her own abilities, Lynn has no use for the world beyond the nearby fields and forest. Having a life means dedicating it to survival, and the constant work of gathering wood and water. Having a pond requires the fortitude to protect it, something Mother taught her well during their quiet hours on the rooftop, rifles in hand. But wisps of smoke on the horizon mean one thing: strangers. The mysterious footprints by the pond, nighttime threats, and gunshots make it all too clear Lynn has exactly what they want, and they won't stop until they get it…. With evocative, spare language and incredible drama, danger, and romance, debut author Mindy McGinnis depicts one girl's journey in a barren world not so different than our own.
No Author's Comment Available.
Abigail Says 
I like how the font is disappearing behind the landscape in places, plus the lone figure on the roof is ominous in a good way. 
Kristina Says 
This title is a lie. I see the puddle of water right there! Unless its salt water…The landscape is nicely bleak and I like the yellow/green light creeping up to or away from the dark clouds. Kind of disconcerting for the person on the roof. 
Kate Says 
This is great! I like that the title is behind and in front of parts of the image, it gives it really nice depth.
Descendant (Starling #2) by Lesley Livingston
Expected publication: August 27th 2013 by HarperTeen
Source: Author's Blog
Covers in Series
The last thing Mason Starling remembers is the train crossing a bridge. An explosion . . . a blinding light . . . then darkness. Now she is alone, stranded in Asgard—the realm of Norse legend—and the only way for her to get home is to find the Spear of Odin, a powerful relic left behind by vanished gods. The Fennrys Wolf knows all about Asgard. He was once trapped there. And he'll do whatever it takes to find the girl who's stolen his heart and bring her back—even if it means a treacherous descent into the Underworld. But time is running out, and Fenn knows something Mason doesn't: If she takes up the Spear, she'll set in motion a terrible prophecy. And she won't just return to her world . . . she'll destroy it. In this pulse-pounding sequel to Starling, Lesley Livingston delivers another electrifying blend of nonstop action and undeniable romance that will leave readers breathless.
No Author's Comment Available.
Abigail Says 
Nice fit with the debut, but also distinct enough to be interesting on its own. I can't help but wonder why they don't give her a sword since she's a fencer… 
Kristina Says 
Its a very pretty and earthy cover. Who is she glowering at? 
Kate Says 
I was thinking the same thing as Kristina- she looks so angry! But I really like the scenery, it looks very otherworldly.
Blackout by Robison Wells
Expected publication: October 2013 by HarperTeen
Source: Pitch Dark
Covers in Series
N/A
Laura and Alec are trained terrorists. Jack and Aubrey are high school students. There was no reason for them to ever meet. But now, a mysterious virus is spreading throughout America, infecting teenagers with impossible powers. And these four are about to find their lives intertwined in a complex web of deception, loyalty, and catastrophic danger—where one wrong choice could trigger an explosion that ends it all.
No Author's Comment Available.
Abigail Says 
Yes, it's a big basic font, but the reflection below and the way it's sortof being eaten away fit the virus premise. 
Kristina Says 
I think I've seen this type of thing on a petri dish except not orange. I like that it looks like the orange chunks are eating the title. 
Kate Says 
At first glance it made me think of bubbles in water. It is really basic.
Angel Fever (Angel #3) by L. A. Weatherly
Expected publication: November 12th 2013 by Candlewick
Source: Goodreads
Covers in Series
In the devastated remains of the world, millions of people live in "refugee" camps provided by the angels who have all but enslaved humanity. As this angelic stranglehold tightens, Willow and Alex are recruiting and training new Angel Killers while struggling to hold ground on the celestial battlefield. But Willow continues to have feelings for Seb, and her love and resolve are tested as a shattering revelation sends Alex on a separate journey. Now that the final battle versus the angels is about to begin-and the fate of the world hangs in the balance-each of them must face the consequences of their own choices. Will love endure? Will the human race survive?
No Author's Comment Available.
Abigail Says 
Pretty generic, plus all the elements look totally disconected. 
Kristina Says 
I like the centering of the wings with the title. Besides that it doesn't really do much for me. 
Kate Says 
The contrast in this image is terrible. Their faces are so whited out they blend in with the background.
Expected publication: November 5th 2013 by Tor Teen
Source: Two Chicks on Books
Covers in Series
No Description Available.
No Author's Comment Available.
Abigail Says 
Big change from the debut and yet the rose and other key elements carried over. 
Kristina Says 
Nice carry over of that rose. I like the gloomy beachside. It has an ominous feel to it. 
Kate Says 
It looks a little like a 90s teen novel and again with the blending in- the word blends in to the background in parts.
Bittersweet Blood (The Order #1) by Nina Croft
Published February 17th 2013 by Entangled
Source: Author's Website
Covers in Series
N/A
Tara Collins just wants to be normal. Everyone else wants her dead. Tara's eccentric aunt raised her to be fearful of the world and follow the rules. But after her aunt's death, Tara is ready to take control and experience life for the first time. But she quickly discovers that everything she's been told is a web of lies. Determined to solve the mystery of who she is truly, she hires private investigator to help her uncover the truth. Christian Roth is more than your average PI. A vampire and ex-demon hunter, Christian lives among the humans, trying to be "normal." But recently, things seem to be falling apart. There's a crazed demon hell-bent on revenge hunting him down, and a fae assassin on the loose with an unknown target. And the Order he abandoned desperately needs his help. As the secrets of Tara's past collide with the problems in Christian's present, she finds herself fighting her attraction to the dark and mysterious investigator. Falling in love does not fit into her plans at all, but Tara soon learns that some rules are meant to be broken.
No Author's Comment Available.
Abigail Says 
I like the white sand/dirt too, and this is an unexpected look for a PNR, but her blood tear just looks like a squirt of ketchup to me. 
Kristina Says 
I am fascinated by the sand/dirt on her face. Which is it supposed to be! Its an intriguing cover so it gets a thumbs up here. 
Kate Says 
I'm with Abigail on the ketchup. And why is she so white?
Expected publication: 2014 by Gallery Books
Source: Goodreads
Covers in Series
The final installment in the "mesmerizing" (Booklist, starred review) and addictive trilogy—find out who truly holds the key to Lanny's heart and whether she'll ever be reunited with her beloved in this gripping supernatural tale of magic, lust, and longing.Lanore McIlvrae has been on the run from Adair for hundreds of years, dismayed by his mysterious powers and afraid of his temper. She betrayed Adair's trust and imprisoned him behind a stone wall to save Jonathan, the love of her life. When Adair was freed 200 years later, she was sure that he would find her and make her existence a living hell. But things turned out far different than she'd imagined. Four years later, Lanore has tracked Adair to his mystical island home, where he has been living in self-imposed exile, to ask for a favor. She wants Adair to send her to the hereafter so she may beg the Queen of the Underworld to release Jonathan, whom she has been keeping as her consort. Will Lanore honor her promise to Adair to return? Or is her intention to reunite with Jonathan at any cost? Of all the forces of the universe, the most mysterious, confounding, and humbling is the power of love. The epic story of love and loss, magic and destiny that began with The Taker and sparked a chase around the world in The Reckoning comes to a surprising conclusion with The Descent.
No Author's Comment Available.
Abigail Says 
This is such an odd departure from the previous books. I'm missing the intensive blue eyes that dominate the first two books. This feels fragile and alluring, I just wish it fit better with the series overall. 
Kristina Says 
All three covers are so different from each other  I like the softness and sad feeling of this but I'm kind of bothered by her only being covered up by a shear sheet. I think its her position she looks uncomfortable. 
Kate Says 
Totally agree with Kristina on this one- she looks really uncomfortable, and I do not like that she looks naked under a translucent sheet.
Resist (Breathe #2) by Sarah Crossan
Expected publication: October 8th 2013 by Greenwillow Books
Source: Author's Twitter
Covers in Series
No Description Available.
"Oo oo oo… Guess what day it is… Yes, you're right, it's the COVER REVEAL day for RESIST! YAY!!" – Sarah Crossan
Abigail Says 
Ooh. I'm so excited to see the trees inside the dome. It's very provocative in terms of the plot. In fact the whole green color scheme is such an revealing contrast to the debut. Plus, he's totally doing The Breakfast Club fist pump! 
Kristina Says 
That is either a biodome or a snowglobe. Someone flip it over and see if white stuff floats around! I like the barren land with small hints of regrowth. 
Kate Says 
I really like the evolution between the first cover and this one! They're clearly the same series, but I love the green and growing changes.
Eat, Brains, Love by Jeff Hart
Expected publication: October 1st 2013 by HarperTeen
Source: Cover Reveals Pinterest
Covers in Series
N/A
No Description Available.
No Author's Comment Available.
Abigail Says 
Yep, Kristina said it all. 
Kristina Says 
While I think this is a creative approach and love the addition of gummy worms I am just tired of the plays on the "Eat, Pray Love" title by now. 
Kate Says 
It's fine. Nothing exciting, but not terrible, either.
Expected publication: August 6th 2013 by Kensington
Source: Amazon
Covers in Series
No Description Available.
No Author's Comment Available.
Abigail Says 
Is this supposed to be Sophie? I'd kind of gotten used to the tough leather clad chick on these covers (even if that's not how she looks inside), but the school girl getup seems like a big departure. There's no description yet, so no way to tell if the story demanded the change. This is well done though, just really unexpected for this series. 
Kristina Says 
She looks like rebel Catholic schoolgirl. Those nuns had better watch out! Why is Sophie a blonde (if that is Sophie) and why did they decided to forgo the leather which granted she doesn't wear in the books. Perhaps she's going undercover? 
Kate Says 
I love the boots! So tough looking. I haven't read any of thes books, but I totally would, after seeing this cover.
No Angel by Helen Keeble
Expected publication: October 8th 2013 by Harper Teen
Source: Author's Website
Covers in Series
N/A
Being the only guy at an all-girls school should have been a godsend, but for Raffi, it's not exactly heaven on Earth…
Instad of meeting the girl of his dreams, Raffi's just learned that his new school is a hub for demons — and that someone summoned him there expecting him to save the day. Raffi knows that he's no angel — but it's hard to deny that there's a higher plan at work when he wakes up to discover a glowing circle around his head…
Mix the wry humor of Vlandimir Tod, Ally Carter's irresistibly spot-on voice, and some sinfully hilarious teenage dilemmas, and you have this uproarious novel from the author of Fang Girl. 
"I don't have the back-cover copy or marketing blurb for it yet, but in the meantime I shall tantalize you all by saying that it does for angels what FANG GIRL does for vampires…" – Helen Keeble
Abigail Says 
So I hate this a lot. From the horns of the font to the fluffy halo, it's so OBVIOUS and UNORIGINAL and really cheap looking for a HarperTeen cover. I feel like if they are already dumbing down the cover for the audience, how much worse will the book be in that respect? 
Kristina Says 
The font is too cutsie, the angel halo is random and silly, and any book that has the phrase "he's looking down your shirt" puts me off. I enjoy silly paranormal stories but that is just too obvious and bordering on tacky. 
Kate Says 
Wow. This is terrible. It is like there was no effort put into it at all.
Forged by Fate (Fate of the Gods #1) by Amalia Dillin
Expected publication: March 5th 2013 by World Weaver Press
Source: E-mail from Publisher
Covers in Series
N/A
After Adam fell, God made Eve to protect the world. — Adam has pursued Eve since the dawn of creation, intent on using her power to create a new world and make himself its God. Throughout history, Eve has thwarted him, determined to protect the world and all of creation. Unknown to her, the Norse god Thor has been sent by the Council of Gods to keep her from Adam's influence, and more, to protect the interests of the gods themselves. But this time, Adam is after something more than just Eve's power — he desires her too, body and soul, even if it means the destruction of the world. Eve cannot allow it, but as one generation melds into the next, she begins to wonder if Adam might be a man she could love.
Every god, from each of the world's pantheons, mythologies, and religions — they're all real in this enthralling fantasy romance that spans centuries. 
No Author's Comment Available.
Abigail Says 
This is well done for a smaller press. I think the muted colors are lovely, and she looks quite striking sitting there in the thunderstorm. 
Kristina Says 
I love a good thunderstorm cover and this is a great one. 
Kate Says 
I like the dress, the rain, and the way she's sitting on the tree. It's really lovely all together.
The Demon's Daughter (Demon Outlaws #1) by Paula Altenburg
Expected publication: March 26th 2013 by Entangled Select
Source: Goodreads
Covers in Series
N/A
Hunter is the only man capable of killing the demons that left the world in ruins. But when he's hired by a notorious priestess to bring a thief to justice, the Demon Slayer gets more than he bargains for.
Airie was raised in an abandoned temple as a priestess's daughter, having no idea of her true origins. In a time when any half-breed spawn of a demon is despised by mortal and immortal alike, not knowing the truth is the only thing keeping her safe.
Forced to flee her home in the wake of disaster and discovery of who she is, Airie must place her trust in a man who believes she should never have been born. And when a demon uprising threatens lives he has sworn to protect, Hunter has to make a choice: abandon Airie to an uncertain fate, or overcome his own personal demons and love her for who she truly is. 
No Author's Comment Available.
Abigail Says 
A touch homemade feeling, but this does immediately convey PNR, and I'm getting the outlaw vibe too. 
Kristina Says 
This cover screams ROMANCE with the 'I forgot my shirt but not my awesome duster…wanna see my six pack and not my face cause I'm shy?' cowboy. 
Kate Says 
The shape of this guy's abs is so weird- Photoshop anybody? I totally got romance from this, but at the same time, the hat makes it seem Western-y, not paranormal. Way too all over the place.
Expected publication: October 1st 2013 by Scholastic Press
Source: Goodreads
Covers in Series
The thrilling sequel to Sharon Cameron's blockbuster gothic steampunk romance, THE DARK UNWINDING, will captivate readers anew with mystery and intrigue aplenty.
When Katharine Tulman wakes in the middle of the night and accidentally foils a kidnapping attempt on her uncle, she realizes Stranwyne Keep is no longer safe for Uncle Tully and his genius inventions. She fakes her uncle's death and spirits him away to Paris, where she hopes to remain undetected and also find the mysterious and handsome Lane Moreau, who is suspected to be dead.
But the search for Lane is not easy, and Katharine soon finds herself embroiled in a labyrinth of political intrigue. And with unexpected enemies and allies at every turn, Katharine will have to figure out whom she can trust–if anyone–to protect her uncle from danger once and for all.
Filled with deadly twists, whispering romance, and heart-stopping suspense, this sequel to THE DARK UNWINDING whisks readers off on another thrilling adventure. 
No Author's Comment Available.
Abigail Says 
How gorgeous is that gear detail? The colors are nice and vibrant too. Beautiful. 
Kristina Says 
Those gears are pretty neat though its exactly the same as the gears on the first book's cover. 
Kate Says 
This is more exciting than the first cover (even if the gears are the same) with the girl's face being show. I love the colors.
The Registry by Shannon Stoker
Expected publication: June 11th 2013 by William Morrow & Company
Source: Goodreads
Covers in Series
N/A
The Registry saved the country from collapse. But stability has come at a price. In this patriotic new America, girls are raised to be brides, sold at auction to the highest bidder. Boys are raised to be soldiers, trained by the state to fight to their death.
Nearly eighteen, beautiful Mia Morrissey excitedly awaits the beginning of her auction year. But a warning from her married older sister raises dangerous thoughts. Now, instead of going up on the block, Mia is going to escape to Mexico—and the promise of freedom.
All Mia wants is to control her own destiny—a brave and daring choice that will transform her into an enemy of the state, pursued by powerful government agents, ruthless bounty hunters, and a cunning man determined to own her . . . a man who will stop at nothing to get her back. 
No Author's Comment Available.
Abigail Says 
This is reminding me of Kimberly Derting's The Pledge, another dystopian. It's just not that interesting though. 
Kristina Says 
The description sounds more interesting than the cover. 
Kate Says 
This looks more like a movie poster than a book to me. Pretty forgettable.

And our picks for Best & Worst covers of the week…
Best
Worst
What are your picks for Best and Worst covers? See even more covers on ATUF's Pinterest boards.

---
Have a cover we should include in an upcoming post? Fill out our Cover Submit form