On average, there are 750 new paranormal titles released each year.  Considering that the paranormal genres took off in the late 1980's/early 1990's, and that the number of titles published each year has increased, we're talking about more than 20,000 paranormal books published to date.  That's what we delicately refer to as a $!#% load of books.
That's where we at All Things Urban Fantasy can help.  Between the three of us behind this site, we've read a lot, a lot, of paranormal fiction.  We've spent months compiling lists in numerous categories (feel free to leave category requests in the comments) and we've come up with what we're calling our Paranormal Picks.
We each came up with our own lists for each category and then, after much arguing and debating, narrowed them down to the titles we agree are the ten best of the best in each category, the one's we're giving our ATUF's Supernatural Stamp of Approval.
Some of the Paranormal Picks category lists you can expect to see coming soon include:
Urban Fantasy
Paranormal Romance
Paranormal YA
Anthologies
Paranormal TV shows
Vampires
Finished Series
….and many more
Our first Paranormal Picks category is…
Urban Fantasy

(in alphabetical order by series name)
The Kate Daniels series by Ilona Andrews
Women of the Otherworld series by Kelley Armstrong
The Disillusionists Trilogy by Carolyn Crane
The H&W Investigation series by Jess Haines
Rachel Morgan was a sleeper heroine, I finished book one of this series with no idea how much I was going to fall in love with the Hollows.  Harrison has a gift for giving her characters compelling and realistic lives, balancing their organic growth across a series with no shortage action, romance, and conflict, even her supporting characters have a depth that is unique in any genre.
The Hollows is a gold standard series for having satisfying installments paired with long term series change.  Harrison is not shy about letting her world and characters change…Parenting, dating, grief, addiction, abuse… amidst the magic and mayhem of Rachel Morgan's world, Harrison writes beautifully of the most genuine and realistic of human themes. Her writing offers a window into worlds so rich the characters and stories spill off the page.  
The Hollows series (also called the Rachel Morgan series) is a series of thirteen mystery novels, eight short stories, two graphic novels, and one compendium resource by Kim Harrison, published by HarperCollins Publishers, in an urban fantasy alternate history universe and set primarily in the city of Cincinnati and its suburbs. The alternate history is built upon two premises: the recent open existence of magical and supernatural species, primarily witches, vampires, and werewolves, with the human population; and the historical investment of Cold War military spending in genetic engineering as opposed to the Space Race, which resulted in the accidental release of a genetically modified tomato in the 1960s that killed a significant portion of the human population. The series is set approximately forty years after this plague, referred to as 'The Turn' within the series.
The series is told in the first-person point of view of Rachel Morgan, a detective/bounty hunter witch who works with local law enforcement agencies and faces threats both mundane andsupernatural in origin. The series also focuses on Rachel's relationships with her partners, a living vampire and a pixy, as well as her personal relationships with males of different species.
Series List (linked if reviewed)
Rachel Morgan
1. Dead Witch Walking (2004)
2. The Good, the Bad, and the Undead (2005)
3. Every Which Way But Dead (2005)
4. A Fistful of Charms (2006)
5. For a Few Demons More (2007)
6. The Outlaw Demon Wails (2008)
7. White Witch, Black Curse (2009)
8. Black Magic Sanction (2010)
9. Pale Demon (2011)
10. A Perfect Blood (2012)
11. Ever After (2013)
The Hollows Insider (2011)
Into the Woods: Tales from the Hollows and Beyond (2012)
Graphic Novels
Hollows Graphic Novel
1. Blood Work (2011)
2. Blood Crime (2012)
Undead in the Garden of Good and Evil (in Dates from Hell) (The Hollows #2.5) (2006)
Two Ghosts for Sister Rachel (in
Holidays Are Hell
) (The Hollows #4.5) (2007)
Dirty Magic (in Hotter Than Hell) (The Hollows #5.5)(2008)
Ley Line Drifter (in Unbound) (The Hollows #7.5) (2009)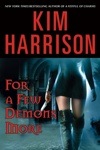 [/accordion]
The Downside Ghosts series by Stacia Kane
So that's our list.  Which titles/series would you pick?  Make your case in the comments!