On average, there are 750 new paranormal titles released each year.  Considering that the paranormal genres took off in the late 1980's/early 1990's, and that the number of titles published each year has increased, we're talking about more than 20,000 paranormal books published to date.  That's what we delicately refer to as a $!#% load of books.
That's where we at All Things Urban Fantasy can help.  Between the three of us behind this site, we've read a lot, a lot, of paranormal fiction.  We've spent months compiling lists in numerous categories (feel free to leave category requests in the comments) and we've come up with what we're calling our Paranormal Picks.
We each came up with our own lists for each category and then, after much arguing and debating, narrowed them down to the titles we agree are the ten best of the best in each category, the one's we're giving our ATUF's Supernatural Stamp of Approval.
Some of the Paranormal Picks category lists you can expect to see coming soon include:
Urban Fantasy
Paranormal Romance
Paranormal YA
Anthologies
Paranormal TV shows
Vampires
Finished Series
….and many more
Our first Paranormal Picks category is…
Urban Fantasy

(in alphabetical order by series name)

Links to buy the first book in each series from Amazon.com
The Kate Daniels series by Ilona Andrews
+ Why it's a Paranormal Pick
Kate Daniels is the epitome of the kick-butt urban fantasy heroine.  The alternate Atlanta that she lives in is one of the most fully realized in the genre. Every aspect of society is detailed and nuanced. The swinging pendulum of magic and tech, neither one existing while the other rules, is fresh and wonderful.  No one is cooler than Kate, no one is fiercer than Curran, and no world more magically mucked up than Atlanta. If I could only read one urban fantasy series for the rest of my life, it would be the Kate Daniels series. No contest.   
+ Series Description
The world has suffered a magic apocalypse. We pushed the technological progress too far, and now magic returned with a vengeance. It comes in waves, without warning, and vanishes as suddenly as it appears. When magic is up, planes drop out of the sky, cars stall, electricity dies. When magic is down, guns work and spells fail.
It's a volatile, screwed-up world. Magic feeds on technology, gnawing down on skyscrapers until most of them topple and fall, leaving only skeletal husks behind. Monsters prowl the ruined streets, werebears and werehyenas stalk their prey; and the Masters of the Dead, necromancers driven by their thirst of knowledge and wealth, pilot blood-crazed vampires with their minds.
In this world lives Kate Daniels. Kate likes her sword a little too much and has a hard time controlling her mouth. The magic in her blood makes her a target, and she spent most of her life hiding in plain sight. But sometimes even trained killers make friends and fall in love, and when the universe tries to kick them in the face, they kick back. – From Ilona-Andrews.com
+ Titles
+ Covers
Women of the Otherworld series by Kelley Armstrong
+ Why it's a Paranormal Pick
Kelley Armstrong is an excellent writer who excels at plotting, pacing, and characterization all with perfect romantic themes and one of the most realistic paranormal worlds ever.  Populated by werewolves, witches, half demons, vampires, sorcerers, shamans, and necromancers, the Women of the Otherworld is perhaps the most 'human' series on our list.
The women in these books are each compelling and strong in their own right with unique back stories and life challenges, specifically with Elena, whose story has anchored the series.  Elena's growth as a werewolf and as a woman as she comes to terms with her past, present, and future with the Pack is no less powerful today than when BITTEN first introduced her to the world. Over the course of thirteen novels, Elena and Clay have  matured and settled into each others personalities without losing an ounce of romantic heat.  Elena loves and trusts Clay enough to be honest with him, and Clay trusts and loves Elena enough to be vulnerable with her.
Armstrong has done an amazing job at connecting each book and each of the women to each other into one cohesive narrative and magical world.  
+ Series Description
It's been more than 10 years, a dozen installments, and hundreds of thousands of copies since Kelley Armstrong introduced readers to the all-too-real denizens of the Otherworld: witches, werewolves, necromancers, vampires, and half-demons, among others. The series follows a number of different characters, primarily, lone female werewolf Elena and her mate Clay.
+ Titles
Series List (linked if reviewed)
Women of the Otherworld
1. Bitten (2001)
2. Stolen (2002)
3. Dime Store Magic (2003)
4. Industrial Magic (2004)
5. Haunted (2005)
6. Broken (2006)
7. No Humans Involved (2007)
8. Personal Demon (2008)
9. Living with the Dead (2008)
10. Frost Bitten (2009)
11. 
Waking the Witch
 (2010)
12. 
Spellbound 
(2011)
13. 
Thirteen 
(2012)
Werewolves: Bitten, Stolen and Beginnings (omnibus) (2012)
+ Covers
+ Why it's a Paranormal Pick
The Mercy Thompson series is one of the best in the urban fantasy genre for good reason. The mythology of the series is rich and complex, borrowing just enough fact to feel real, and mixing just enough fantasy to feel magical.  And Mercy is just plain cool. She is laid back, resilient, tough without being pushy, and brave enough to risk her life for those she loves (which she inevitably does several times in each book).
I love the real world messiness that accompanies the magic and mayhem in this series. Compelling character development, charming romance, and a mythology that gives werewolves, vampires, and witches some interesting new quirks,  Briggs is fearless when it comes to testing her world and her characters.  Ask any fan of urban fantasy what series they love, and The Mercy Thompson series is going to be high on that list.  Briggs sets the bar for urban fantasy. 
+ Series Description
Mercedes is a Volkswagen mechanic living in the Tri-Cities area of Washington. Her Native American heritage has gifted her with the ability to take the form of a coyote at will. She's surrounded by far more powerful supernatural beings, including werewolves, vampires and an assortment of fae.
+ Titles
+ Covers
+ Why it's a Paranormal Pick
For the most part, women dominate the urban fantasy genre.   The big exception is Jim Butcher's Harry Dresden.  He is a perfect anti-hero with his sarcasm and humorous non-alpha acts of self-preservation.
The Dresden Files is one of the longest running urban fantasy series (and even enjoyed a much too short-lived TV adaptation on SyFy), and it shows no sign of stopping.  Along with Bob the skull, the pervy spirit living inside of a human skull, there's plenty of  biting wit and sly observations in this series.
If you're looking for a gritty, dangerous world of magic, humor, and mayhem, Harry's your man.  Always armed with a sarcastic quips and need to be a 'knight in shining' armor for women (and men) in distress.  He's the king of urban fantasy.
+ Series Description
The Dresden Files are Jim's first published series, telling the story of Harry Blackstone Copperfield Dresden, Chicago's first (and only) Wizard P.I. – From
Jim-Butcher.com
+ Titles
Series List (linked if reviewed)
Dresden Files
1. Storm Front (2000)
2. Fool Moon (2000)
3. Grave Peril (2001)
4. Summer Knight (2002)
5. Death Masks (2003)
6. Blood Rites (2004)
7. Dead Beat (2005)
8. Proven Guilty (2006)
9. White Night (2007)
10. Small Favor (2008)
11. Turn Coat (2009)
12. Changes (2010)
13. Ghost Story (2011)
14. Cold Days (2013)
Short Stories/Anthologies
Backup (2008)
Side Jobs: Stories From the Dresden Files (2010)
Love Hurts (in Songs of Love and Death) (2010)
Even Hand (in Dark and Stormy Knights) (2010)
Curses (in The Naked City) (2011)
I was a Teenage Bigfoot (in Blood Lite III: Aftertaste) (2012)
Bigfoot on Campus (in Hex Appeal) (2012)
+ Covers
The Disillusionists Trilogy by Carolyn Crane
+ Why it's a Paranormal Pick
Describing this series can be tricky.  It's urban fantasy with a retro comic book twist featuring a ragtag band of crime fighters suffering from crippling paranoia that they have learned to weaponize in order to keep the streets of Midcity safe.   Except, Justine doesn't just suffer from off the charts hypochondria, she also plagued by a guilty conscience that attacks her everytime she zings her fear into someone else—even if they deserve it.
Different? Absolutely. But in the hands of Carolyn Crane, never has being crazy been so much fun.  
+ Series Description
Justine Jones is a hopeless hypochondriac whose life is crippled by fear…until one day when a handsome, tortured mastermind named Packard peers into her soul and invites her to join his psychological hit squad. – From AuthorCarolynCrane.com
+ Titles
Series List (linked if reviewed)
Short Stories/Novellas
Kitten-Tiger & the Monk (in Wild & Steamy) (The Disillusionists, #2.5)  (2011)
Devil's Luck
(The Disillusionists, #3.5) (2012)
+ Covers
The H&W Investigation series by Jess Haines
+ Why it's a Paranormal Pick
The H&W Investigation series  is everything you want in an urban fantasy: A paranormal world that sucks you in, characters you actually care about, and romantic tension that truly sizzles.
The dialogue always crackles with wit and biting sarcasm, dry humor, or sly innuendo with near perfect timing depending on the character.  Navigating this world of supernatural Others is Shia, a levelheaded P.I. without a lick of magic but enough guts and street smarts to make up for it. Jess Haines does urban fantasy that is smart and sexy with characters the span the spectrum from super scary to playfully snarky, and dangerously seductive.  
+ Series Description
While most urban fantasy is focused on a main character with paranormal powers, Shiarra Waynest is a human woman who lives in an alternate, present-day New York.  Sometimes she picks up an extra boost from one of her friends–like the snarky, sentient belt that helps her hunt vampires–but underneath it all, she's like you and me.  No mind-reading, no zombie-raising, no super strength/speed/stamina–and, like anyone would expect, when she's forced to deal with Others (supernaturals), it scares the bejeezus out of her. Dragged into the supernatural messes of sexy vampires, ferocious werewolves, and cunning magi, all Shiarra wants is to keep her private investigations business afloat.
Unfortunately for her, the Others want more.
She hasn't been affected much by the "coming out" of supernaturals after the fall of the Twin Towers on 9/11, roughly ten years ago.  She doesn't deal with anything that isn't human.  As far as she's concerned, their business is Other business—it has nothing to do with her.
Sadly, her story wouldn't be very interesting if she wasn't thrust into supernatural events.  As much as she'd like to stay away from them, her private investigations firm is failing, and when a mage coven offers her a lucrative job that just might save her firm, she goes against her instincts and accepts the offer.  All she has to do is confront New York 's oldest, most powerful vampire to find out where he's hiding a magic artifact.  Simple, right?
Yeeeeah.  Being phobic of vampires doesn't help her much.  Added to her troubles is her mother trying to set her back up with her ex-boyfriend (who happens to be a werewolf), a group of vigilante supernatural hunters threatening her to join them or die, and a snarky, sentient hunter's belt making fun of her lack of vampire hunting skills.  Oh, and it appears that any supernaturals who come in contact with the artifact she's searching for wind up dead soon thereafter.
She's really not having a good day.
Follow her adventures as she learns more about the Others–and herself–in the H&W Investigations series! – from JessHaines.com
+ Titles
Series List (linked if reviewed)
Short Stories/Novellas
+ Covers
+ Why it's a Paranormal Pick
The Sookie Stackhouse series is like an ice cold glass of sweet tea on a sweltering summer night with a werewolf howling in the distance and a vampire or two calling on the front porch. It's Southern charm, supernatural suitors, murder mysteries, and characters that are impossible to forget.
What is it about Charlaine Harris's urban fantasy series that is so addictive? Eric for one, and Bill, but it's really Sookie. She's unlike any other protagonist in urban fantasy. Straightforward, sharp, shrewd, well mannered, and delightfully blunt. In other series, I often roll my eyes when every new guy falls for the protagonist, but with Sookie, I completely get what makes her so appealing to everyone (and it's not just her fairy blood). Of course it helps that she doesn't automatically fall back. In fact Sookie is one of the least romantically wishy-washy heroines in this genre, maybe to a fault sometimes.
Long before Anna Paquin and company had brought Sookie to our televisions, I had gotten swept away by Charlaine Harris's world. Love isn't an automatic Happily Ever After, death is as sharp and shocking as real life, and even the supernatural elements of her story have a practical realism that are irresistible.  In any medium, Harris creates lives and relationships that shouldn't be missed.  Watch the show & read the books.  The Sookieverse is never a disappointment. 
+ Series Description
Alternate series titles:
The Sookie Stackhouse Novels
True Blood (TV shows title)The Southern Vampire Mysteries, also known as The Sookie Stackhouse Novels, is a series of books written by bestselling author Charlaine Harris that were first published in 2001 and now serve as the source material for the HBO television series True Blood. The series has been retronymed the True Blood Series upon reprinting to capitalize on the television adaptation.In The Southern Vampire Mysteries series, Harris develops a detailed mythology and alternate history that approaches supernatural beings as real; at the beginning of the series, vampires have only been public knowledge for a couple of years. Other supernatural beings, such as werewolves, shapeshifters, etc., exist but do not go public until later in the series. Its history has otherwise unfolded so closely to that of the real world that the series contains occasional references to popular culture.The series is narrated in first person perspective by Sookie Stackhouse. She is a waitress and a telepath in the fictional town of Bon Temps, Louisiana. The first book in the series, Dead Until Dark, won the Anthony Award for Best Paperback Mystery in 2001. The eleventh book, Dead Reckoning, was released on May 3, 2011. Harris was originally contracted to write 10 books, but she revealed at Comic Con 2009 that she has signed a contract for three additional books. – From
Goodreads.com
+ Titles
Series List (linked if reviewed)
Sookie Stackhouse
1. Dead Until Dark (2001)
2. Living Dead in Dallas (2002)
3. Club Dead (2003)
4. Dead to the World (2004)
5. Dead as a Doornail (2005)
6. Definitely Dead (2006)
7. All Together Dead (2007)
8. From Dead to Worse (2008)
9. Dead and Gone (2009)
10. Dead in the Family (2010)
11. Dead Reckoning (2011)
12. Deadlocked (2012)
13. Dead Ever After (2013)
A Touch of Dead (2009)
The Sookie Stackhouse Companion: A Complete Guide to the True Blood Mystery Series (2011)
Graphic Novels?Short Stories/Novellas
Dead in Dixie (2003)
Dead By Day (2005)
One Word Answer (in Bite) (Sookie Stackhouse #4.5) (2004)
Tacky (in My Big Fat Supernatural Wedding) (Sookie Stackhouse #6.1) (2006)
Dracula Night (Many Bloody Returns) (Sookie Stackhouse #4.3)(2007)
Gift Wrap (in Wolfsbane and Mistletoe) (Sookie Stackhouse #8.1) (2008)
Bacon (in Strange Brew) (Sookie Stackhouse #9.1) (2009)
Two Blondes (in Death's Excellent Vacation) (Sookie Stackhouse #10.1) (2010)
If I Had a Hammer (Home Improvement: Undead Edition) (Sookie Stackhouse #11.1) (2011)
Playing Possum (in An Apple for the Creature) (Sookie Stackhouse) (2012)
+ Covers
+ Why it's a Paranormal Pick
Rachel Morgan was a sleeper heroine, I finished book one of this series with no idea how much I was going to fall in love with the Hollows.  Harrison has a gift for giving her characters compelling and realistic lives, balancing their organic growth across a series with no shortage action, romance, and conflict, even her supporting characters have a depth that is unique in any genre.
The Hollows is a gold standard series for having satisfying installments paired with long term series change.  Harrison is not shy about letting her world and characters change…Parenting, dating, grief, addiction, abuse… amidst the magic and mayhem of Rachel Morgan's world, Harrison writes beautifully of the most genuine and realistic of human themes. Her writing offers a window into worlds so rich the characters and stories spill off the page.  
+ Series Description
+ Titles
Series List (linked if reviewed)
Rachel Morgan
1. Dead Witch Walking (2004)
2. The Good, the Bad, and the Undead (2005)
3. Every Which Way But Dead (2005)
4. A Fistful of Charms (2006)
5. For a Few Demons More (2007)
6. The Outlaw Demon Wails (2008)
7. White Witch, Black Curse (2009)
8. Black Magic Sanction (2010)
9. Pale Demon (2011)
10. A Perfect Blood (2012)
11. Ever After (2013)
The Hollows Insider (2011)
Into the Woods: Tales from the Hollows and Beyond (2012)
Graphic Novels
Hollows Graphic Novel
1. Blood Work (2011)
2. Blood Crime (2012)
Undead in the Garden of Good and Evil (in Dates from Hell) (The Hollows #2.5) (2006)
Two Ghosts for Sister Rachel (in
Holidays Are Hell
) (The Hollows #4.5) (2007)
Dirty Magic (in Hotter Than Hell) (The Hollows #5.5)(2008)
Ley Line Drifter (in Unbound) (The Hollows #7.5) (2009)
+ Covers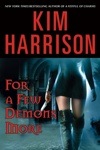 The Downside Ghosts series by Stacia Kane
+ Why it's a Paranormal Pick
There is something so seductively addictive about the Downside Ghosts series. Stacia Kane writes urban fantasy that bites back, weaves dark magic around your soul, and draws you so deeply into her world that it's impossible to get out–not that you'd ever want to.
Everything about the Downside series pulses with paranormal perfection, not the least of which is Downside itself. It's like New York from Escape from New York overrun with murderous ghosts and deadly magic. Gritty doesn't begin to describe it. There is a wonderful contrast between the residents of Downside with their slang/dialect way of talking, and the hyper formality of the Church of Real Truth, the ruling entity that protects humanity by magically banishing ghosts.
Chess Putnam is a total train wreck of a human being. Her childhood was spent bouncing from one abusive foster home to the next. In her adult life she is a junkie, becoming more and more dependent on her pills and Speed just to make it through the day. Yet she is a fighter. Battling her own demons one day at a time, or ghosts as the case may be. Sometimes she gives in, but she never gives up. I find that I'm constantly rooting for her, even when she falls—which she does a lot—to pick herself up and keep going, and I kind of love her for that.
If you love urban fantasy with an edge, Stacia Kane delivers every time. 
+ Series Description
The Chess Putnam series is a cross between Ghostbusters and Escape From New York, with an awesome punk rock soundtrack, black magic, greasers, drugs, human sacrifices, and a black 1969 Chevelle. – from
StaciaKane.com
+ Titles
+ Covers
+ Why it's a Paranormal Pick
Mackayla "Mac" Lane is a near perfect urban fantasy heroine.  As is a Sidhe-seer, Mac is someone who can see past the disguises, or glamours, that the fey use to hide in our world. Tenacious in pursuit of her sister's killer, Mac is thorough and smart. Yes, she's a bit cocky, which she glosses over with more than a hint of old fashioned Southern charm, but she's also resilient and quick on her feet.  She also  goes through one of the biggest character transformations I've read in urban fantasy.
As a series expect chilling mystery, a darkly seductive enigmatic love interest with questionable character, in a terrifying yet alluring world full of both scary and seductive fey. 
+ Series Description
MacKayla Lane's life is good. She has great friends, a decent job, and a car that breaks down only every other week or so. In other words, she's your perfectly ordinary twenty-first-century woman.
Or so she thinks… until something extraordinary happens.
When her sister is murdered, leaving a single clue to her death–a cryptic message on Mac's cell phone–Mac journeys to Ireland in search of answers. The quest to find her sister's killer draws her into a shadowy realm where nothing is as it seems, where good and evil wear the same treacherously seductive mask. She is soon faced with an even greater challenge: staying alive long enough to learn how to handle a power she had no idea she possessed–a gift that allows her to see beyond the world of man, into the dangerous realm of the Fae…-from
Goodreads
+ Titles
+ Covers
So that's our list.  Which titles/series would you pick?  Make your case in the comments!
About the author