Today we are very excited to have Leanna Renee Heiber visit us on her Twisted Tragedy Blog Tour. Her newest book in the Magic Most Foul series, THE TWISTED TRAGEDY OF MISS NATALIE STEWART (Published November 1st 2012 by Sourcebooks Fire).  Want to win a copy? Check out the giveaway below.
Foul Magic
by
Leanna Renee Heiber
Foul Magic:  In DARKER STILL, Natalie steps through a painting and discovers that magic and demons exist in 1880 New York City.  Find out what makes a story have just the right amount of magic, mystery and suspense as Leanna lets us in on key elements that make her stories so thrilling.
My love of historical fiction was always entwined with my fascination with fantasy and the paranormal. The Victorian era is a perfect time to entwine spirits, ghost stories, magic and more because the time period was so fascinated with those topics. So I'm tapping in to a part of the Victorian psyche just by infusing my tales with fantastical themes. The trick is always balance. One aspect of the novel can't entirely dominate over the other; my world-building on the magical sense can't outweigh the development of characters, suspense aspects can't get in the way of growth for a character, characters have to grow within their circumstances and I have to find the most tension-filled way to do so while still making it "believable". If the magic, suspense and mystery can all work together to flesh out the historical world, to reveal character and to keep the plot humming along then I've created a finely-tuned novel. All the elements of a book have to take turns and pass the relay torch of the journey smoothly and equally.
A lot of help comes in the editorial department, and my editor was key in really helping me trim off the extra fat that didn't further the plot or tension. A good book requires a few good exterior eyes that can see to the meat of the novel and bring it forward. I'm very good at taking direction and I think that makes me not only a better writer but also someone an editor wants to work with. Also, knowing your characters intimately; what makes them tick and also what makes them scared, it helps draw the reader along in suspense when the character dynamic is viscerally strong. I think the way Natalie's nightmares play into the Magic Most Foul saga gives the reader a very intimate view into private fears and horrors, and that helps ratchet up the tension from one chapter to the next. My favourite genres as a reader are Fantasy, Mystery and Horror, and I'm not invested in the story if there isn't a romance somewhere within the plot. I merely have blended all my favourite genres together into one series, and because I want to give each genre equal play, it ends up balancing out.
Raised in rural Ohio and obsessed with the Victorian Era, Leanna's life goal is to be a "gateway drug to 19th century literature." A three-time Prism Award winner for Fantasy Romance, her debut novel, The Strangely Beautiful Tale of Miss Percy Parker, is being adapted into a musical theater production. An actress, playwright and bestselling author, she lives in New York City and is a devotee of ghost stories, a finely tailored corset and a good Goth club.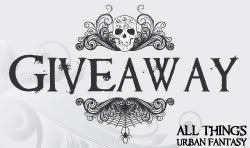 Giveaway provided by Sourcebooks Fire
One copy of THE TWISTED TRAGEDY OF MISS NATALIE STEWART by Leanna Renee Hieber
Published November 1st 2012 by Sourcebooks Fire
Description:
For Natalie Stewart, a normal life has never seemed so far away. Her only solace, Lord Jonathan Denbury, is wanted for murder. To clear his name, Denbury must return to England and assume the role of his demon doppelganger. But Natalie begins to doubt his true motives, especially as a new gentleman begins whispering in her ear. Natalie and Denbury may be able to visit each other in their dreams, but they can't escape the darkening shadows. Amid spontaneous explosions, friends turned enemies and dangerous secrets revealed, there's still a demon who has Natalie's scent, and someone is trying to resurrect the ultimate evil.
Read an excerpt |Watch Book Trailer
Enter the giveaway via the widget below – Open to US/CA

---
Interested in being a guest on All Things Urban Fantasy? Fill out our Guest Request Form