We are excited to have a festive visit from Shawntelle Madison on her blog tour for KEPT,  the second book in her Coveted paranormal romance series available November 27th 2012 by Ballantine Books.  Today she is giving us a list of excellent gifts for an avid Urban Fantasy reader!  There is a giveaway attached as well!

Shawntelle Madison's Top 10 Gifts for an Urban Fantasy Reader
As an urban fantasy reader myself, there are certain things I'd love to have, or do, on this list. By no can I say these kinds of gifts would be ever available, but if you have a spouse or significant other, you'd make their millennium if you got them one of the ten items below.
10
Signed set of books from Sherrilyn Kenyon, Laurell K. Hamilon, Yasmine Galenorn, Ilona Andrews, Patricia Briggs, and Karen Marie Moning.
These ladies are prolific writers and have fantastic series. The penultimate gift for an urban fantasy groupie would be to get the signed books. All of them. And if you throw in the latest book too, you are drenched in awesomesauce.
9

Have a beer with some fish and chips with the Iron Druid series author Kevin Hearne.
I've met Kevin and he's so nice and laid back. You'd definitely enjoy an evening with him. Don't like fish and chips? Then just have the beers or some drinks. You know you wanna.
8

I've been lucky enough to do a signing and a panel with Kelley at the San Diego ComicCon. She is so cool. I think a reader would love to be able to sit down with her and chat about books. Not sure how this could happen for someone in the future, but here's hoping.
7

Dinner with a urban fantasy cover model. (Maybe even a photo shoot afterwards?) 
I'll be the first to say I squeed like a fan girl when a friend hooked me up with a copy of Coveted signed by the cover model Paul Marron. I haven't had dinner with him, but I have had dinner with cover models before. And yes, it's a difficult experience I want to repeat again and again and again. I mean look at Paul Marron as Lothaire on Kresley Cole's cover. The man is scrumptious! Nom. Nom. Nom.
6

Post-apocalyptic survival kit courtesy of Ellen Connor or Ann Aguirre.
After having read Ann's books, (she happens to be the co-writer for the pen name Ellen Connor), I believe any urban fantasy reader would be stoked, and better armed, after they got a survival kit from her. Ann is the author of the Razorland  series about a teen who lives in a post-apocalyptic society with zombies. Based on her fantastic world-building, I think she'd be the perfect person to get you settled: Twinkies (might as well grab them now), a machete, and backpack with decades-old rations.
5

Go ghost hunting through haunted houses with YA author Kendare Blake.
If you haven't read or Kendare Blake's Anna Dressed in Blood you're missing out on some great reads. I'd bet a fan would go nuts—literally—over the possibility of a fun filled day ghost-hunting. How about we take this a step further: explore an abandoned asylum with Sarah Wilson Etienne? I call shotgun for the getaway van!
4

Get your happy hands on a replica of Harry Dresden's magical staff.
Jim Butcher's Harry Dresden series is cool, dark, and all sorts of amazing. Any true fan of his series would probably be a happy camper if you custom ordered a staff for them with the runes and everything. (If you do a search, you might find someone actually!)
3

A dinner in the dark by candlelight with Black Dagger Brotherhood by J.R. Ward.
Her books are incredibly hot and she has a legion of fans who'd be more than happy to light the candles and pass the plate of potatoes. The possibility of snagging this gift for a reader would be really hard, but there is nothing wrong with dreaming.
2

An opportunity to get an elaborate tattoo done with Stacia Kane or Yasmine Galenorn.
I don't have a single tattoo, but I know several authors with fabulous tattoos that are delightfully wonderful to the eye. Have you seen the past episode on LA Inked where Stacia Kane gets a tattoo?   Very cool! If you had the opportunity to go to a tattoo parlor with any of these ladies, would you do it? Maybe another author?
1

Personally, this gift is a bit biased, but since it's my list I'm taking liberties. A shopping spree to hoard post-holiday goodies with me—Shawntelle Madison.
I love a good deal. A 75% off sign is a beacon of happiness. Would you seriously pay for a $20.00 ornament when you can get that sucker for $5.99? I wouldn't—matter of fact, I'm perfectly willing to browse the aisles to look for that gem in the piles. Sadly, gift #10 doesn't exist, but if you do see me in the store and we're both hunting for a deal, you're perfectly welcome to join me on the hunt. 😉
So what you would you add to my list? What would make your holidays?
Shawntelle loves to write stories where something mysterious always happens. Her stories unfold in either a magical place or she drop kicks her heroine and hero into the mix of crazy magical circumstances. Her characters have been swimming around in her head for the longest of time, but its only recently that she has given into their demands and wrote down their adventures.
Why paranormal? Well, every time she thinks about writing something straight forward she gets caught in the what-if exercise. What if her hero was a werewolf or if her heroine was a nymph? How far could she go down the rabbit hole and not sound crazy? (Yet still be somewhat believable?)
Writing is one of her first loves, besides web development. She is a die hard geek who earned her undergraduate degree in Math from Iowa State University. (She even almost finished a degree in Russian Studies.)
As far as memberships, she's a member of Science Fiction & Fantasy Writers of America (SFWA) and Romance Writers of America (RWA).
She currently lives in Missouri with her husband and children (the Den of Evil).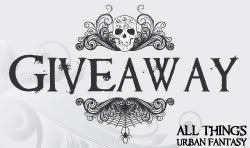 Giveaway provided by Ballantine Books
One copy of KEPT by Shawntelle Madison
Available on November 27, 2012 from Ballantine Books
Description:
Fresh from defending her pack in battle, Natalya Stravinsky, a whip-smart werewolf with a lovable neurotic streak, wants a little rest and relaxation. Once an outcast, she's now eager to rejoin the ranks of her New Jersey pack, and has even gotten a handle on her obsessive urge to hoard holiday ornaments. Yet Nat barely has time to revel in her progress before the next crisis comes howling at her door.
Nat's father has suddenly gone missing, captured by the Russian werewolf mafia. And as Nat steps up to save her dad from a mob boss's deadly game, two men step in to play another round for her heart: her gorgeous alpha ex-boyfriend, Thorn, and her new flame, the sweetly sensitive wizard Nick. With her life growing more harried by the minute, Nat must stay cool, calm, and collected . . . or else risk losing everything.
Enter the giveaway via the widget below Open Internationally

---
Interested in being a guest on All Things Urban Fantasy? Fill out our Guest Request Form