This Thanksgiving week we have a full slate of steampunk and beefcake to share!  I do love a hero in a t-shirt and Lynn Viehl's Lords of the Darkyn series has a new, dreamy look.  For those who prefer their heros to show a little more skin, however, have no fear, Paul Marron is here!  He is showing off enough man boob to make Khal Drogo blush, enjoy!
Bronze Gods (Apparatus Infernum #1) by A. A. Aguirre
Expected publication: April 30th 2013 by Ace
Source: The Nocturnal Library
Covers in Series
N/A
Danger stalks the city of steam and shadows.
Janus Mikani and Celeste Ritsuko work all hours in the Criminal Investigation Division, keeping citizens safe. He's a charming rogue with an uncanny sixth sense; she's all logic—and the first female inspector. Between his instincts and her brains, they collar more criminals than any other partnership in the CID.
Then they're assigned a potentially volatile case where one misstep could end their careers. At first, the search for a missing heiress seems straightforward, but when the girl is found murdered—her body charred to cinders—Mikani and Ritsuko's modus operandi will be challenged as never before. Before long, it's clear the bogeyman has stepped out of nightmares to stalk gaslit streets, and it's up to them to hunt him down. There's a madman on the loose, weaving blood and magic in an intricate, lethal ritual that could mean the end of everything…
"I've had many lovely covers from Ace over the years, but this is my favorite. I love it SO MUCH; Andres feels the same. These are the characters we've been carrying around for years now." – Ann Aguirre
Abigail's Thoughts
Cliff Nielsen is becoming the king of steampunk covers (he is the artist behind Devon Monk's Age of Steam series and Cassandra Clare's The Infernal Devices series). She looks a little too doll-like for a human, but maybe that's part of the story…? Either way, I'm psyched for this new series.
Julia's Thoughts 
I'm usually hard on steampunk covers, but I love this one.  The asymmetrical placement of the gears looks great behind the title and the lighting on these two cover models is gorgeous.  Look at those cheekbones!
Kristina's Thoughts
Awesome steampunk cover. I'm drawn to their clothes…I want to see what her dress looks like.
Some Quiet Place by Kelsey Sutton
Expected publication: July 8th 2013 by Flux
Source: Author Submitted
Covers in Series
N/A
Elizabeth Caldwell has perfected the art of pretending to feel emotion, but it's always a lie. After a near-fatal car accident when she was a small child, Elizabeth lost the ability to feel any emotion, but along with that loss she gained bizarre abilities: she can see the personified Emotions she cannot feel. Fury, Resentment, Longing—they've all given up on her, because she doesn't succumb to their touch. All, that is, save one. Fear. He's consumed by the mystery of Elizabeth's past, consumed by her.
And then there are Elizabeth's cryptic, recurring dreams, in which there's always love, and there's always death. Haunted by these dreams, Elizabeth paints them, knowing that they somehow hold the key to the mystery of her past.
But a shadowy menace is stalking Elizabeth. Her survival depends on uncovering the truth about herself. And when it matters most, she won't be able to rely on Fear to save her.
"…It is gorgeous, eerie, and maybe a little strange. I love how much relevance it has to the story, as well. The farmland in the background, the town, the stormy sky, the leaves, the way the girl is vanishing. The point is, I am in love. Hope you adore it as much as I do." – Kelsey Sutton
Abigail's Thoughts
I keep looking at this. The author is dead on: "gorgeous, eerie, and strange." The way her body is breaking up into flowers is so haunting. Very curious about this one.
Julia's Thoughts 
This one is almost too creepy for me, the expression on the model's face and her ashy complexion makes her look like a corpse.  The sense of space is great, though.
Kristina's Thoughts
I love the dress of flowers! It is very beautiful and morbid.
Expected publication: May 7th 2013 by Signet
Source: Author's Blog
Covers in Series
Beaumaris and Alys Stuart.
The story also takes place at and around Knights Realm, the main setting from Evermore.
No Author Comment Available.
Abigail's Thoughts
Wow is this a massive improvement over the previous covers. I'm always drawn to green and he looks realistically sexy. Nice job.
Julia's Thoughts 
Such a HUGE improvement for the series.  I love this scruffy, emo man.  He gets a t-shirt and his whole face, huzzah!
Kristina's Thoughts
Love the green background and he is rather sexy in that black shirt.
Doktor Glass by Thomas Brennan
Expected publication: December 31st 2012 by Ace Trade
Source: Goodreads
Covers in Series
N/A
In the tradition of Drood, a superb supernatural mystery set in Victorian Liverpool.
The Transatlantic Span is the industrial marvel of the nineteenth century, a suspension bridge stretching from Liverpool to New York City. It's a work of art…until a faceless corpse is found in its shadows.
Inspector Matthew Langton, tortured by grief for his late wife, takes charge of the investigation, believing the faceless man a part of a conspiracy to assassinate Queen Victoria on the upcoming Inauguration Day of the Span. But the truth is far more bizarre. There are chilling rumors of the Jar Boys, soul snatchers who come under cover of night. Most frightening of all is the mythic and elusive Doktor Glass, who may not only be behind the illicit trade in souls…but who may hold the key to what happened to the inspector's own beloved wife on her deathbed.
Exciting and atmospheric, Brennan's debut novel is at once a page-turning mystery, a tour de force of revisionist imagination, and a gripping drama of the lengths people go to assuage grief in the name of love.
No Author Comment Available.
Abigail's Thoughts
It does have a lot of cool details, but some of the transparent sections are too transparent.
Julia's Thoughts 
A little too busy and washed out for me, my eye can't resolve any one particular image to focus on.
Kristina's Thoughts
I love the details and the smoke hand with the dagger.
Eternal: Zachary's Story by Cynthia Leitich Smith, illustrated by Ming Doyle
Expected publication: February 12th 2013 by Candlewick Press
Source: Author's Blog
Covers in Series
N/A

Reckless guardian angel Zachary has an unusual assignment. He's meant to save the soul of Miranda, high-school theater wannabe turned glamorous royal vampire. 
Completely devoted to Miranda, Zachary takes his demotion to human form in stride, taking a job as the princess's personal assistant. 
Of course, this means he has to balance his soul-saving efforts with planning the Master's fast-approaching Deathday gala.
Vivid illustrations by Ming Doyle elevate this darkly funny love story to a new dramatic level with bold black-and-white panels.
Cynthia Leitich Smith's New York Times bestseller is reimagined as a graphic novel seen through the eyes of Zachary, teenage guardian angel. 
No Author Comment Available.
Abigail's Thoughts
Yikes is he creepy looking. All he's missing is a van and some candy to lure the kids
Julia's Thoughts 
What a cute guy, I love that smile.  He's just harmless enough to pull off the "good angel" vibe, but I could wish he had better posture.
Kristina's Thoughts
Um…Redneck angel? Creepy redneck angel.
Twice Tempted (Night Prince #2) by Jeaniene Frost
Expected publication: March 26th 2013 by Avon
Source: Author's Blog
Covers in Series
Dating the Prince of Darkness has its challenges . . .
Leila's psychic abilities have been failing her, and now she isn't sure what the future holds. If that weren't enough, her lover Vlad has been acting distant. Though Leila is a mere mortal, she's also a modern woman who refuses to accept the cold shoulder treatment forever–especially from the darkly handsome vampire who still won't admit that he loves her . . .
Like choosing between eternal love and a loveless eternity . . .
Soon circumstances send Leila back to the carnival circuit, where tragedy strikes. And when she finds herself in the crosshairs of a killer who may be closer than she realizes, Leila must decide who to trust– the fiery vampire who arouses her passions like no other or the tortured knight who longs to be more than a friend? With danger stalking her every step of the way, all it takes is one wrong move to damn her for eternity . . .
"In keeping with the theme from Once Burned, it features only Vlad on the cover but has both Vlad and Leila on the stepback. Oh, and apparently it's illegal for model Paul Marron to appear in public while wearing a shirt, heh." – Jeaniene Frost
Abigail's Thoughts
I still like the debut cover better, but it's so hard to make Paul Marron look less than smokin. Click the cover to view the stepback (interior image).
Julia's Thoughts 
That's quite a handful of man boob.  I love the continuity of covers, but this Fabio profile is less attractive to me than Lynn Viehl's emo dude above.
Kristina's Thoughts
Tres hot and sexy.
Expected publication: May 7th 2013 by New American Library
Source: Wanton Thoughts & Wicked Scribes
Covers in Series
No Description Available.
No Author Comment Available.
Abigail's Thoughts
Claire looks really beautiful. Love the colors here.
Julia's Thoughts 
It's hard to stay memorable after 13 covers, but I do like how her eyes match her hair.
Kristina's Thoughts
Wow they really wanted to emphasis the eyes on her. It give her a haunted look in a way. These covers are consistently good.
Expected publication: July 2nd 2013 by Roc Trade
Source: Author's Blog
Covers in Series
No Description Available.
"What do you think? I LOVE it!!  The artist is Cliff Nielsen, and he's done the first two books in the series too.  You can see some of his other work here, and follow him on Facebook here." – Devon Monk
Abigail's Thoughts
2nd steampunk cover from Cliff this week. The best yet for this series. Every detail is just so cool.
Julia's Thoughts 
I love the use of color and light on this cover, so perfect for the title.  The line from the lantern to his gun seems to draw my eye deeper into the image.
Kristina's Thoughts
Steampunk weaponry is very cool. I love that they have different cool guns on all of this series's covers. Its a gritty awesome cover.
Enthralled by Lora Leigh, Alyssa Day, Meljean Brook, and Lucy Monroe
Expected publication: July 2nd 2013 by Berkley Trade
Source: Wanton Thought & Wicked Scribes
Covers in Series
N/A
No Description Available.
No Author Comment Available.
Abigail's Thoughts
Remember this guy from Carolyn Crane's temporary Mr. Real cover? She switched because he was already on another paranormal new release…and here he is again.
Julia's Thoughts 
This guy!  Carolyn Crane used him better (however briefly).  These elements don't mesh well for me.
Kristina's Thoughts
The placement of the images is just random. And the title gets lost with all of the graphics and author names. Nothing fits well together either…
Darkness Bred (Chimney Rock #2) by Stella Cameron
Expected publication: May 28th 2013 by Grand Central Publishing
Source: Wanton Thoughts & Wicked Scribes
Covers in Series
THE DARK SIDE OF THE MOON
Ever since shapeshifter Elin escaped to Whidbey Island, danger has stalked her every move. Her human traits, combined with her unique supernatural gifts, make her a prized being to be possessed . . . or destroyed. It is only the passionate attraction she shares with werehound Sean Black that gives her hope for her future-if she can elude the lethal predators who are hot on her scent.
HIDES DANGER AND DESIRE
Sean knows that Elin, with her delicate beauty and seductive powers, is his one perfect mate. The woman who can restore his humanity and make him stronger than ever. He'll need that strength and more to protect her from those who wish to destroy him and everything he desires. For Sean carries a secret that binds him to an enemy from the past and to a darker, deadlier force-a malignant evil that is hunting the women of Whidbey Island . . .
No Author Comment Available.
Abigail's Thoughts
I really like the look on his face…it's sort of reserved but so intense.
Julia's Thoughts 
I don't know about pairing that shade of yellow with a red title font.  I like the way the title is arranged, but the shirtless/long-haired look doesn't do a lot of me.  He's well arranged, though, good lighting and composition.
Kristina's Thoughts
I like the lighting but its kind of just okay.
Expected publication: May 7th 2013 by Sourcebooks Casablanca
Source: Wanton Thoughts & Wicked Scribes
Covers in Series
In Victorian London, if you're not a blue blood of the Echelon then you're nothing at all. The Great Houses rule the city with an iron fist, imposing their strict 'blood taxes' on the nation, and the Queen is merely a puppet on a string…
Lena Todd makes the perfect spy. Nobody suspects the flirtatious debutante could be a sympathizer for the humanist movement haunting London's vicious blue blood elite. Not even the ruthless Will Carver, the one man she can't twist around her little finger, and the one man whose kiss she can't forget…
Stricken with the loupe and considered little more than a slave-without-a-collar to the blue bloods, Will wants nothing to do with the Echelon or the dangerous beauty who drives him to the very edge of control. But when he finds a coded letter on Lena—a code that matches one he saw on a fire-bombing suspect—he realizes she's in trouble. To protect her, he must seduce the truth from her.
With the humanists looking to start a war with the Echelon, Lena and Will must race against time—and an automaton army—to stop the humanist plot before it's too late. But as they fight to save a city on the brink of revolution, the greatest danger might just be to their hearts…
No Author Comment Available.
Abigail's Thoughts
Too bad this guy had to follow Paul Marron…that allowance aside, this cover isn't half as sexy as the debut.
Julia's Thoughts 
I don't think the thigh and garter were really necessary, but I like the fire in the sky and his clothing.
Kristina's Thoughts
Not liking their placement. Where are they looking? It looks like they aren't even in the same scene…KISS OF STEEL was fun and flirty and this one wasn't at all.
Unbound by Angela Knight, Jennifer Ashley, Hanna Martine, Jean Johnson
Expected publication: March 5th 2013 by Berkley Trade
Source: Goodreads
Covers in Series
N/A
New York Times bestselling author Angela Knight leads the pack in this all-new collection of paranormal romance stories.
Desire is released in these original stories by four masters of paranormal romance. New York Times bestselling author Angela Knight revisits the world of Guardian. USA Today bestselling author Jennifer Ashley continues her Shifters Unbound series. Hanna Martine expands on the fascinating world she introduced in Liquid Lies. And national bestselling author Jean Johnson returns to her Vulland Chronicles.
No Author Comment Available.
Abigail's Thoughts
This works. Yes, it's cliche all around, but they did it well.
Julia's Thoughts 
This cover is definitely not shy, but I wish there was a hint of the paranormal mixed in with all that beefcake.
Kristina's Thoughts
Hello headless, shirtless man! I like the camo pants and the title looks kinda rusty. And that guy is very very fit…
Insomnia (The Night Walkers #1) by J. R. Johansson
Expected publication: June 8th 2013 by Flux
Source: Young Adult Books Central
Covers in Series
N/A
It's been four years since I slept, and I suspect it is killing me.
Instead of sleeping, Parker Chipp enters the dream of the last person he's had eye contact with. He spends his nights crushed by other people's fear and pain, by their disturbing secrets—and Parker can never have dreams of his own. The severe exhaustion is crippling him. If nothing changes, Parker could soon be facing psychosis and even death.
Then he meets Mia. Her dreams, calm and beautifully uncomplicated, allow him blissful rest that is utterly addictive. Parker starts going to bizarre lengths to catch Mia's eye every day. Everyone at school thinks he's gone over the edge, even his best friend. And when Mia is threatened by a true stalker, everyone thinks it's Parker.
Suffering blackouts, Parker begins to wonder if he is turning into someone dangerous. What if the monster stalking Mia is him after all?
No Author Comment Available.
Abigail's Thoughts
Not a fan. This looks like a horror cover. A little too disturbing for my taste.
Julia's Thoughts 
This image is really disturbing to look at, those rays seem to stab her in the eye.
Kristina's Thoughts
Nice effect centered around the eye! It would really pique my interest in the store.
Notes from Ghost Town by Kate Ellison
Expected publication: February 12th 2013 by EgmontUSA
Source: Tez Says
Covers in Series
N/A
They say first love never dies…
From critically acclaimed author Kate Ellison comes a heartbreaking mystery of mental illness, unspoken love, and murder. When sixteen-year-old artist Olivia Tithe is visited by the ghost of her first love, Lucas Stern, it's only through scattered images and notes left behind that she can unravel the mystery of his death.
There's a catch: Olivia has gone colorblind, and there's a good chance she's losing her mind completely–just like her mother did. How else to explain seeing (and falling in love all over again with) someone who isn't really there?
With the murder trial looming just nine days away, Olivia must follow her heart to the truth, no matter how painful. It's the only way she can save herself.
No Author Comment Available.
Abigail's Thoughts
She's lovely and the glassy grey water sets off her coloring nicely.
Julia's Thoughts 
I can't help but think of little kids wrapping their arms around themselves and pretending to be a couple making out.  That silly vibe is at odds with the chilling vibe of the woman walking into the water.  I love the color and her red hair, but I wish she had been posed differently.
Kristina's Thoughts
Very nice and serene feeling.
Kill City Blues (Sandman Slim #5) by Richard Kadrey
Expected publication: July 15th 2013 by Harper Voyager
Source: Author's Blog
Covers in Series
No Description Available.
No Author Comment Available.
Abigail's Thoughts
Abandoned Ferris Wheels give me the chills…love that they used one here.
Julia's Thoughts 
All the covers in this series manage to be so mysterious and riveting, despite putting a strong sense of place over character.  This one reminds me so much of the cover of The Great Gatsby.  I can see mysterious eyes in the background, it looks like she's winking.
Kristina's Thoughts
I always like a good abandoned amusement park. Creep and ominous with the stormy clouds.

And our picks for Best & Worst covers of the week…
Best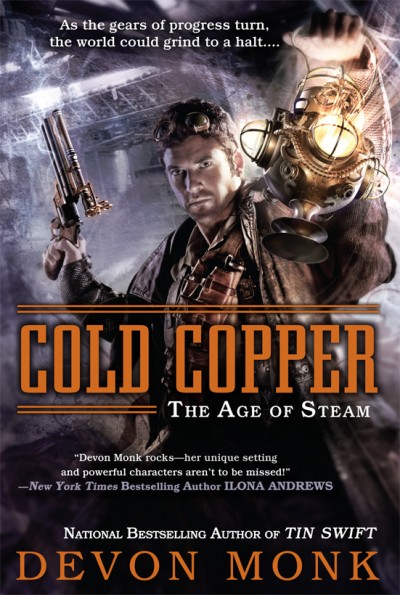 Worst
Leave a comment and tell us your picks for Best and Worst covers? See even more covers on our Pinterest board.

---
Have a cover we should include in an upcoming post? Or want us to reveal a cover? Fill out our Cover Submit form