We are excited to have Dianne Duvall here today to talk about her sexy paranormal romance series Immortal Guardians as part of her PHANTOM SHADOWS blog tour.  In her reviews, Abigail said that, "Fans of J. R. Ward's Black Dagger Brotherhood series will love this new series about a dangerous group of Immortals who battle against vampires. PHANTOM SHADOWS, the third book in this series is out now from Kensington Publishing.

Thank you, Abigail, Julia, & Kristina, for letting me visit All Things Urban Fantasy!  I'm so happy to be here today!
ATUF: The mythology in the Immortal Guardians is fascinating.  Can you give us a quick breakdown how Immortals differ from vampires?
DD: Vampires and immortals are both infected with a very a rare symbiotic virus that first conquers, then replaces their immune system, lending them increased speed, strength, and regenerative properties, as well as an unfortunate photosensitivity and a need for blood.  Vampires are humans who have been infected with the virus.  They suffer progressive brain damage that causes them to rapidly descend into madness.  Immortals, on the other hand, are gifted ones, men and women born with advanced DNA, who have been infected with the virus.  Their advanced DNA bestows upon them special abilities – like telepathy, telekinesis, or teleportation – and protects them from the more corrosive aspects of the virus, so they don't go insane.  Immortal Guardians have thus taken it upon themselves to hunt and destroy the vampires who prey upon humans.
ATUF: Bastian, the hero in PHANTOM SHADOWS was originally introduced as a villain.  Did you always know you were going to reform him?  Will he ever truly reform?
DD: I didn't know, at first, that I as going to try to reform him.  My goal initially was simply to create a multifaceted villain readers couldn't quite hate.  But he grew on me so much that I had to continue his story.  And readers ended up liking him so much that many mentioned hoping he would have his own HEA.  Will Bastien ever truly reform?  Not completely.  He's too accustomed to being a leader himself and doing whatever he wants to conform.  Many an Immortal Guardians rule will be broken on his watch.  J
ATUF: So far, all of your heroes have been Immortals that fell for non-immortal women.  Do you have any plans to flip those roles in future stories?
DD: Such a story HAS been teasing my imagination and could possibly make an appearance later in the series.
ATUF: In most paranormal romance series, vampires are the heroes.  What made you decide to portray them the way you did?
DD: When vampires first hit the fictional scene over a century ago, they did so as villains.  Creatures who preyed upon the innocent.  Nasty individuals capable of truly horrific deeds.  I wanted to return vampires to their roots . . . with a twist.  I wanted their evil to be involuntary.  Once infected with the virus, even good human men descend into madness and become monsters.  So I hoped some readers might sympathize with them or pity them for their plight.
ATUF: If PHANTOM SHADOWS were ever made into a movie, who would your dream or, to keep things interesting, nightmare cast be?
DD: Since I do the independent film thing when I'm not writing, I tend to think about this a lot.  J  My dream cast thus far is:
Bastien:  Jake Gyllenhaal
Dr. Melanie Lipton:  Evengeline Lilly
Seth: Alexander Skarsgård
David:  Jason Momoa
Darnell:  Damon Wayans Jr.
Chris Reordon:  Ryan Reynolds
Roland:  Hugh Jackman
Sarah:  Michelle Monagham
Marcus:  Johnny Depp
Ami:  Milla Jovovitch
Lisette:  Angelina Jolie
Richart and Étienne:  Sam Worthington
ATUF: What other projects can we look forwarding to reading from you soon?
DD: I've written an Immortal Guardians novella entitled In Still Darkness that will be included in the Predatory anthology (May 2013) alongside stories by Alexandra Ivy, Nina Bangs, and Hannah Jayne.  It features Richart as hero.  I'm also currently working on Immortal Guardians Book 4 (September 2013), which will feature Richart's twin Étienne as hero.
ATUF: What are some of your favorite titles/authors in the paranormal genres?
DD: I have SO many favorite authors, including Alexandra Ivy, Gena Showalter, Kresley Cole, Linsay Sands, Lynn Viehl, Christine Feehan, J. R. Ward, and Kerrelyn Sparks to name a few.
ATUF: Finish this statement with as much/little detail as you like: You'll like PHANTOM SHADOWS if you like…
DD: . . . strong, intelligent, courageous heroines, alpha male heroes with a soft side, villains you can't quite hate, lots of action, passion, humor, and tender moments, and plenty of tall, dark, handsome immortal secondary characters.  🙂
ATUF: Thanks so much for stopping by Dianne.  Come back anytime!
Dianne Duvall is the award-winning author of the Immortal Guardians paranormal romance series. Her debut novel Darkness Dawns has been nominated for the RT Reviewers' Choice Award for Best Vampire Romance 2011 by RT Book Reviews, for Best Paranormal Romance – Vampire 2011 by The Romance Reviews, for Best Debut Book 2011 – Romance by The Romance Reviews, and for Best Book of the Year 2011 by Long and Short Reviews. Night Reigns, the second book in her Immortal Guardians series, has been declared an "utterly addictive" Top Pick by RT Book Reviews and has been nominated for Best Paranormal Romance 2011 by The Romance Reviews. It has been described as "intense, passionate and engrossing" by The Romance Reviews and as "a clever, unique, and brilliantly executed book" by Long and Short Reviews. Phantom Shadows, the third book in the series will be released in October 2012.
When she isn't writing, Dianne is very active in the independent film industry and once even appeared onscreen as a machete-wielding maniac not unlike the vampires she so loves to create in her novels.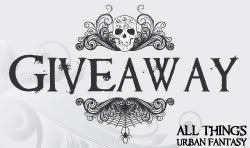 Giveaway provided by Kensington Publishing
One signed copy of one book from Immortal Guardians series by Dianne Duvall
Available now from Kensington Publishing
Description:
Dr. Melanie Lipton is no stranger to the supernatural.
She knows immortals better than they know themselves, right down to their stubborn little genes. So although a handsome rogue immortal seems suspicious to her colleagues, Sebastien Newcombe intrigues Melanie. His history is checkered, his scars are impressive, and his ideas are daring. But it's not his ideas that have Melanie fighting off surges of desire . . .
Bastien is used to being the bad guy. In fact, he can't remember the last time he had an ally he could trust. But Melanie is different – and under her calm, professional exterior he senses a passion beyond anything in his centuries of experience. Giving in to temptation is out of the question – he can't put her in danger. But she isn't asking him . . .
Enter the giveaway via the widget below

---
Interested in being a guest on All Things Urban Fantasy? Fill out our Guest Request Form