We are excited to have Erica Hayes stop by ATUF to talk about the fallen angels in her The Seven Signs paranormal romance series. The first in this new series; REVELATION  (published October 2nd 2012 by Berkley Sensation). Erica describes this series as, "The Seven Signs is an apocalyptic paranormal series, set in the near future against the backdrop of a twisted Biblical Apocalypse…I call it urban fantasy/romance, because it's a mixture of both, with strong dark fantasy elements but also a pivotal romance (with HEA) in each book." Want to get your hands on a copy? Check out the giveaway below.
What's a Fallen Angel to Do?
by
Erica Hayes
Fallen angels are cool, right? Everyone knows that. Thrown out of heaven – usually for breaking some arbitrary rule, or some other totally understandable transgression – and cursed to walk the earth, alone and friendless, forced to adapt to living among humans. 'Kick-ass warrior for God' isn't exactly a skill in demand in the human world. What will he do? Where will he go? And when the eternal battle between good and evil surfaces on earth – as it always does! – can he truly stand by and let it happen?
But the concept of a fallen angel just walking the earth with no purpose is a bit strange, isn't it? If he's been so bad, why doesn't God just throw him into hell? And if the angel's not that evil, then why waste good talent by kicking him out? Surely, heaven needs all the mighty warriors they can get. Why would the powers-that-be leave these guys just wandering around for no reason… or are they?
The fallen angels in my Seven Signs series are called the Tainted Host. They've been thrown out of heaven for a whole bunch of reasons—but saved from hell by their boss: Michael, the warrior archangel. Michael's the guy responsible for bringing holy wrath and destruction down on mankind – slaughtering the innocents, turning cities to salt, doing shadowy deals with demons, that sort of thing – and to that end, he's built himself a little gang of fallen angels who owe him a favor. No one wants to do the dirty work. But these guys? They've got no choice, if they want to stay out of hell.
Luniel, the hero of Revelation, was Tainted for putting love before duty—he let a demon go free so he could save the woman he loved, and heaven won't stand for that sort of disobedience. Dashiel, the Tainted Host's leader, was thrown out because he enjoyed killing too much. Iria was shunned for disobeying her archangel, Jadzia for cowardice in the face of the enemy when she let a tortured demon go free out of compassion. Ariel tried to interfere with God's Plan and got punished for it. And Japheth doesn't actually know why he was Tainted. Some whim of Michael's. He'll find out, in due course, and he won't like the answer…
Fact is, Michael has an unpleasant job to do. Might as well rope in the fallen angels, those shady cousins no one talks about at heaven's parties. They can't say no, unless they want to dive headfirst into hell.
But that doesn't mean the fallen can't keep their honor. When Luniel discovers a plot by a gang of demons to hijack the Apocalypse and bring on the end of the world, he can't just stand by and let it happen… but then he falls for Morgan, a beautiful medical examiner who's helping him fight the demons' plague, and things get more complicated. He's been punished before for letting love get in the way of duty. If he does it again, Michael won't have mercy on him… but what does his own soul matter, when Morgan's is at stake? And who cares about either of them, when the world's about to end?
Sacrifice, damnation, the one vs. the many, keeping the faith when the power deserts you… these are the themes I've tried to explore in Revelation. Along with cool fantasy stuff and hot romance 🙂 I hope you enjoy it!
Erica Hayes was a law student, an air force officer, an editorial assistant and a musician, before finally landing her dream job: fantasy and romance writer.
She writes dark paranormal and urban fantasy romance, and her books feature tough, smart heroines and colorful heroes with dark secrets. She hails from Australia, where she drifts from city to city, leaving a trail of chaos behind her. Currently, she's terrorizing the wilds of Northumberland.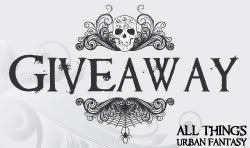 Giveaway provided by Erica Hayes
One copy of REVELATION by Erica Hayes
Available now from Berkley Sensation
Description:
A fallen angel with a mission and a medical examiner who's lost her faith are fighting for their souls in a glittering, near-future Manhattan… Blind faith is for fools. That's what Dr. Morgan Sterling believes. And she's going to prove it by curing the zombie plague ravaging her city's slums. She's certain it's not a sign of the End of Days, but a nasty disease—until an angel appears in her morgue in a flash of glory. Luniel is not just a fallen angel. He's a powerful warrior sworn to fight evil in hopes of a chance at redemption. He's after the demon princes who are stealing the seven vials of holy wrath which, when perverted, will unleash eternal hell on earth. To stop the plague, Luniel needs Morgan's help, and her faith. But Morgan believes science is their salvation. If the zombie plague is a demonic curse—and if Luniel is true—he'll have to prove it. Even if he loses his heart to true love or his soul to Hell…
Enter the giveaway via the widget below Open Internationally

---
Interested in being a guest on All Things Urban Fantasy? Fill out our Guest Request Form