We are excited to have Faith Hunter stop by to visit All Things Urban Fantasy on her blog tour for DEATH'S RIVAL (published on October 2nd 2012 by Roc), the fifth book in her Jane Yellowrock urban fantasy series. Today she has Jane and Beast list an increasingly amusing the top ten things they disagree on. We review two of her previous books in this series here and here .  Want to win a copy? Check out the giveaway below.

Faith Hunter's Top 10 Things Beast and Jane Disagree on
Faith Hunter
Faith Hunter, fantasy writer, was born in Louisiana and raised all over the south. The Skinwalker series, featuring Jane Yellowrock is taking off like a rocket with Skinwalker, Blood Cross, Mercy Blade, Raven Cursed, and Death's Rival. Her Rogue Mage novels, a dark, urban fantasy series—Bloodring, Seraphs, and Host—feature Thorn St. Croix, a stone mage in a post-apocalyptic, alternate reality, urban fantasy world. These novels are the basis for the role playing game, Rogue Mage(2012).
Under the pen name Gwen Hunter, she writes action-adventure, mysteries, and thrillers. As Faith and Gwen, she has 20+ books in print in 28 countries.
Hunter fell in love with reading in fifth grade, and best loved SiFi, fantasy, and gothic. She decided to become a writer in high school, when a teacher told her she had talent. Now, she writes full-time and works full-time in a hospital lab, (for the benefits) tries to keep house, and is a workaholic with a passion for travel, jewelry making, white-water kayaking, and writing. She and her husband love to RV, traveling with their dogs to whitewater rivers all over the Southeast.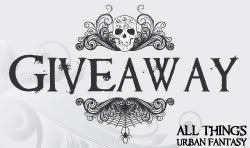 Giveaway provided by Roc
One copy of DEATH'S RIVAL by Faith Hunter
Available on October 2, 2012 from Roc
Description:
Jane Yellowrock is a shapeshifting skinwalker you don't want to cross—especially if you're one of the undead…
For a vampire killer like Jane, having Leo Pellisier as a boss took some getting used to. But now, someone is out to take his place as Master Vampire of the city of New Orleans, and is not afraid to go through Jane to do it. After an attack that's tantamount to …a war declaration, Leo knows his rival is both powerful and vicious, but Leo's not about to run scared. After all, he has Jane.
But then, a plague strikes, one that takes down vampires and makes their masters easy prey. Now, to uncover the identity of the vamp who wants Leo's territory, and to find the cause of the vamp-plague, Jane will have to go to extremes…and maybe even to war.
Enter the giveaway via the widget below – Open US only

---
Interested in being a guest on All Things Urban Fantasy? Fill out our Guest Request Form
About the author