We are excited to have Faith Hunter stop by to visit All Things Urban Fantasy on her blog tour for DEATH'S RIVAL (published on October 2nd 2012 by Roc), the fifth book in her Jane Yellowrock urban fantasy series. Today she has Jane and Beast list an increasingly amusing the top ten things they disagree on. We review two of her previous books in this series here and here .  Want to win a copy? Check out the giveaway below.

Faith Hunter's Top 10 Things Beast and Jane Disagree on
10
FOOD-How do you like your steak?
Jane:  I like my steak rare, but preferably not still kicking.
Beast:  Would like to hunt Cow and kill it. Eat it kicking. Fighting. (licks jaw and purrs) Good dead cow meat.
Jane: (Rolls eyes)
9

Clothes
Jane:  I'm not a girly girl—no ruffles or lace. I like jeans and leather when I'm working, and swirly skirts when I'm dancing.
Beast:  (Flicks ear tabs) Pelt. Claws. Killing teeth. Jane wears prey clothes. But Jane is not prey. I do not always understand.
8

Boots
Jane:  Lucchese. My favorites are this green snakeskin pair. But I have others. An old, black, ostrich-skin pair, a dark burgundy pair. I'm not a girly girl, but I guess I am a boot slut.
Beast:  (Looks away) Beast does not wear boots. Stupid question.
7

Dancing
Jane:  Looove to dance! I haven't found a chance to go dancing for weeks and I miss it. I took a belly-dance class for about a year and half, and while I didn't keep it up, it did add a lot  of moves to my repertory.
Beast: (Chuffs) More stupid question. Puma do not dance. Leap, jump, run, chase pray. But not dance.
6

Hunting
Beast:  (leaps to all four paws)  Want to hunt cow! Want to hunt bison!
Jane:  We don't hunt cow or bison. They belong to cattlemen. If big-cats hunt livestock, the ranchers hunt down the cat and kill it.
Beast:  (Drops ear tabs, wrinkles skin between eyes)  Want to hunt cow. (Looks away, angry, tail tip waving slowly.)
5

Exercise
Jane:  I dance, work out with weights some, practice a mixed martial arts. I like to spar. (She grins, showing teeth.)
Beast:  (Looks away.) Exercise is play. Beast does not play. Beast hunts.
4

Weapons
Jane:  An M4 tactical shotgun. Couple of nine mils, couple of .380s and—
Beast:  Stupid human weapons. Claws and killing teeth. (Snarls to show teeth.)
3

Music
Jane:  I like anything with a good beat, reggae, soul, especially R and B.
Beast:  Music of prey dying. Scream of dying deer, dying rabbits—
Jane:  Beast! Stop that. You're scaring the readers.
Beast:  (Chuffs with laughter) (Looks slyly at Jane)  Screams of dying readers.
Jane:  Oh Crap. I am so sorry. She isn't like this.
Beast:  Beast is always like this. Beast is good hunter.
2

Lipstick
Jane:  I like red. It's the only color I wear.
Beast:  (Makes huff of laughter.) Jane likes color of blood on mouth. Color dead prey, killed by hunter.
Jane: (Drops head to desk.) The writer is gonna kill me.
1

Okay. Last question: MATES
Jane:  (looking glum) I'm looking for Mr. Right, you know?  But I haven't found any skinwalkers. None. So it's looking like I'm gonna have to settle for Mr. Almost Right or Mr. Right-For-Now.
Beast:  Want strong mate. Want many strong mates. Strong mates give strong kits. (Looks at Jane.) Jane is stupid to not take many mates.
Jane:  Beast, please. Can we talk about this later? In private?
Beast:  (Chuffs.)  Want Rick. And Bruiser. And Leo.  Together.
Jane:  The writer is gonna kill me!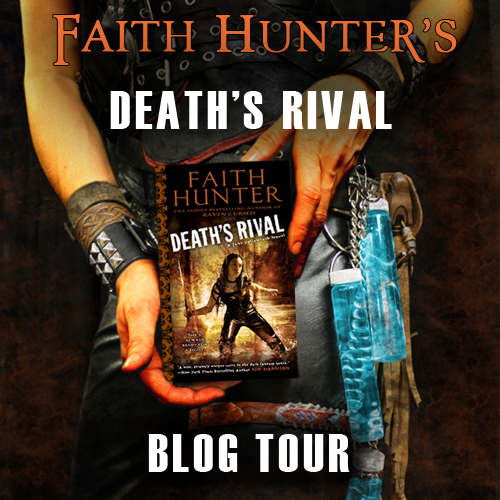 Faith Hunter, fantasy writer, was born in Louisiana and raised all over the south. The Skinwalker series, featuring Jane Yellowrock is taking off like a rocket with Skinwalker, Blood Cross, Mercy Blade, Raven Cursed, and Death's Rival. Her Rogue Mage novels, a dark, urban fantasy series—Bloodring, Seraphs, and Host—feature Thorn St. Croix, a stone mage in a post-apocalyptic, alternate reality, urban fantasy world. These novels are the basis for the role playing game, Rogue Mage(2012).
Under the pen name Gwen Hunter, she writes action-adventure, mysteries, and thrillers. As Faith and Gwen, she has 20+ books in print in 28 countries.
Hunter fell in love with reading in fifth grade, and best loved SiFi, fantasy, and gothic. She decided to become a writer in high school, when a teacher told her she had talent. Now, she writes full-time and works full-time in a hospital lab, (for the benefits) tries to keep house, and is a workaholic with a passion for travel, jewelry making, white-water kayaking, and writing. She and her husband love to RV, traveling with their dogs to whitewater rivers all over the Southeast.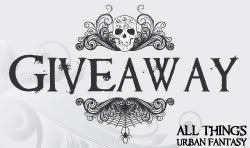 Giveaway provided by Roc
One copy of DEATH'S RIVAL by Faith Hunter
Available on October 2, 2012 from Roc
Description:
Jane Yellowrock is a shapeshifting skinwalker you don't want to cross—especially if you're one of the undead…
For a vampire killer like Jane, having Leo Pellisier as a boss took some getting used to. But now, someone is out to take his place as Master Vampire of the city of New Orleans, and is not afraid to go through Jane to do it. After an attack that's tantamount to …a war declaration, Leo knows his rival is both powerful and vicious, but Leo's not about to run scared. After all, he has Jane.
But then, a plague strikes, one that takes down vampires and makes their masters easy prey. Now, to uncover the identity of the vamp who wants Leo's territory, and to find the cause of the vamp-plague, Jane will have to go to extremes…and maybe even to war.
Enter the giveaway via the widget below – Open US only

---
Interested in being a guest on All Things Urban Fantasy? Fill out our Guest Request Form