We're so glad to be welcoming Sara Beth Durst today for an interview about her YA fantasy, VESSEL (available on September 11. 2012 from Margaret K. McElderry Books).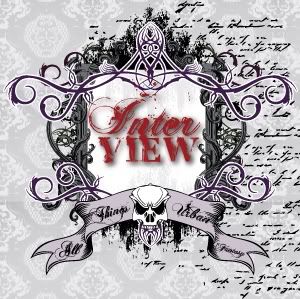 ATUF: Where did the idea of gods and goddesses inhabiting humans for this story come from?
SBD: It's an idea that I've been toying with for a while.  I was drawn to the idea of a person with extraordinary power that was purchased at an extraordinary price.
ATUF: What can you tell us about Liyana's desert tribe?
SBD: She belongs to the Goat Clan, a nomadic desert tribe with a strong oral storytelling tradition.  They move from oasis to oasis, trying to escape a terrible drought.
ATUF: The cover for VESSEL is so lush and gorgeous.  Can you tell us anything about it?
SBD: So happy you like it!  The art was done by Jaime Ibarra.  A while back, I discovered a blog post with photos from the cover shoot.  An artist painted the tattoos on the model's arms (to match Liyana's tattoos that identify her as a vessel for a deity), and the model practiced whooshing the fabric to get the feeling of movement that you see in the cover.  I am completely in love with the result.  I think it matches the tone of the book perfectly.
ATUF: What other projects can we look forwarding to reading from you soon?
SBD: I am currently working on a YA novel called SWEET NOTHINGS about a girl in the paranormal witness protection program (coming fall 2013 from Bloomsbury/Walker), as well as my first trilogy for adults, THE LOST, THE MISSING, and THE FOUND (from Luna).
ATUF: VESSEL is quite a departure from your last book, DRINK, SLAY, LOVE.  Can we expect any humor in VESSEL?
SBD:  DRINK, SLAY, LOVE was about a vampire girl and a were-unicorn, and it was full of snark.  I had a blast writing it.  Highly recommend writing about an evil protagonist.  VESSEL has a very different tone — it's about what happens after you lose your destiny.  But there are moments of humor.  I believe that humor is a basic human coping mechanism and belongs in virtually very kind of story.
ATUF: What are some of your favorite titles/authors in the paranormal genres?
SBD: Some recent favorites include: the WVMP Radio series by Jeri Smith-Ready, Bloodshot by Cherie Priest, the Parasol Protectorate series by Gail Carriger, the Raised by Wolves series by Jennifer Lynn Barnes, and the Sookie Stackhouse books by Charlaine Harris.
ATUF: Finish this statement with as much/little detail as you like: You'll like VESSEL if you like…
SBD: …THE BLUE SWORD by Robin McKinley, GRACELING by Kristin Cashore, or the Tortall books by Tamora Pierce.
Thanks so much for interviewing me!
ATUF: Thanks so much for dropping by, Sarah!  Come back anytime
Sarah Beth Durst is the author of Drink, Slay, Love (coming Sept 2011), Enchanted Ivy, and Ice from Simon & Schuster, as well as Into the Wild and its sequel Out of the Wild from Penguin Young Readers. She has been writing fantasy stories since she was ten years old and holds an English degree from Princeton University, where she spent four years studying English, writing about dragons, and wondering what the campus gargoyles would say if they could talk. Sarah lives in Stony Brook, New York, with her husband and children.
Available on September 11. 2012 from Margaret K. McElderry Books
Description:
In a desert world of sandstorms and sand-wolves, a teen girl must defy the gods to save her tribe in this mystical, atmospheric tale from the author of Drink, Slay, Love.
Liyana has trained her entire life to be the vessel of a goddess. The goddess will inhabit Liyana's body and use magic to bring rain to the desert. But Liyana's goddess never comes. Abandoned by her angry tribe, Liyana expects to die in the desert. Until a boy walks out of the dust in search of her.
Korbyn is a god inside his vessel, and a trickster god at that. He tells Liyana that five other gods are missing, and they set off across the desert in search of the other vessels. For the desert tribes cannot survive without the magic of their gods. But the journey is dangerous, even with a god's help. And not everyone is willing to believe the trickster god's tale.
The closer she grows to Korbyn, the less Liyana wants to disappear to make way for her goddess. But she has no choice: She must die for her tribe to live. Unless a trickster god can help her to trick fate—or a human girl can muster some magic of her own.
---
Interested in being a guest on All Things Urban Fantasy? Fill out our Guest Request Form