We're welcoming Claire Ashgrove to the blog today to talk about the latest installment in The Curse of the Templars, IMMORTAL SURRENDER (published on September 25th 2012 by Tor Books) and the little things that make paranormal romance so satisfying.  We have an exciting giveaway attached to this post!
The Little Things
by
Claire Ashgrove
Happy Thursday, everyone!  I have to gush for a minute:  All Things Urban Fantasy is a blog I adore, and I'm so excited to be here!  Really very excited about celebrating the release of Immortal Surrender with all of you.
I've thought on what to blog about for over a month.  Agonized over topics that were witty, interesting, and guaranteed to make you want to read my book.  In the end, I realized I was suffering a huge case of nerves.  So backing off the grandiose expectations I put upon myself, today we're simply going to talk about the little things that make a paranormal romance so satisfying.
Sure, we all think of incredible worlds and fantastical events or abilities when we think paranormal.  But believing in vampires, shape shifters, warlocks, and dragons (and Immortal Templar knights!) is what makes the story.
Belief is established by the little things.  It's the texture of the sable coat the werewolf assumes that makes him real.  The subtle nuances of a city street that transports us back in time.  The ancient lettering on the cover of a book that makes it not just old, but archaic.
And Paranormal Romance takes this a step further, with not just the setting coming to life, but the relationship as well.  Little things count here too.  Often far more than many other factors.
For instance, a lingering touch of the hands often communicates more intimacy than a wild romp in the hay.  The sudden, thoughtful gesture the heroine makes, even after she's been at odds with the hero a few hours earlier – particularly if she's not aware she's being thoughtful.  The heroes ability to remember, without even consciously realizing he's done so, that she likes her coffee black with one teaspoon of sugar.
For Farran, in Immortal Surrender, the little things play an insurmountable role in his ability to embrace his seraph.  Often, Noelle has no idea she's even touched him emotionally.  But we know it.  We know his struggle, we know where the grimace comes from, and we feel just how a chaste touch of her hand makes him hurt inside.  He believes to believe in her, not because the archangels have said he has no choice, not because she falls on her knees and professes love, but because he has seen it through the innocent gestures, the details…the tiny little nuances that color his world.
As with life, the little things make everything more rich, more satisfying and more memorable.  I'd love to hear your thoughts—tell me when something small, and maybe insignificant to another, has meant the world to you?
Be sure to check out Claire's blog tour for Immortal Surrender, which officially begins on September 25th.  You can find all the dates and details about prizes, here.  Keep an eye on her blog too – rumor has it she has some silver screen stars dropping in!
Claire Ashgrove has been writing since her early teens and maintained the hobby for twenty years before deciding to leap into the professional world. Her first contemporary novel, Seduction's Stakes, sold to The Wild Rose Press in 2008, where she continues to write steamy, sexy stories for the Champagne and Black Rose lines. Adding to these critically acclaimed contemporaries, Claire's paranormal romance series, The Curse of the Templars, will debut with Tor in January 2012. For those who prefer the more erotic side of romance, she also writes for Berkley Heat under the pen name Tori St. Claire.
Claire lives on a small farm in Missouri with her two toddler sons, fifteen horses, four cats, and five dogs. In her "free" time, she enjoys cooking, winning at rummy, studying ancient civilizations, and spending quiet moments with her family, including the critters. She credits her success to her family's constant support and endless patience.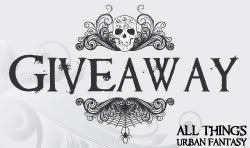 Giveaway provided by Tor Books
One copy of IMMORTAL SURRENDER by Claire Ashgrove
Available on September 25, 2012 from Tor Books
Description:
Farran de Clare, loyal member of the cursed Knights Templar, wants nothing to do with predestined mates. Even the Almighty won't turn him into a fool again—he'd rather sacrifice his soul. Yet in the scientist Noelle Keane, a devout atheist, Farran meets the seraph designed for him.
Ordered by the archangel Gabriel to protect Noelle, the possessor of a sacred relic that could give Azazel incredible power, Farran swears to do his duty—but in name only. Fighting an attraction that grows with each day, he's determined that he'll never pledge himself to her.
As they war over her future, their mutual passion ignites a conflict far more damning. But before Noelle will agree to eternity with him, she demands the ultimate sacrifice – his heart.
Enter the giveaway via the widget below – US ONLY
---
Interested in being a guest on All Things Urban Fantasy? Fill out our Guest Request Form