Today's Deadly Destination  is from Veronica Wolff's Mei-Ling on the Isle of Night from BLOOD FEVER (published on August 7th 2012 by NAL Trade). Want to win a copy? Enter via the widget below.
**Visit Dark Faerie Tales today for her Deadly Destination from Lesley Livingston & a chance to win STARLING**
Veronica Wolff's Mei-Ling on the Isle of Night from BLOOD FEVER
Dear Mom, Dad, and Shan-Shan,
I've been kidnapped. You probably think I ran away, and I hate that. I hate that I'll never be able to send this. I hate that you'll never know what happened to me. But there's no way to reach out to you. The man who took me told me…if I ever see you again, we'll all be dead.
I'm thinking of you constantly. Especially you, Dad. Trying to be brave like you must've been when you came to America. You didn't pity yourself. You worked hard. You survived. I'll do the same.
They took me to some sort of boarding school, and it's like something from a horror movie. The things I've seen…I can't even write about them, it's all so insane. I've learned that monsters exist.
They put me with a roommate, Annelise Drew. As far as I can tell, she chose to be here, and I can't decide if that makes her intimidating or just pitiful. Thankfully, she's friendlier than the other students, even though she does seem like she might be a know-it-all. Just because the rest of us don't speak every word that pops into our heads doesn't mean we don't have our own thoughts, right? But she seems decent and trustworthy, and that's more than I can say for some of these other girls.
I got a peek at her syllabus, and it's very strange. She's studying things like "Combat Medicine" and "Expeditionary Skills Training" (whatever that is). Meanwhile, my schedule is all music all the time—of course. I suspect that's why they brought me here. I suspect they know my secret…
I'll write more soon. Maybe someday I'll find a way to send it.
Sincerely,
Your loving daughter, Mei-Ling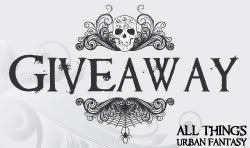 Giveaway provided by NAL/Veronica Wolff
Four copies of BLOOD FEVER by Veronica Wolff
Published on August 7th 2012 by NAL Trade
Description:
THERE'S NO PLACE LIKE HOME —
EVEN IF HOME IS WHERE THE DEAD LIVE.
It's the start of the fall semester, and a new crop of Acari and Trainees has descended on the Isle of Night. Watcher training has intensified, and Drew has a new roommate named Mei-Ling. But Mei-Ling harbors a dangerous secret that drove the vampires to abduct her against her will. Drew knows she shouldn't get involved, but she can't seem to leave her roommate to fend for herself.
Luckily, Drew has other things on her mind—like vampire Carden. A blood bond to a brawny, eighteenth-century Scottish bad boy tends to preoccupy a girl. And though she's still figuring out what this bond means, one thing has become clear: She craves him in a major way.
But then bodies start turning up on the island. All the evidence points to the existence of a rogue vampire, and the sinister vampire Alcántara is gunning for Carden, even though Drew has proof that Carden had nothing to do with the murders. Now she has to find the true killer—without endangering Carden, Mei-Ling, or herself…
Enter the giveaway via the widget below –

US addresses only

Click below for more Deadly Destinations
See all the upcoming DD posts 
Enter all the previous giveaways
More DD on Dark Faerie Tales