Today's Deadly Destination  is from Sara Walsh's Mia Stone on Crownsville THE DARK LIGHT (published on  August 28th 2012 by Simon Pulse). Want to win a copy? Enter via the widget below.
**Visit Dark Faerie Tales today for her Deadly Destination from Bec McMaster & a chance to win KISS OF STEAL**
Sara Walsh's Mia Stone on Crownsville THE DARK LIGHT
Hey, guys! You came to Crownsville. Really? Seriously? Well… that's okay. Let me show you around. We'll start downtown.
Here's where I waitress at Mickey's Bar and Grille. You can get the best fried chicken in Nebraska at Mickey's. That's Greg, the night manager, and that guy getting loaded at the bar? Rich Manning. Don't even get me started on Rich Manning. I swear he only comes in here to make my life a misery. Don't stare. You'll only encourage him.
Next stop is Reggie West's Motor Repair and Salvage, another place I know really well. Remember that bucket of bolts parked outside of Mickey's? Yeah. That's my car, Rusty. He spends most of his time at Reggie West's. Everyone wave at Reggie! I'd be sunk without him.
And there's Crownsville High. Only a few more months and I start my senior year. I can't wait, because next comes college and that's me out of here.  See all the flowers on the sidewalk across the street? That's the spot where Simon Wilkins disappeared a month ago. You've heard about the disappearances, right? The Crownsville Kidnappings? Simon was the fourth boy taken. He was nine years old, about the same age as my half-brother, Jay. Parents are keeping their kids pretty close right now, especially at night, so if you're here with family, you might want to stick together. I know we're not letting Jay out of our sight. The cops still have no idea who's taking the boys–it's as if they just vanished into air. Some people say it's because of the strange lights that are sometimes seen around Crownsville, but that's just a rumor. I've never seen any lights and I've lived here since I was eight. If you want to hear about the lights, we should head to the Ridge before it gets dark. We can cut through the woods.
So here's the Ridge. Sorry about the hike, but it's a couple of miles out of town. The Ridge is actually the highest point in Crownsville. It's pretty cool. We come here to hang out and swim in the river way down there. Don't get too close to the edge, though–it's pretty steep. Here on the plateau is one of the places where people have seen the lights. Right where we're standing. People say the lights come from the ground, or maybe from the air, and that sometimes they're colored, yellow and peach and green. Some of the old folks say "Nothing good ever happens when the lights come to Crownsville." And I guess things aren't that great at the moment, with those kids gone and the kidnapper still loose on the streets. People are scared.
But let's end the tour with something cheerful. Everyone turn one-eighty. There's the best sunset in Nebraska. We should sit on the grass and watch. Take a good look across the plains. The small town you see in the distance is Onaly Crossing with the Sleeper Hill Giant beside it. And then nothing but farms and open land pretty much all the way to the mountains. I love looking out over all this space. It makes you wonder what else might be out there.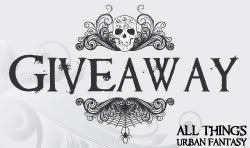 Giveaway provided by Sara Walsh
One copy of THE DARK LIGHT by Sara Walsh
Published on  August 28th 2012 by Simon Pulse
Description:
Mysterious lights have flickered above Crownsville for as long as Mia can remember. And as far as she's concerned, that's about the only interesting thing to happen in her small town.
That is, until Sol arrives. Mia's not one to fall for just any guy, but she can't get Sol–or the brilliant tattoo on his back–out of her mind.
Then Mia's brother goes missing, and Mia's convinced that Sol knows more than he's sharing. But getting closer to Sol means reevaluating everything Mia once believed to be true. Because Sol's not who Mia thought he was–and neither is she.
Enter the giveaway via the widget below – Open Internationally

Click below for more Deadly Destinations
See all the upcoming DD posts 
Enter all the previous giveaways
More DD on Dark Faerie Tales