Today's Deadly Destination is from Nina Berry's Lazar on the Otherkin threat in the Western US from OTHERKIN (published on July 31st 2012 by K Teen). Want to win a copy? Enter via the widget below.
**Visit Dark Faerie Tales today for her Deadly Destination from Kristen Callihan & a chance to win MOONGLOW**
Nina Berry's Lazar on the Otherkin threat in the Western US from OTHERKIN
To: His Excellency, the Honorable Ximon
From: Your son, the Reverend Lazar.
Dear Father,
My sister Amaris and I send fond greetings. You are missed at headquarters, but I'm proud to tell you that everything is in order under my command.
Attached find the updated Otherkin Threat Assessment map as well as minutes from this week's meeting. In the 8 hours since the meeting, I've flown to Burbank and uncovered some extraordinary information.
Since surveillance on the code orange area around the oak tree in Burbank is at the top of your priority list, I had cameras placed there three days ago. The footage showed us a teenage girl coming every day to sit under the tree to read or do homework.
Today I flew to assess her in person. I can confirm that she is a shifter from Eastern Russia. This is exactly what you predicted when we found a vibration in the area at the same frequency as the highly dangerous code red area in Tunguska, Siberia.
Here's the extraordinary thing: the shifter is actually an Amur, aka Siberian tiger, the only one confirmed to exist in the world in the last twenty years. Her human form is that of a girl named Desdemona Grey, approximately sixteen years old, very tall, with green eyes and red hair. Our records indicate these traits are normal for a Siberian tiger-shifter.
We're still investigating how a tiger-shifter from Siberia came to reside in Burbank, California, but the girl's mother, Caroline Grey, is not otherkin. So the girl may actually have been adopted (!) by a human.
As you know, nothing like that has ever been recorded before. So I'm waiting for confirmation from the Moscow division before putting it in the official Tribunal database. Neither Desdemona Grey nor anyone of her acquaintance is in contact with shifters of any tribe. Our surveillance will continue until I get the order from you. Send the word and I will capture her myself.
On other matters, we lost track of the teenage male grizzly bear-shifter who flew into San Francisco from Alaska.  He lost our scouts somewhere near San Jose, heading south on highway 101. All California acolytes have received a photo of him with the warning that he is dangerous. Given his size, he may require a triple or even quadruple dose of our silver tranq to subdue him. I hope one day soon to make you proud by seizing him personally.
Rat Catcher is already on a plane to Oakland to investigate Anderson's Pawn and Loan as a possible rat-owned business. We're also double-checking on the eagle's nest in Lake Alamo to make sure its apparent vulnerability isn't a trap.
One more thing you should know: Acolyte Gershom interrupted the meeting twice with questions, despite being informed that questions are heretical.
Specifically he wanted to know why the Livermore Lab and Idaho National Lab are Code Yellow, and what had caused the Code Red area north of Las Vegas to be labeled "Do Not Enter." He knows very well that the veil between our world and Othersphere is thin in these areas, and that the abilities of the otherkin are amplified there.
He had the impudence to declare that our own powers are also amplified in these places, and to suggest that perhaps we are not so different from those we hunt. On my orders he was taken to a discipline cell to be scourged for ten days until he admits his sin and requests forgiveness. If he cannot be redeemed after that time, we will deal with him accordingly.
Yours in complete obedience and filial love,
Lazar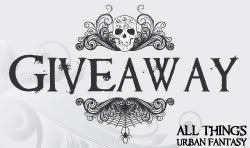 Giveaway provided by Kensington and Nina Berry
Two copies of OTHERKIN by Nina Berry
Published on July 31st 2012 by K Teen
Description:
Sixteen-year-old Desdemona Gray doesn't even bother with crushes on cute boys now that she's forced to wear a hard plastic back brace all day.  What guy would want to literally have to knock on a girl to be let in?  So she squashes down every impossible desire until an uber-awkward brush with a boy brings out all her frustration and she changes…into a tiger.  In that bewildering moment, she is captured by Ximon, the leader of a fanatical group hell-bent on wiping out the five remaining tribes of shape-shifters, known as the otherkin.
With help from a handsome, mysterious fellow captive named Caleb, she escapes and goes on the run, finding allies and learning the truth behind the legends of wizards and were-creatures.  Then Ximon goes too far, and Dez must tap into all her buried desires to find her inner tiger and save herself, her new friends, and the boy she loves.
Read an excerpt|Read our review
Enter the giveaway via the widget below –

US/CA addresses only

Click below for more Deadly Destinations
See all the upcoming DD posts 
Enter all the previous giveaways
More DD on Dark Faerie Tales