Welcome to this year's first Deadly Destination post from one of my favorite urban fantasy authors: Kelly Gay.  Kelly writes the Charlie Madigan series about a resilient cop and her super hot siren partner Hank policing the off-world visitors to Atlanta.   Today, Kelly's oracle Alessandra is giving us the lowdown on the heaven-like Elysia from SHADOWS BEFORE THE SUN (published on July 31, 2012 from Pocket Books).  Want to win a copy? Enter via the widget below.
**Visit Dark Faerie Tales today for her Deadly Destination with Cynthia Eden & a chance to win ANGEL BETRAYED**
Kelly Gay's Alessandra on Elysia from SHADOWS BEFORE THE SUN
Hi Everyone! I was trying to write a nice piece about the heavenly world of Elysia, but then Alessandra, the oracle (or the 'Know It All', as Charlie would say) kept butting in and took over. Why am I not surprised? So I gave up. Here she is in all her prophetic glory…
~
Let's just be upfront. I'm the world's greatest oracle. Simple as that. Those other bitches don't hold a candle to me. Never did. Never will. I'm also handy with a knitting needle… And now I'm about to play tour guide, of all things. I'm currently sitting in the terminal of Hartsfield Jackson at the gateway leading into the heavenly realm of Elysia. Even though I've already foreseen her reaction, I can't wait to see the look on Charlie Madigan's face when she sees me sitting here, waiting for her. How I love getting under her skin! One of life's small pleasures.
Charlie's never been to Elysia. She's a homebody—hates to travel—but she'd move mountains to make things right, jump into the mouth of hell to save those she loves, which she did not too long ago, in fact. Now it's heaven's turn. And she's not going for the scenery; she's going to find her siren (she's says he's not "hers", but c'mon. Hank, however, isn't as conflicted; the way that siren looks at her, grins at her . . . *fans self* in his mind, Charlie is already his).
Anyway, I digress.
Charlie is in for a visible treat. Elysia is beautiful. It is, after all, the place that inspired "heaven". There are pristine white temples, columns so tall they reach the clouds, stones so white, they shine. And when the sun sets and hits those stones, the entire capital city of Ithonia glows golden. Ithonia was built by the Adonai,those god-like, angelic-looking beings with egos the size of the green mountain Ithonia was built upon. So much wonder to be had, to be seen. But even there, evil lurks. Veiled in such beauty. Deceptive, that. Charlie will find this out once we travel beyond Ithonia and into the siren city of Fiallan—the isolated walled city of white-washed homes and temples tucked into the rocky coastline above a glorious sea. So much deception there…
Ah. There she is now, two bags slung over each shoulder, her steps long and sure, a weapon tucked against each rib cage and a third on her hip. So capable, so ready to fight for what's right. She's not as classically perfect as me, mind you, but she does have a certain feminine lure, and she's pretty when she smiles (ever tell her that, and I will drive my knitting needle into your eyeball).
Anyway, while she annoys the Gate Agent, I'll settle back and wait until she turns around and sees me. Like I said, small pleasures people! Gotta grab 'em when you can. Tour Guide here I come. 😉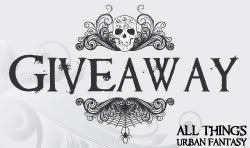 Giveaway provided by Pocket Books
One copy of Shadows Before the Sun (Charlie Madigan #4) by Kelly Gay
Published on July 31, 2012 from Pocket Books
Description:
Between life and death lies a chasm of pain beyond imagining. . . .
Elysia may be a heavenly off-world destination, but beyond it, in the siren city of Fiallan, the Circe have punished Charlie Madigan's partner, Hank, into a tortuous state between life and death. With all the proper legal channels cleared, Charlie heads to Elysia, not knowing what she'll find, or if she'll ever see the siren again . . . while at home, jinn crime boss Grigori Tennin has begun an all-out hunt for the divine being Ahkneri. Tennin's tactics set off a chain reaction that puts Charlie in the crosshairs of the shadowy creature known as Death, and stirs Ahkneri from her long sleep—and if Vengeance wakes, Atlanta will never be the same.
Read an excerpt|Read our review
Enter the giveaway via the widget below –

US addresses only

Click below for more Deadly Destinations
See all the upcoming DD posts 
Enter all the previous giveaways
More DD on Dark Faerie Tales