Today's Deadly Destination  is from Jocelynn Drake's Gage on Low Town from THE ASYLUM INTERVIEWS: BRONX (Published by Harper Voyager  on July 3, 2012). Want to win a copy? Enter via the widget below.
**Visit Dark Faerie Tales today for her Deadly Destination from M.J. Scott & a chance to win BLOOD KIN**
Jocelynn Drake's Gage Powell on Low Town from THE ASYLUM INTERVIEWS: BRONX
I talked to that author I work with, Jocelynn Drake, recently and she mentioned that people were interested in visiting Low Town.  My first reaction was naturally, "You're kidding, right?" but she was dead serious.    She suggested that I supply a quick guide to out-of-towners wanting a little adventure.
First, Low Town is in the Midwest, which means we get more snow than Florida and less snow than Montana  each winter (unless the Winter Court decides to come to town and then you're just better off vacationing at the South Pole because there'll be less snow there).  In the summer, it's hot.  Fry an egg on the sidewalk hot.  And no, it's not a dry heat.
If you happen to be a shape-shifter, you'll need to check in with the local packs to get approval to come into their territory.  Jackson Wagnalls is the alpha for the Low Town werewolf pack.  He's an okay guy, but I wouldn't mention my name since he's not a fan of mine.  (I still think he's blowing that whole Chihuahua thing out of proportion.)    Of course, if you're a vampire, you'll also need to swing by one of the local nests for approval as well.  We have two nests in town.  There are also several troll-friendly hotels in the area if you're the type that's extremely allergic to sunlight.
Low Town is like any medium-sized city.  We've got skyscrapers (the tallest being Lindner Tower).  We've got a zoo, theaters, and sports arenas, but you want the off-the-beaten path, 50-cent tour, right?
First, if you're looking for something sweet, on the south side of town, there's a little pastry and sweets shop called Brownie Delights.  I've been told that the things they do with chocolate are worth killing for (though they haven't reported any deaths in over three years).  I don't stop at the shop because I don't trust the fey when it comes to food.
On the more adult end, there is a great tapas bar called Warm & Toasted.  The place has an excellent selection of wines, coffees, and empanadas.  Also, the place has become quite popular with vampires since they recently set up an agreement with local blood bank to keep in stock a few types of blood each night.  Just be sure to have your BBC (Blood Bank Card) on hand if you wish to order.  (Keep in mind this is the more slacks and collared shirt crowd.)
If you're looking for more of the vintage rock T-shirt and jeans crowd, head over to Cock's Crow.  The bar is wall-to-wall awesome with rock music blasted over the speakers when there isn't a live band in the back.  The owner Dolan caters to all types.  He's even set up some smaller tables on ledges near the ceiling for the pixies and faeries, but I wouldn't advise sitting under them as they tend to spill their drinks as the night wears on.  The other nice thing is that since Dolan is a minotaur, the fights are kept to a minimum (except on Wednesday night – half-price shots and domestic beers for ogres and trolls).
If you're a fan of good beer and German food, head over to Strauss Haus Restaurant and Bier Garten.  They have the best imported beer selection on tap in the city and Tuesday night is half-priced sauerkraut balls.  (But watch out for Fridays, there's a wandering polka band.  Also, don't mention my name to the seating hostess.  She's a siren and doesn't like me much at the moment either.)
For a real adventure, or maybe just a wild bachelor/bachelorette party, I suggest Miss Holly's Hot House.  Hidden in a quiet neighborhood, the succubus-run brothel employs only succubi and incubi, and caters to nearly every fantasy. (Don't worry, they are regulated by the health department.)
And what visit to Low Town would be complete without a new tattoo to show your friends when you get home?  Asylum Tattoo Parlor is just down the street from Strauss Haus.  Get Trixie, Bronx, or me to give you some fresh ink.  Want to forget about this vacation completely?  I've got the right potion that can help with that too.
You're going to have a great time in Low Town.  If not, I can help you forget!
Gage Powell, tattoo artist and owner of Asylum Tattoo Parlor
Low Town is a wild and strange place filled with the dangerous and unexpected.  Follow tattoo artist Gage Powell on his adventures through Low Town in the Asylum Tales with his friends Bronx and Trixie.  The novella THE ASYLUM INTERVIEWS: BRONX is now available on e-book, and THE ASYLUM INTERVIEWS: TRIXIE will be released as an e-book on September 4.  The first novel, ANGEL'S INK, will be available in on October 16.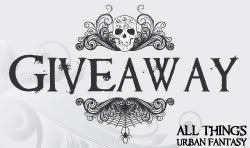 Giveaway provided by Jocelynn Drake
3 ecopies of THE ASYLUM INTERVIEWS: BRONX by Jocelynn Drake
Published by Harper Voyager  on July 3, 2012
Description:
In Low Town, where humans walk and work side-by-side with elves, vampires, ogres, and all manner of creature, it's understandable that people occasionally need a little help in their lives. Whether is love, work, or … other, tattoo artists are there to try to help turn the odds into your favor. When Gage's friend Parker needs help with his love life, tattoo artists Gage and Bronx are only too happy to help. But the incubus ends up getting more than he bargained for with his new tattoo, and his friends are forced to scramble to fix the mess they've created before someone gets hurt.
Enter the giveaway via the widget below –

 Open Internationally

Click below for more Deadly Destinations
See all the upcoming DD posts 
Enter all the previous giveaways
More DD on Dark Faerie Tales