Today's Deadly Destination is from Jess Haines's Shiarra Waynest on NYC from STALKING THE OTHERS (published on July 3rd 2012 by Kensington). Want to win a copy? Enter via the widget below.
**Visit Dark Faerie Tales today for her Deadly Destination from Meljean Brook & a chance to win MINA WENTWORTH AND THE INVISIBLE CITY **
Jess Haines' Shiarra Waynest on NYC from STALKING THE OTHERS
A little over ten years ago, when people came to New York City on vacation, it was to see the obvious. You know, the Empire State Building, Central Park, catch a Broadway show–that sort of thing.
These days, it's a little different. Being a local, I can tell you, it didn't take long for the new breed of tourist to go from baffling to annoying. All the out-of-towners are nuts. They want to go out of their way to eat at a restaurant run by a werewolf, see a magic show put on by a real mage, or rub elbows with vampires at one of Alec Royce's bars.
The man's insufferable. Believe me, I know. You don't want to mess with the Others, let alone sign one of those contracts that lets them get intimate with you. Sure, all the brochures make it look edgy and exciting to see a real, live monster, but there's the rub. They are monsters. That's not something you should forget. As soon as you do, that's when they'll pounce, and before you know it you've signed your life away on the dotted line.
Yeah, yeah, I see your expression. Stop rolling your eyes. I know, you don't want to hear about the best pizza places or where to get a decent bialy or how to stay alive in this town. You just want to know what to watch out for when you visit all the Other hot spots, right?
If you take one of those tours and visit The Circle's high-rise in Manhattan, at first you might think it's just another corporate office building. You might want to recall that people have died trying to escape the traps and labyrinth in the basement where the sparks hide all of their most powerful artifacts. If someone's offering you a basement-level tour of a mage hideout, don't stray from the tour guide, huh?
The werewolves aren't much better. Maybe the Moonwalkers aren't so bad–that's the pack that started this mess when they helped pull people out of the rubble of the Twin Towers and exposed the Others–but if you ever run into a Ravenwood or a Sunstriker, do not walk, run in the other direction. No matter what kind of spin the media has put on things, Weres are dangerous. I know they don't all eat people, but I've seen it happen, and I can promise you that it's better to play it safe by avoiding them altogether.
Plus, you know, some of them are lying scumbags. Especially a certain blond, blue-eyed pack leader who is currently on my shitlist.
Just saying.
Anyway.
I used to think it wasn't such a big deal to hang out in vamp-run bars, either. Did I mention I'm a private investigator? Quite a few locals are regulars which means–you guessed it–I follow a lot of leads down there to interview people or catch marks in some unsavory act. Tracking cheating spouses by checking out their haunts has led to me spending more than my fair share of time in places like The Underground and Twisted Temptations.
What? Twisted Temptations? Hey, don't look at me like that. No, I'm not into that whips and chains stuff, I go there for work! And not that kind of work, either! Get your minds out of the gutters, people.
That place is the scariest of the lot. As you probably gathered from the name, it's got a very "hurt-me-so-good" theme. If you're into that sort of thing and you're feeling particularly suicidal that day, well… I'm not judging, but the vampires who work there scare me more than the usual, run of the mill sort who just want to eat me. Twisted Temptations is something else. If you're going to suck my blood out a bit at a time, it better not be from the whip marks on my back, you know what I'm saying?
Well, that pleasant thought in mind, if I was forced to pick one of the vampire's clubs to recommend for you touristy types to hang out in, I'm sure you've gathered by now that I think you're better off spending your time at The Underground. The music on the second floor is usually better, but you should buy your drinks from James at the main bar near the entrance. Try the Bloody Mary, it's killer. Get it? Bloody Mary in a vampire bar? Killer? Yeah, I'll just see myself out…
____________________
You can learn more about Shiarra and the rest of her friends in HUNTED BY THE OTHERS (link: http://www.kensingtonbooks.com/finditem.cfm?itemid=16761).   
You can also visit me on the web:
Facebook: http://www.facebook.com/JessHainesAuthor
Twitter: http://twitter.com/#%21/Jess_Haines
Goodreads: http://www.goodreads.com/jesshaines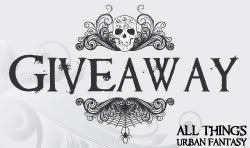 Giveaway provided by Kensington Books
One copy of STALKING THE OTHERS by Jess Haines
Published on July 3rd 2012 by Kensington
Description:
Vampires, werewolves, mages–the Others are very real, and wreaking havoc in Shiarra Waynest's life. But now, she's returning the favor…
Once, she was one of the good guys–or as close as a New York P.I. can get. Then Shiarra Waynest was drawn into the world of the Others. Every faction has its own loyalties and agenda. And Shia's recent betrayal by her ex-boyfriend means that she may be on the verge of becoming a rogue werewolf at the next full moon.
Of course, with all the threats against her, Shia's not sure she'll live long enough to find out. The enigmatic vampire Royce wants her back in his clutches, as do two powerful werewolf packs, along with the police. Instead of going into hiding, Shia is enlisting the aid of her enchanted hunter's belt and every dirty P.I. trick she knows. If she's going down, she'll take out as many of her enemies as she can–and hope that in the process, she keeps whatever humanity she has left…
Read an excerpt|Read our review
Enter the giveaway via the widget below –

US/CA addresses only

Click below for more Deadly Destinations
See all the upcoming DD posts 
Enter all the previous giveaways
More DD on Dark Faerie Tales