Today's Deadly Destination is an interview with Jennifer Estep on Ashland from WIDOW'S WEB (published on August 21st 2012 by Pocket). Want to win a copy? Enter via the widget below.
**Visit Dark Faerie Tales today for her Deadly Destination from Laurie London & a chance to win SEDUCED BY BLOOD**
Interview with Jennifer Estep on Ashland from WIDOW'S WEB
ATUF: The Elemental Assassin series is set in Ashland, a fictional southern city.  What made you create a fictional city as opposed to fictionalizing a real one?
JE: I decided to create a fictional city just so I could make it my own and describe it the way I wanted to. Plus, by creating a fictional city, I could put restaurants, homes, businesses, and other places that the characters visit where I wanted them to go, as well as add on other locations as the series goes along. I just like creating my own little city/world and letting my characters and readers explore it.
ATUF: Your protagonist, Gin, owns Ashland's best barbecue joint known as The Pork Pit (which we can glimpse on the cover of SPIDER'S BITE).  Why do the locals love it?
JE: Well, as Gin would say, because the Pork Pit serves up the best barbecue in the city. LOL. I think we've all been to some small restaurant that served up amazing food, and that's the sort of place and atmosphere that I wanted to create with the Pork Pit.
ATUF: There are a number of Ashland hotspots listed on your website. Can you tell us about one or two of your favorites?
JE: Well, I like them all, and I try to give places their own distinctive personalities so that they almost become like characters in the books. But if I had to pick, I would say that Jo-Jo's beauty salon and Fletcher's labyrinth of a house are among my favorites if only because those are two places were Gin can just relax and be herself.
ATUF: Your cover artist, Tony Mauro, always captures key locations from Ashland for each book.  Do you have a favorite?  Do you provide input or does Tony surprise you?
JE: I usually give my editor some suggestions for scenes in the books that might make for an interesting cover. But I think Tony has done a terrific job on the covers, and I'm always excited to see the cover art for the next book in the series. Tony seems to outdo himself with every new cover. I like them all, but I would say that VENOM and WIDOW'S WEB are probably two of my favorites just because I love the blue colors on those.
ATUF: What other projects can we look forwarding to reading from you soon?
JE: WIDOW'S WEB, the seventh book in my Elemental Assassin series, will be out on Aug. 21. DEADLY STING, book eight, will be out in April 2013, and there will be at least two more books in the series beyond that one.
Also, CRIMSON FROST, the fourth book in my Mythos Academy young adult urban fantasy series, will be out on Dec. 24, 2012, and there will be at least two more books in the series after that one.
Folks can visit my website at www.jenniferestep.com for more information on my books.
ATUF: What are some of your favorite titles/authors in the paranormal genres?
JE: One of my favorite books is Beauty by Robin McKinley, which is a retelling of the Beauty and the Beast fairy tale. I enjoy reading both adult and YA books in all of the fantasy genres, so I also like books by authors like Jennifer Nielsen, Maria Snyder, Kresley Cole, Eilis O'Neal, and too many other authors to name.
ATUF: Finish this statement with as much/little detail as you like: You'll like WIDOW'S WEB if you like …
JE: …action, magic, danger, romance, and heartbreak.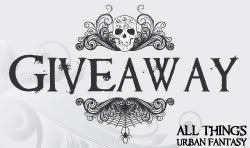 Giveaway provided by Jennifer Estep
One copy of WIDOW'S WEB by Jennifer Estep
Published on August 21st 2012 by Pocket
Description:
I used to murder people for money, but these days it's more of a survival technique.
Once an assassin, always an assassin. So much for being plain old Gin Blanco. With every lowlife in Ashland gunning for me, I don't need another problem, but a new one has come to town.
Salina might seem like a sweet Southern belle, but she's really a dangerous enemy whose water elemental magic can go head-to-head with my own Ice and Stone power. Salina also has an intimate history with my lover, Owen Grayson, and now that she's back in town, she thinks he's hers for the taking.
Salina's playing a mysterious game that involves a shady local casino owner with a surprising connection to Owen. But they call me the Spider for a reason. I'm going to untangle her deadly scheme, even if it leaves my love affair hanging by a thread.
Enter the giveaway via the widget below –

US addresses only

Click below for more Deadly Destinations
See all the upcoming DD posts 
Enter all the previous giveaways
More DD on Dark Faerie Tales