Today's Deadly Destination  is from Jaye Well's Giguhl on Rome from BLUE-BLOODED VAMP (June 1, 2012 from Orbit Books). Want to win a copy? Enter via the widget below.
**Visit Dark Faerie Tales today for her Deadly Destination from Britt Bury & a chance to win THE DARKEST DAY**
Jaye Well's Giguhl on Rome from BLUE-BLOODED VAMP
WHEN IN ROME … SURVIVE
By Giguhl, the Mischief Demon
To many mortals, Rome is an enchanted city filled with delicious carbohydrates, copious wine and magnificent architecture. I don't know about all that, but I'm pretty sure its home to some of the creepiest sites in the entire world.
Don't get me wrong, as a demon, I pretty much prefer any place I visit to be as creepy as possible. If that's not an option, then it at least has to be sexy. Even better? Creepily sexy.
But I digress.
Seeing how I recently returned from Rome after helping my best friend Sabina Kane save the world, I figured I'd share my two favorite creepy places to visit in Rome.
You want creepy?  The interior of this chapel is made from the bones of 4,000 Capuchin friars. Some of the remains are even dressed up in monks's robes, but most are used to create patterns on the walls, including a bone clock set into the ceiling.
Several chapels and crypts make up the space, including the awesomely named, "Crypt of Pelvises."
A plaque in one of the rooms reads, in three languages, "What you are now, we once were; what we are now, you shall be."
Awesome, right?
 If you want to visit this elaborate memento mori, check out the web site here.
Catacombs
Underneath Rome there are hundreds of kilometers of catacomb tunnels, like a sort of zombie ant farm. The Old Appian Way contains several catacombs that were used until th 5th century to bury citizen because it was forbidden to do so within Rome's city limits. Today there are three open to the public: St.Callixtus, St. Sebastian and St. Domitilla.
You should go to St. Domitilla for a few reasons. First, they spread out over 15 kilometers and are the oldest catacombs in Rome. They're also the only ones that still contain bones. And we all know how much you love bones.
The other cool thing about St. Domitilla—that saucy minx—is that her catacombs also contain and underground basilica. In order to reach the catacbombs, you have to go through this sunken 4th-century church. Cool, right?
Sabina was taken down into these tunnels when she was abducted by Cain in— oh, wait. I'm not supposed to talk about that. Guess you're going to have to buy BLUE-BLOODED VAMP to find out the details.
These are just a couple of the awesomely creeptastic sites Rome has to offer. If you go, you should totally be sure to take some applewood stakes because the place is lousy with vampires. What's worse? They all ride Vespas. <shivers>
Don't say I didn't warn you.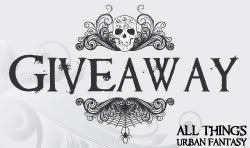 Giveaway provided by Jaye Wells
One copy of BLUE-BLOODED VAMP by Jaye Wells & an I Heart Giguhl button
Published on June 1, 2012 from Orbit Books
Description:
The epic conclusion to the amazing Sabina Kane urban fantasy series.
Sabina Kane is on the hunt. Her prey: Cain, the father of the vampire race and the one who murdered her family and her friends. Unfortunately, Cain is hunting Sabina, too.
The one man who holds the key to defeating Cain is, of course, Abel. A mage with secrets to spare and, hopefully, the power to match it. Unfortunately, for Sabina, he's in Rome and may not want to be found.
Sabina sets out for Italy with her friends, Giguhl and Adam Lazarus, to track down the only man who can get her the revenge she hungers for. But will he help her or oppose her? And just who is Abel, really? Worst of all, when Sabina figures out the goddess Lilith has a plan for her-she realizes this trip is getting deadlier by the minute. As they say: when in Rome-SURVIVE.
Read an excerpt|Read our review
Enter the giveaway via the widget below –

US addresses only

Click below for more Deadly Destinations
See all the upcoming DD posts 
Enter all the previous giveaways
More DD on Dark Faerie Tales