Today's Deadly Destination is from Benedict Jacka on The Tiger's Palace from TAKEN (published on August 28th 2012 by Ace). Want to win a copy? Enter via the widget below.
**Visit Dark Faerie Tales today for her Deadly Destination from Leigh Bardugo & a chance to win SHADOW AND BONE**
Benedict Jacka on The Tiger's Palace from TAKEN
The Tiger's Palace is a nightclub in Soho, owned and operated by the rakshasa Jagadev.  It is notable for being the only dance club in London with a primarily magical customer base.  Although there are several Council-run social venues within the city, they tend to be more sedate (not to mention exclusive) and on an average night the Tiger's Palace is busier than any of them.
The Tiger's Palace is situated in a converted warehouse complex within walking distance of Leicester Square or Tottenham Court Road Underground stations.  Entry is via basement level through a security checkpoint.  Queues are short but passing the bouncers can be a challenge, especially on a first visit:  the security staff are suspicious of strangers and notoriously humourless.  Official entry policy is magic-knowledgeable only – anyone perceived as an outsider or a tourist will be turned away.  It is recommended to get at least an introduction from a regular, and preferably an invitation.
Entering past the cloakroom, the club has one main dance floor and a mezzanine level, as well as many other rooms not open to the public.  The dance floor can comfortably hold three hundred, and the DJs play industrial, metal, and progressive through a state-of-the-art sound system which benefits from excellent acoustics:  those with sensitive hearing should bring earplugs!  The bar is ahead and to the left of the entrance and serves the usual beers and soft drinks as well as a wide selection of wines and spirits.  Prices are high but no more so than usual for Soho.  Despite rumours to the contrary the bar does not sell magical drinks and asking for them is a sure way to irritate the staff.
The clientele of the Tiger's Palace is primarily adepts, with the balance being made up of sensitives and dabblers.  Mages are allowed but not always welcome.  The crowd can be rough and fights are common:  the bouncers will sometimes evict the perpetrators but will just as frequently turn a blind eye to scuffles, particularly if the victim is a stranger.  Unless you visit in a group or are confident in your ability to look after yourself, staying too long on the dance floor should be considered risky.
The mezzanine level contains the bulk of the club's seating, and is restricted to VIP guests only.  Those who make it up there past the bouncers can enjoy a quieter atmosphere, as well as a superb view down onto the dance floor.  The clientele of the mezzanine floor contains a notably higher proportion of mages and politically active members of the magical community, and a good deal of business is done within the private booths along the walls.  The booths are warded and their inhabitants generally do not appreciate company:  showing too much interest in the conversations held within is likely to attract swift and unfavourable attention.
Jagadev himself holds court in the large room at the far corner of the mezzanine floor, to your right as you climb the stairs.  The rakshasa is one of the only magical creatures in London still to operate openly, a state of affairs which the Council seems to tolerate, if not entirely approve of –multiple petitions have been made to the Council for the Tiger's Palace to be shut down, but for whatever reason the Council has never chosen to do so.
In addition to his management of the Tiger's Palace, Jagadev is widely known to operate as an information broker.  If you wish to deal with him it is possible, although difficult, to arrange a meeting.  Visitors are advised against doing so casually:  Jagadev's contacts are extensive but he has little love for humans.  His prices are high and any bargain he strikes is unlikely to favour his guest.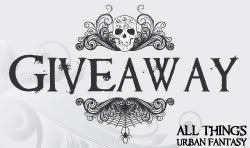 Giveaway provided by Ace Books
One copy of TAKEN by Benedict Jacka
Published on August 28th 2012 by Ace
Description:
Alex Verus's insights into the future used to be the best-kept secret in London.  Now with the aid of his apprentice Luna, his unique investigative talents are all the rage.  He just has to be careful about picking his employers, because everyone – even the beautiful woman who practically begs him to run security for a prestigious tournament – has motives that can be hard to predict.  And Alex doesn't do unpredictable.
But his latest job might just be impossible.  Apprentices have been vanishing without a trace – and someone on the council of mages might be involved. Alex has no evidence, no witnesses, and no suspects.  All he knows is that someone is keeping tabs on him. And after assassins target Luna's classmate, Alex sees that he doesn't know the half of it – and that he could be the next to disappear.
Enter the giveaway via the widget below –

US addresses only

Click below for more Deadly Destinations
See all the upcoming DD posts 
Enter all the previous giveaways
More DD on Dark Faerie Tales