Today's Deadly Destination  is from Angie Fox's Petra Robichaud on Limbo from IMMORTALLY YOURS (published on August 28th 2012 by St. Martin's Press). Want to win a copy? Enter via the widget below.
**Visit Dark Faerie Tales today for her Deadly Destination from Stephanie Chong & a chance to win THE DEMONESS OF WAKING DREAMS**
Angie Fox's Petra Robichaud on Limbo from IMMORTALLY YOURS
Hi, this is Stone McKay here the Paranormal News Network – immortality's never-ending news source. Today, we're taking a special look at the war between the gods, which has been raging for some time. Here with me now is Dr. Petra Robichaud, half-human doctor from New Orleans. She was drafted seven years ago, and now works as an emergency field surgeon in the New God Army. Petra, how does it feel to be down here?
Petra: In limbo? Hot. Always hot. It's a freaking desert. And before you go reminding me, I already used up my three-ice-cube ration for this week.
Stone: You've been drafted into the medical service. What is that like?
Petra: War is hell, Stone. Although I do have to say my colleagues at the MASH 3063rd have made it bearable. I never thought I'd find a second family down here of all places.
Stone: Rumor has it that a healer who can see the dead could end this conflict and bring peace. Your thoughts?
Petra: Ha. Well, you know "seeing the dead" is a forbidden power.
Stone: Rumor has it – you are that person.
Petra: Er…Stone. The power to see the dead, to talk to them, is outlawed by the gods. And the gods have a thing for strange and horrific punishments. They turn women into spiders, fasten "friends" to burning wheels for eternity. Oh, and tied one of their own to some far-flung rock so he could have his liver pecked out by an eagle until the end of time. So am I the person they're looking for? Hell, no.
Stone: You've heard it here first! Dr. Petra Robichaud of the MASH 3063rd may or may not be the doctor who can see the dead.
Petra: Thanks for that.
Stone: She may or not be destined for eternal punishment.
Petra: Can we focus on the 'not'?
Stone: Or she could help end the war.
PNN and Dr. Petra Robichaud appear in Immortally Yours, new from St. Martin's Press. Check out www.angiefox.com, as well as the brand new PNN website (www.PNN-Network.com) for a chance to name a character in the next Monster MASH Book.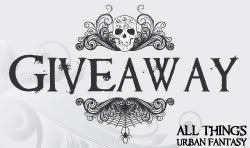 Giveaway provided by Angie Fox & St. Martin's Press
Two copies (one signed) of IMMORTALLY YOURS by Angie Fox
Published on August 28th 2012 by St. Martin's Press
Description:
IN THE WAR BETWEEN THE GODS… 
No one patches up the incoming wounded like Dr. Petra Robichaud. Recruited by the gods for her uncanny medical skills, she's the best M*A*S*H surgeon in the army. Along with a nosy guard sphinx,vegetarian werewolf, and otherparanormal paramedics, she bandages soldiers who are built like Greek gods (literally). But when one sexy immortal ends up on her operating table—half dead and totally to-die-for—Petra's afraid she'll lose her patient and her heart…
NOTHING IS MORE DANGEROUS THAN LOVE
Commander Galen of Delphi is one gorgeous but stubborn demi-god. When his spirit tries to slip out of his fatally wounded body, Dr. Petra has to slip it back in—unwittingly revealing her ability to see ghosts. Now that Galen knows her secret, he's convinced she's part of an ancient prophecy. If the oracles are right, Petra could lead Galen's army to peace. And if he seduces her on the way to hell and back? Heaven knows—all's fair in love and war…
Read an excerpt|Read our review
Enter the giveaway via the widget below –

 Open Internationally

Click below for more Deadly Destinations
See all the upcoming DD posts 
Enter all the previous giveaways
More DD on Dark Faerie Tales