Today's Deadly Destination  is from Amanda Bonilla's Darian on Seattle from BLOOD BEFORE SUNRISE (published on July 3rd 2012 by NAL/Signet Eclipse). Want to win a copy? Enter via the widget below.
**Visit Dark Faerie Tales today for her Deadly Destination from Jeanne C. Stein & a chance to win HAUNTED**
Amanda Bonilla's Darian on Seattle from BLOOD BEFORE SUNRISE
Thanks so much to Abigail and the gang at All Things Urban Fantasy for having me here today! In my opinion, there's no one better suited to give insight on a city that a long-time resident. And Darian, from the Shaede Assassin series, has been a resident of Seattle for almost a hundred years. So I'll turn this post over and let her tell you something you might not know about the Emerald City.
5 Places You Might See a Shaede in Seattle
Up until recently, Seattle's been quiet on the supernatural front. In fact, I'd always thought I was the city's only less-than-human resident. But as luck would have it, Seattle has seen a slight supernatural population explosion in the past couple of years. Most humans don't recognize the supernatural for what they really are, though. You might pass a Shaede on the street and not even know it. Unless you pay close enough attention to notice the slight luminescence of our eyes, or the way our bodies seem almost mirage-like. And although I'd be less than inclined to point one out, I'll share with you a few places where you could possibly spot a Shaede in Seattle.
The Alaskan Way Viaduct has been around since the 50s. It runs along downtown and the Industrial District, an area known to be frequented by supernaturals. Don't ask me why, but Seattle's less than human population prefers the Industrial District to other areas of the city. The viaduct is old, and shady, not to mention unstable. In fact, it's being torn down. Don't be surprised if you spot a strange shadow darting through one of the demolition sites late at night.
Aurora Bridge
The Freemont Troll which resides beneath Aurora Bridge is a Seattle Icon. He's been hanging out there for the past 22 years and though it draws a of lot human interest, what you might not know is that particular spot is a neutral zone for supernatural creatures to meet. Let's say a Faerie has beef with a Sylph. They want to settle their argument once and for all in a peaceable manner. So, a meeting is scheduled under the Aurora Bridge. The statue is charmed to neutralize the abilities of any supernatural creature that happens to be standing there. That way, both parties are on equal footing. The Faerie can't use his magic, and the Sylph can't bring his wind. Chances are you'll see a Shaede or two there, negotiating some sort of peace. But thanks to the charmed Troll, a human would never notice anything but a couple of people having a conversation.
Pioneer Square 
Pioneer Square is one of the oldest neighborhoods in Seattle. In the 1800s, it was the heart of the city. With our long lives, supernaturals are drawn to old things, and many Shaedes feel comfortable in this part of the city. Pioneer square is the home of many supernatural businesses including specialized medical clinics, private schools, and even groceries that sell Fae-specific foods. You might think your eyes are playing tricks on you but don't be surprised if you see a shadowy figure enter one of the old buildings in Pioneer Square before the doorway dissolves into a simple brick façade.
Gasworks Park
Once a coal gasification facility, Gasworks Park is now one of Seattle's most unique public parks. Though it looks like a structure right out of a steampunk novel, Gasworks Park is the site of concerts, bike races, and has even been featured in TV shows and movies. Certain supernaturals, Fae and Jinn for starters, are allergic to iron and tend to avoid most metal structures as a precaution. A Shaede who wants to put distance between herself and pesky Faerie might seek sanctuary within the winding metal structures of Gasworks Park.
Volunteer Park
Maybe it's because most supernaturals lived in the times before the world became industrialized, but most of us are drawn to nature. Volunteer Park is a beautiful place for any Shaede seeking solace amongst beauty and nature. The observation deck on the water tower affords a beautiful view of the reservoir below as well as the city, and the Volunteer Park Conservatory contains room upon room of lush flowers and green foliage. On any given day you might happen upon a Shaede enjoying the park. And under the cover or night, Volunteer Park has been known to be swarmed by mysterious shadows.
Like I said, I'm not inclined to actually point out a Shaede to you. But if you look close enough, you might come upon someone in one of these places who looks just a little… off. What places have you visited that might be home to a supernatural creature or two?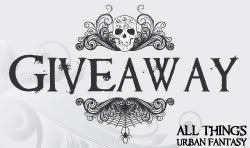 Giveaway provided by NAL/Signet Eclipse
One copy of BLOOD BEFORE SUNRISE by Amanda Bonilla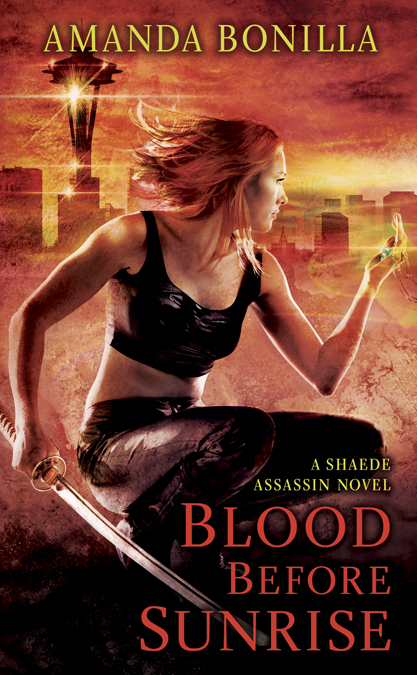 Published on July 3rd 2012 by NAL/Signet Eclipse
Description:
What you can't see can kill you…
For months Darian and her Shaede guardian Raif have searched for the Oracle who attempted to overthrow the Shaede Nation—and kill Darian in the bargain. But now that they've finally found the half-crazed Oracle, for their efforts they are granted a possibility too painful for Raif to imagine, and too enticing for Darian to ignore.
Darian is determined to reunite Raif and the daughter he thought was dead, but her mission quickly proves dangerous when her lover Tyler is almost killed. And when a brooding and mysterious Fae warrior offers his guidance—at an extraordinary price—Darian finds herself willing to risk everything. As her single-minded hunt turns into an obsession, and she and Tyler grow further apart, Darian finds herself caught between the man she loves like a brother, and the man whose love she can't live without…
Enter the giveaway via the widget below –

US addresses only

Click below for more Deadly Destinations
See all the upcoming DD posts 
Enter all the previous giveaways
More DD on Dark Faerie Tales