Britt Bury is here today to talk about being star struck while meeting some of her favorite paranormal authors.  Britt's paranormal romance,  THE DARKEST DAY is the first in her Immortal Heart series (available now from Grand Central Publishing).  We have a giveaway attached at the bottom of the post!
Britt on Meeting her Favorite Authors
by
Britt Bury
Thank you so much Abigail for having me! I wanted to stop by and talk about some of my favorite paranormal authors and the experiences I've had with them.
First, I should explain that I am neither elegant, nor vocally savvy. Words just fall from my mouth and most of the time I come off sounding like a total moron. So when I say that my favorite authors include: Kresley Cole, Larissa Ione, Sherrilyn Kenyon, and Gena Showalter; the best thing for me to do would be to stay away from all of these women for the rest of my life because it turns out, I get a wee bit star struck in their presence.
Last year at the RWA national conference, I stood in Kresley Cole's book signing line, clutching her new release in my hand and bouncing on my toes. "It's her! It's really her!" Yes, I was chanting that, and pretty soon, people were looking at me like I'd forgotten my meds—which I had—but anyway!
Okay, I finally get up to her and she's all classy and calm and asks me, "Who do I make this out to?" A normal person would respond with a name. How hard is that? Not very. Did I say my name though? Of course not. Instead I opted for, "I think I just peed my pants a little…"
She glances over the table, "Really?"
A nervously start laughing. "Pssshhh, of course not …" Yes, really.
Somehow, I get out of that situation, only to find myself staring down Sherrilyn Kenyon. I look at her and what do I do? Burst into tears. Why? Hell if I know. I then go on blubber about all her books, how amazing they are, and how I love the color of her hair…pretty soon I'm snotting all over the place. I realized right then I have a knack for making people feel really uncomfortable.
Fast forward a year later and I'm in Chicago for the RT convention. I'm certain that I will never embarrass myself in front of an author I'm in love with again. I do my best to just stay out of their way and hope I won't leak in some way near them. Charming, I know, but hey, you have to start somewhere.
Goal: No Leaking On New York Times Best-Sellers.
Easy enough right? No, it was stressful as hell! After an exhausting day at the conference, I duck into the ladies room and have myself a good old fashion panic attack. Heaving and crying, I jam my head between my legs and hope to god I don't fall over because the heels I'm balancing on are five inches too tall and touching the floor of a public bathroom skeeves me out. Concentrating on not falling over, the door opens and there she is, Larissa-frickin-Ione staring at me. My hair is psycho, mascara is running down my face and all I can do is look at her while hyperventilating and say, "D-do you k-know who you are?"
And they say first impressions are the most important.
Crap. I'm in so much trouble if that's really the case.
Britt Bury writes paranormal romance where the immortals are fierce, the stakes are high, and desire can be deadly. Britt was raised in Corvallis, Oregon and attended Oregon State University majoring in Liberal Studies. When her dream of being a professional karaoke star and Elvis impersonator didn't pan out, she turned to writing. She currently lives in the Silicon Valley with her brilliant husband, two sons and an obscene amount of fish.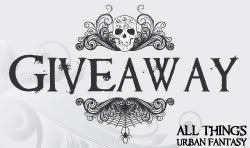 Giveaway provided by Britt Bury
One copy of THE DARKEST DAY by Britt Bury
Available on July 3, 2012 from Grand Central Publishing
Description:
LL-CONSUMING DESIRE . . .
Izel Campbell was raised to believe she is an immortal Fionn with the magical skills of persuasion. But when she travels to Scotland to visit her ancestral home, Izel discovers that she is actually the world's last living human. Forced to run for her life, Izel crosses paths with Kelvin Kerr, the Campbells' greatest foe-and the most magnificent warrior she has ever seen.
BURNS BRIGHTEST . . .
A thousand-year-old battle chief of the Kerr clan, Kelvin lives only to avenge his father, who died at the hands of the bloody Campbells. Honor demands he kill the Campbell heir, but when he learns that the lovely Izel is both Campbell "and" human, Kelvin is torn between duty and desire . . .
ON THE DARKEST DAY"
Enter the giveaway via the widget below
---
Interested in being a guest on All Things Urban Fantasy? Fill out our Guest Request Form