Today we are excited to have Jeff Strand here to talk about the five weird, funny novels you should read and promote his newest young adult novel; A BAD DAY FOR VOODOO (available now from Sourcebooks). Stay tuned to the end for the excellent giveaway!

Five Weird, Funny Novels You Should Read
by
Jeff Strand
Note that this is not a list of the five funniest novels of all time–just five funny, weird novels you should read, assuming that you like funny, weird novels.
1. The Hitchhiker's Guide to the Galaxy by Douglas Adams. Yeah, I'm starting off with an obvious choice, but the books in this series (well, okay, the first three) are some of the most hilariously insane novels of all time. This isn't the place to go for laser-focused storytelling; Adams continually and cheerfully goes off on wild tangents, and that's a lot of the fun.
2. The Unnatural by David Prill. So here's the premise: it's a world just like our own, except that instead of watching baseball, sports fans watch…competitive corpse embalming! Yes, this is the tale of a young farmboy with talent and a dream. If you're always saying that you'd read more sports-themed novels if they were about trying to set the record for number of corpses embalmed in a single season, this dark and funny book is for you.
3. Bad Chili by Joe Lansdale. Lansdale has written several books featuring Hap & Leonard, and all of them mix beautiful writing with lowbrow, laugh-out-loud humor. This one opens with a rabid squirrel attack that is the funniest thing I have ever read in a novel.
4. Go, Mutants! by Larry Doyle. Nobody packs more jokes into a book than Larry Doyle. This one is a loving tribute to 1950′s sci-fi movies, and though there's all kinds of over-the-top alien craziness, much of the humor is so understated that if you read too fast, you'll zip right past it.
5. John Dies At The End by David Wong. Yeah, I'm jealous that I didn't think of this title. A combination of Big, Deep Ideas and gross, demented humor. You will laugh. You will think. You will gag.
Jeff Strand
Author of a bunch of demented books, including GRAVEROBBERS WANTED (NO EXPERIENCE NECESSARY), SINGLE WHITE PSYCHOPATH SEEKS SAME, CASKET FOR SALE (ONLY USED ONCE), HOW TO RESCUE A DEAD PRINCESS, and THE SINISTER MR. CORPSE. The mass market edition of my novel PRESSURE will be in bookstores May 26th from Leisure Books."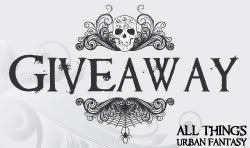 Giveaway provided by Sourcebooks
One copy of  A Bad Day For Voodoo by Jeff Strand
Available on now from Sourcebooks
Description:
When your best friend is just a tiny bit psychotic, you should never actually believe him when he says, "Trust me. This is gonna be awesome."
Of course, you probably wouldn't believe a voodoo doll could work either. Or that it could cause someone's leg to blow clean off with one quick prick. But I've seen it. It can happen.
And when there's suddenly a doll of YOU floating around out there—a doll that could be snatched by a Rottweiler and torn to shreds, or a gang of thugs ready to torch it, or any random family of cannibals (really, do you need the danger here spelled out for you?)—well, you know that's just gonna be a really bad day …
Enter the giveaway via the widget below – US & CA only
---
Interested in being a guest on All Things Urban Fantasy? Fill out our Guest Request Form
About the author
I am an avid reader and enjoy a variety of genres from mysteries and thrillers to urban fantasy and historical fiction. My foray into urban fantasy started off with a recommendation that I read some of Kelley Armstrong's books. After I saw how wonderfully fun and compelling this genre could be I explored more urban fantasy authors and books. Some of my favorite authors in this genre are Patricia Briggs, Ilona Andrews, and Jim Butcher.