A big welcome to author Lisa Shearin as she celebrates the release of  the sixth book in her Raine Benares series called ALL SPELL BREAKS LOOSE (available now by Ace). This is a fantasy series will urban fantasy appeal, as Abigail found out while interviewing Lisa (also that she has great taste in guys…she who she envisions as Mychael). Thanks to Ace, one of you will win a copy of ALL SPELL BREAKS LOOSE too! See details below. 

ATUF: The Raine Benares series really walks the line between traditional fantasy and while appealing to urban fantasy lovers. Can you explain why fans of both genres might enjoy this series?
LS: Two of my inspirations for the Raine Benares series are David Eddings and Raymond Feist. Both are traditional fantasy, but Eddings' books in particular, didn't have "fantasy-speak" that quasi-Medieval thing going; it was more like what you would hear real people say, and they were funny. With my series, I took both of those a couple of leaps out into left field in the dialog and humor department. Since it's my world that I made up, I get to decide how they talk. ; ) So my books have elements that would please both traditional and urban fantasy fans.
ATUF: Raine always gets to wield some wicked cool weapons on your covers, and ALL SPELL BREAKS LOOSE is no exception. Can you tell us a little about the covers and what if any input you get to have on them?
LS:  My cover artist is the amazing Aleta Rafton. My editor at Ace, the equally awesome Anne Sowards, is so incredibly gracious. She always asks for my input before work begins on the covers. What I see Raine wearing, a particular scene that I think would make a good backdrop, etc. Then the marketing and art folks at Ace do their thing, and Anne sends me the final cover.
ATUF: What can you tell us about some of the supernatural beings that inhabit these books? Demons, Goblins, Elves? Do they have any characteristics unique in this world?
LS: I had a lot of fun with my elves and goblins. While my elves are tall, they're not necessarily the graceful and beautiful creatures you'd see in LOTR. I wanted to make them  more accessible and for readers. And with my goblins, I wanted to turn the traditional concept (short, ugly, gnarled, with post-nasal drip) on its head and make themgorgeous and mysterious lovers of intrigue.
ATUF: If the Raine Benares series were ever made into a movie, who would your dream or, to keep things interesting, nightmare cast be?
LS: I think Felicia Day would be absolutely perfect to play Raine. It's an action role, but it's a good deal of comedy as well. It'd be a ideal fit for Felicia. I've always visualized Gerard Butler (mucho yum) as Mychael, a young Josh Groban as Piaras, and Dennis Storhoi (from The 13th Warrior) as Vegard. I know I've cast the others; I just can't think of them off hand.
ATUF: What other projects can we look forwarding to reading from you soon?
LS: I've just completed a proposal package for an urban fantasy/supernatural thriller/comedy series.  You all know how I love to mix & match genres. I have the series premise written, as well as the synopses for the first three books, and I just finished the final sample chapter today (for a total of six). I promise that as soon as I get a contract for it, I'll tell you more—in fact, you probably won't be able to shut me up. I'm so excited about this project—it's just pure fun.
ATUF: What are some of your favorite titles/authors in the paranormal genres?
LS: I loves me some Harry Dresden. In my opinion, Jim Butcher's Dresden Files are danged near flawless. I think my favorites of the entire series are DEAD BEAT and WHITE NIGHT. I also adore Rob Thurman's Cal Leandros series. Dark, snarky, and mmm, mmm good.  I also really have enjoyed Douglas Preston & Lincoln Child's Agent Pendergast series.  At the moment I'm reading NOCTURNAL by Scott Siegler, MONSTER HUNTER ALPHA by Larry Correia, and LEGEND by David Golemon. I generally have more than one book going at any given time and bounce back and forth between them depending on what I'm in the mood to read.
ATUF: Finish this statement with as much/little detail as you like: You'll like ALL SPELL BREAKS LOOSE if you like…
LS: …your action fast, your dialogue snappy, and your plots with more twists than a knot of Christmas lights.
ATUF: Thanks so much for stopping by Lisa.  Come back anytime!
Contrary to popular belief, most authors do have day jobs just like everyone else. I'm happily ensconced at an advertising agency as an editor and quality control manager. In my previous corporate life, I've been a magazine editor, advertising copywriter, and writer of corporate marketing materials of every description.
I'm the author of the national bestselling fantasy adventure series featuring Raine Benares, a finder of things lost and people missing. But what Raine finds best is trouble and lots of it. The series began with Magic Lost Trouble Found, and continued with Armed & Magical, The Trouble With Demons,Bewitched & Betrayed, Con & Conjure and All Spell Breaks Loose, which will hit bookstore shelves in 2012.
I'm a member of the Science Fiction & Fantasy Writers of America, and I live in North Carolina with my always patient and ever-encouraging husband, two spoiled-rotten retired racing greyhounds and a Jack Russell terrier who rules us all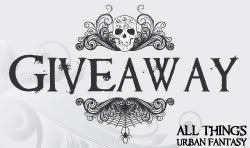 Giveaway provided by Ace
One copy of ALL SPELL BREAKS LOOSE by Lisa Shearin
Available now  from Ace
Description:
My name is Raine Benares—and it sucks to be me. The Saghred, a soul-stealing stone that has given me unlimited power, has been stolen by a goblin prince, and with it went my magic. The Saghred is in the goblin capital of Regor, in the hands of Sarad Nukpana, who's on the verge of becoming the most powerful mage ever…just as soon as I'm dead.
Because Sarad can't use the stone while I'm alive. Incentive enough to plan a little trip to Regor with a small band of good friends, not-so-good friends, and outright enemies. All we need to do is destroy the Saghred, kill Sarad, and put a renegade prince on the throne. Did I mention I'll be doing this without magic?
Enter the giveaway via the widget below (US addresses only)
---
Interested in being interviewed on All Things Urban Fantasy? Fill out our Guest Request Form