It's no secret that the H & W Investigations books by Jess Haines among our favorite urban fantasy series.  Every single book manages to top the one before it, and with the upcoming release of book 4, STALKING THE OTHERS (available on July 3rd 2012 by Kensington), get ready for an ending that will leave you breathless.  My review will be up later today, in the meantime, Jess gave me the rare opportunity to sit down with my favorite of her characters: the super sexy/scary Royce (who I'm pretty sure propositioned me in this interview and who definitely made me blush).  We've also got a huge giveaway courtesy of Kensington for a chance to win 1 of 15 copies of STALKING THE OTHERS!
Interview with Alec Royce from the H&W Investigations series
ATUF: Hi Royce.  So glad you could stop by.  Gotta say I'm a fan.
Royce: Yes, Abigail, is it? I've heard a great deal about you.
ATUF: STALKING THE OTHERS is your fourth adventure with Shia. Has your relationship gone in the way you anticipated?
Royce: Not in the least. Ms. Waynest has always been determined to reject my advances at every turn. Fascinating, frustrating creature that she is, I imagine that her circumstances will soon leave her no choice but to come to me for help.
Much as I would rather she return to my fold because she wishes to, rather than being forced to by recent events, I'm losing my patience. One way or another, she will be mine.
ATUF: The supernatural community revealed themselves right after 9/11 and now exist along side humanity. Are the safety measures and various legislation efforts (including human and supernatural contracts prior to any type of intimate contact) enough to keep us safe?
Royce: That depends very much upon the Other you have contracted yourself to, Abigail. Though I suppose your question is directed more along the lines of whether your safety is assured because those puppets on Capitol Hill have bent to the wishes of the masses and rushed through so much legislation that survival is nigh impossible for those without a powerful pack or coven leader to assist them.
There are the occasional human casualties. It has always been thus, though your chances of dying at the hands of an Other are far more slim than they used to be. While the laws will not deter those who have gone mad with bloodlust–or, in the case of werewolves, crazed by silver or gone rogue–as a collective whole, the Others in the Americas have made concerted efforts to prevent any unnecessary deaths or injuries. Don't let the incident Max Carlyle incited at my club alarm you. You are more likely to be struck by lightning than to be injured by a rogue vampire or werewolf.
ATUF: Give us your best 'Baby, sign my contract' line.
Royce: I find it much more gratifying to tailor my "line" to the circumstances, rather than use a trite, overdone spiel.
For example–you, my dear, seem to have quite the fascination with me. Does the thought of eternal life intrigue you? Or is it the promise of ecstasy you crave? The knowledge that your lover can have decades or centuries of accumulated skill–knowing exactly when and where to touch you to make you forget that you've surrendered yourself into the arms of a creature that has the power to take your life away at any time he wishes?
Ah, and let us not forget, a vampire's bite is an intimate, erotic experience–but if you want to experience that, well, we can discuss the particulars of a contract after this interview…
ATUF: Without spoiling anything, is it possible for a werewolf and a vampire to get together?
Royce: Distasteful as I find it to be, yes. There are those of us who pair with werewolves–though such a relationship is guaranteed to end badly.
ATUF: What are your current thoughts on Shia's ex Chaz?
Royce: Bluntly, I think the dog is a fool. He's put himself into a position that nearly guarantees there will be war between the New York Were packs, and his lack of control over his own people has led to an inestimable amount of damage financially, politically, and otherwise, that more influential Others–such as myself and Rohrik Donovan–will have to clean up after him.
If I have the opportunity to do so, I will see that he is removed as the pack leader of the Sunstrikers. Permanently.
ATUF: Can you share a few of the most common human misconceptions about vampires?
Royce: Certainly. We are not unthinking beasts that get lost in our blood lust unless we have not fed for some time, or are very new and not yet in control of our hungers. Crosses, holy water, and running water do nothing to stop or deter us. The scent of fresh garlic is pungent and in that sense, drives us away due to our acute sense of smell, but in moderation I find it pleasant.
Lastly, we do not sparkle without body glitter. And no, I will not demonstrate.
ATUF: Thanks to Shia, you've gotten to spend a significant amount of time with mages and werewolves. Has your opinion of them changed as a result?
Royce: Not at all. I still find most magi to be insufferable know-it-alls, and many of them are as devious–and therefore dangerous–as I am. I avoid them when possible, though it is admittedly useful to have someone such as Arnold Moore available for private consultations when it comes to matters involving magic.
As for werewolves, they are now as I've always viewed them. Hot-tempered, short-sighted, with no concept of how their actions have impacts beyond their own pack members. If I had the resources, I would rid New York of the lot of them. Until Rohrik Donovan steps down, I will make do with exercising my political clout to drive as many of them out of the five boroughs as possible without bloodshed.
ATUF: Your interest in Shia has always been…complicated. Do you even know what you ultimately want from her?
Royce: Yes. I do. While I did contemplate cutting my losses after this latest fiasco, some new information recently came to light and I do believe that it will be very much worth my while to continue pursuing her. She has thus far rarely reacted in ways I anticipated, which both intrigues and irritates me to no end. There are a multitude of ways I can and will use her, make no mistake. It's only a matter of time before I will find a way to exercise my rights as her host.
ATUF: Thanks so much for stopping by Jess and Royce. Come back anytime!
Royce: Be careful what you wish for, Abigail. Here's my card. Give me a call and we'll discuss that contract…
Jess: I'm always happy to stop by ATUF! And… uh… I would "lose" that card, if I were you.
Royce: Ms. Haines, I believe this matter was between the lady and myself.
Jess: Right. She's a big girl. She can make her own decisions. Anyway! Thank you, Abigail!
Royce: Yes. I'm sure we'll be speaking again. Soon.
I'm a displaced New Yorker with a penchant for the silly, the obscure, and the fantastical. Los Angeles is home for the time being, since it consistently meets my daily quota of strange. I'm currently working on the H&W Investigations urban fantasy series. Find out more about Shiarra Waynest, drop me a line, or join my mailing list at 
www.jesshaines.com
!
Website / Twitter / Facebook / Goodreads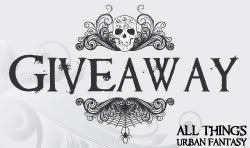 Giveaway provided by Kensington Books
Win 1 of 15 copies of STALKING THE OTHER by Jess Haines
Cover Art: N/A
Available on July 3, 2012 from Kensington Books
Description:
Vampires, werewolves, mages–the Others are very real, and wreaking havoc in Shiarra Waynest's life. But now, she's returning the favor…
Once, she was one of the good guys–or as close as a New York P.I. can get. Then Shiarra Waynest was drawn into the world of the Others. Every faction has its own loyalties and agenda. And Shia's recent betrayal by her ex-boyfriend means that she may be on the verge of becoming a rogue werewolf at the next full moon.
Of course, with all the threats against her, Shia's not sure she'll live long enough to find out. The enigmatic vampire Royce wants her back in his clutches, as do two powerful werewolf packs, along with the police. Instead of going into hiding, Shia is enlisting the aid of her enchanted hunter's belt and every dirty P.I. trick she knows. If she's going down, she'll take out as many of her enemies as she can–and hope that in the process, she keeps whatever humanity she has left…
Read an excerpt|Review coming soon
Enter the giveaway via the widget below
---
Interested in being interviewed on All Things Urban Fantasy? Fill out our Guest Request Form