HANG FIRE is a steampunk short story set in late 1800's America. It takes place between the Age of Steam book #1, DEAD IRON and book #2 TIN SWIFT. The story is broken into 20 "chapters" and posted, one chapter at a time, on 20 awesome blogs. To read the whole story, start at chapter 1 at www.candacesbookblog.com and follow the "read the next chapter" links at the end of the post.
Today we find the cursed bounty hunter, Cedar Hunt, who, in his haste to save his friend, Rose Small, has fallen into a deadly trap along with the beautiful witch, Mae Lindson… …read chapter 7 at: I Smell Sheep
HANG FIRE by Devon Monk – Chapter 8

Cedar Hunt's heart thumped hard, trying to beat the breath back into his lungs. He'd landed on his shoulders and hip, but had had enough sense not to tense up during the fall.
No, the only thing he'd kept tight was his hold on Mae Lindson, making sure that when they did finally hit the bottom of this pit, she fell on top of him instead of the other way around.
It left him in a position both awkward and pleasant, with him flat on his back, and Mae situated down the full length of his body.
For a moment, he tightened his grip on her and closed his eyes, savoring the weight of her body against his, savoring the pressure of her breath as she inhaled, exhaled, gathering herself.
He wanted this. Wanted her. But he knew her needs might not match his. Especially with the death of her husband so fresh in her mind.
Mae shifted, pushing up just enough that she could look down at him. He didn't think she could see him in the inky blackness, but the curse the Pawnee had planted in him did a fair bit of good for his eyesight in the dark.
He saw her as if she were made of sunlight. Dirt smudged her cheek and jaw, and bits of leaves caught in her hair, her bonnet having dislodged in the tumble.
She was searching his face, not frightened or worried. No, she was considering him, maybe considering them, together.
"Mr. Hunt," she said softly. "Are you all right?"
He smiled at the concern in her voice, though she wouldn't see it. "I'll be limping off a bruise. Not much more. And you, Mrs. Lindson?" He gently brushed a loose lock of her hair away from her face.
At his touch, she took in a breath, her lips parted, her gaze still searching for his features in the dark. "I'm right as rain," she said, maybe a little surprised at her own admission.
Cedar didn't know if he should reply, or give in to his want and kiss her.
Before he could decide, a blast drowned out his words and the world around them shuddered.
…read chapter 9 at: Rabid Reads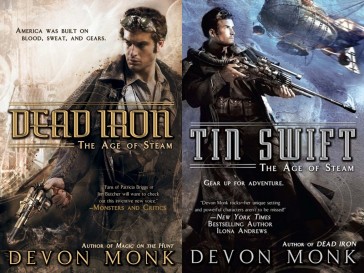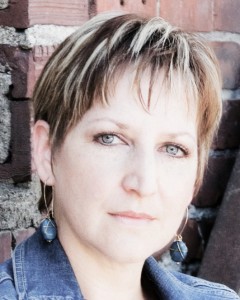 Devon Monk writes the Allie Beckstrom urban fantasy series, the Age of Steam steampunk series, and the occasional short story.  She has one husband, two sons, and a dog named Mojo. She lives in Oregon and is surrounded by colorful and numerous family members who mostly live within dinner-calling distance of each other. She has sold over fifty short stories to magazines and anthologies in five different countries, including a Year's Best Fantasy collection.  When not writing, Devon is either knitting strange things, remodeling the house-that-was-once-a-barn, or hosting a family celebration.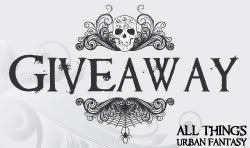 A magnet of the cover of TIN SWIFT, a hand-made one-of a kind signed bookmark. a copy of TIN SWIFT

Available on July 3, 2012 from Roc
Description:
In steam age America, men, monsters, machines and magic battle to claim the same scrap of earth and sky. In this chaos, one man fights to hold on to his humanity–and his honor. . .
Life on the frontier is full of deceit and danger, but bounty hunter Cedar Hunt is a man whose word is his bond. Cursed with becoming a beast every full moon, Cedar once believed his destiny was to be alone. But now, Cedar finds himself saddled with a group of refugees, including the brother he once thought lost.
Keeping his companions alive is proving to be no easy task, in part because of the promise he made to the unpredictable Madder brothers—three miners who know the secret mechanisms of the Strange. To fulfill his pledge, Cedar must hunt a powerful weapon known as the Holder—a search that takes him deep into the savage underbelly of the young country and high into the killing glim-field skies defended by desperate men and deadly ships.
But the battles he faces are just a glimmer of a growing war stirring the country. To keep his word Cedar must navigate betrayal, lies, and treacherous alliances, risking everything to save the lives of those he has come to hold dear…
Enter the giveaway via the widget below – US only
---
Interested in being a guest on All Things Urban Fantasy? Fill out our Guest Request Form