Today we are welcoming Yolanda Sfetsos who is here today to introduce us to A PATCH OF DARKNESS, the first in her new Sierra Fox urban fantasy series (available on May 15, 2012 from Samhain Publishing). Her new series is set in a world where everyone accepts ghosts as being real and her heroine, Sierra Fox, works as a rogue spook catcher.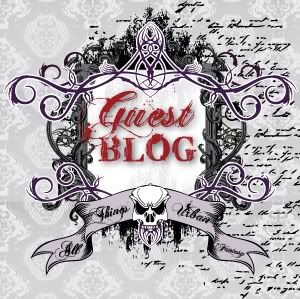 Living with Spirits
by
Yolanda Sfetsos
Hi, everyone! I want to thank All Things Urban Fantasy for having me here today. 🙂
My name is Yolanda Sfetsos and I have a new urban fantasy series coming out from Samhain Publishing. Well, the first book, which is called A Patch of Darkness, is coming out this month.
Sierra Fox is a spook catcher. Actually, she lives in a world very similar to ours… with the exception of ghosts being accepted as part of society. Most of the time, living in her world isn't that much different to ours because most people can't actually see these wandering spirits, but they can feel cold spots and sense if an invisible presence is nearby.
Only a select few can actually see them. Sierra is a lot stronger than that. She can see and interact with them.
Sometimes, when someone dies, they decide to stick around. After all, not everyone is ready to move on and leave their home or loved ones when it's their time to go. Some are just not ready, and need a little extra time with the living before they can accept the afterlife. And sometimes, spirits just like chaos.
It's Sierra's job to track down rogue spirits who are breaking the law, causing disturbances where they're not wanted, or hurting humans. She then hands them over to the Spook Catcher Council for sentencing. She doesn't help spirits find closure, connect with loved ones, or even show them the way to move on. Nope. She just removes the troublesome ones–or the non-human entities–and gets paid for her trouble, by the person who hired her.
It might sound like a pretty cool gig that pays well, but it's pretty tough work. Besides, because all spook catchers are actually born and not made, it's not exactly a nine-to-five job. Sure, there are some perks but they're usually outweighed by the danger and instability of each situation. Especially when she starts to discover there are things hiding in the shadows that are a lot more dangerous and dark than spooks…
Do you think you could live in a world where the spirits of the dead roamed freely?
Thanks for reading,
Yolanda
————————————————-
About the author:
Wife. Mother. Writer. Bibliophile. Dreamer. Animal lover. Intrigued by the supernatural. Horror freak. Zombie enthusiast. Movie & music fan. Slave to her muse.
Yolanda lives in Sydney, Australia with her awesome husband, lovely daughter, and cheeky cat.
Book Details
A PATCH OF DARKNESS by Yolanda Sfetsos
Available on May 15th from Samhain Publishing
Description:
All it takes is one weak seam for everything to fall apart.
In a perfect world, Sierra Fox would have stayed away from the Council she left years ago. But in this world—where spirits have the right to walk among the living—it's her job to round up troublesome spooks and bring them before that very same Council.
Though her desk is piled high with open cases, she can't resist an anonymous summons to a mysterious late-night meeting with a bunch of other hunters, each of whom seems to have a unique specialty. The news is dire: something is tearing at the fabric of the universe. If the hunters can't find who or why in time, something's going to give in a very messy way.
As current cases, family secrets, new clues and her tangled love life slowly wind themselves into an impossible knot, Sierra finds herself the target of a power-sucking duo intent on stealing her mojo. And realizing she holds the key to the last hope of sealing the widening rift.
Product Warnings: Spook catching: may contain traces of ectoplasm and otherworldly nasties. Not recommended for those with allergies to ghosts, demons, and with boyfriends who think your power is theirs. While reading, avoid dark patches and stay to the light.
---
Want to be a guest? Fill out our Guest Request Form