A big welcome to Nina Croft who is here counting down her Top 10 Favorite Telepaths and celebrating the release of Unthinkable, Beyond Human #1 (published on September 5, 2016 by Entangled Publishing).
Nina Croft's Top 10 Favorite Telepaths
Meet Jake Callahan—he knows exactly what you're thinking…
UNTHINKABLE, book 1 in my Beyond Human series, follows the adventures, romantic and otherwise, of a covert operations group of powerful telepaths—the Tribe. After the murder of one of their members, the Tribe break away from their government controllers and go it alone. Now a whole lot of people want them dead. Their only hope of survival is discovering the truth about who they are and where they come from.
I've always been fascinated by the idea of telepathy. How different the human race would be if we couldn't hide our thoughts. All our motivations, our plots and plans would be laid bare for everyone to see. Our secrets exposed as easily as looking into someone's eyes…
There are all sorts of ways to be or become telepathic; genetic mutation, evolution, engineering, aliens… And a lot of my books contain telepaths of some variety. My Sisters of the Moon series uses genetic modification. In my Dark Desires series many of the characters become telepathic after "joining" with a mysterious substance. In my Beyond Human series… Well, actually they have no clue how or why they are telepathic. That's just one of the answers they are trying to find.
So here are a few telepaths who have made an impression on me over the years:
10. The Champions
Anyone remember The Champions? (If you do, you're showing your age—just like me!) It was a UK TV series a long time ago and probably my first encounter with telepathy (I just looked it up, and it's on Youtube—I think I'm in for an evening of nostalgia.)
9. More Than Human
From my first telepathy TV series, to the first telepathy book I ever read. More Than Human by Theodore Sturgeon. With Lone, the simpleton, who can hear other people's thoughts and make a man blow his brains out just by looking at him. I read this a long time ago, and many times since; it's one of those books that stay with you.
8. Sookie Stackhouse
The Sookie Stackhouse novels by Charlaine Harris. I love the way Sookie finds vampires attractive because she can't read their thoughts.
7. Professor X
Professor Charles Xavier in X men.
6. Mind of My Mind
I really enjoyed Olivia E Butler's Patternmaster series, especially book two, Mind of My Mind, "where a young woman with tremendous psychic power battles to set a new course for mankind."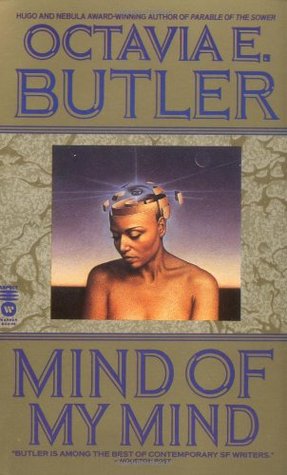 5. Dragons
And it doesn't have to be telepathic communication between people. I absolutely love Anne McCaffrey's Dragonriders of Pern, where the dragon riders can communicate telepathically with their dragons (one of my characters in Unthinkable has just learned she can "talk" to animals, though she hasn't met a dragon yet…hmm)
4. Sense8
Recently, I watched a TV series called Sense8, which follows a group of eight people from around the world who are all linked telepathically.
3. In Your Eyes
In Your Eyes, a film by Joss Whedon, where two seemingly unconnected people form a telepathic bond which allows them to share each other's experiences.
2. Ghostwalker
Christine Feehan's Ghostwalker series, where experiments to develop advanced psychic powers result in a group who can, among other things, communicate telepathically.
1. Blake's 7
And, we're going to end with another oldie: Blake's 7. As a teenager, I was madly in love with Avon from Blake's 7. But the series also included a telepath, Callie, the only alien on the show.
Nina Croft
Growing up in the cold, wet, north of England, Nina Croft spent a lot of time dreaming of faraway sunnier places and ponies. When she discovered both, along with a whole load of other things, could be found between the covers of a book, her life changed forever.
Later, she headed south, picked up the perfect husband along the way, and together they volunteered to work in Africa. There they discovered a love of exotic places and a dislike of 9-5 work. Afterward they spent a number of years traveling (whenever possible) intermingled with working (whenever necessary.) Eventually they stumbled upon a remote area in the mountains of southern Spain and the small almond farm they now call home.
Nina spends her days reading, writing and riding her mare, Gencianna, under the blue Spanish skies—sunshine and ponies. She reckons this is proof that dreams really can come true if you want them enough.
Unthinkable by Nina Croft
Available on September 5, 2016 by Entangled Publishing
Description:
Jake Callahan, leader of the Tribe, has always believed he's one of the good guys. Now, hunted by the government he used to work for, he's taking a crash course in being bad. What he desperately needs is a bargaining tool, and that's unfortunate for Christa Winters, daughter of Jake's former boss.
Christa is a scientist, a total geek, and a good girl with a secret hankering for bad boys. Which turns out to be embarrassingly inconvenient when she's kidnapped by a stunningly gorgeous—but obviously bad-to-the-bone—man intent on using her against the father she loves. A man with a seemingly uncanny ability to know exactly when she's thinking about kissing him—which is most of the time.
But people are dying, and it becomes clear that the stakes are much higher than Jake ever imagined. Someone is out to obliterate the Tribe and everyone associated with it, including Christa. Only by working together to uncover the secrets behind the past, can they ever hope to have a future.
---
Interested in being a guest on All Things Urban Fantasy? Fill out our Guest Request Form