It's the last day of the month which means it's time to check out what we're reading next month in: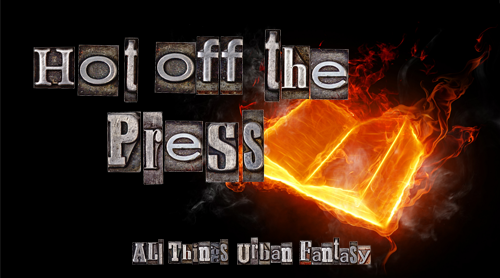 Want to know what titles came out in previous months? View previous Hot Off The Press posts
—————————————–
*Release dates are subject to change.  Click '+ Description' to reveal the full description. Please visit our Titles Received For Review page to see which of these titles will be reviewed this month.
18 Adult Titles Releasing in May

---
After her twin sister's brutal murder, former US Army Sergeant Allison "Lex" Luther vowed to protect her niece, Charlie. So when two vampires try to kidnap the baby, it quickly turns into a fight to the death—Lex's death, that is.
She wakes up to two shocking discoveries: she has miraculously survived the fight, and baby Charlie is a "null," gifted with the ability to weaken supernatural forces…and a target for creatures who want to control that power. Determined to guarantee her niece's safety, Lex makes a deal with the local vampires. She sets out with the mysterious—and undead—"fixer" Quinn to track down whoever's responsible for the kidnapping, sharpening her newfound magic skills along the way. But the closer she gets to the truth, the more dangerous her powers become.
Boundary Crossed is a dark, thrilling journey into a world where the line between living and dead isn't nearly as solid as it appears…
---
Star-crossed lovers reunite in Long Black Curl, part of Alex Bledsoe's acclaimed contemporary fantasy series, where fairy magic is hidden in plain sight and age-old rivalries simmer just beneath the surface

"Reading Long Black Curl makes me so happy that there are authors writing real North American-based mythic fiction: stories that incorporate the Americas where many of us live, infusing them with their own folklore and mythology-one that sits so well it feels like it's always been a part of us." ―Charles de Lint
In all the time the Tufa have existed, only two have ever been exiled: Bo-Kate Wisby and her lover, Jefferson Powell. They were cast out, stripped of their ability to make music, and cursed to never be able to find their way back to Needsville. Their crime? A love that crossed the boundary of the two Tufa tribes, resulting in the death of several people.
Somehow, Bo-Kate has found her way back, and fueled by vengeful plans to change the town forever. The only one who can stop Bo-Kate is Jefferson, but even he isn't sure what will happen when they finally meet. Will he fall in love with her again? Will he join her in her quest to reign over the Tufa? Or will he have to sacrifice himself to save the people who once banished him?
Enter the captivating world of the fae in Alex Bledsoe's Tufa novels
The Hum and the Shiver
Wisp of a Thing
Long Black Curl
Chapel of Ease
Gather Her Round
---
Wolves mate for life…and wolves never forget their first love  

Royal photographer Lexie Haven wasn't expecting to see her ex-boyfriend Faran ever again. She could accept that he was a spy, but a werewolf? No way. No matter how good they had been together, she has very personal reasons for steering clear of monsters. That is, until he literally crashes into a royal gathering in all his furry glory—and with a gunman on his tail. 

Within minutes of seeing each other again, the two estranged lovers are on a collision course. For now, Lexie is a prime suspect in the heist of a priceless ring, and only Faran can help her find the jewel and restore peace to the royal kingdom. But first, Lexie needs to trust in second chances and the supernatural.
---
In Stacey Kennedy's steamy paranormal romance novel, a rookie guardian sworn to combat the undead risks life and love in a world of violence, witchcraft, and seduction.
Trained as an Elite Guardian and witch, Nexi Jones has lost her family and she's hell-bent on making sure she doesn't lose anyone else. At least she has Kyden, her smoldering hot partner who's been there for her every step of the way. But just as Nexi thinks she's done mourning, tragedy strikes the Otherworld when a fellow guardian is murdered by a group of rogue vampires. Drawn into their dangerous games, she and Kyden trek into the Earthworld to hunt down a killer—and Nexi alone will be put to the ultimate test. 
Although Kyden knows that Nexi must fight her own battles, his guardian instincts are raging as he struggles to keep her close. The ruthlessness of these vampires is like nothing he's ever seen. And at their helm is the black witch Astoria, a demon with one burning desire: to shed blood in the name of vengeance. What troubles Kyden even more, though, is the warlock lurking in the shadows. Let the devil do his worst . . . all Kyden can do is love and protect Nexi until his last breath.
Praise for Witches Be Burned
 
"Witches Be Burned has everything I love in paranormal romance: scorching heat, dramatic world-building, heart-wrenching emotion, and sexy heroes!"—Carrie Ann Ryan, New York Times bestselling author of Tattered Loyalties
"An intriguing, exciting, and sexy adventure that lures you into its darkness and refuses to let go."—Cecy Robson, author of the Weird Girls series
 
"While I do recommend this one for any paranormal romance reader, just about anyone could enjoy this novel."—Keeper Bookshelf
 
"If you like paranormal romance/urban fantasy, Witches Be Burned is definitely one to check out."—Kimber Leigh Writes
 
"The pace is steady and the plot is well written. This was an enjoyable book with a good cast of characters. Recommended for all fans of paranormal romance and Stacey Kennedy."—Archaeolibrarian
Includes a special message from the editor, as well as an excerpt from another Loveswept title.
---
The Hanged Man is the first book all-new Gaslamp Fantasy series by P. N. Elrod.
On a freezing Christmas Eve in 1879, a forensic psychic reader is summoned from her Baker Street lodgings to the scene of a questionable death. Alexandrina Victoria Pendlebury (named after her godmother, the current Queen of England) is adamant that the death in question is a magically compromised murder and not a suicide, as the police had assumed, after the shocking revelation contained by the body in question, Alex must put her personal loss aside to uncover the deeper issues at stake, before more bodies turn up.
Turning to some choice allies―the handsome, prescient Lieutenant Brooks, the brilliant, enigmatic Lord Desmond, and her rapscallion cousin James―Alex will have to marshal all of her magical and mental acumen to save Queen and Country from a shadowy threat. Our singular heroine is caught up in this rousing gaslamp adventure of cloaked assassins, meddlesome family, and dark magic.
"Murder, mayhem and tea―a well-bred Victorian urban fantasy thriller. Prepare, o reader, to be enthralled."―Patricia Briggs, #1 New York Times Best Selling Author of the Mercy Thompson series on P.N. Elrod's The Hanged Man
---
The national bestselling author of The Mist-Torn Witches returns to a world of princes and power, magic and mystery, where two women have the ability to reveal the future and uncover the past.…
When seers Céline and Amelie Fawe fled Shetâna under threat of death, they vowed never to return. Yet, less than a year later, they are summoned back—to aid the man who once tried to kill them.…
The cruel prince Damek is on the verge of closing marriage negotiations with the powerful family of a young noblewoman when his intended's sister is murdered. To keep the engagement from falling through, Damek must expose the killer quickly—and he needs the seers' powers to do so. Though the Fawes' patron, Prince Anton, fears that bringing Céline and Amelie to Shetâna places them in grave danger, he is honor-bound to help his brother Damek.
Only none of them is prepared for the peril that awaits them at Castle Kimovesk—for someone in the court is determined to prevent the marriage from happening, no matter how deadly the cost.…
---
"This series gets better and better."-RT Book Reviews, 4 ½ Stars on Her Lone Wolf
Name: Kendra Carlsen
Rank: Trainer, Dept. of Covert Ops
Objective: Get out of the office and into the field
Name: Declan MacBride
Rank: Tracker, Dept. of Covert Ops
Status: Bear Shifter
Objective: Protect Kendra at all costs
The steamy Costa Rican jungle brings out the bear in Declan MacBride when he and new operative Kendra Carlsen are ambushed. In the midst of relying on each other to survive, and fighting his explosive attraction to Kendra, this shifter is about to lose control…
X-Ops Series
Her Perfect Mate (Book 1)
Her Lone Wolf (Book 2)
Her Secret Agent (novella)
Her Wild Hero (Book 3)
Her Fierce Warrior (Book 4)
Her Rogue Alpha (Book 5)
Her True Match (coming March 2017)
Praise for Paige Tyler's X-Ops series:
"A wild, hot, and sexy ride. I loved it!"-Terry Spear, USA Today bestselling author of A SEAL in Wolf's Clothing
"Dangerously sexy and satisfying."-Virna DePaul, New York Times bestselling author of the Belladonna Agency series
---
SOON TO BE A NBC TV SERIES!
In Midnight Crossroad, Charlaine Harris "capture[d] the same magic as the world of Bon Temps, Louisiana, and it to another level" (Houston Press). Now the #1 New York Times bestselling author of the Sookie Stackhouse novels returns to the one-traffic-light town you see only when you're on the way to someplace else…
There is no such thing as bad publicity, except in Midnight, Texas, where the residents like to keep to themselves. Even in a town full of secretive people, Olivia Charity is an enigma. She lives with the vampire Lemuel, but no one knows what she does; they only know that she's beautiful and dangerous.
Psychic Manfred Bernardo finds out just how dangerous when he goes on a working weekend to Dallas and sees Olivia there with a couple who are both found dead the next day. To make matters worse, one of Manfred's regular—and very wealthy—clients dies during a reading.
Manfred returns from Dallas embroiled in scandal and hounded by the press. He turns to Olivia for help; somehow he knows that the mysterious Olivia can get things back to normal. As normal as things get in Midnight…
---
Born an Outcast, Talyn Batur has spent the whole of his life fighting against the prejudice of his people. An Andarion without a father is not something anyone wants to be.
But when his companion's brother draws him into a plot against the Andarion crown, he finds himself torn between the loyalty to their planetary government that his mother has beaten into him and his own beliefs of justice and right.
Now, he must decide for himself to remain a pawn of their government or to defy everything and everyone he's ever known to stand up to tyranny. It's a gamble that will either save his life or end it. And when old enemies align with new ones, it's more than just his own life at risk. And more than just his homeworld that will end should he fail, in Born of Defiance, the next League novel from #1 New York Times bestselling author Sherrilyn Kenyon.
---
The Guardians of Eternity are facing a final battle to save their world—but battles of the heart may be the most difficult to fight…
Cyn, the vampire clan chief of Ireland, is an unabashed hedonist whose beauty is surpassed only by his insatiable appetite for pleasure. It's no wonder he's furious when he's transported from the magical land of the pureblooded feys to his desolate medieval castle—only to have his very existence thrown into a chaos that even he cannot charm his way out of…
Most women may be all but powerless against Cyn, but Fallon, a sharp-witted fairy princess, is less than beguiled by the silver-tongued vampire. She's a serious soul with no time for the sort of games he plays—especially when they learn that someone is trying to close the veil that separates the dimensions. But seduction may prove the most powerful force of all, as attraction ignites between the unlikely pair even as worlds are colliding around them…
---
In the latest Novel of the Elder Races, two souls who have long buried their passions are about to be consumed…
Ever since their scorching affair ended years ago, Julian, the Nightkind King, and Melisande, daughter of the Light Fae Queen, have tried to put the past behind them—and distance between them. But when a war breaks out between Julian and Justine, a powerful Vampyre of the Nightkind council, they find themselves thrown together under treacherous circumstances…
Kidnapped as leverage against Julian, Melly is convinced that her former lover won't be rushing to her rescue. But when Julian gives himself up to save her, they both end up Justine's captives. Armed only with their wits and their anger, Melly and Julian must work together to escape. But will they be able to ignore their complicated history, or will the fiery passion that once burned them blaze again?
---
From the author of Grim Shadows and Bitter Spirits comes the new Roaring Twenties novel in the series hailed as "Boardwalk Empire meets Ghost Hunters, but so much better" (Molly Harper, national bestselling author of the Jane Jameson series).
Feisty flapper Astrid Magnusson is home from college and yearning for the one thing that's always been off limits: Bo Yeung, her notorious bootlegging brother's second-in-command. Unfortunately her dream of an easy reunion proves difficult after a violent storm sends a mysterious yacht crashing into the Magnussons' docks. What's worse, the boat disappeared a year ago, and the survivors are acting strangely…
Bo has worked with the Magnusson family for years, doing whatever is needed, including keeping his boss's younger sister out of trouble—and his hands to himself. Of course, that isn't so easy after Astrid has a haunting vision about the yacht's disappearance, plunging them into an underground world of old money and dark magic. Danger will drive them closer together, but surviving their own forbidden feelings could be the bigger risk.
---
Sometimes I wonder if the purpose of my life
is to serve as a cautionary tale to others.
–T-shirt
Charley Davidson has enough going on without having to worry about twelve hellhounds hot on her trail. She is, after all, incredibly pregnant and feeling like she could pop at any moment. But, just her luck, twelve deadly beasts from hell have chosen this time to escape onto our plane, and they've made Charley their target. And so she takes refuge at the only place she thinks they can't get to her: the grounds of an abandoned convent. Of course, if hellhounds aren't enough, Charley also has a new case to hold her attention: the decades-old murder of a newly-vowed nun she keeps seeing in the shadows of the convent.
Add to that the still unsolved murder of her father, the strange behavior of her husband, and Charley's tendency to attract the, shall we say, undead, and she has her hands full…but also tied. While the angry hellhounds can't traverse the consecrated soil, they can lurk just beyond its borders like evil sentries, so Charley has been forbidden from leaving the sacred grounds. Luckily, she has her loyal team with her, and they're a scrappy bunch who won't let a few thirsty hellhounds deter them.
While the team scours the prophesies, searching for clues on the Twelve, for a way to kill them or at least send them back to hell, Charley just wants answers and is powerless to get them. But the mass of friends they've accrued helps. They convince her even more that everyone in her recent life has somehow been drawn to her, as though they were a part of a bigger picture all along. Their presence is comforting. But the good feelings don't last for long because Charley is about to get the surprise of her crazy, mixed-up, supernatural life….
---
End of Days is the explosive conclusion to Susan Ee's bestselling Penryn & the End of Days trilogy. After a daring escape from the angels, Penryn and Raffe are on the run. They're both desperate to find a doctor who can reverse the twisted changes inflicted by the angels on Raffe and Penryn's sister. As they set off in search of answers, a startling revelation about Raffe's past unleashes dark forces that threaten them all.
When the angels release an apocalyptic nightmare onto humans, both sides are set on a path toward war. As unlikely alliances form and strategies shift, who will emerge victorious? Forced to pick sides in the fight for control of the earthly realm, Raffe and Penryn must choose: Their own kind, or each other?
---
Sci-fi action meets steamy paranormal romance in Gini Koch's Alien novels, as Katherine "Kitty" Katt faces off against aliens, conspiracies, and deadly secrets. • "Futuristic high-jinks and gripping adventure." —RT Reviews
Life's never easy…
The Mastermind has finally been identified, but before Jeff and Kitty Katt-Martini can take him down, they, their daughter Jamie, Charles Reynolds, Paul Gower, Christopher White, and several others are zapped out of their solar system and into another.
Landing in scattered groups on various areas of Beta Eight in the Alpha Centauri system means getting the team back together will be a major issue. But it's only one of the challenges they'll face. Kitty and Company have to forge alliances with the wide variety of sentient natives on the planet while plotting to create a civil war and overthrow the king—who just may be a clone of one of their bitterest enemies, Ronaldo Al Dejahl.
Of course, to do this, they have to overcome an assortment of dangerous obstacles, protect a group of refugees, take mind reading lessons, and seek out unexpected new allies as they journey to the CenterPoint of the World.
And once they reach the All Seeing Mountain, new issues and surprises await. Because there's more than a small war going on—they're in the midst of the Alpha Centauri Civil War!
---
Sworn enemies fated to be supernatural lovers… 
Only a few know about a race of Lycans hidden deep within Miami's underground. And those who do not embrace the wolves seek to destroy them. Cameron Mitchell has sought to protect his kind…at any cost. But one beautiful woman may be his undoing. 
Born into a family of wolf hunters, Abby Stark has never actually confronted a Lycan. Then Cameron steps out of the shadows and Abby is overcome with the need to be devoured. With her father vowing to destroy all of Cameron's kind, Abby knows they have no future. Coupling with a were is not her destiny. Yet walking away is proving impossible.
22 YA Titles Releasing in May

---
Azeril is a ward of the Church, and their most cunning weapon. By day he hides in plain sight as a student, but with his beloved obsidian knife, he also kills wizards. Az has no memory of his life before the Church, until one night, when a wizard recognizes him from his past. The killer in Az never misses his mark, but he can't destroy the only potential link to his life before this. For the first time, Az has a lead on who he used to be—if only he could escape the watchful eye of the High Priest long enough to investigate.
Azeril discovers that the line between good and evil—the primal forces of the Fire and the Chasm—is as shifting as his own moral compass. And the truth about who he is will put his entire world in danger.
---
Look, but don't touch. Touch, but don't feel. Feel, but never ever love.
From the moment Alina touches London's hottest fae superstar, breaking one of the laws founded to protect all of her kind, her fate – and the fae – close in.
Below ground, the fae High Queen plots to claim the city as her own and places her pawns, ready for the battle to come. A battle she cannot lose, but for one small problem – Alina. There are four ancient keepers powerful enough to keep the queen in her prison. Three are dead. One remains … And to fight back, Alina risks sacrificing everything she has come to love.

This New Adult urban fantasy is packed with action and suspense and will have you yearning for more forbidden fae romance.
---
The hilarious new YA from acclaimed author Tina Connolly.
Camellia's adopted mother wants Cam to grow up to be just like her. Problem is, Mom's a seriously wicked witch.
Cam's used to stopping the witch's crazy schemes for world domination. But when the witch summons a demon, he gets loose—and into Devon, the cute new boy at school.
Suddenly Cam's got bigger problems than passing Algebra. Her friends are getting zombiefied. Their dragon is tired of hiding in the RV garage. For being a shy boy-band boy, Devon is sure kissing a bunch of girls. And a phoenix hidden in the school is going to explode on the night of the Halloween Dance.
To stop the demon before he destroys Devon's soul, Cam might have to try a spell of her own. But if she's willing to work spells like the witch…will that mean she's wicked too?
At the Publisher's request, this title is being sold without Digital Rights Management Software (DRM) applied.
---
Perfect for fans of If I Stay or Imaginary Girls, Dust to Dust is the mysterious, thoughtful, and poignant sequel to Melissa Walker's haunting and heartbreaking novel Ashes to Ashes.
When Callie McPhee miraculously recovers from a tragic accident that should have taken her life, she thought her connection to the ghost world would be severed forever. And that she would never see Thatcher—the ghost she fell in love with in the hereafter—again. But when she receives unexpected signs from Thatcher, she's led down a dark road toward the angry souls who once tried to steal her soul's energy for another chance at life.
Now Callie must prevent the real world and the spirit world from colliding, and that could mean saying good-bye to people she'd never imagined she'd lose.
---
THE FIRST NOVEL BASED ON THE HEXED COMIC!
Luci Jenifer Inacio das Neves, Lucifer for short, isn't your typical teenaged girl.  She's a thief who survives by stealing bad things from bad people in the magical and mystical underworld hidden beneath our own.  So when a policeman's daughter, Gina, is kidnapped by a force he can't explain, Lucifer is the only one who has a chance at getting his daughter back.  
With the unsolicited help of Gina's friends, including Gina's boyfriend David, Lucifer's investigation leads to the unfortunate truth of the kidnapping.  Gina was taken to an otherworldly dimension by a creature of unspeakable evil: one of the Seven Sisters of Witchdown.  Against all odds, Lucifer must use every magical tool hidden in her trick bag to steal her way into the Shade and bring Gina back before the Sister sacrifices her for her own dark ends.  But the closer Lucifer gets to Gina, the closer she gets to David.  And David to her.  Lucifer must risk her life by confronting demons, witches, and the cruel demigoddess controlling her destiny – all to save the one girl who stands in the way of Lucifer finally finding love.
---
First, we feared them. Then we fought them. Now they might be our only hope.

Sixteen-year-old Lyric Walker's life is forever changed when she witnesses the arrival of 30,000 Alpha, a five-nation race of ocean-dwelling warriors, on her beach in Coney Island. The world's initial wonder and awe over the Alpha quickly turns ugly and paranoid and violent, and Lyric's small town transforms into a military zone with humans on one side and Alpha on the other. When Lyric is recruited to help the crown prince, a boy named Fathom, assimilate, she begins to fall for him. But their love is a dangerous one, and there are forces on both sides working to keep them apart. Only, what if the Alpha are not actually the enemy? What if they are in fact humanity's best chance for survival? Because the real enemy is coming. And it's more terrifying than anything the world has ever seen.

Action, suspense, and romance whirlpool dangerously in this cinematic saga!

 
---
WINNER OF THE NEBULA AWARD FOR BEST NOVEL • Naomi Novik, author of the New York Times bestselling and critically acclaimed Temeraire novels, introduces a bold new world rooted in folk stories and legends, as elemental as a Grimm fairy tale.
HUGO AWARD FINALIST • NAMED ONE OF THE BEST BOOKS OF THE YEAR BY NPR | BuzzFeed | Tor.com | BookPage | Library Journal | Publishers Weekly

"Uprooted is confidently wrought and sympathetically cast. I might even call it bewitching."—Gregory Maguire, bestselling author of Wicked and Egg & Spoon
"Our Dragon doesn't eat the girls he takes, no matter what stories they tell outside our valley. We hear them sometimes, from travelers passing through. They talk as though we were doing human sacrifice, and he were a real dragon. Of course that's not true: he may be a wizard and immortal, but he's still a man, and our fathers would band together and kill him if he wanted to eat one of us every ten years. He protects us against the Wood, and we're grateful, but not that grateful."
Agnieszka loves her valley home, her quiet village, the forests and the bright shining river. But the corrupted Wood stands on the border, full of malevolent power, and its shadow lies over her life.
Her people rely on the cold, driven wizard known only as the Dragon to keep its powers at bay. But he demands a terrible price for his help: one young woman handed over to serve him for ten years, a fate almost as terrible as falling to the Wood.
The next choosing is fast approaching, and Agnieszka is afraid. She knows—everyone knows—that the Dragon will take Kasia: beautiful, graceful, brave Kasia, all the things Agnieszka isn't, and her dearest friend in the world. And there is no way to save her.
But Agnieszka fears the wrong things. For when the Dragon comes, it is not Kasia he will choose.
Praise for Uprooted
"Uprooted has leapt forward to claim the title of Best Book I've Read Yet This Year. . . . Moving, heartbreaking, and thoroughly satisfying, Uprooted is the fantasy novel I feel I've been waiting a lifetime for. Clear your schedule before picking it up, because you won't want to put it down."—NPR
"A very enjoyable fantasy with the air of a modern classic . . . Naomi Novik skillfully takes the fairy-tale-turned-bildungsroman structure of her premise . . . and builds enough flesh on those bones to make a very different animal. . . . The vivid characters around her also echo their fairy-tale forebears, but are grounded in real-world ambivalence that makes this book feel quietly mature, its world lived-in."—The New York Times Book Review
"Novik here delivers a tale that is funny and fast-paced, laced with hair-raising battle scenes and conspiracies; it also touches on deeper ecological concerns we grapple with today."—The Washington Post
"Novik takes us on a surprise-filled journey. . . . The resulting warmth and intimacy provide a nicely nurturing environment for her heroine's unusual adventures."—The Seattle Times
"Breathtaking . . . weaves a tale that is both elegantly grand and earthily humble, familiar as a Grimm fairy tale yet fresh, original, and totally irresistible. This will be a must-read for fantasy fans for years to come."—Pubilshers Weekly (starred review)
"An original and fully realized fantastical place guaranteed to enthrall her longtime fans and attract new readers."—Library Journal (starred review)
---
Amy Plum, internationally bestselling author of the Die for Me series, delivers a heart-pounding adventure perfect for fans of Michael Grant, Veronica Rossi, and Alexandra Bracken. Until the Beginning is the sequel to After the End, which Marie Lu, New York Times bestselling author of the Legend series and the Young Elites series, called "wonderfully riveting." In this stunning and exhilarating conclusion to the duology, Juneau has been searching for her people and for answers . . . and she is about to find both.
When Juneau's clan disappeared, she lost so much more than her friends and family. She soon discovered everything she thought she knew about her life was a lie. Her people's gifts were actually secret abilities that others wanted, desperately enough to kidnap an entire village.
Juneau set off on a cross-country journey with her new companion, Miles, to find her clan, which led them to a game preserve in New Mexico. Now Juneau's people are finally within reach, and she will stop at nothing to save them. But she has a target on her back too, because unbeknownst to her she is the key to unlocking everything. To rescue her people—and herself—Juneau must discover what she and her abilities are truly capable of.
---
An exhilarating tale of darkness, love, and redemption inspired by the classic fairy tale Little Red Riding Hood and the extravagant court of Versailles, from the author of Cruel Beauty. A doomed warrior and the king's most notorious bastard must join forces to defeat a dark evil in this gorgeously intricate fantasy—perfect for fans of An Ember in the Ashes and A Court of Thorns and Roses.
When Rachelle was fifteen she was good—apprenticed to her aunt and in training to protect her village from dark magic. But she was also reckless—straying from the forest path in search of a way to free her world from the threat of eternal darkness. After an illicit meeting goes dreadfully wrong, Rachelle is forced to make a terrible choice that binds her to the very evil she had hoped to defeat.
Three years later, Rachelle has given her life to serving the realm, fighting deadly creatures in a vain effort to atone. When the king orders her to guard his son Armand—the man she hates most—Rachelle forces Armand to help her hunt for the legendary sword that might save their world. Together, they navigate the opulent world of the courtly elite, where beauty and power reign and no one can be trusted. And as the two become unexpected allies, they discover far-reaching conspiracies, hidden magic . . . and a love that may be their undoing. Within a palace built on unbelievable wealth and dangerous secrets, can Rachelle discover the truth and stop the fall of endless night?
---
2016 Christy Award Winner! (Young Adult category)
2016 Christy Award Finalist (First novel category)
Like all citizens since the Ruining, Carrington Hale knows the importance of this day. But she never expected the moment she'd spent a lifetime preparing for―her Choosing ceremony―to end in disaster. Ripped from her family, she'll spend her days serving as a Lint, the lowest level of society. She knows it's her duty to follow the true way of the Authority.
But as Carrington begins this nightmare, rumors of rebellion rattle her beliefs. Though the whispers contradict everything she's been told, they resonate deep within.
Then Carrington is offered an unprecedented chance at the life she's always dreamed of, yet she can't shake the feeling that it may be an illusion. With a killer targeting Lints and corruption threatening the highest levels of the Authority, Carrington must uncover the truth before it destroys her.
---
"Car chases, explosions and action galore—awesome."—Kirkus Reviews on Scan
At the cliffhanger ending of Scan, Tate loses the very thing he was fighting to protect, what his father had called the key to human survival. Tate doesn't have much time to worry about it because he needs to get away, to ensure he and Christina are safe. His father left him one last thing that can do just that—a safe house, which turns out to be a clue to what's really threatening the planet. As Tate follows the clues his father left behind, he starts to uncover the truth, realizing he's up against an enemy he's only beginning to understand.
A riveting, fast-paced "we are not alone" adventure, Burn thrills to the very end.
---
In this dark southern gothic novel, a young woman meets a man who may be more than he seems. After the death of her mother, 17-year-old Rave Weathersby gives up her dream of becoming a fashion designer, barely surviving life in the South Carolina lowlands. To make ends meet, Raven works after school as a seamstress creating stunning works of fashion that often rival the great names of the day. Instead of making things easier on the high school senior, her stepdad's drinking leads to a run in with the highly reclusive heir to the Maddox family fortune, Gideon Maddox. But Raven's stepdad is drying out and in no condition to attend the meeting with Maddox. So Raven volunteers to take his place and offers to repay the debt in order to keep the only father she's ever known out of jail. Gideon Maddox agrees, outlining an outrageous demand: Raven must live in his home for a year while she designs for Maddox Industries' clothing line, signing over her creative rights. Her handsome young captor is arrogant and infuriating to the nth degree, and Raven can't imagine working for him, let alone sharing the same space for more than five minutes. But nothing is ever as it seems. Is Gideon Maddox the monster the world believes him to be? And can he stand to let the young seamstress see him as he really is?
---
The Fast and the Furious gets a futuristic twist in this action-packed debut!
On corporately controlled Castra, rally racing is a high-stakes game that seventeen-year-old Phoebe Van Zant knows all too well. Phee's legendary racer father disappeared mysteriously, but that hasn't stopped her from speeding headlong into trouble. When she and her best friend, Bear, attract the attention of Charles Benroyal, they are blackmailed into racing for Benroyal Corp, a company that represents everything Phee detests. Worse, Phee risks losing Bear as she falls for Cash, her charming new teammate. But when she discovers that Benroyal is controlling more than a corporation, Phee realizes she has a much bigger role in Castra's future than she could ever have imagined. It's up to Phee to take Benroyal down. But even with the help of her team, can a street-rat destroy an empire?
---
What if the world holds more dangers—and more wonders—than we have ever known? And what if there is more than one world? From Heather Dixon, author of the acclaimed Entwined, comes a brilliantly conceived adventure that sweeps us from the inner workings of our souls to the far reaches of our imaginations.
Jonathan is perfectly ordinary. But then—as every good adventure begins—the king swoops into port, and Jonathan and his father are enlisted to find the cure to a deadly plague. Jonathan discovers that he's a prodigy at working with a new chemical called fantillium, which creates shared hallucinations—or illusions. And just like that, Jonathan is knocked off his path. Through richly developed parallel worlds, vivid action, a healthy dose of humor, and gorgeous writing, Heather Dixon spins a story that calls to mind The Night Circus and Pixar movies, but is wholly its own.
---
The sequel to HEXED–the spellbindingly sexy two-book series about a teenage witch in L.A. by Michelle Krys, author of DEAD GIRLS SOCIETY.

THERE'S ONLY ONE PLACE PAIGE COULD BE. AND IT'S NOT ON THIS EARTH.
Indie has spent the last few weeks frantically searching for Paige. She's tried every spell imaginable, but witchcraft has gotten her nowhere, and she's going crazy with guilt. Despite what her warlock boyfriend, Bishop, tells her, Indie knows it's her fault her best friend was kidnapped by the Priory. And with the Priory destroyed, finding Paige feels more hopeless than ever—especially when Indie discovers that Paige isn't even on Earth. She's trapped in Los Demonios, an alternate dimension of Los Angeles filled with evil paranormals. No one who has gone there has ever come out.
Indie is desperate to find a way into the underworld prison. She'll worry about getting out later. But facing the dark world's most dangerous witches and warlocks on her own means keeping her plan hush-hush—and forging alliances with some sketchy people, including a seriously sexy sorcerer.
Sometimes a witch must keep secrets from the people she cares about most. And sometimes she isn't the only one with secrets. . . . 
**
 "CHARMED left me spellbound!" —Amy Plum, author of the internationally bestselling Die for Me series
---
THE INSTANT NEW YORK TIMES BESTSELLER
Perfect for fans of Kristin Cashore and George R.R. Martin, this first book in a sexy and action-packed new series is impossible to put down!
When nineteen-year-old huntress Feyre kills a wolf in the woods, a beast-like creature arrives to demand retribution for it. Dragged to a treacherous magical land she only knows about from legends, Feyre discovers that her captor is not an animal, but Tamlin–one of the lethal, immortal faeries who once ruled their world.
As she dwells on his estate, her feelings for Tamlin transform from icy hostility into a fiery passion that burns through every lie and warning she's been told about the beautiful, dangerous world of the Fae. But an ancient, wicked shadow over the faerie lands is growing, and Feyre must find a way to stop it . . . or doom Tamlin–and his world–forever.
---
"Gripping and addictive—Shepherd has delivered again! A captivating mix of intrigue, deft twists, and complex questions, this is a must-read."—Amie Kaufman and Meagan Spooner, New York Times bestselling authors of These Broken Stars
The Maze Runner meets Scott Westerfeld in this new series Kirkus Reviews calls "swoon-worthy and thrilling" about teens held captive in a human zoo by an otherworldly race. From Megan Shepherd, the acclaimed author of the Madman's Daughter trilogy.
When Cora Mason wakes in a desert, she doesn't know where she is or who put her there. As she explores, she finds an impossible mix of environments—tundra next to desert, farm next to jungle, and a strangely empty town cobbled together from different cultures, all watched over by eerie black windows. And she isn't alone.
Four other teenagers have also been taken: a beautiful model, a tattooed smuggler, a secretive genius, and an army brat who seems to know too much about Cora's past. None of them have a clue as to what happened, and all of them have secrets. As the unlikely group struggles for leadership, they slowly start to trust each other. But when their mysterious jailer appears—a handsome young guard called Cassian—they realize that their captivity is more terrifying than they could ever imagine: their captors aren't from Earth. And they have taken the five teenagers for an otherworldly zoo—where the exhibits are humans.
---
"The author did an amazing job in her world-building, in crafting such a unique setting and story concept. This story seemed to have it all. It sucked me in so quickly and kept my attention riveted." -Shannon, The Tale Temptress
There is one True World, and then there are the four mirror worlds: fire, water, air, and stone. And each has a magic of its own…
In the Fire World, seventeen-year-old Leah is the illegitimate daughter of one of the realm's most powerful lords. She's hot-blooded – able to communicate with the tempestuous volcano gods. But she has another gift…the ability to Call her twin "Otherselves" on other worlds.
Holly resides in the Water World – our world. When she's called by Leah from the Fire World, she nearly drowns. Suddenly the world Holly thought she knew is filled with secrets, magic…and deadly peril.
For a malevolent force seeks to destroy the mirror worlds. And as Leah and Holly are swept up in the tides of chaos and danger, they have only one choice to save the mirror worlds – to shatter every rule they've ever known…
The Otherselves series is best enjoyed in order.
Reading Order:
Book #1 Through Fire and Sea
Book #2 Amid Wind and Stone
Book #3 In Truth and Ashes
---
From the world of Beautiful Creatures–a dangerous new tale of love and magic continues in the sequel to Dangerous Creatures.
After a disastrous car crash outside New York City, Ridley Duchannes–Dark Caster, Siren, and bona fide bad girl-has gone missing. Her wannabe rocker and quarter Incubus boyfriend, Wesley "Link" Lincoln, was driving, and when he comes to, Ridley is nowhere to be found. The only clue is the giant raven emblazoned on the hood of the truck that hit them, which can mean only one thing: Silas Ravenwood is back. And he has Ridley.
Determined to find her, Link reunites with old friends John Breed and Liv Durand, his New York bandmates, and the mysterious Lennox Gates–who has his own reasons for tracking down Ridley. Together they travel through the Caster Tunnels and the Deep South to New Orleans, where they uncover the truth about the infamous Ravenwood labs and exactly what Silas has been doing within those walls. By the time Link and his friends reach Ridley, she is no longer the Siren they know and love. She's something new. This time, love might not be enough to save them.
In this sequel to Dangerous Creatures, the bestselling spin-off of the #1 New York Times bestselling Beautiful Creatures novels, coauthors Kami Garcia and Margaret Stohl deliver an intoxicating blend of magic, suspense, and danger.
---
In the majestic halls of a crystal palace lies a secret that could destroy an entire kingdom…
Bryn Aven refuses to give up on her dream of serving the kingdom she loves. It's a dream that brings her to a whole new realm…the glittering palace of the Skojare.
The Skojare people need protection from the same brutal enemy that's been threatening the Kanin, and Bryn is there to help. Being half Skojare herself, it's also a chance for her to learn more about her lost heritage. Her boss Ridley Dresden is overseeing the mission, but as their undeniable attraction heats up, their relationship is about to reach a whole new level?one neither of them is prepared for.
As they delve deeper into the Skojare world, they begin to unravel a long-hidden secret. The dark truth about her own beloved Kanin kingdom is about to come to light, and it'll change her place in it forever…and threaten everyone she loves.
---
A new era dawns in the world of Kiera Cass's #1 New York Times bestselling Selection series
America and Maxon's fairy-tale romance enchanted readers from the very first page of The Selection. Now find out what happens after happily ever after in this fourth captivating novel, perfect for fans of Veronica Roth's Divergent, Lauren Oliver's Delirium, or Renée Ahdieh's The Wrath & the Dawn.
Twenty years ago, America Singer entered the Selection and won Prince Maxon's heart. Now the time has come for Princess Eadlyn to hold a Selection of her own. Eadlyn doesn't expect anything like her parents' fairy-tale love story…but as the competition begins, she may discover that finding her own happily ever after isn't as impossible as she's always thought.
A new generation of swoon-worthy characters and captivating romance awaits in the fourth book of the Selection series!
What are your must have titles for May? Tell us in the comments.
---
Authors/Publishers: have a book coming out soon?
Request a Review or schedule a visit/giveaway
Please leave a comment if we missed a title and we will update this post.