It's the last day of the month which means it's time to check out what we're reading next month in: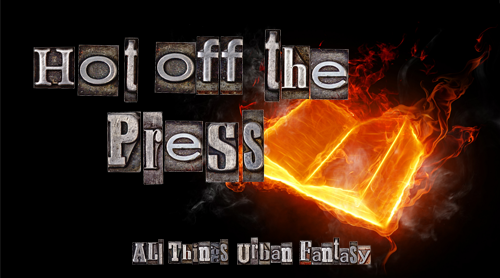 Want to know what titles came out in previous months? View previous Hot Off The Press posts
—————————————–
*Release dates are subject to change.  Click '+ Description' to reveal the full description. Please visit our Titles Received For Review page to see which of these titles will be reviewed this month.
16 Adult Titles Releasing in April

---
It happens whenever wolf shifter Roni Axton is near Marcus Fuller: a crackle of sexual awareness that's intoxicating…and deeply annoying. Marcus is a pack enforcer who oozes power, but Roni is lethal in her own right—nothing like the flirty females who flock around him. Even still, his possessive gaze makes one thing clear. Marcus has singled her out for seduction, and he wants to make her sit up and beg.
No matter how aloof and unfazed Roni acts, Marcus can tell she wants him. When a brutal attack by a jackal pack forces them to work together, it's the perfect opportunity for Marcus to chip away at her defenses—until he falls into his own trap, completely unprepared for the intensity of their connection. Roni is the only one who's ever seen past his shifter charm and discovered the man hiding beneath it. And for Marcus, claiming Roni once will mean needing her forever.
---
Ten years ago, Deirdre Tombs died. When she was reborn the next day, Deirdre had become a shapeshifter who can't shift shapes. Nobody knows what animal she's supposed to be. She's definitely not a werewolf. The Alpha, Rylie Gresham, can't force her to transform like other members of her pack. 
Now Deirdre is considered an omega, the weakest shapeshifter in the pack–a vulnerable position when Everton Stark demands tribute from Rylie. He wants to be the dominant Alpha. The only Alpha. And he plans to make her pack submit whether they want to or not. Stark can make every shapeshifter obey him by force of will alone. 
Every shapeshifter except Deirdre. 
The shifter who can't shift is the only hope for Rylie to win the war against Stark. It will take everything Deirdre has to survive undercover in his den. But can an omega's will be stronger than that of a charismatic, deadly Alpha like Everton Stark?
---
The Werewolf and the Socialite. Two Different Worlds. One Shared Destiny.  

Like the jewels she stole, Paris socialite Blyss Sauveterre is someone to be handled carefully. Stryke Saint-Pierre discovered that when the beautiful thief used their attraction to pilfer an infamous diamond. But when they make love, Stryke senses that—just like the gems she covets—Blyss has more facets to her than meet the eye… 

Blyss cannot let the brutish werewolf know that these heists pay for an elixir to keep her wolf at bay. Until her latest theft puts a pack of deadly demons hot on her trail. Now the redneck werewolf is this socialite's only salvation. But when the danger is past, dare Blyss succumb to the desire to let her inner wolf run wild with a man who represents all she could ever want?
---
London, 1925. Glamorous medium Gloria Sutter made her fortune helping the bereaved contact loved ones killed during the Great War. Now she's been murdered at one of her own séances, after leaving a message requesting the help of her former friend and sole rival, Ellie Winter.
 
Ellie doesn't contact the dead—at least, not anymore. She specializes in miraculously finding lost items. Still, she can't refuse the final request of the only other true psychic she has known. Now Ellie must delve into Gloria's secrets and plunge back into the world of hucksters, lowlifes, and fakes. Worse, she cannot shake the attentions of handsome James Hawley, a damaged war veteran who has dedicated himself to debunking psychics.
 
As Ellie and James uncover the sinister mysteries of Gloria's life and death, Ellie is tormented by nightmarish visions that herald the grisly murders of those in Gloria's circle. And as Ellie's uneasy partnership with James turns dangerously intimate, an insidious evil force begins to undermine their quest for clues, a force determined to bury the truth, and whoever seeks to expose it…
---
The new Bishop Files novel by the New York Times bestselling author of The First Prophet and the Bishop/Special Crimes Unit novels.
John Brodie is a Guardian, a member of a secretive network devoted to winning a war very few even know exists: protecting the vulnerable psychics in his charge from a deadly, ruthless — and virtually invisible enemy.
Tasha Solomon is a gifted psychic whose abilities have saved her more than once from situations as dangerous as they are baffling. She doesn't believe she needs help, and she doesn't even know that Guardians exist — until Brodie saves her life.
 Unaccustomed to depending on anyone for anything, Tasha now finds herself embroiled in deadly game where the ultimate goal is a fate far worse than any nightmare. The only person she can trust is Brodie to guide her through a maze of danger and deception, lies and treachery, friends and enemies, until they reach safe harbor.
 If they reach safe harbor.
---
First in a new fantasy series from the author of the Novels of the Half-Light City.
Entangled in a court ruled by tradition and intrigue, a young witch must come to terms with newfound power and desire—and a choice between loyalty and survival.…
The royal witches of Anglion have bowed to tradition for centuries. If a woman of royal blood manifests powers, she is immediately bound by rites of marriage. She will serve her lord by practicing the tamer magics of the earth—ensuring good harvests and predicting the weather. Any magic more dangerous is forbidden.
Lady Sophia Kendall, thirty-second in line to the throne, is only days away from finding out if she will be blessed—or perhaps cursed—with magic. When a vicious attack by Anglion's ancient enemies leaves the kingdom in chaos, Sophia is forced to flee the court. Her protector by happenstance is Lieutenant Cameron Mackenzie, a member of the royal guard, raised all his life to be fiercely loyal to the Crown.
Then Sophia's powers manifest stronger than she ever imagined they would, and Cameron and she are inextricably linked in the process. As a witch unbound by marriage rites, Sophia is not only a threat to the established order of her country, but is also a weapon for those who seek to destroy it. Faced with old secrets and new truths, she must decide if she will fight for her country or succumb to the delicious temptation of power.…
---
As a journalist, Cassidy DiRocco thought she had seen every depraved thing New York City's underbelly had to offer. But while covering what appears to be a vicious animal attack, she finds herself drawn into a world she never knew existed. Her exposé makes her the target of the handsome yet brutal Dominic Lysander, the Master Vampire of New York City, who has no problem silencing her to keep his coven's secrets safe…
But Dominic offers Cassidy another option: ally. He reveals she is a night blood, a being with powers of her own, including the ability to become a vampire. As the body count escalates, Cassidy is caught in the middle of a vampire rebellion. Dominic insists she can help him stop the coming war, but wary of his intentions, Cassidy enlists the help of the charming Ian Walker, a fellow night blood. As the battle between vampires takes over the city, Cassidy will have to tap into her newfound powers and decide where to place her trust…
---
Together but unbound, they must learn what it means to love completely, in the latest novel from the New York Times bestselling author of Wild Wolf.
To cement the leadership of his North Carolina Shiftertown, Bowman O'Donnell agreed to a "mating of convenience." Two powerful wolf shifters, he and Kenzie keep the pack in order and are adored by all. Bowman would do anything to protect Kenzie, for in each other's arms they've found far more than friendship. But as strong as their attachment is, they still haven't formed the elusive mate bond—the almost magical joining of true mates.
Now with a monster ravaging the countryside and threatening the Shiftertown community, some in the pack fear that a pair without a true mate bond isn't strong enough to lead. Bowman and Kenzie will have to rely on their instinctive trust in one another to save their Shifters—and the ensuing battle will either destroy them or give them the chance to seize the love they've always craved.
---
Magic is twisted and chaos reigns in this climactic final novel in the Crescent City trilogy by award-winning author Kristen Painter.
New Orleans is on the brink of war.
Harlow is a ghost in her own body. She has no control, no power — all she can do is watch as her twin sister Ava Mae lives recklessly and foolishly, slowly destroying everything Harlow has worked so hard for.
Augustine needs to focus on his new role as Guardian of New Orleans, as tourists mysteriously disappear off the streets, but all he can think of is rescuing Harlow — Keeping his family safe.
As the Coven grows more powerful, control of the city hangs in the balance and if the witches prevail, no fae will survive.
---
The author of the Vampire Babylon series and Only the Good Die Young presents another ghost story…
Ever wonder what happens after you die? Well, as a ghost, Jensen Murphy could tell you—and the truth is much stranger than anything you could imagine…
I never accomplished much when I was alive. As an average eighties California beach bum, I, Jensen Murphy, didn't have any direction. But since I've joined Boo World, I've found a calling. Now, I'm a supernatural investigator, using my ghostly skills to spook confessions out of bad guys.
But being a paranormal PI is taking its toll. Spirits are hounding me for justice day and night, and, now, a ghost hunting TV show is digging up dirt on my unsavory demise that I'd rather keep buried. Worst of all, a seriously evil specter is making my afterlife hell by hurting the people and ghosts I care about. To stop him, I'll need assistance from a higher power—only the price I'll have to pay for that help could be my very soul…
---
Shapeshifting skinwalker Jane Yellowrock is the best in the business when it comes to slaying vampires. But her latest fanged foe may be above her pay grade…
For centuries, the extremely powerful and ruthless vampire witches of the European Council have wandered the Earth, controlling governments, fostering war, creating political conflict, and often leaving absolute destruction in their wake. One of the strongest of them is set to create some havoc in the city of New Orleans, and it's definitely personal.
Jane is tasked with tracking him down. With the help of a tech wiz and an ex-Army ranger, her partners in Yellowrock Securities, she'll have to put everything on the line, and hope it's enough. Things are about to get real hard in the Big Easy.
---
Demon summoner Kara Gillian is on the wrong side of the law—and there's evidence to prove it. Too bad the courts don't accept "fighting demonic forces" as justification for murder and mayhem.
 
Yet Kara has problems that go way beyond her legal woes. When the enemy demonic lords spur their human accomplices into high gear, master summoner Katashi aggressively pursues their goal to establish a permanent gate between Earth and the demon realm. To hell with the consequences for humanity.
 
The line between ally and enemy blurs as Kara gathers the remnants of her posse to prevent a devastating demonic incursion, but a shattered trust may cost them the war and put Kara behind bars. With treachery rife, and her loved ones in danger, Kara must call upon the essence of who she truly is in order to rally back from a crushing loss.
 
And if she can't, the world is going straight to hell.
---
After vanquishing undead serial killers and discovering the dark secrets of her family history, wizard sentinel DJ Jaco must now stop the coming preternatural war in Suzanne Johnson's Pirate's Alley.
Wizard sentinel DJ Jaco thought she had gotten used to the chaos of her life in post-Katrina New Orleans, but a new threat is looming, one that will test every relationship she holds dear.
Caught in the middle of a rising struggle between the major powers in the supernatural world―the Wizards, Elves, Vampires and the Fae―DJ finds her loyalties torn and her mettle tested in matters both professional and personal.
Her relationship with enforcer Alex Warin is shaky, her non-husband Quince Randolph is growing more powerful, and her best friend Eugenie has a bombshell that could blow everything to Elfheim and back. And that's before the French pirate Jean Lafitte, newly revived from his latest "death," returns to New Orleans with vengeance on his mind. DJ's assignment? Keep the sexy leader of the historical undead out of trouble. Good luck with that.
Duty clashes with love, loyalty with deception, and friendship with responsibility as DJ navigates passion and politics in the murky waters of a New Orleans caught in the grips of a brutal winter that might have nothing to do with Mother Nature.
War could be brewing, and DJ will be forced to take a stand. But choosing sides won't be that easy.
---
Her interest is purely scientific
Cassandra Burton wants to study medicine, surgery, healing, and everything related to the human body and its mysteries-and she's willing to rob graves to do it! But a lady can meet dark and dangerous characters lurking around the cemetery. And who could be more fascinating than Rafael Villar, Lord Vampire of London? If she could study his physiology, she could learn so much that would help humans. After all, he's immortal-and Cassandra is now his prisoner…
Scandals with Bite series:
Bite Me, Your Grace (Book 1)
One Bite Per Night (Book 2)
Bite at First Sight (Book 3)
Praise for Brooklyn Ann:
"Charming and engaging…readers will sink their teeth into Ann's tale." –RT Book Reviews
"Breezy and entertaining." –Publishers Weekly
"Unique…a delightful way to spend an afternoon." –Long and Short Reviews
---
Demonic gladiators, ruthless mafia villains, and a race on the brink of distinction: What will become of them? One proud leader wields his power to unlock dark mysteries in the third book in this fierce, sensual new paranormal romance series.

When the head of the Five Clans of the Dragon Kings wants something, he gets it. Raised among the most privileged of his dying race, Malnefoley conceals a devastating tragedy from his youth. Now, many call him the Usurper because of his unconventional rise to power. His influence is waning while the Dragon Kings must solve the puzzle of their slow extinction. So when a particularly important captive escapes his compound in the Greek mountains, Malnefoley leaves nothing to chance. She is his prisoner to retrieve.

The woman is known as the Pet, a former associate of a sadistic doctor from the Asters, a human crime cartel. Her loyalties cannot be trusted, even when she claims to hold the secret to conception—an invaluable secret for a race unable to procreate. Neither can her unique gift from the Great Dragon be believed. She's a soothsayer, able to see glimpses of the future. Her quest is to find and save a Cage warrior on the verge of her first match—a young woman whose destiny is bound to a timeless prophecy.

Malnefoley has no respect for the ancient superstitions that brought about his childhood trauma. His only goal is to return the Pet to his compound and use her knowledge for the betterment of their people. Yet her restless energy and raw sensuality are as intriguing as her predictions about the rise of the Great Dragon. He dares not trust the crafty fugitive's loyalties, but as their treacherous chase turns passionate, can he even trust himself?
17 YA Titles Releasing in April

---
Ember Hill left the dragon organization Talon to take her chances with rebel dragon Cobalt and his crew of rogues. But Ember can't forget the sacrifice made for her by the human boy who could have killed her—Garret Xavier Sebastian, a soldier of the dragonslaying Order of St. George, the boy who saved her from a Talon assassin, knowing that by doing so, he'd signed his own death warrant. 
Determined to save Garret from execution, Ember must convince Cobalt to help her break into the Order's headquarters. With assassins after them and Ember's own brother helping Talon with the hunt, the rogues find an unexpected ally in Garret and a new perspective on the underground battle between Talon and St. George. 
A reckoning is brewing and the secrets hidden by both sides are shocking and deadly. Soon Ember must decide: Should she retreat to fight another day…or start an all-out war?
---
Here in the west they know a lot about hope. They know how to ration it just as they do with food and water.
Josephine is at last free of the blood moon. But in a desperate rush to find help for a comatose Luke, she discovers the strange and dangerous world of the resistance, and it is unlike any world Josi has known.
In the west they believe in fury – they cultivate and encourage it. The unruly people of the resistance know that to survive means to fight. But can they fight the inevitable cure for sadness that rushes steadily closer?
In the action-packed sequel to Fury, everything Josi believes about herself will be challenged. Haunted by atrocities and betrayals, she must find the strength to trust again, and decide how far she is willing to go to fight the inevitable.
At times both brutal and sweet, Melancholy is the story of second chances and finding love in a ruined world.
---
Never judge a dragon by her human cover… Sixteen-year-old Kitty Lung has everyone convinced she's a normal teen—not a secret government operative, not the one charged with protecting the president's son, and certainly not a were-dragon. The only one she trusts with the truth is her best friend—and secret crush—the über-hot Bulisani Mathe. Then a junior operative breaks Rule Number One by changing into his dragon form in public—on Kitty's watch—and suddenly, the world knows. About dragons. About the Draconic Intelligence Command (DIC) Kitty works for. About Kitty herself. Now the government is hunting down and incarcerating dragons to stop a public panic, and a new shape-shifting enemy has kidnapped the president's son. Kitty and Bulisani are the last free dragons, wanted by both their allies and their enemies. If they can't rescue the president's son and liberate their fellow dragons before getting caught themselves, dragons might never live free again.
---
Desiree Six (because she was born on a Friday) believes in everything the Protectorate stands for. She likes the safety and security of having her entire life planned out—her career, her mate, even the date of her death. She doesn't even think to question when Darian, her childhood friend and neighbor, is convicted of murdering his parents. They had seemed like such a loving family. But if he was convicted, then he must have done it.
Then Darian shows up in her room late one night. He has escaped the Terrorscape—a nightmare machine used to punish all Noncompliants—and he needs Desiree's help. What he tells her rocks her world to its core and makes her doubt everything she's ever been told. With this new information, will Desiree and Darian be able to escape the Protectorate before it's too late?
---
Worlds collide in romantic, unexpected, and heartbreaking ways in this "picture-perfect" (VOYA, starred review) debut novel about a young man with a truly unique power.

Sometimes high school senior Jonathan Aubrey wishes he could just disappear. And as luck—or fate—would have it, he can. Ever since coming out of a coma as a kid, he has been able to create alternate worlds. Worlds where he is heroic, desirable, or simply a better version of himself. That's the world he's been escaping to most often, a world where he has everything he doesn't have in real life: friends, a place of honor on the track team, passing grades, and most importantly, Kylie Simms as his girlfriend.

But when Jonathan confuses his worlds and tries to kiss the real Kylie Simms, everything unravels. The real Kylie suddenly notices Jonathan…and begins obsessing over him. The fantasy version of Kylie struggles to love Jonathan as she was created to do, and the consequences are disastrous. As his worlds collide, Jonathan must confront the truth of his power and figure out where he actually belongs—before he loses both Kylies forever.
---
There Be Monsters Here. . .
It's not as great as you'd think, living in a tourist town that's known as "the most magical place in America." Same boring high school, just twice as many monsters under the bridges and rival Families killing each other for power.
I try to keep out of it. I've got my mom's bloodiron sword and my slightly illegal home in the basement of the municipal library. And a couple of Talents I try to keep quiet, including very light fingers and a way with a lock pick.
But then some nasty characters bring their Family feud into my friend's pawn shop, and I have to make a call–get involved, or watch a cute guy die because I didn't. I guess I made the wrong choice, because now I'm stuck putting everything on the line for Devon Sinclair. My mom was murdered because of the Families, and it looks like I'm going to end up just like her. . .
---
The heart-stopping sequel to the New York Times bestselling Sea of Shadows, which Kirkus Reviews called "a standout." Blending fantasy, romance, danger, and action, Kelley Armstrong sends readers on a thrilling journey through an unforgettable world, perfect for fans of Graceling and Game of Thrones.
Sisters Moria and Ashyn are the Keeper and Seeker of Edgewood. Or at least they were.
Their village is gone. Their friends have betrayed them. And now the emperor has sent them on a mission to rescue the captured children of Edgewood—accompanied by Prince Tyrus and a small band of imperial warriors. But the journey proves more perilous than any of them could have imagined. And with treachery and unrest mounting in the empire, the girls are running out of places to turn.
With all the pulse-pounding action and romance that have made her a #1 New York Times bestselling author, this second book in the Age of Legends trilogy will appeal to Kelley Armstrong's legions of fans around the world and win her many new ones.
---
The gripping second installment in the Taking trilogy is perfect for fans of The Fifth Wave and the Body Finder series. Explosive and romantic, with creepy, otherworldly elements and twisty, psychological thrills, The Replaced will have you questioning what exactly it means to be human.
Kyra hasn't been the same since she returned from her mysterious five-year disappearance. Now on the run from the NSA, Kyra is forced to hide out with others who, like her, have been Returned. Yet she is determined to find Tyler, the boy she loves who was also abducted…all because of her. When her group intercepts a message that Tyler might still be alive, Kyra risks everything to get him back. But he is being held by a shadowy government organization that experiments on the Returned, and going after him puts the rest of the group in danger. Even if Kyra gets Tyler back, the fight to save him—and the rest of the Returned—is just beginning.
---
For fans of Lauren Kate's Fallen series comes the exciting conclusion to the trilogy that includes The Beautiful and the Cursed and The Lovely and the Lost. The Waverly sisters must save themselves before all is lost.
   Since the Waverlys arrived in Paris, the streets have grown more fearsome by the day. As Ingrid learns to master her lectrux gift, she must watch Axia's power grow strong enough to extend beyond her Underneath hive. By all indications, the fallen angel's Harvest is near–and the timing couldn't be worse.
   Targeted by vengeful gargoyles, Gabby has been exiled to London for her own protection. Meanwhile, the gargoyle castes are in disarray, divided between those who want Luc to lead them and those who resent him and his fondness for humans. The Alliance is crumbling from the inside as well, its members turning against one another, and possibly against the Waverlys, too.
   Axia has promisted that the world will burn. An now, unable to trust the Alliance, separated from Luc, Gabby, and her twin, Grayson, Ingrid is left to face the demon uprising alone.
Praise for The Wondrous and the Wicked:

"A satisfying, exciting wrap-up to an immersive paranormal series."—SLJ
Praise for the Dispossessed Trilogy:
"A deliciously satisfying mix of historical fiction, mystery, and supernatural romance."-The Bulletin
"Morgan combines fantasy with gothic romance in this well-crafted standout."-Booklist
"Forbidden romance and hot kissing abound."-Kirkus Reviews

"Morgan keeps the plot moving with constant action…dark adventure and romance."-SLJ
"Morgan's fluid descriptions, inventive otherworldly elements, and characters with convincing motivations result in an immersive first installment."-Publishers Weekly
---
History has a way of repeating itself. In the Sunken City that was once Paris, all who oppose the new revolution are being put to the blade. Except for those who disappear from their prison cells, a red-tipped rook feather left in their place. Is the mysterious Red Rook a savior of the innocent or a criminal?
Meanwhile, across the sea in the Commonwealth, Sophia Bellamy's arranged marriage to the wealthy René Hasard is the last chance to save her family from ruin. But when the search for the Red Rook comes straight to her doorstep, Sophia discovers that her fiancé is not all he seems. Which is only fair, because neither is she.
As the Red Rook grows bolder and the stakes grow higher, Sophia and René find themselves locked in a tantalizing game of cat and mouse.
Daring intrigue, delicious romance, and spine-tingling suspense fill the pages of this extraordinary tale from award-winning author Sharon Cameron.
---
Can one girl take on so many identities without losing her own? Find out in this riveting companion to The Program and the New York Times bestselling The Treatment.

In a world before The Program…

Quinlan McKee is a closer. Since the age of seven, Quinn has held the responsibility of providing closure to grieving families with a special skill—she can "become" anyone.

Recommended by grief counselors, Quinn is hired by families to take on the short-term role of a deceased loved one between the ages of fifteen and twenty. She's not an exact copy, of course, but she wears their clothes and changes her hair, studies them through pictures and videos, and soon, Quinn can act like them, smell like them, and be them for all intents and purposes. But to do her job successfully, she can't get attached.

Now seventeen, Quinn is deft at recreating herself, sometimes confusing her own past with those of the people she's portrayed. When she's given her longest assignment, playing the role of Catalina Barnes, Quinn begins to bond with the deceased girl's boyfriend. But that's only the beginning of the complications, especially when Quinn finds out the truth about Catalina's death. And the epidemic it could start.
---
Maria Dahvana Headley's soaring YA debut is a fiercely intelligent, multilayered fantasy where Neil Gaiman's Stardust meets John Green's The Fault in Our Stars in a story about a girl caught between two worlds . . . two races . . . and two destinies.
Aza Ray Boyle is drowning in thin air. Since she was a baby, Aza has suffered from a mysterious lung disease that makes it ever harder for her to breathe, to speak—to live. So when Aza catches a glimpse of a ship in the sky, her family chalks it up to a cruel side effect of her medication. But Aza doesn't think this is a hallucination. She can hear someone on the ship calling her name.
Only her best friend, Jason, listens. Jason, who's always been there. Jason, for whom she might have more-than-friendly feelings. But before Aza can consider that thrilling idea, something goes terribly wrong. Aza is lost to our world—and found, by another. Magonia.
Above the clouds, in a land of trading ships, Aza is not the weak and dying thing she was. In Magonia, she can breathe for the first time. Better, she has immense power—but as she navigates her new life, she discovers that war between Magonia and Earth is coming. In Aza's hands lies fate of the whole of humanity—including the boy who loves her. Where do her loyalties lie?
---
One of the Best Science Fiction, Fantasy, or Horror of 2015 by VOYA Magazine
"This well-written title . . . will not stay on the shelf." 
— VOYA Starred Review
"The only thing it left me wishing for was the sequel!" 
–– New York Times best-selling author Anna Banks 
"A fresh, gently subversive tale with a new strain of paranormal problems at its core." 
— B&N Teen Blog
Excerpt: 

A chisel, a hammer, a wrench. A sander, a drill, a power saw. A laser, a heat gun, a flaming torch. Nothing cuts through the bangle. Nothing I conjure even makes a scratch. 
I had to try, just to besure. But the silver bangle encircling my wrist can't be removed. It was smart of my mother to secure it in the middle of the night while I was asleep, unable to protest.

Though my Jinn ancestry means magic has always been inside me, the rules don't allow me to begin drawing upon it until the day I turn sixteen. The day I receive my silver bangle. The day I officially become a genie.

Today.
Wishing Doesn't Make It So, Azra Does. 
Harry Potter
meets Twilight in debut novelist Lori Goldstein's magical tale of sixteen-year-old Azra, a teenage girl whose Jinn ancestry transforms her into a modern-day genie. With the power to grant anyone's wish but her own, Azra pretends to be human, spending her days at the beach, enjoying a budding romance, and evading her Jinn destiny. But when she discovers she may not be like the rest of her circle of Jinn, will her powers save or endanger them all?
---
[
STAR
] "Sparks fly. . . .
Will please fans of Cassandra Clare and Game of Thrones watchers with its remarkable world building; richly developed characters
; and themes of family, power, loyalty, and romance. . . . cannot come soon enough!" —
Booklist
, Starred
For fans of Cassandra Clare's
City of Bones
and Laini Taylor's
Daughter of Smoke & Bone
,
The Girl at Midnight
is the story of a modern girl caught in an ancient war.
   Beneath the streets of New York City live the Avicen, an ancient race of people with feathers for hair and magic running through their veins. Age-old enchantments keep them hidden from humans. All but one. Echo is a runaway pickpocket who survives by selling stolen treasures on the black market, and the Avicen are the only family she's ever known.
   Echo is clever and daring, and at times she can be brash, but above all else she's fiercely loyal. So when a centuries-old war crests on the borders of her home, she decides it's time to act.
   Legend has it that there is a way to end the conflict once and for all: find the Firebird, a mythical entity believed to possess power the likes of which the world has never seen. It will be no easy task, though if life as a thief has taught Echo anything, it's how to hunt down what she wants . . . and how to take it.
   But some jobs aren't as straightforward as they seem. And this one might just set the world on fire.
[
STAR
] "
perfect blend of action and amour
." —
Kirkus Reviews
, Starred
"A feisty heroine, fun supporting characters, a mission to save the world, and some seriously spicy romance." —SLJ
"Catnip for fans of Cassandra Clare." —BookPage.com
 
"Fast-paced, action-packed, and full of laughs." —Nerdist.com
"Enthralling and pure magic, Grey's debut is delightful!" —Romantic Times
"A page-turner—I was hooked from start to finish." —Latina Magazine
"Sharp drama that leads to a conclusion begging for a sequel." —The Bulletin
"A must-read." —Paste magazine
"Inventive, gorgeous, and epic—Grey dazzles in her debut."— Danielle Paige, New York Times bestselling author of Dorothy Must Die
"A stunning debut. Equal parts atmosphere and adventure, Melissa Grey's The Girl at Midnight is positively divine." —Victoria Schwab, author of A Darker Shade of Magic

---
Mysterious doors with lizard-head knobs. Talking stone statues. A crazy girl with a hatchet. Yes, Liv's dreams have been pretty weird lately. Especially the one where she's in a graveyard at night, watching four boys conduct dark magic rituals.
The strangest part is that Liv recognizes the boys in her dream. They're classmates from her new school in London, the school where she's starting over because her mom has moved them to a new country (again). But what's really scaring Liv is that the dream boys seem to know things about her in real life, things they couldn't possibly know―unless they actually are in her dreams? Luckily, Liv never could resist a good mystery, and all four of those boys are pretty cute….
---
New York Times bestselling author Rachel Hawkins is sassier than ever in this page-turning follow up to Rebel Belle, perfect for fans of Buffy and Veronica Mars.
Life is almost back to normal for Harper Price. The Ephors have been silent after their deadly attack at Cotillion months ago, and best friend Bee has returned after a mysterious disappearance. Now Harper can return her focus to the important things in life: school, canoodling with David, her nemesis-turned-ward-slash-boyfie, and even competing in the Miss Pine Grove pageant.
Unfortunately, supernatural chores are never done. The Ephors have decided they'd rather train David than kill him.  The catch: Harper has to come along for the ride, but she can't stay David's Paladin unless she undergoes an an ancient trial that will either kill her . . .  or make her more powerful than ever.
---
New York Times bestselling author Marie Lu called Taken, Erin Bowman's debut novel, "an action-packed thrill ride from beginning to end." The action and suspense rise to explosive new heights in Forged, the epic conclusion to the Taken trilogy—and the perfect next read for fans of The Maze Runner and Gone.
Gray Weathersby knows the truth about the Laicos Project, the Order, and the Forgeries—and he knows they must be stopped. But each generation of Forgeries is deadlier than the one before, and now even the most familiar faces—including the girl Gray loves—can't be trusted. To make a stand against the Order, Gray will have to risk it all.
What are your must have titles for December? Tell us in the comments.
---
Authors/Publishers: have a book coming out soon?
Request a Review or schedule a visit/giveaway
Please leave a comment if we missed a title and we will update this post.