It's the last day of the month which means it's time to check out what we're reading next month in: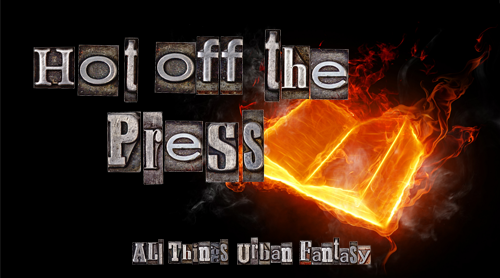 Want to know what titles came out in previous months? View previous Hot Off The Press posts
—————————————–
*Release dates are subject to change.  Click '+ Description' to reveal the full description. Please visit our Titles Received For Review page to see which of these titles will be reviewed this month.
39 Adult Titles Releasing in March

---
They are the Sentinels. Three races descended from ancient guardians of mankind, each possessing unique abilities in their battle to protect humanity against their eternal foes: the Synestryn. Now a warrior must protect his onetime enemy—without succumbing to his darkest desires.
Lyka Phelan is a Slayer, sent to live among her enemy to guarantee lasting peace with the Theronai. Yet she has a secret—and it could make her a slave to their power. But when a pack of Synestryn destroys her home and captures her packmates, Lyka realizes her freedom is a small price to pay for the safety of her people. So she strikes a bargain with the leader of the Theronai—one that reveals her true identity and binds her to him forever.
Joseph thought he knew better than to tangle with the beautiful, hot-blooded Lyka. One misstep could send their races straight back to war. But now he has no choice other than to help her. Forced to protect her with his life, Joseph finds himself increasingly drawn to Lyka. As they risk everything in their fight against the demons, he realizes he must convince her to surrender to him completely—otherwise she will never truly be his.
---
"Don't trust nobody. Not family. Not friend. Don't let it get him like it got my son, not until he is ready to meet it. And remember that blood must pay for blood. A debt must be paid. Your boy can never forget. That is his destiny."

Raine is at her wits' end. Her eleven-year-old son Davey, whom she has raised by herself, has the power to shift into any animal-a "gift" from his dead father. Raine doesn't know how to control this legacy nor protect Davey from the skinwalker bent on killing them both. And if the skinwalker fails, she fears the sinister fate that awaits her son.
Cade, still grieving the brutal murder of his wife, finds solace in Raine's companionship. But as the savage details of his wife's death mirror the powers that Davey is soon to have, Raine must fight to protect her child…in The Moon Tells Secrets by Savanna Welles
---
The first Novel of the Stone Circles from the USA Today bestselling author of Raging Sea and Blazing Earth.
What if the standing stones and stone circles across the old Celtic world had a secret origin and use?
What if some opened into another world?
What if the goddess of fire was trapped beneath one?
Lovely and innocent Brienne of Yester has always been able to manipulate fire, but when her powers suddenly surge, the simple life she once knew explodes.
Handsome, fearless, and commanding William de Brus has been summoned by the king to investigate a nobleman rumored to have powers linked to the fabled fire goddess. When he chances upon Brienne, his desire for her is immediate. But as his mystical quest unfolds, William realizes that she is at the center of it—for Brienne possesses the very power he has been sent to vanquish….
As their attraction deepens, William attempts to free Brienne from the dark force beginning to control her—even when his duty demands that he treat her as an enemy. With emotions flaring, fire rising, and evil threatening at every turn, can the two lovers survive the coming battle and save all of humanity?
---
The thrilling adventure of Lady Trent continues in Marie Brennan's Voyage of the Basilisk . . .
Devoted readers of Lady Trent's earlier memoirs, A Natural History of Dragons and The Tropic of Serpents, may believe themselves already acquainted with the particulars of her historic voyage aboard the Royal Survey Ship Basilisk, but the true story of that illuminating, harrowing, and scandalous journey has never been revealed—until now.
Six years after her perilous exploits in Eriga, Isabella embarks on her most ambitious expedition yet: a two-year trip around the world to study all manner of dragons in every place they might be found. From feathered serpents sunning themselves in the ruins of a fallen civilization to the mighty sea serpents of the tropics, these creatures are a source of both endless fascination and frequent peril. Accompanying her is not only her young son, Jake, but a chivalrous foreign archaeologist whose interests converge with Isabella's in ways both professional and personal.
Science is, of course, the primary objective of the voyage, but Isabella's life is rarely so simple. She must cope with storms, shipwrecks, intrigue, and warfare, even as she makes a discovery that offers a revolutionary new insight into the ancient history of dragons.
The Lady Trent Memoirs
1. A Natural History of Dragons
2. The Tropic of Serpents
3. Voyage of the Basilisk
4. In the Labyrinth of Drakes
5. Within the Sanctuary of Wings
At the Publisher's request, this title is being sold without Digital Rights Management Software (DRM) applied.
---
In this urban fantasy, brilliant scientist Galena Margolis is determined to fulfill her destiny and develop the vaccine that could save millions. Yet when Galena's test subjects meet with foul play, it's clear that someone is still determined to stop her, and that Galena herself is a target. As the Ferry empire forges a plan to keep her safe, Declan Ferry, the politics-hating black sheep of the family, steps forward to protect her—but the emotional cost may be more than either of them is willing to pay.
As unknown enemies close in, it becomes terrifyingly clear that they threaten to destroy not only Galena's lifesaving work but also the very fabric of fate. As Galena and Declan race to uncover the traitor, they also forge a special bond that could save both Galena and those she's sworn to help. Torn apart by the past and hunted by those she trusted, can Galena find room amidst her fears for a passion that could make her stronger than ever? And even if she and Declan can find their way together, will it be enough to keep the future from coming apart at the seams?
---
I-Day is near at hand, and soon the Fangborn will reveal themselves to humankind. As a member of this secretive race of werewolves, vampires, and oracles, will archaeologist Zoe Miller be prepared?
Still grappling with the newfound powers she gained after opening Pandora's box, Zoe shares the responsibility of protecting "Normal" humans. Having long preferred to keep to the shadows, she knows the pending revelation of the Fangborn will set the world on fire. With Fangborn enemies in the Order of Nicomedia forcing their hand, Zoe and her supernatural Family have no choice but to step into the spotlight. But that decision has garnered the attention of the powerful and otherworldly beings known as the Makers. They claim to have created the Fangborn—not as saviors, but as predators. And it seems they have their own plans for Zoe…and for the fate of all the Fangborn.
Filled with stunning twists, Hellbender takes the Fangborn series to a thrilling new dimension.
---
Play a song for me…  
Musicians are being murdered in New Orleans. But Arnie Watson apparently died by his own hand. When Tyler Anderson plays the saxophone he inherited from Arnie, a soldier and musician who died soon after his return, he believes he sees visions of his friend's life—and death. He becomes convinced Arnie was murdered and that the instrument had something to do with whatever happened, and with whatever's happening all over the city… 
Tyler knows his theory sounds crazy to the police, so he approaches Danni Cafferty, hoping she and Michael Quinn will find out what the cops couldn't. Or wouldn't. After all, Cafferty and Quinn have become famous for solving unusual crimes. 
They're partners in their personal lives, too. Quinn's a private investigator and Danni works with him. When they look into the case, they discover a secret lover of Arnie's and a history of jealousies and old hatreds that leads them back to the band Arnie once played with—and Tyler plays with now. 
They discover that sometimes, for some people, the line between passion and obsession is hard to draw. Only in uncovering the truth can they hope to save others—and themselves—from the deadly hands of a killer.
---
For years, the Ministry of Peculiar Occurrences has enjoyed the favor of Her Majesty the Queen. But as agents Brooks and Braun soon learn in the fourth novel in the steampunk adventure series, even the oldest loyalties can turn in a moment…
Having narrowly escaped the electrifying machinations of Thomas Edison, Books and Braun are looking forward to a relaxing and possibly romantic voyage home. But when Braun's emergency signal goes off, all thoughts of recreation vanish. Braun's street-wise team of child informants, the Ministry Seven, is in grave peril, and Books and Braun must return to England immediately.
But when the intrepid agents finally arrive in London, the situation is even more dire than they imagined. The Ministry has been disavowed, and the Department of Imperial Inconveniences has been called in to decommission its agents in a most deadly fashion. The plan reeks of the Maestro's dastardly scheming. Only, this time, he has a dangerous new ally—a duplicitous doctor whose pernicious poisons have infected the highest levels of society, reaching even the Queen herself…
---
From New York Times bestselling author Jacquelyn Frank comes the smoothly sensual second book in an exciting new series featuring four immortal warrior brothers who must stake their hearts against their fate.
 
As punishment for plotting with his brothers to steal immortality, Garreth is suffering a freezing torment until the end of time. Again and again, his fierce fighter's physique is frozen into a chiseled ice sculpture, his heart hardening like a diamond in his chest—only to thaw and resume the chilling torture. Until, like his older brother Dethan, he is offered a reprieve from a goddess—in exchange for his allegiance in a celestial civil war.
 
Garreth lives to fight and fights to live. But while laying siege to an embattled city, he finds another reason to go on—a beautiful warrior woman named Sarielle, who commands a mythic beast through a mysterious and powerful bond. Terrified of her strength, the city rulers have kept her captive, and now she refuses to submit to a new master. As Garreth seeks to unleash her passion and melt the icy resistance of her heart, will he become her ultimate salvation—or lead them both to greater destruction?
---
Possession. Power. Passion. New York Times bestselling novelist M. J. Rose creates her most provocative and magical spellbinder yet in this gothic novel set against the lavish spectacle of 1890s Belle Époque Paris.

Sandrine Salome flees New York for her grandmother's Paris mansion to escape her dangerous husband, but what she finds there is even more menacing. The house, famous for its lavish art collection and elegant salons, is mysteriously closed up. Although her grandmother insists it's dangerous for Sandrine to visit, she defies her and meets Julien Duplessi, a mesmerizing young architect. Together they explore the hidden night world of Paris, the forbidden occult underground and Sandrine's deepest desires.

Among the bohemians and the demi-monde, Sandrine discovers her erotic nature as a lover and painter. Then darker influences threaten—her cold and cruel husband is tracking her down and something sinister is taking hold, changing Sandrine, altering her. She's become possessed by La Lune: A witch, a legend, and a sixteenth-century courtesan, who opens up her life to a darkness that may become a gift or a curse.

This is Sandrine's "wild night of the soul," her odyssey in the magnificent city of Paris, of art, love, and witchery.
---
A Simon & Schuster eBook. Simon & Schuster has a great book for every reader.
---
When Caris's unearthly musical talent attracts the attention of the Wild Hunt, the Welsh farm girl is stolen away to serve as a faery grim, a herald of death. Two centuries later, she's finally escaped back to the human world—and into the present-day life of a reclusive and heartbroken American musician.
Music was Liam's whole life—until a crushing betrayal left him desperate to flee the public eye. Yet long-dormant passions awaken within him after a powerful storm strands a beautiful, strong-willed woman on his isolated farm. When a fae prince bent on ruling both human and faery realms threatens Caris's life, Liam must decide if he can finally believe in love again, not just for her sake—but for the sake of two worlds.
From the bestselling author of Changeling Moon, this sweeping and passionate story of paranormal romance follows two souls from different centuries who lost everything…and found that only love can save them.
---
The third book in New York Times bestselling author Christine Warren's mesmerizing Gargoyles series, where even the most dangerous beast can be tamed by the woman he holds above all else…
Wynn Powe comes from a long line of powerful women, but when an elusive enemy draws too close for comfort, Wynn pursues a creature who can put an end to the fight.
But when the powerful Guardian she calls forth makes her heart beast faster and her breath quicken, she must handle something she didn't count on at all―an earth-shattering attraction to the monster himself.
Enter Knox. He may be a newly summoned gargoyle, but he possesses all the skills and memories of his race…and that includes protecting the beautiful woman he's bound to. But he never could have imagined the fierce attraction that has taken hold of him, body and soul. Is his desire for Wynn worth the risk of being destroyed?
"Soars with fun, witty characters and nonstop action." ?Publishers Weekly on Stone Cold Lover
Don't miss the other books in the Gargoyle series:
Book #1: Heart of Stone
Book #2: Stone Cold Lover
Book #4: Rocked by Love
Book #5: Hard to Handle
---
That one simple kiss slayed him as nothing in his very, very long life had ever done. It physically hurt him to release her and turn his back on everything she offered, but it was for the best.
A KING WHO WALKS IN DARKNESS
The Rhys who has existed for centuries is gone. Stripped of his ability to shapeshift, Rhys can no longer embody the majestic, powerful dragon he was at birth. Cut off from his heritage by one of his own, this Dragon King must remain a man, haunted by demons who torment his every waking moment. The darkness would swallow him whole…except a woman so beautiful and haunted becomes the one beam of light in his world…
A DESIRE THAT WILL NOT BE DENIED
Lily Ross is taking the first step in building a new life for herself. Still reeling from a relationship that nearly broke her spirit, Lily is wary of her attraction to brawny, brooding Rhys. The passion burning so brightly between them is a potent temptation, but any entanglement is destined to end in disaster. Yet when a spectre from Lily's past threatens their growing bond, Rhys is forced to choose with his heart, or lose this woman who has become his one chance at salvation…in Donna Grant's newest Dark Kings novel, Night's Blaze.
---
RT Book Reviews 2015 Reviewers Choice Award Winner for Best Paranormal Romance
Book 3 of Dead in the City
Vampires are nothing but trouble…
As far as beautiful vampire Sadie Pemberton is concerned, werewolves shouldn't be sticking their noses into New York's supernatural politics. They don't know jack about running a city-not even that hot-as-sin new vampire-werewolf liaison who's just arrived in town.
Werewolves are too sexy for their own good…
The last thing Killian Bane wanted was to end up in New York City playing nice with vampires. Unfortunately, he's on a mission, and when he encounters the sexiest, most stubborn female vamp he's ever met, he's going to have to turn on a little of that wolfish charm…and Sadie's going to learn a thing or two about what it means to have a wild side…
Dead in the City Series:
Tall, Dark, and Vampire (Book 1)
Vampire Trouble (Book 2)
Vampires Never Cry Wolf (Book 3)
The Good, the Bad and the Vampire (Book 4)
PRAISE FOR VAMPIRE TROUBLE:
"Totally irresistible…Humphreys is undoubtedly a rising star." –RT Book Reviews, 4 ½ stars, Top Pick
"This series is wildly addictive, and this is…a five-star book that you do not want to miss." –The Romance Reviews
"A powerful love story that proves that while our past is inescapable, it is the core of our strength." -Sarah MacLean, New York Times bestselling author of No Good Duke Goes Unpunished
---
Debut novelist Simon Kurt Unsworth sends the detective novel to Hell. In The Devil's Detective, a sea change is coming to Hell . . . and a man named Thomas Fool is caught in the middle.
     Thomas Fool is an Information Man, an investigator tasked with cataloging and filing reports on the endless stream of violence and brutality that flows through Hell. His job holds no reward or satisfaction, because Hell has rules but no justice. Each new crime is stamped "Do Not Investigate" and dutifully filed away in the depths of the Bureaucracy. But when an important political delegation arrives and a human is found murdered in a horrific manner—extravagant even by Hell's standards—everything changes. The murders escalate, and their severity points to the kind of killer not seen for many generations. Something is challenging the rules and order of Hell, so the Bureaucracy sends Fool to identify and track down the killer. . . . But how do you investigate murder in a place where death is common currency? Or when your main suspect pool is a legion of demons? With no memory of his past and only an irresistible need for justice, Fool will piece together clues and follow a trail that leads directly into the heart of a dark and chaotic conspiracy. A revolution is brewing in Hell . . . and nothing is what it seems. 
     The Devil's Detective is an audacious, highly suspenseful thriller set against a nightmarish and wildly vivid world. Simon Kurt Unsworth has created a phantasmagoric thrill ride filled with stunning set pieces and characters that spring from our deepest nightmares. It will have readers of both thrillers and horror hanging on by their fingernails until the final word. In Hell, hope is your worst enemy.
---
He came for her in the night. One of the most powerful vampires in existence. He plucked young witch Anna Olmstead from a life of poverty and degradation at the hands of her abusive father. He showed her the world―a dark paradise filled with excitement. Wealth. Privilege. Power. And above all . . . love.
Asher.
But her love wasn't enough for him. He needed to possess everything about her―her identity, her soul. After a horrendous act of violence rippled through the supernatural community and caused Anna to flee his mad love, Asher still refuses to let her go. He's coming for her again. And this time, it's Anna's turn to take his everything.
Praise:
"A great mystery and a romp into the fantasy world that is dark, frightening, and a whole lot of fun."―Suspense Magazine
---
Deirdre "Foxtrot" Lancaster returns-with her animal companions-for-life Whiskey and Tango-to fish for clues on the other side of death…
When zillionairess Zelda Zoransky decides to throw one of her famous parties-with a guest list as colorful and diverse as her private zoo-it's up to Deirdre "Foxtrot" Lancaster, assistant extraordinaire, to pull the whole thing off. But even with the help of her telepathic cat Tango and ectoplasmic pooch Whiskey, it's one killer assignment. Especially when she finds a corpse in the pool…
MARKED FUR MURDER
The victim is the sister of Deirdre's boyfriend, Ben. The cause of death appears to be a plugged-in hair dryer that fell in the water. Ben, however, insists that a few volts couldn't have killed Ann. Like him, she's a descendent of the Cowichan tribe who, according to legend, has a way with lightning. One of the guests must have marked her for murder! But when the suspects include a Russian pet psychic, a schizophrenic writer, and a random rock star, it's more than puzzling to Whiskey, Tango, and Foxtrot. It's electrifying…from author Dixie Lyle.
"A clever new series that deftly blends cozy mystery with the paranormal…original and witty."-Ali Brandon, author of the Black Cat Bookshop mysteries
---
Return to national bestselling author Devon Monk's heartpounding House Immortal series, where eleven powerful Houses control the world and all its resources. But now, the treaty between them has been broken, and no one—not even the immortal galvanized—is safe….
Matilda Case isn't normal. Normal people aren't stitched together, inhumanly strong, and ageless, as she and the other galvanized are. Normal people's bodies don't hold the secret to immortality—something the powerful Houses will kill to possess. And normal people don't know that they're going to die in a few days.
Matilda's fight to protect the people she loves triggered a chaotic war between the Houses and shattered the world's peace. On the run, she must find a way to stop the repeat of the ancient time experiment that gifted her and the other galvanized with immortality. Because this time, it will destroy her and everything she holds dear.
Caught in a cat-and-mouse game of lies, betrayal, and unseen foes, Matilda must fight to save the world from utter destruction. But time itself is her enemy, and every second brings her one step closer to disaster….
---
A darkling with a lust for power…
Henry Saint shouldn't exist. Every year on his birthday, he kills someone and takes their soul so that he may live another year. He is a darkling, not fairy… but not human either. Yet he is bound by the laws of both worlds. With a new King on the throne of Annwyn and the mortal world trying to rebuild after plagues killed so many, Henry seizes the opportunity to carve out a place of his own.
A spy without a soul…
Darah was Felan's spy before he became King of Annwyn. Now he has one last mission for her. He wants her to join the darkling's Court and discover what Henry's endgame is. No one trusts the Banished when they gather in great numbers. As Darah gets drawn into Henry's world she realizes he can give her the one thing she could never find in Annwyn–love. But is love worth betraying her King?
---
Winging It
Kera Watson never expected to face death behind a Los Angeles coffee shop. Not after surviving two tours lugging an M16 around the Middle East. If it wasn't for her hot Viking customer showing up too late to help, nobody would even see her die.
In uncountable years of service to the Allfather Odin, Ludvig "Vig" Rundstrom has never seen anyone kick ass with quite as much style as Kera. He knows one way to save her life–but she might not like it. Signing up with the Crows will get Kera a new set of battle buddies: cackling, gossiping, squabbling, party-hearty women. With wings. So not the Marines.
But Vig can't give up on someone as special as Kera. With a storm of oh-crap magic speeding straight for L.A., survival will depend on combining their strengths: Kera's discipline, Vig's loyalty… and the Crows' sheer love of battle. Boy, are they in trouble.
---
From Edgar Award-winning and New York Times bestselling author Andrew Klavan, a supernatural thriller about a good cop in the grips of an evil curse. In the tradition of Dexter and The Shield, the first in a riveting trilogy about a crime-fighter on a quest to control the beast within.
Zach Adams is one of the best detectives in the country. Nicknamed Cowboy, he's a soft-spoken homicide detective from Houston known for his integrity and courage under fire. He serves on a federal task force that has a single mission: to hunt down Dominic Abend, a European gangster who has taken over the American underworld.
After a brutal murder gives them a lead, Zach and his tough guy NYPD partner Martin Goulart feel like they're finally on Abend's trail. But things get complicated―and very, very weird. Goulart's on-the-job enemies are accusing him of corruption. And Zach is beginning to suspect that Abend's evil goes beyond crime―perhaps to the edge of the supernatural. As his investigation continues in Germany, Zach finds himself lured into the impossible. In a centuries-old forest under a full moon, a beast assaults him, cursing him forever. In the aftermath, Zach is transformed into something horrible―something deadly.
Now, the good cop has innocent blood on his hands. He has killed―and he will kill again―in the form of a beast who can't be controlled or stopped. Before he can free himself, he's going to have to solve the greatest mystery of all: How can you defeat evil when the evil is inside you?
---
"[A] WONDERFULLY COMPELLING RELUCTANT VAMPIRE HEROINE."– USA Today Bestselling Author Julie Kenner
A vampire never gets old. But neither do his enemies. When a figure from Ethan's dark past makes a splashy debut in Chicago, Merit and her Master don't know whether he's friend or foe. But they'll have to figure out soon, because trouble is brewing in the Windy City.
At an exclusive society soiree attended by the upper echelons of the human and supernatural worlds, Merit and Ethan barely stop the assassination of a guest. When the target turns out to be a shady businessman with a criminal edge, Merit suspects a human vendetta. But the assassins have fangs….
The connections to Chicago's Houses go deeper than Merit knows, and even one wrong move could be her last….
---
The fourth book in New York Times-bestselling Seanan McGuire's witty urban fantasy InCryptid series about a family of cryptozoologists who act as a buffer between humans and the magical creatures living in secret around us.

"The only thing more fun than an October Daye book is an InCryptid book." —
Charlaine Harris
, #1 
New York Times
-bestselling author of Sookie Stackhouse series
Endangered, adjective: Threatended with extinction or immidiate harm.
Australia, noun: A good place to become endangered.
Alexander Price has survived gorgons, basilisks, and his own family—no small feat, considering that his family includes two telepaths, a reanimated corpse, and a colony of talking, pantheistic mice. 
Still, he's starting to feel like he's got the hang of things…at least until his girlfriend, Shelby Tanner, shows up, asking pointed questions about werewolves and the state of his passport.  From there, it's just a hop, skip, and a jump to Australia, a continent filled with new challenges, new dangers, and yes, rival cryptozoologists who don't like their "visiting expert" very much.
Australia is a cryptozoologist's dream, filled with unique species and unique challenges.  Unfortunately, it's also filled with Shelby's family, who aren't delighted by the length of her stay in America.  And then there are the werewolves to consider: infected killing machines who would like nothing more than to claim the continent as their own. The continent which currently includes Alex.
Survival is hard enough when you're on familiar ground.  Alex Price is very far from home, but there's one thing he knows for sure: he's not going down without a fight.
---
Praised for having "the perfect blend of action, romance, suspense, and paranormal"*, #1 New York Times bestselling author Patrica Briggs's Alpha and Omega series now takes readers into the middle of some bad supernatural business…
For once, mated werewolves Charles Cornick and Anna Lantham are not traveling because of Charles's role as his father's enforcer. This time, their trip to Arizona is purely personal. Or at least their visit starts out that way… 
Charles and Anna soon discover that a dangerous fae being is on the loose, replacing human children with simulacrums. The fae have started a cold war with humanity that's about to heat up—and Charles and Anna are in the crossfire.
*Rex Robot Reviews
---
RT Book Reviews 2015 Reviewers Choice Award Winner for Best Steampunk Romance
"McMaster once again proves her remarkable gift for cleverly fusing a nonstop, action-driven story, a deliciously dark and atmospheric setting, and off-the-charts sensuality into one riveting read."―Booklist
Fifth in a thrilling steampunk paranormal romance series, Lady Aramina finally has the means to destroy her nemesis, Leo Barrons―the only man who troubles her heart and tempts her body.
When her beloved father was assassinated, Lady Aramina swore revenge. The man responsible is well beyond her grasp, but his dangerously seductive heir, Leo Barrons, is fair game. When Mina obtains evidence proving that Leo is illegitimate, she has the means to destroy both the killer and his son, a man who troubles her heart and tempts her body.
A woman of mystery, Mina's long driven Leo crazy with glimpses of a fiery passion that lurks beneath her icy veneer. He knows she's hiding something, and he's determined to unravel her layer by silken layer. He just doesn't expect the beautiful liar to be the key to overthrowing the corrupt prince consort…or to saving his own carefully walled-off heart.
London Steampunk Series:
Kiss of Steel (Book 1)
Heart of Iron (Book 2)
My Lady Quicksilver (Book 3)
Forged by Desire (Book 4)
Of Silk and Steam (Book 5)
Praise for Bec McMaster:
"Action, adventure, steampunk, and blazing hot seduction…Bec McMaster offers it all."―Eve Silver, author of Sins of the Flesh for Kiss of Steel
"Deftly blends elements of Steampunk and vampire romance with brilliantly successful results…darkly atmospheric and delectably sexy."―Booklist Starred Review for Kiss of Steel
"Edgy, dark, and shot through with a grim, gritty intensity, McMaster's latest title adds to her mesmerizing steampunk series with another gripping, inventive stunner."―Booklist, starred review for Heart of Iron
"Rich, dramatic, romantic, and dangerous…"―Publishers Weekly for Of Silk and Steam
---
They call it Deadtown: the city's quarantined section for its inhuman and undead residents. Most humans stay far from its borders?but Victory Vaughn, Boston's only professional demon slayer, isn't exactly human?
When Vicky allowed an ancient goddess to possess her, she had no regrets?it was the only way to protect the people she loved. But now Ceridwen, locked in a power struggle with the Hellion that long ago claimed Vicky with its mark, refuses to leave. Both beings believe controlling Vicky is the key to winning the coming war for the human realm.
Despite the forces pulling her apart, Vicky needs all her wits about her. The demons of Hell are growing bold and she can barely keep up with the attacks plaguing the city: sirens in the Mystic River, goblins snarling traffic on Storrow Drive, imps tearing the gold from the State House dome. As the signs of war multiply and Hell threatens to overrun its boundaries, Vicky finds herself torn between her duty to save the world and her desire to save something of herself?
---
Follow New York Times bestselling author Anne Bishop to a "stunningly original"(Kirkus Reviews) world of magic and political unrest—where the only chance at peace requires a deadly price—in the third Novel of the Others.
 
The Others freed the blood prophets to protect them from exploitation, but their actions had dire consequences. Now the fragile seers are in greater danger than ever before. In desperate need of answers, Simon Wolfgard, a shape-shifter leader among the Others, has no choice but to enlist blood prophet Meg Corbyn's help, regardless of the risks she faces by aiding him.
 
Meg knows each slice of her blade tempts death. But Others and humans alike need answers, and her visions may be Simon's only hope of ending the conflict.
 
For the shadows of war are deepening across the Atlantik, and the battle is threatening to break right on Meg and Simon's doorstep…
---
THE SEXIEST DRAGON OF THEM ALL
Adopted at birth, Ivy Morales always suspected she was more than human. Still, she keeps the outlandish thought to herself-even though she can't ignore her powerful dreams of an ancient blood feud . . . or the darkly erotic turn of those hallucinations. Kidnapped in Mexico for her visions, Ivy has only one chance to escape: find the wickedly sexy man in her dreams.
Welsh dragon shifter Ian Madoc doesn't understand the strange dream connection he shares with an unknown, beautiful woman. Yet after the seductive images turn into pleas for help, Ian rushes off in the middle of the night, hell-bent on rescuing her. But will she turn out to be the soul mate he's always longed for . . . or the downfall of his entire clan?
25,000 words.
---
WHY WHISTLE IN THE DARK…
There are very few days off when you're on an epic quest. Believe me, I know. I'm Hedi Peacock-one half Fae, the other were-and if being a half-breed with one foot in each world isn't tough enough to manage, there are the four chambers of my heart to consider. The one who holds the strings? Robson Trowbridge, the Alpha of Creemore. If I had my way, he and I would be locked in a bedroom, for eternity, but a pressing family matter needs my attention. It's true what they say: A woman's work is never done.
WHEN YOU CAN HOWL AT THE MOON?
My twin brother is being held captive by the Old Mage in another realm. Lo and behold, as soon as Trowbridge and I arrive in Merenwyn, we're separated in spectacular, dramatic fashion-and I'm left to figure out how to maintain the fragile balance between my Fae magic and my wolf's blood in a realm that cries to both. Not easy, particularly when I'm keeping an iron-grip on my temper so as not to dispatch with extreme prejudice the odd wizard or smart-mouthed mutt servant who crosses my path. My mama never told me there'd be days like these, but I'm not going down without a fight…or my mate.
---
From national bestselling author Karin Tabke comes the fifth installment in her sizzling Hot Cops series, featuring a mind-blowingly sexy cop who meets his match.

Sometimes going after the bad guy you find the good girl…

When DEA agent Mateo Juarez is given the mission to infiltrate the Dumas drug cartel's compound and erase the entire organization, he doesn't count on falling for Sophia, the head honcho's daughter…
---
A Monster Haven Story, book six

When Zoey Donovan found out monsters are real, her life changed—mostly for the better. Since then, she's fought bad guys, saved the world a time or two and earned the love of a growing family of humans and Hidden creatures alike. But the danger that's chased her from the beginning is finally here.

Shadow Man, aka The Last Hidden, has stepped out of the story humans wrote for him and into the real world, hell-bent on stealing children. Fiction has become reality and Shadow Man intends to break the Covenant, reclaim the Hidden, and kill all Aegises along the way…triple bad news for Zoey and her mother, the only two Aegises still alive.

Zoey will have to rescue the stolen kids and hunt down the most terrifying villain humanity has ever imagined. But how can she fight a creature only invented a few years ago? If Shadow Man triumphs, the world as she knows it will end. If Zoey succeeds in driving him out, the people she loves the most may be lost to her forever.

69,685 words
---
Introducing the Custard Protocol series, in which Prudence travels to India for Queen, country…and the perfect pot of tea.
When Prudence Alessandra Maccon Akeldama ("Rue" to her friends) is bequeathed an unexpected dirigible, she does what any sensible female under similar circumstances would do — she christens it the Spotted Custard and floats off to India.
Soon, she stumbles upon a plot involving local dissidents, a kidnapped brigadier's wife, and some awfully familiar Scottish werewolves. Faced with a dire crisis (and an embarrassing lack of bloomers), Rue must rely on her good breeding — and her metanatural abilities — to get to the bottom of it all…
The Custard Protocol
Prudence
Imprudence
For more from Gail Carriger, check out:
The Parasol Protectorate
Soulless
Changeless
Blameless
Heartless
Timeless
Finishing School (YA)
Etiquette & Espionage
Curtsies & Conspiracies
Waistcoats & Weaponry
Manners & Mutiny
24 YA Titles Releasing in March

---
In this New York Times bestselling sequel to Dorothy Must Die, who is good—and who is actually Wicked? The Wicked Will Rise is perfect for fans of richly reimagined fairy tales and classic tales like Marissa Meyer's Lunar Chronicles and Gregory Maguire's Wicked.
My name is Amy Gumm—and I'm the other girl from Kansas. After a tornado swept through my trailer park, I ended up in Oz. But it wasn't like the Oz I knew from books and movies. Dorothy had returned, but she was now a ruthless dictator. Glinda could no longer be called the Good Witch. And the Wicked Witches who were left? They'd joined forces as the Revolutionary Order of the Wicked, and they wanted to recruit me.
My mission? Kill Dorothy. Except my job as assassin didn't work out as planned. Dorothy is still alive. The Order has vanished. And the home I couldn't wait to leave behind might be in danger.
Somehow, across a twisted and divided land, I have to find the Order, protect the true ruler of Oz, take Dorothy and her henchmen down—and try to figure out what I'm really doing here.
---
Seraphina took the literary world by storm with 8 starred reviews and numerous "Best of" lists. At last, her eagerly awaited sequel has arrived—and with it comes an epic battle between humans and dragons.
 
The kingdom of Goredd: a world where humans and dragons share life with an uneasy balance, and those few who are both human and dragon must hide the truth. Seraphina is one of these, part girl, part dragon, who is reluctantly drawn into the politics of her world. When war breaks out between the dragons and humans, she must travel the lands to find those like herself—for she has an inexplicable connection to all of them, and together they will be able to fight the dragons in powerful, magical ways.
 
As Seraphina gathers this motley crew, she is pursued by humans who want to stop her. But the most terrifying is another half dragon, who can creep into people's minds and take them over. Until now, Seraphina has kept her mind safe from intruders, but that also means she's held back her own gift. It is time to make a choice: Cling to the safety of her old life, or embrace a powerful new destiny?
 
Praise for Seraphina:
 
A New York Times Bestseller
An Indie Bestseller
Winner of the William C. Morris Debut Award
Winner of the Cybil Award for Teen Fantasy and Science Fiction
An Amazon Top 20 Teen Book of the Year
A Chicago Public Library Best Book of the Year
A Kirkus Reviews Best Teen Book of the Year
A School Library Journal Best Book of the Year
A Library Journal Best Young Adult Literature for Adults Selection
A Booklist Editors' Choice
An ABA New Voices Pick
A Publishers Weekly Flying Start Author
An ALA-ALSC Notable Children's Book
An ALA-YALSA Top Ten Best Fiction for Young Adults Book
Recipient of 8 Starred Reviews
 
"Beautifully written, well-rounded characters, and some of the most interesting dragons I've read in fantasy for a long while. An impressive debut novel; I can't wait to see what Rachel Hartman writes next."
—Christopher Paolini, New York Times bestselling author of Eragon
 
"A novel that will appeal to both fans of Christopher Paolini's Eragon series and Robin McKinley's The Hero and the Crown."
—Entertainment Weekly
---
Wren Noble is dead—she was born that way. Vibrant, unlike other dead things, she craves those rare moments when her twin sister allows her to step inside her body and experience the world of the living. 
Lark Noble is alive but often feels she belongs in the muted Shadow Lands—the realm of the dead. Known as the crazy girl who talks to her dead sister, she doesn't exactly fit in with the living, though a recent suicide attempt and time in a psych ward have proved to her she's not ready to join her sister in the afterlife. 
Now the guy who saved Lark's life needs her to repay the favor. He and his friends have been marked for death by the malevolent spirit of a vicious and long-dead serial killer, and the twins—who should know better than to mess with the dead—may be their only hope of staying alive.
---
Tether, the sequel to Tandem, continues the captivating tale of rebellion and romance that spans parallel worlds.
Everything repeats.
Sasha expected things to go back to normal once she got back on Earth. But now that she knows parallel worlds are real, and that an alternate version of herself exists in a world called Aurora, her old life no longer seems to make sense . . . and her heart breaks daily for Thomas, the boy she left behind. Troubled by mysterious, often terrifying visions and the echoes of a self she was just beginning to discover, Sasha makes the difficult decision to journey once more through the tandem.
Thomas is waiting for her on the other side, and so is strange, otherworldly Selene, Sasha's analog from a third universe. Sasha, Selene, and their other analog, Juliana, have a joint destiny, and a new remarkable power, one that could mean salvation for Selene's dying planet. With Thomas's help, Sasha and Selene search for the missing Juliana. But even if they can locate her, is Sasha willing to turn her back on love to pursue a fate she's not sure she believes in?
"Enjoyable."—Kirkus Reviews
"Good for fans of fantasy and intricate other-world construction."—VOYA
"Action and conspiracy abound."—School Library Journal

---
Being a teen is never easy…
Zombies, demons, vampires, shapeshifters-another day in the life of sixteen-year-old Nick Gautier-and those are just his friends. But now that he's accepted the demon that lives inside him, he must learn to control it and temper the very emotions that threaten the lives of everyone he cares for. Something that's hard to do while trying to stay off the menus of those who want his head on a platter. And no one wants him more than the dark gods who created his race. Now that they know where he is, they will stop at nothing to reclaim him. And without knowing it, Nick has just embraced the one person he should never have trusted. The one person who will hand him over to his enemies to get back the life they lost.
Nick has finally accepted his fate, now he must learn to defy his destiny, and the dark, deadly forces that will stop at nothing to destroy everyone he loves so that they can again return to the world of man and own it, in the next Chronicles of Nick novel, Instinct, from #1 New York Times bestselling author Sherrilyn Kenyon.
---
Drama and danger abound in this "intricately woven" (Shannon Messenger, author of the Sky Fall series) fantasy realm where dukes play a game for the throne, magical warriors race to find the missing heir, and romance blossoms where it is least expected.

In a world where dukes plot their way to the throne, a Performer's life can get tricky. And in Johanna Von Arlo's case, it can be fatal. Expelled from her troupe after her father's death, Johanna is forced to work for the handsome Lord Rafael DeSilva. Too bad they don't get along. But while Johanna's father's death was deemed an accident, the Keepers aren't so sure.

The Keepers, a race of people with magical abilities, are on a quest to find the princess—the same princess who is supposed to be dead and whose throne the dukes are fighting over. But they aren't the only ones looking for her. And in the wake of their search, murdered girls keep turning up—girls who look exactly like the princess, and exactly like Johanna.

With dukes, Keepers, and a killer all after the princess, Johanna finds herself caught up in political machinations for the throne, threats on her life, and an unexpected romance that could change everything.
---
The Curse Keepers series, now offered in a single collection containing the full text of all three novels and three prequel novellas, plus:
• An all-new introduction by the author, Denise Grover Swank
• All six works presented in the author's preferred reading order
The wall between our world and a world full of vengeful spirits has protected humanity for more than four hundred years…and it's about to come crashing down. In New York Times and USA Today bestselling author Denise Grover Swank's epic paranormal romance series, the Curse Keepers, two reluctant yet brave heroes are all that stand between the world's survival and its total destruction.
The Curse Keepers (Book 1)
A descendent of two legendary spirit banishers from the Lost Colony of Roanoke, Ellie Lancaster dismisses her Curse Keeper role as part of a harmless fairy tale—until she meets the handsome and infuriating Collin Dailey, a fellow Curse Keeper, and realizes they must fulfill their destinies in order to save the world from vengeful spirits.
This Place Is Death (Novella 1)
In this intriguing prequel to the Curse Keepers series, Roanoke colonist Ananias Dare, his expectant wife, and their friend Manteo realize that their settlement faces a sinister force much more evil than the natives who threaten their lives—and their only hope for survival may leave them with hell to pay.
The Curse Breakers (Book 2)
With passion threatening to consume both her and Collin, Ellie must fight the unleashed demons tormenting her. But when she finds herself abandoned, she embarks on a terrifying journey to claim the mark of the god Ahone and finish what the Curse Keepers began in order to prevent hell on earth.
This Changes Everything (Novella 2)
Ellie Dare Lancaster may be only eight years old, but she already knows about her future as a Curse Keeper—and once an unholy force is accidentally summoned, bringing terrible evil into her home, the young Ellie becomes part of the newest generation caught up in the war between the gods of good and evil.
The Curse Defiers (Book 3)
The gate between the human and spirit worlds is open, and only Ellie and Collin can stop the trail of death and destruction—but first, they have to break free from their tangled web of treachery, jealousy, and lies in order to choose their own destinies, even if that means defying the gods themselves.
This Is Your Destiny (Novella 3)
Collin feels trapped by his job, his debt, and especially his destiny as a Curse Keeper. But when the fearsome god Ahone reaches out to him with a tempting offer, it may be the key to Collin's liberation…if he can survive the ensuing confrontation with his deadly counterpart.
---
Destiny is pre-determined. It is strictly monitored. It is unchangeable.
Or is it?

Madden's life is a whirlwind of privilege and perks. Born into the elite Purple ring, she is fated to be a Minister of the Seven. Although her position comes with the burden of great responsibility, she's nothing if not confident in her future. After all, Destiny Specialists have determined how she will fulfill her life's purpose, and they are never wrong.

Her classmate Dax, an Ash, is clinging to the opposite end of the spectrum. While everyone around her knows what destiny awaits them, Dax's fate is…missing. Isolated and ignored, she refuses to let her lack of status define her.

After a stunning twist of fate, Dax and Madden's paths intertwine in ways neither could have possibly imagined. The two are forced to question their own past, present and future as they realize who they are is not necessarily who they were meant to be.

ASH, the first book in the Destined series, is an unforgettable journey into an alternate future which will leave readers wondering just how much we can control our own fate.

Destiny is calling. Will you fight for yours?
---
A rich medieval fantasy novel from an author whose work has been called "TRULY ORIGINAL . . . FANTASY AT ITS BEST."
A perfectly crafted combination of medieval history, mythology, and fantasy, set on Wilde Island, featuring  Uma Quarteney–a half Euit and half English girl, who has never been fully accepted by her Euit tribe–and Jackrun Pendragon–a fiery dragonrider with dragon, fairy, and human blood.
On the southernmost tip of Wilde Island–far from the Dragonswood sanctuary and the Pendragon Castle–live the native Euit people. Uma wants to become a healer like her Euit father. But the mad English queen in the north, desperate for another child, kidnaps Uma and her father and demands that he cure her barrenness. After her father dies, Uma must ensure that the queen is with child by the time of the Dragon Moon, or be burned at the stake.
Terrified and alone, Uma reaches out to her only possible ally: the king's nephew Jackrun, a fiery dragonrider with dragon, fairy, and human blood. Together, they must navigate through a sea of untold secrets, unveil a dark plot spawned long ago in Dragonswood, and find a way to accept all the elements–Euit, English, dragon, and fairy–that make them who they are.
---
Bree Bennis finally has it all―a non-comatose mother, an uber-hot (albeit anachronistic) boyfriend named Finn, and a newfound mission to protect the timeline from those who would skew it for their own gain. But when she leans over one day to smooch said boyfriend, her lips meet those of her arch-nemesis Wyck instead. The timeline has been altered, and Bree is caught in the crosshairs. But when she goes back to repair the damage, she is stopped by none other than her Future Self, who delivers an urgent message: Someone is kidnapping Shifters from the distant past. It's up to Bree to stop them. But first, she has to figure out who…and why.
To follow the trail of chronocrumbs, Bree reluctantly accepts her new undercover gig as Wyck's girlfriend. Everything goes spiffy until Finn shows up in the 23rd century on the eager arm of a gorgeous fellow Shifter. Blark. Even as Bree struggles with jealousy, she battles the nagging dread that Finn might be better off with someone less chronologically complicated. Her worst fear is confirmed when Finn becomes the kidnapper's next victim. As Bree zeroes in on the culprit, they unravel her life one timeline-change at a time. She realizes that she alone has the power to save herself and everyone she loves. But to do that, she may lose Finn forever.
---
Lora Mint is determined not to forget.
Though her mother's been dead for five years, Lora struggles to remember every detail about her—most important, the specific events that occurred the night she sped off in her car, never to return.
But in a world ravaged by Vergets disease, a viral form of Alzheimer's, that isn't easy. Usually Lora is aided by her memory key, a standard-issue chip embedded in her brain that preserves memories just the way a human brain would. Then a minor accident damages Lora's key, and her memories go haywire. Suddenly Lora remembers a moment from the night of her mother's disappearance that indicates her death was no accident. Can she trust these formerly forgotten memories? Or is her ability to remember every painful part of her past driving her slowly mad—burying the truth forever?
Lora's story of longing for her lost mother—and for the truth behind her broken memories—takes readers on a twisty ride. The authentic, emotional narrative sparks fascinating questions about memory and privacy in a world that increasingly relies on electronic recall.
---
In this fantastical novel, the acclaimed author of Longbourn brings us the magical story of a young girl in search of her mother…who just might be a mermaid. Malin has always been different, and when her father dies, leaving her alone, her choice is clear: stay, and remain an outsider forever, or leave in search of the mythical inheritance she is certain awaits her. Apprenticed to a series of strange and wonderful characters, Malin embarks on a grueling journey that crosses oceans and continents—from the high seas to desert plains—and leads to a discovery that she could never have expected. Beautifully written and hauntingly strange, The Mermaid's Child is a remarkable piece of storytelling, and an utterly unique work of fantasy from literary star Jo Baker.
---
The powerful and riveting second book in the Half Bad trilogy.
In a modern-day England where two warring factions of witches live amongst humans, seventeen-year-old Nathan is an abomination, the illegitimate son of the world's most powerful and violent witch. Nathan is hunted from all sides: nowhere is safe and no one can be trusted. Now, Nathan has come into his own unique magical Gift, and he's on the run–but the Hunters are close behind, and they will stop at nothing until they have captured Nathan and destroyed his father.
The Half Bad trilogy has been translated into more than 50 languages. TIME Magazine calls it "highly entertaining and dangerously addictive." Kate Atkinson says it's "brilliant and utterly compelling." London's Daily Telegraph has named author Sally Green "the new J.K. Rowling." Discover the story that readers all over the world are raving about.
---
The mind-blowing action from Elusion about the seductive nature of a perfect virtual world continues as Regan goes deeper into the deceptive world. Full of mystery, romance, and intriguing technology, this Inception-inspired thriller is perfect for fans of dystopian and sci-fi novels such as Uglies by Scott Westerfeld, Matched by Ally Condie, and Partials by Dan Wells.
Regan and her friend Josh now know the truth about Elusion—but they, along with Regan's dad and other users of Elusion, are stuck beyond the firewall in bleak Etherworld. They must fight Elusion from within, but the longer they stay, the less likely they'll be able to return to the real world. And even if they do escape, the next battle to stop Elusion may be even more difficult. They'll face corporate cover-ups, personal betrayals, and the terrifying realization that the danger may have grown beyond anyone's control.
---
The mind-blowing action from Elusion about the seductive nature of a perfect virtual world continues as Regan goes deeper into the deceptive world. Full of mystery, romance, and intriguing technology, this Inception-inspired thriller is perfect for fans of dystopian and sci-fi novels such as Uglies by Scott Westerfeld, Matched by Ally Condie, and Partials by Dan Wells.
Regan and her friend Josh now know the truth about Elusion—but they, along with Regan's dad and other users of Elusion, are stuck beyond the firewall in bleak Etherworld. They must fight Elusion from within, but the longer they stay, the less likely they'll be able to return to the real world. And even if they do escape, the next battle to stop Elusion may be even more difficult. They'll face corporate cover-ups, personal betrayals, and the terrifying realization that the danger may have grown beyond anyone's control.
---
In the spirit of Cecelia Ahearn and Regina McBride, a lighthearted and relatable debut novel about an advertising copywriter who upends her ordinary life and captures the attention of the world after publishing a seven-part treatise on the existence of fairies.

Kate McDaid thought that going to the reading of her great-great-aunt's will would be just another non-event in her ordinary life. A junior copywriter at an advertising agency in Dublin, she was used to spending her days wrangling clients, over-indulging in chocolatey products, and whiling away nights at the pub with her best friends, using her trusty bicycle to get around town. Instead, Kate finds out that the will and her aunt (also known as the Red Witch of Knocknamee) dictates that Kate must publish a series of strange poems called "The Seven Steps" under her own name in order to inherit the rest of her aunt's estate.

And those poems? They're a mysterious treatise on the importance and existence of fairies…

Kate decides to publish the Steps on a friend's website, thinking that the low traffic on the site would let her posts go unnoticed. She never could have imagined that in a matter of days, she would find herself a local celebrity with her own group of devotees and the target of a mysterious and glamorous newspaper reporter. Even Dublin's rock-and-roll sweetheart—and Kate's onetime fling—writes a song inspired by the Steps.

While the Steps strike a chord across Ireland and the world, Kate takes the message to heart. But as the tone of each Step moves from free-spirited to sinister, Kate must decide if she will go through with publishing all seven Steps—or protect humankind from an ancient evil.

Infused with just enough magic and everyday familiarity that anyone can relate to, this fantastic debut is a page-turner with the perfect mix of humor and mystery.
---
Part Hitchcock, part Hinton, this first-ever stand-alone novel from Heather Brewer, New York Times bestselling author of the acclaimed Chronicles of Vladimir Tod series, uses classic horror elements to tell a darkly funny coming-of-age story about the dangerous power of belief and the cost of blind loyalty that Kirkus Reviews called "a slick, spooky, chilling mystery."
When Stephen's dad says they're moving, Stephen knows it's pointless to argue. They're broke from paying Mom's hospital bills, and now the only option left is to live with Stephen's grandmother in Spencer, a backward small town that's like something out of The Twilight Zone. Population: 814.
Stephen's summer starts looking up when he meets punk girl Cara and her charismatic twin brother, Devon. With Cara, he feels safe and understood—and yeah, okay, she's totally hot. In Devon and his group, he sees a chance at making real friends. Only, as the summer presses on, and harmless nights hanging out in the cemetery take a darker turn, Stephen starts to suspect that Devon is less a friend than a leader. And he might be leading them to a very sinister end. . . .
---
An NPR Best Book of 2015
A Boston Globe Best Book of 2015
A Chicago Public Library Best Teen Fiction of 2015
A BookRiot Best Book of 2015
A 2016 YALSA Best Book for Young Adults
A Horn Book Fanfare Best Books of 2015
A School Library Journal Best Book of 2015
A 2015 Edgar Award Nominee for Best Young Adult 

"Ori's dead because of what happened out behind the theater, in the tunnel made out of trees. She's dead because she got sent to that place upstate, locked up with those monsters. And she got sent there because of me."

On the outside, there's Violet, an eighteen-year-old dancer days away from the life of her dreams when something threatens to expose the shocking truth of her achievement.

On the inside, within the walls of the Aurora Hills juvenile detention center, there's Amber, locked up for so long she can't imagine freedom.

Tying their two worlds together is Orianna, who holds the key to unlocking all the girls' darkest mysteries . . .

What really happened on the night Orianna stepped between Violet and her tormentors? What really happened on two strange nights at Aurora Hills? Will Amber and Violet and Orianna ever get the justice they deserve—in this life or in another one?

In prose that sings from line to line,Nova Ren Suma tells a supernatural tale of guilt and of innocence, and of what happens when one is mistaken for the other.

"A suspenseful tour de force, a ghost story of the best sort, the kind that creeps into your soul and haunts you." —Libba Bray, author of The Diviners and A Great and Terrible Beauty
 
---
In the next book in Molly Harper's beloved Half Moon Hollow paranormal romance series, Gigi starts her first job (at Vampire Headquarters), gets over her first love, and may even fall for her first vampire!

Gigi is no longer an innocent teen. All grown up and looking for love, her family and friends worry she'll go for the sexy, alluring vampire instead of a nice, safe human. But sexy and alluring, with a penchant for biting, could be just what Gigi wants…
---
Danger descends in the second book of The Internment Chronicles, from the New York Times bestselling author of The Chemical Garden trilogy.

After escaping Internment, Morgan and her fellow fugitives land on the ground to finally learn about the world beneath their floating island home.

The ground is a strange place where water falls from the sky as snow, and people watch moving pictures and visit speakeasies. A place where families can have as many children as they want, their dead are buried in vast gardens of bodies, and Internment is the feature of an amusement park.

It is also a land at war.

Everyone who fled Internment had their own reasons to escape their corrupt haven, but now they're caught under the watchful eye of another king who wants to dominate his world. They may have made it to the ground, but have they dragged Internment with them?
---
Critically acclaimed author of The Ashes Trilogy, Ilsa J. Bick takes her new Dark Passages series to an alternative Victorian London where Emma Lindsay continues to wade through blurred realities now that she has lost everything: her way, her reality, her friends. In this London, Emma will find alternative versions of her friends from the White Space and even Arthur Conan Doyle.
Emma Lindsay finds herself with nowhere to go, no place to call home. Her friends are dead. Eric, the perfect boy she wrote into being, and his brother, Casey, are lost to the Dark Passages. With no way of knowing where she belongs, she commands the cynosure, a beacon and lens that allows for safe passage between the Many Worlds, to put her where she might find her friends–find Eric–again. What she never anticipated was waking up in the body of Little Lizzie, all grown up–or that, in this alternative London, Elizabeth McDermott is mad.
In this London, Tony and Rima are "rats," teens who gather the dead to be used for fuel. Their friend, Bode, is an attendant at Bedlam, where Elizabeth has been committed after being rescued by Arthur Conan Doyle, a drug-addicted constable.
Tormented by the voices of all the many characters based on her, all Elizabeth wants is to get rid of the pieces under her skin once and for all. While professing to treat Elizabeth, her physician, Dr. Kramer, has actually drugged her to allow Emma–who's blinked to this London before–to emerge as the dominant personality . . . because Kramer has plans. Elizabeth is the key to finding and accessing the Dickens Mirror.
But Elizabeth is dying, and if Emma can't find a way out, everyone as they exist in this London, as well as the twelve-year-old version of herself and the shadows–what remains of Eric, Casey, and Rima that she pulled with her from the Dark Passages–will die with her.
Releases simlutaneously in electronic book format (978-1-60684-422-9)
---
For fans of Uglies and The Maze Runner comes a complex, thrill-filled love story that will make you question exactly what it means to be human
In the past year Zel lost her father, the boy she loves, her safety, and any future she might have imagined for herself. Now she, her sister, and the band of genetic outcasts they've come to call their family are forced on the run when their safe house is attacked by men with neural guns. But on the way to a rumored haven in Chicago, Zel hears something–a whisper from Cy, the boy who traded himself for her sister's safety. And when she veers off plan in order to search for him, what she finds is not what she expected. There's more to their genetic mutations than they ever imagined…aspects that make them wonder if they might be accepted by the outside world after all.
---
The triumphant conclusion to New York Times bestselling author Claudia Gray's dazzling Spellcaster series.
To save the lives of countless people in Captive's Sound, Nadia swore herself to the One Beneath—to black magic. Her plan, and the town's only hope, is for Nadia to learn enough sorcery to strike back against the forces of evil. But now that she's separated from her friends, her family, and her Steadfast, Mateo, Nadia is more vulnerable than ever to the growing darkness.
The final battle lines are drawn, surprising alliances are made, and true love is tested in the action-packed conclusion to the breathtaking Spellcaster series.
What are your must have titles for March? Tell us in the comments.
---
Authors/Publishers: have a book coming out soon?
Request a Review or schedule a visit/giveaway
Please leave a comment if we missed a title and we will update this post.