It's the last day of the month which means it's time to check out what we're reading next month in: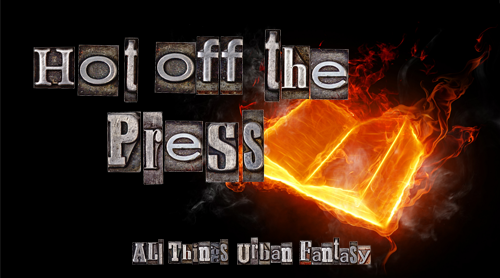 Want to know what titles came out in previous months? View previous Hot Off The Press posts
—————————————–
*Release dates are subject to change.  Click '+ Description' to reveal the full description. Please visit our Titles Received For Review page to see which of these titles will be reviewed this month.
21 Adult Titles Releasing in November

---
It's Christmas in Half-Moon Hollow and newly turned vampire Iris Scanlon-Calix wants to make Gigi's first visit home from college as normal and special as possible. It's taken months for Iris to work up the nerve to spend time around her baby sister after her vampire transition, so she enlists help from Jane Jameson and Company to keep her blood-thirst under control and assure Gigi's safety.Gigi, on the other hand, has problems of her own, including the demise of her relationship with high school sweetheart, Ben, and a looming job interview with Ophelia Lambert, the scariest potential employer in the Hollow. And then there's the small matter of the handsome, frustrating vampire who keeps appearing in Gigi's peripheral vision, then disappearing before she can talk to him.Can the Scanlon sisters negotiate romantic problems, vampire politics, and Christmas cookie disasters and enjoy a relatively normal holiday?
---
Fans of The Mortal Instruments and The Infernal Devices can get to know warlock Magnus Bane like never before in this collection of New York Times bestselling tales, in print for the first time with an exclusive new story and illustrated material.

This collection of eleven short stories illuminates the life of the enigmatic Magnus Bane, whose alluring personality, flamboyant style, and sharp wit populate the pages of the #1 New York Times bestselling series, The Mortal Instruments and The Infernal Devices.

Originally released one-by-one as e-only short stories by Cassandra Clare, Maureen Johnson, and Sarah Rees Brennan, this compilation presents all ten together in print for the first time and includes a never-before-seen eleventh tale, as well as new illustrated material.
---
"Nonstop action and hair-raising storytelling done well. This series gets better and better."-RT Book Reviews, 4 ½ Stars
Leaving him was Impossible…
It took everything she had for FBI Special Agent Danica Beckett to walk away from the man she loved. But if she wants to save his life, she has to keep her distance. Now, with a killer on the loose and the stakes higher than ever before, the Department of Covert Ops is forcing these former lovers into an uneasy alliance…whether they like it or not.
Seeing her again is even worse
The last thing Clayne Buchanan wants is to be shackled to the woman who broke his heart. She gets under his skin in a way no one ever has and makes him want things he has no right to anymore. All he has to do is suffer through this case and he can be free of her for good. But when Clayne finds out why Danica left in the first place, everything he's tried to bury comes roaring back-and there's no way this wolf shifter is going to let her get away this time.
X-Ops Series
Her Perfect Mate (Book 1)
Her Lone Wolf (Book 2)
Her Secret Agent (novella)
Her Wild Hero (Book 3)
Her Fierce Warrior (Book 4)
Her Rogue Alpha (Book 5)
Her True Match (coming March 2017)
Praise for Her Perfect Mate:
"A wild, hot, and sexy ride. I loved it!"-Terry Spear, USA Today bestselling author of A SEAL in Wolf's Clothing
"Absolutely perfect. One of the best books I've read in years."-Kate Douglas, bestselling author of the Wolf Tales series
---
Death Defying by Nina Croft
Dark Desires (book 3)
Captain Tannis of the starship El Cazador is part snake, part human, and–according to some–all bitch. She is one job away from her lifelong goal–to achieve the immortality she craves. The assignment: protecting the most powerful man in the Universe.
After five hundred years, Callum Meridian, founding member of the Collective, is bored out of his mind. Until he realizes he's physically changing–into what, he isn't sure. Callum is determined to discover the truth, but his own people will stop at nothing to prevent it from coming out.
With a coup brewing and the crew of El Cazador close to tossing him off the ship, Callum turns to Tannis. Sparks fly as they work together to make it out alive. But can Callum really trust the one woman hell bent on using him? Defying death has never been more dangerous, more sexy, or more fun.
---
I am in a world deeply strange and strangely deep, a world as different from my old life as it's possible to be, and it feels completely natural.
An unexpected encounter with a handsome stranger in a Russian wood changes the life of 22-year-old traveler Helen Clement forever, catapulting her into a high-stakes world of passion, danger, and mystery. Tested in ways she could never have imagined, she must keep her own integrity in a world where dark forces threaten and ruthlessness and betrayal haunt every day.
Set against a rising tide of magic and the paranormal in a modern Russia where the terrifying past continually leaks into the turbulent present, Trinity: The Koldun Code is a unique and gripping blend of conspiracy thriller, erotically charged romance and elements of the supernatural, laced with a murderous dose of company politics. With its roots deep in the fertile soil of Russian myth, legend, and history, it is also a fascinating glimpse into an extraordinary, distinctive country and amazingly rich culture.
The Koldun Code is the first book in the Trinity series by Sophie Masson.
---
Miss Ophelia Flax is a Victorian actress who knows all about making quick changes and even quicker exits. But to solve a fairy-tale crime in the haunted Black Forest, she'll need more than a bit of charm…
 
1867: After being fired from her latest variety hall engagement, Ophelia acts her way into a lady's maid position for a crass American millionaire. But when her new job whisks her off to a foreboding castle straight out of a Grimm tale, she begins to wonder if her fast-talking ways might have been too hasty. The vast grounds contain the suspected remains of Snow White's cottage, along with a disturbing dwarf skeleton. And when her millionaire boss turns up dead—poisoned by an apple—the fantastic setting turns into a once upon a crime scene.
 
To keep from rising to the top of the suspect list, Ophelia fights through a bramble of elegant lies, sinister folklore, and priceless treasure, with only a dashing but mysterious scholar as her ally. And as the clock ticks towards midnight, she'll have to break a cunning killer's spell before her own time runs out…
---
NEVER BEFORE PUBLISHED
On the planet Celta, accepting a HeartMate can be the greatest challenge in the universe…
Antenn, an architect hired to build a cathedral in Druida City, dares not think of his HeartMate. Even though he yearns for her, he's taken steps to ensure she will be forever unknown to him. After all, how could he, a commoner who grew up in the slums, the brother of a murderer, be worthy of any woman?
Tiana, a priestess, has her own fears about being a HeartMate. She's watched her friends struggle with such a stormy destiny. She's sure her HeartMate has never claimed her due to a terrible scandal involving her Family, and she's set aside hopes for love.
Antenn's gotten the commission of his life. The cathedral will make him famous, but more, it will last for ages and prove to others he can contribute to Celta…if the controversial structure isn't destroyed while being built. Tiana, too, is an integral part of this process, but the villain who wrecked her Family is ready with firebombs. Can they trust each other in dangerous circumstances to succeed…and to love?
---
In the third Generation V novel, Fortitude Scott proves that working with family can be deadly…
Former film student Fortitude Scott is finally gainfully employed. Unfortunately, said employment happens to be with a group of sociopathic vampires—his family. And as much as Fort is loath to get too deep into the family business, when his brother, Chivalry, is temporarily unable to run the territory, it's up to Fort to keep things under control.
So when the leader of a powerful faction of shifters turns up murdered, Fort finds himself tracking down a killer while navigating dangerous rivalries, longtime grudges, and hidden agendas. Even with the help of his foxy kitsune sidekick, Suzume, he'll need to pull out all the stops to hunt for the paranormal assassin.
But as he calls on fairies, witches, and ghouls for help, he discovers that the problem is much bigger than a single dead werebear. The supernatural community is preparing for a massive shift in power within the Scott family leadership—and Fort has landed right in the middle of the gathering storm.…
---
R.I.P. = Reanimated, Infernal, and Pretty damn dangerous 
Struggling actress Esther Diamond, whose year got off to a rough start (what with incarceration, unemployment, and mystical death curses), finally catches a break when she lands an acting job.
She's hired to reprise her guest role as prostitute Jilly C-Note on The Dirty Thirty, a TV crime drama about depravity and corruption in the New York Police Department. Esther's ex-sometime boyfriend, NYPD's Detective Connor Lopez, hates that show with undying passion — especially after Esther convinces her narcissistic co-star to shadow Lopez on the job, in order to add verisimilitude to his performance as a morally bankrupt cop.
But Esther's fellow thespian is her best bet for keeping an eye on Lopez 24/7—and, more to the point, on Lopez's new partner, Detective Quinn. Esther and her friend Max, a 350-year-old mage whose day job is protecting the city from Evil, suspect Quinn of being involved in the latest mystical mayhem to menace Manhattan…
Corpses suddenly aren't staying quite as dead as they should.
While Max and Esther try to determine what Quinn's role is in the supernatural reanimation of the deceased downtown, a dangerous foe with deadly intent changes everyone's dinner plans one cold winter night…
---
She wants security. He wants freedom. Together their love could destroy the world.
Ten years after the outbreak of the V2000 virus turns the majority of humans into a mutated Vampire sub-species, the last remaining true humans are the world's hottest commodity. In this new world, it's The Society that rules.
Being the only female Vampire Lord in America isn't easy. Being thrust into the role of CEO is even harder. Danika Chekov refuses to let her father's legacy die. She's resolved to keep everything under her tight control. But after she's almost killed, she's forced to purchase a human guardian.
Mason is human, or so the Vampires think. He's determined to protect his secret, but Lord Danika buys him before he can make his escape. Their passion for each other threatens everything they want most. And when Mason's true nature is exposed, the results could be devastating.
90,150 Words
---
Two lives. Two realities. But only one truth.
The Senator reigns all-powerful in a manifested picture-perfect world. No worries. No wars. Only the unspoken threat of oblivion if you step a toe out of line. On the other side of the divide, the rebels face a debilitating war against an invulnerable robotic army. Every day is a struggle to earn back their freedoms. Freedom to feel. Freedom of speech. Freedom of thought.
Sergeant Grant Baker is pivotal to the war effort. But ever since his wife's abduction, he's been walking around in as much of a daze as the Senator's brainwashed citizens. Then Eva reappears—without memories of him or their son. And he's willing to do anything to keep her. Even if it means jeopardizing the war.
Eva doesn't know which side to believe. Her predictable life as a single nurse, or the man claiming to be her husband. All she knows is she needs to discover how to end the war, quickly. If she doesn't choose sides soon, she may lose the man—and the life—she never knew she wanted.
33,718 Words
---
National bestselling author Marcella Burnard's first Living Ink novel,
Nightmare Ink
, was an "outstanding series starter." Now she continues her "truly mesmeric and heart-stopping"* story of magical tattoo artist Isa Romanchzyk…
After being kidnapped and forcibly Inked with a Living Tattoo named Murmur, Isa thought she'd survived the worst her enemies could throw at her. She was wrong. Murmur is walking around her world in someone else's body, and without him, Isa is losing control of her magic.
Then, in the middle of rush hour, a Live Tattoo comes off its host, killing over a hundred people. Isa discovers that Murmur's nemesis, Uriel—a demon she believed defeated—is responsible. He's seeking the power to force his way back into Isa's world. If he succeeds, everyone Isa loves will be destroyed. There may be a way to stop him, but it will mean sacrificing Murmur—or herself…
Includes a preview of the Living Ink Novel, Nightmare Ink
Praise for the novels of Marcella Burnard:
"Burnard is a genuine gift to the genre!"—*RT Book Reviews
"A huge hit!"—Night Owl Reviews
"Thrilling!"—USA Today bestselling author Susan Kearney
Marcella Burnard, author of Nightmare Ink, graduated from Cornish College of the Arts with the ever-practical degree in acting. She promptly made more money as a musician than as an actor, so it made sense that she switched to writing fiction for Berkley. Her first book, Enemy Within, won the Romantic Times Reviewer's Choice award for Best Futuristic of 2010. The second book in the series, Enemy Games, was released in 2012, followed by the novella, Enemy Mine, set in the same world, in 2012. She currently lives with her husband and their cats aboard a sailboat on Puget Sound, and writes full time.
---
The Weird Girls return in another edge-of-your-seat novel from Cecy Robson! Just when Celia thinks the supernatural world can't turn deadlier, a new rival emerges, proving just how dangerous a power-hungry were can be.
Since being cursed with unique abilities, Celia Wird and her three sisters have fought the most bloodthirsty preternaturals in the Lake Tahoe region. But Celia's greatest threat is someone she would have never suspected: Anara, a werewolf Elder who has allowed his hatred for Celia to spiral out of control. In a play for dominance, Anara tortures Celia and gives her an ultimatum: sever her mate bond with pureblood
were
Aric—or Anara will kill everyone she loves. 
From the instant they met, Celia and Aric have shared an attraction that cannot be tamed. So keeping Aric away is impossible, and Aric would sooner die than allow anyone to hurt the woman he loves. Misha, master vampire and Celia's sworn protector, also finds his way into the chaos, seeking blood from those who have harmed her. 
Now Celia and her sisters are caught in the middle of a war driven by lust, fueled by hatred, and destined to end in tragedy. For Anara is a force to be reckoned with, and he will not succumb without robbing Celia of those who hold her heart.
Praise for A Cursed Bloodline
 
"Brace yourself Cecy fans, A Cursed Bloodline will take you for an emotional roller-coaster ride. . . . A Cursed Bloodline is one of my Top Picks of the year."—Under the Covers
 
"A fun and fascinating series."—That's What I'm Talking About
 
"Cecy Robson makes you feel as though you are fighting alongside the sisters as they try to save the world."—Valley Girl Gone Country
 
"The Weird Girls series is hands down one of my favorite series over all genres."—My ParaHangover
 
"Did you really feel the need to put me through the emotional wringer? Oh, who am I kidding, I freaking enjoyed the hell out of it."—Christy's Love of Books
 
"Powerful, fast-paced . . . A Cursed Bloodline will make your heart race."—Caffeinated Book Reviewer
 
"As always, Cecy's writing is top notch."—The Bookaholic Cat
"I would give this book a million stars if I could, but I will have to settle with five stars!"—The Hopeless Reader
 
Praise for the Weird Girls series
 
"One of my favorite books series . . . so much action, so much violence and, oh, the lust radiating off of our heroes . . . I definitely recommend this series for lovers of all things paranormal and awesome."—USA Today
 
" edgy, witty and modern style of storytelling, the reader will be drawn deep into this quirky paranormal world. . . . Strong pacing, constant action and distinctive, appealing characters—including a gutsy heroine—will no doubt keep you invested."—RT Book Reviews
 
"A healthy dose of humor, a heaping dash of the supernatural, and a pinch of mystery all laced with a heavy dollop of action . . . Robson knows how to combine all the best ingredients to keep her readers hooked and begging for another hit."—Fresh Fiction
 
Includes a special message from the editor, as well as an excerpt from another Loveswept title.
---
Four masters of urban fantasy and paranormal romance plunge readers into the dangerous, captivating world unearthed beyond the dark…
New York Times bestselling author Nalini Singh delivers a smoldering story with Secrets at Midnight, as the scent of Bastien Smith's elusive lover ignites a possessiveness in him that's as feral as it is ecstatic. And now that he's found his mate, he'll do anything to keep her.
In #1 New York Times bestselling author Ilona Andrews' novella, Magic Steals, when people start going missing, shapeshifting tigress Dali Harimau and jaguar shifter Jim Shrapshire must uncover the truth about the mysterious creatures responsible.
From Milla Vane—a warrior princess must tame The Beast of Blackmoor to earn a place among her people. But she quickly discovers that the beast isn't a monster, but a barbarian warrior who intends to do some taming himself. 
It's seer Makenna Frazier's first day on the job at Supernatural Protection and Investigations, and her first assignment is more than she bargained for when bodyguard duty for a leprechaun prince's bachelor party goes every which way but right in national bestselling author Lisa Shearin's Lucky Charms.
---
The second book in Mira Grant's terrifying parasitology series.
The enemy is inside us.
The SymboGen designed tapeworms were created to relieve humanity of disease and sickness. But the implants in the majority of the world's population began attacking their hosts turning them into a ravenous horde.
Now those who do not appear to be afflicted are being gathered for quarantine as panic spreads, but Sal and her companions must discover how the tapeworms are taking over their hosts, what their eventual goal is, and how they can be stopped.
---
From New York Times bestselling author Gena Showalter comes the long-awaited story of Torin, the most dangerous Lord of the Underworld yet… 
Fierce immortal warrior. Host to the demon of Disease. Torin's every touch causes sickness and death—and a worldwide plague. Carnal pleasure is utterly forbidden, and though he has always overcome temptation with an iron will, his control is about to shatter.  
She is Keeleycael. The Red Queen. When the powerful beauty with shocking vulnerabilities escapes from a centuries-long imprisonment, the desire that simmers between her and Torin is scorching. His touch could mean her end, but resisting her is the hardest battle he's ever fought—and the only battle he fears he can't win.
---
Jensen Murphy is back in the spooky sequel to Only the Good Die Young.
Some people think that ghosts are spirits that refuse to go to the other side because they have unfinished business. Take my word—that's true. I should know. I'm a ghost.
I was an ordinary eighties California girl, dead before my time, until psychic Amanda Lee Minter pulled me out of the time loop where I was reliving my death over and over. Now I'm Jensen Murphy, Ghost for Hire. I decided to put my spooky talents to use in helping Amanda Lee track down bad guys and killers (including my own).
It's taken time to figure out exactly how that will work (our first case was definitely a learning experience for all involved), so when a young woman asks Amanda Lee for help convincing her best friend to leave a dangerously hot-tempered boyfriend, I'm ready and willing to use our collective powers on her behalf. But some people are dangerous not only to the living—especially when there are darker forces involved….
---
Lethal, sexy, and always ready to protect her friends, Gin Blanco (a.k.a. the Spider) takes on the mysterious M.M. Monroe in book twelve of the New York Times and USA TODAY bestselling Elemental Assassin urban fantasy series.

There's nothing worse than a cruel, cunning enemy with time to kill—and my murder to plan. With wicked Fire elemental Mab Monroe long gone, you'd think I could finally catch a break. But someone's always trying to take me down, either as Gin Blanco or my assassin alter-ago. Now along comes the Spider's new arch-nemesis, the mysteriously named M. M. Monroe, who is gleefully working overtime to trap me in a sticky web of deceit.

The thing is, I'm not the only target. I can see through the tangled threads enough to know that every bit of bad luck my friends have been having lately is no accident—and that each unfortunate "coincidence" is just one more arrow drawing ever closer to hitting the real bull's-eye. Though new to Ashland, this M. M. Monroe is no stranger to irony, trying to get me, an assassin, framed for murder. Yet, as my enemy's master plan is slowly revealed, I have a sinking feeling that it will take more than my powerful Ice and Stone magic to stop my whole life from going up in flames.
---
From the New York Times bestselling author of Tempt the Stars comes the latest in the series that's "well worth getting hooked on"(Fresh Fiction).
You'd think that being chief seer for the supernatural world would come with a few perks. But as Cassie Palmer has learned, being Pythia doesn't mean you don't have to do things the hard way. That's why she finds herself on a rescue mission skipping through time—even though she doesn't entirely understand her dimension-bending new power.
Rescuing her friend John Pritkin should have been an in-and-out kind of deal, but with the near-immortal mage's soul lost in time, Cassie has to hunt for it through the ages—with Pritkin's demon dad in tow. He's the only one who can reverse Pritkin's curse, but with the guardians of the timeline dead set on stopping anyone from mucking about, Cassie will have to figure out how to get her friend back without ruffling too many feathers—or causing a world-ending paradox or two….
---
Meet Lyla: Jinn, belly dancer, and the hottest new urban fantasy heroine in town.
To escape an arranged marriage, a jinni granted Lyla her wish: to live a thousand years as a jinni herself.
Now, her servitude is ending, but there are a few obstacles in Lyla's path to freedom. A Magi intent on binding her again, a jinni bent on vengeance, and not to mention the nightmare from her past that threatens to make her curse permanent — and claim her very soul.
Jinn and Juice is a standalone by fantasy writer, Nicole Peeler set in a world of immortal curses, vengeful jinni and belly dancing.
18 YA Titles Releasing in November

---
Broken Trust. Deceived by her parents, Ebony learns of her true heritage – she is an angel from the otherworldly realm of Avena, and she is in danger.
Broken Hearts. When Ebony's eternal soul mate, Nathaneal, is arrested for using his secret powers to protect her, she finds herself alone with a friend she cannot trust.
Broken Realms. To save Ebony's human parents, Nathaneal must journey into treacherous Skade, the world of his archenemy, the Dark Prince, who would do anything to destroy him and capture the angel they both love.
Only Now . . . will Ebony piece together her stolen past – and become as powerful as she was meant to be.
---
In the powerful conclusion to Robin LaFever's New York Times bestselling His Fair Assassins trilogy, Annith has watched her gifted sisters at the convent come and go, carrying out their dark dealings in the name of St. Mortain, patiently awaiting her own turn to serve Death. But her worst fears are realized when she discovers she is being groomed by the abbess as a Seeress, to be forever sequestered in the rock and stone womb of the convent. Feeling sorely betrayed, Annith decides to strike out on her own.
She has spent her whole life training to be an assassin. Just because the convent has changed its mind, doesn't mean she has.

---
Cloud Atlas meets Orphan Black in this epic dimension-bending trilogy by New York Times bestselling author Claudia Gray about a girl who must chase her father's killer through multiple dimensions.
Marguerite Caine's physicist parents are known for their groundbreaking achievements. Their most astonishing invention, called the Firebird, allows users to jump into multiple universes—and promises to revolutionize science forever. But then Marguerite's father is murdered, and the killer—her parent's handsome, enigmatic assistant Paul— escapes into another dimension before the law can touch him.
Marguerite refuses to let the man who destroyed her family go free. So she races after Paul through different universes, always leaping into another version of herself. But she also meets alternate versions of the people she knows—including Paul, whose life entangles with hers in increasingly familiar ways. Before long she begins to question Paul's guilt—as well as her own heart. And soon she discovers the truth behind her father's death is far more sinister than she expected.
A Thousand Pieces of You explores an amazingly intricate multi-universe where fate is unavoidable, the truth elusive, and love the greatest mystery of all.
---

Seventeen-year-old Cassie Hobbes has a gift for profiling people. Her talent has landed her a spot in an elite FBI program for teens with innate crime-solving abilities, and into some harrowing situations. After barely escaping a confrontation with an unbalanced killer obsessed with her mother's murder, Cassie hopes she and the rest of the team can stick to solving cold cases from a distance.

But when victims of a brutal new serial killer start turning up, the Naturals are pulled into an active case that strikes too close to home: the killer is a perfect copycat of Dean's incarcerated father-a man he'd do anything to forget. Forced deeper into a murderer's psyche than ever before, will the Naturals be able to outsmart the enigmatic killer's brutal mind games before this copycat twists them into his web for good?

With her trademark wit, brilliant plotting, and twists that no one will see coming, Jennifer Lynn Barnes will keep readers on the edge of their seats (and looking over their shoulders) as they race through the pages of this thrilling novel.


Praise for The Naturals

"The Naturals is Criminal Minds for the YA world, and I loved every page." –New York Times best-selling author Ally Carter

* "[A] tightly paced suspense novel that will keep readers up until the wee hours to finish." –VOYA (starred review)

"This savvy thriller grabs readers right away." –Kirkus Reviews

"It's a stay-up-late-to-finish kind of book, and it doesn't disappoint." –Publishers Weekly

"In this high-adrenaline series opener…even a psychic won't anticipate all the twists and turns." –Booklist
---
Now a New York Times bestseller!

What would you kill for?
After a brutal nuclear war, the United States was left decimated. A small group of survivors eventually banded together, but only after more conflict over which family would govern the new nation. The Westfalls lost. Fifty years later, peace and control are maintained by marrying the daughters of the losing side to the sons of the winning group in a yearly ritual.
This year, it is my turn.
My name is Ivy Westfall, and my mission is simple: to kill the president's son?my soon-to-be husband?and return the Westfall family to power.
But Bishop Lattimer is either a very skilled actor or he's not the cruel, heartless boy my family warned me to expect. He might even be the one person in this world who truly understands me. But there is no escape from my fate. I am the only one who can restore the Westfall legacy.
Because Bishop must die. And I must be the one to kill him…
---
Award-winning author Juliet Marillier "weaves magic, mythology, and folklore into every sentence on the page" (The Book Smugglers). Now she begins an all-new and enchanting series that will transport readers to a magical vision of ancient Ireland….
 
In exchange for help escaping her long and wrongful imprisonment, embittered magical healer Blackthorn has vowed to set aside her bid for vengeance against the man who destroyed all that she once held dear. Followed by a former prison mate, a silent hulk of a man named Grim, she travels north to Dalriada. There she'll live on the fringe of a mysterious forest, duty bound for seven years to assist anyone who asks for her help.
 
Oran, crown prince of Dalriada, has waited anxiously for the arrival of his future bride, Lady Flidais. He knows her only from a portrait and sweetly poetic correspondence that have convinced him Flidais is his destined true love. But Oran discovers letters can lie. For although his intended exactly resembles her portrait, her brutality upon arrival proves she is nothing like the sensitive woman of the letters.
 
With the strategic marriage imminent, Oran sees no way out of his dilemma. Word has spread that Blackthorn possesses a remarkable gift for solving knotty problems, so the prince asks her for help. To save Oran from his treacherous nuptials, Blackthorn and Grim will need all their resources: courage, ingenuity, leaps of deduction, and more than a little magic.
 
---
Adventure, magic, and hilarity collide in New York Times bestselling author Carrie Ryan and John Parke Davis's first book in a fantastical series.
To Master Thief Fin, an orphan from the murky pirate world of the Khaznot Quay, the Map is the key to finding his mother. To suburban schoolgirl Marrill, it's her only way home after getting stranded on the Pirate Stream, the magical waterway that connects every world in creation. With the help of a bumbling wizard and his crew, they must scour the many worlds of the Pirate Stream to gather the pieces of the Map to Everywhere–but they aren't the only ones looking. A sinister figure is hot on their tail, and if they can't beat his ghostly ship to find the Map, it could mean the destruction of everything they hold dear!
Heart-pounding escapades and a colorful cast of characters will have readers setting sail through this wholly original and unforgettable tale.
---
730. That's how many days I've been trapped.
18. That's how many days I have left to find a way out.
DAI, trying to escape a haunting past, traffics drugs for the most ruthless kingpin in the Walled City. But in order to find the key to his freedom, he needs help from someone with the power to be invisible….
JIN hides under the radar, afraid the wild street gangs will discover her biggest secret: Jin passes as a boy to stay safe. Still, every chance she gets, she searches for her lost sister….
MEI YEE has been trapped in a brothel for the past two years, dreaming of getting out while watching the girls who try fail one by one. She's about to give up, when one day she sees an unexpected face at her window…..
In this innovative and adrenaline-fueled novel, they all come together in a desperate attempt to escape a lawless labyrinth before the clock runs out.
---
A Southern Independent Booksellers Association Book Award nominee!

A romantic, suspenseful, genre-bending debut set in Edwardian London.

Amid the sumptuous backdrop of the London season in 1905, headstrong Katherine Sinclair must join the ranks of debutantes vying for suitors. Unfortunately for Katherine, she cannot imagine anything more loathsome?or dangerous. To help ease her entrance into society, Katherine's family has elicited the assistance of the Earl of Thornewood, a friend and London's most eligible bachelor, to be her constant companion at the endless fetes and balls. But upon her arrival in London, Katherine realizes there will be more to this season than just white gowns and husband hunting.

Through her late mother's enchanted diary, Katherine receives warning to keep hidden her otherworldly ability to perform arcana, a magic fueled by the power of the sun. Any misstep could mean ruin?and not just for her family name. The Order of the Eternal Sun is everywhere?hunting for those like her, able to feed on arcana with only a touch of the hand.

But society intrigue can be just as perilous as the Order. The machinations of the fashionable elite are a constant threat, and those who covet Katherine's arcana, seeking the power of her birthright, could be hiding behind the façade of every suitor?even the darkly handsome Earl of Thornewood.

With so much danger and suspicion, can she give her heart to the one who captivates her, or is he just another after her power?

Skyhorse Publishing, under our Night Shade and Talos imprints, is proud to publish a broad range of titles for readers interested in science fiction (space opera, time travel, hard SF, alien invasion, near-future dystopia), fantasy (grimdark, sword and sorcery, contemporary urban fantasy, steampunk, alternative history), and horror (zombies, vampires, and the occult and supernatural), and much more. While not every title we publish becomes a New York Times bestseller, a national bestseller, or a Hugo or Nebula award-winner, we are committed to publishing quality books from a diverse group of authors.

---




Gather your poison, steel tipped quill, and the rest of your school supplies and join Mademoiselle Geraldine's proper young killing machines in the third rousing installment of the New York Times bestselling 'Finishing School' Series by steampunk author Gail Carriger.

Class is back in session . . .

Sophronia continues her second year at finishing school in style – with a steel-bladed fan secreted in the folds of her ball gown, of course. Such a fashionable choice of weapon comes in handy when Sophronia, her best friend Dimity, sweet sootie Soap, and the charming Lord Felix Mersey stowaway on a train to return their classmate Sidheag to her werewolf pack in Scotland. No one suspected what – or who – they would find aboard that suspiciously empty train. But when Sophronia uncovers a plot that threatens to throw all of London into chaos, she must decide where her loyalties lie, once and for all.


---
Three months after returning Magician Emery Thane's heart to his body, Ceony Twill is well on her way to becoming a Folder. Unfortunately, not all of Ceony's thoughts have been focused on paper magic. Though she was promised romance by a fortuity box, Ceony still hasn't broken the teacher-student barrier with Emery, despite their growing closeness.
When a magician with a penchant for revenge believes that Ceony possesses a secret, he vows to discover it…even if it tears apart the very fabric of their magical world. After a series of attacks target Ceony and catch those she holds most dear in the crossfire, Ceony knows she must find the true limits of her powers…and keep her knowledge from falling into wayward hands.
The delightful sequel to Charlie N. Holmberg's The Paper Magician, The Glass Magician will charm readers young and old alike.
---
Be careful what you wish for…
Lyra has always been ahead of the curve. Top of her class in school, a budding astronomer, and with a best friend like Darren she barely has time to miss the mother who abandoned her family years ago. She's too busy planning to follow in her father's footsteps, and to become the youngest astronomer at Space Exploration and Discovery.
When a star goes missing Lyra is determined to get to the bottom of it only to discover her braniac dad is the mastermind of a top-secret government experiment. They promise to build a perfect world, one galaxy at a time, but with every tweak of the present, a bit more of the future starts to crumble.
Lyra has to go undercover to reveal the truth and let humanity decide if the consequences are worth more than wishing on a star.
---
In Revolution, Nadia Lake and Nate Hayes find themselves at the center of a horrifying conspiracy in the action-packed finale of Jenna Black's SF romance series that began with Replica

Paxco has a new ruler.
Dorothy Hayes claims to be the secret daughter of the recently-assassinated Chairman. She also claims that Nate Hayes, the true heir and her supposed brother, was the one who murdered their father.
Nate and his best friend, Nadia Lake, are the only ones who know the truth about what really happened to the Chairman, and more importantly, the truth about Dorothy.
But with Dorothy in power, Nate and Nadia know their days are numbered. They have nowhere to run except the Basement, Paxco's perilous and lawless slums. But Dorothy is far from content with driving her enemies into hiding.
She wants them dead.
---
The past is Darker than they thought…
Between helping her mother with the Darker Agency and laying the smack down on monster baddies, Jessie Darker puts the "normal" in paranormal. But lately, things have gotten a little crazy…even for a smart-assed half-demon teenage girl.
For starters, Jessie's been contracted into fifty-five years of annoying servitude. To a demon. Then there's Lukas Scott, her sexy new boyfriend. Once the former incarnation of Wrath, he's been going through some…uh, changes. Like residual anger. And trading chaste hangouts for lusty make-out sessions.
But it's when Lukas and Jessie accidentally release a Very Nasty Demon that things get really bad, setting into motion a chain of death and mayhem that threatens both Earth and the Shadow Realm. Jessie has exactly four days to fix it…before all of Hell breaks loose.
---
New friends, new enemies . . . can a magical journal change Autumn's crazy life? This funny and sweet novel by FAMOUS IN LOVE star Bella Thorne—is perfect for fans of Girl Online, Liv and Maddie: Cali Style, Descendants, and anyone looking for an entertaining read with just a touch of magic! 

With her fiery red hair, new-girl outsider status, and tendency to be a total klutz, Autumn Falls definitely isn't flying below the radar at Aventura High. Luckily, she makes some genuine friends who take her under their wing. But she also manages to get on the wrong side of the school's queen bee, and then finds out the guy she's started to like, funny and sweet Sean, hangs with the mean crowd. Now her rep
and
her potential love life are at stake.  
When Autumn vents her feelings in a journal that belonged to her late father, suddenly her wildest wishes start coming true. Is it coincidence? Or can writing in the journal solve all her problems? And if the journal doesn't work that way,  is there a bigger purpose for it—and for her?
Filled with personal elements from Bella's own life, AUTUMN FALLS is the first book in Bella Thorne's new series! It has everything readers will love and relate to: a real girl trying to find her own inner strength and be the best she can be, with a hint of magic and mystery, and a steady stream of OMG-I-can't-believe-that-just-happened fun.
 
"You'll be obsessed with Autumn Falls. It has basically everything you could ever want: a lovable klutz for a main character, a total heartthrob, and just a touch of magic." —Seventeen.com 
"A brilliant debut from Bella Thorne!" —Girls' Life
 "We personally loved the book. . . . The main character is a fiery, redheaded girl who captures your heart." —Latina.com
"Entertaining." —Booklist
"Captivating . . . highly recommended."—VOYA
"A fun premise." —Publishers Weekly
"Thorne is a shining example of what can be accomplished with the right attitude and drive." —Girls Write Now

---
The finale to the dystopian fantasy trilogy James Dashner called "fantastic" has a daring escape from pirates, life-or-death rescue missions, and a heartbreaking romance.
Thom and his fellow colonists are in danger of paying the ultimate price to secure their homeland in this last book of the Elemental trilogy. After the shocking discovery that his mother is still alive and on Roanoke, Thom is determined to return to that island. However, the island is still under pirate control, and a mysterious boy in possession of a dangerous element appears. With the help of an unlikely ally and the newly discovered ability to combine elements, Thom must summon the full extent of his power to end this battle for their home once and for all.
Packed with adventure, mystery, and romance, the gripping conclusion to the series that began with Elementaland Firenbrand is perfect for fans of Ship Breaker and Divergent.
 
---
Who is Eliza Wesson?
Months after Nat and Wes said good-bye on the shores of the Blue, Nat is learning how to control and use her new power. She and her drakon are the last of their kind—and she's risked her life for their reunion. When she receives a mysterious distress call, she races to help, soliciting the guidance of her new friend, the beautiful and aloof Faix Lazaved of the Blue.
Still heartbroken over losing Nat, Wes is racing cars on a New Vegas racetrack while his team is scattered and lost. When he finds out that his sister, Eliza, is being held in the golden domes of El Dorado, he does what he's best at—running to her side—and gambles on luck to see him through one more time.
Magic, romance, and danger collide as Nat and Wes become entangled in a dark new adventure that leads right to the heart of the mystery of their frozen, broken world. They soon discover that the answer to both their quests lies in the same question: Who is Eliza Wesson—what is she capable of, and why was she stolen from her family so long ago?
---
Reality is only an illusion.
Except for those who can control it…
Worst. Birthday. Ever.
My first boyfriend dumped me?happy birthday, Josie!?my dad is who knows where, I have some weird virus that makes me want to hurl, and now my ex is licking another girl's tonsils. Oh, and I'm officially the same age as my brother was when he died. Yeah, today is about as fun-filled as the swamps of Dagobah. But then weird things start happening…
Like I make something materialize just by thinking about it.
When hottily-hot badass Reid Wentworth shows up on a motorcycle, everything changes. Like, everything. Who I am. My family. What really happened to my brother. Existence. I am Oculi, and I have the ability to change reality with my thoughts. Now Reid, in all his hotness, is charged with guiding and protecting me as I begin learning how to bend reality. And he's the only thing standing between me and the secret organization that wants me dead…
The Schrodinger's Consortium series is best enjoyed in order.
Reading Order:
Book #1 Anomaly
Book #2 Enigma
---
The truth can set her free 
For the past two months, Kitty Doe's life has been a lie. Forced to impersonate Lila Hart, the Prime Minister's niece, in a hostile meritocracy on the verge of revolution, Kitty sees her frustration grow as her trust in her fake fiancé cracks, her real boyfriend is forbidden and the Blackcoat rebels she is secretly supporting keep her in the dark more than ever. 
But in the midst of discovering that her role in the Hart family may not be as coincidental as she thought, she's accused of treason and is forced to face her greatest fear: Elsewhere. A prison where no one can escape. 
As one shocking revelation leads to the next, Kitty learns the hard way that she can trust no one, not even the people she thought were on her side. With her back against the wall, Kitty wants to believe she'll do whatever it takes to support the rebellion she believes in—but is she prepared to pay the ultimate price?
What are your must have titles for November? Tell us in the comments.
---
Authors/Publishers: have a book coming out soon?
Request a Review or schedule a visit/giveaway
Please leave a comment if we missed a title and we will update this post.