This week offers a bumper crop of gorgeous colors, clothed models, and fantastical imagery.  Sometimes a poor font choice can ruin it all, though, which cover was your favorite this week?
 If you're a blogger interested in joining in on the commenting fun, fill out our Guest Commentator form here!
Cursed by Fire (Immortal Brothers #1) by Jacquelyn Frank
Expected publication: February 24th 2015 by Ballantine Books
Source: Goodreads
Covers in Series
N/A
From New York Times bestselling author Jacquelyn Frank comes the scorching hot first book in a thrilling new series featuring four warrior brothers who have the power—and the curse—of immortality.
For centuries, Dethan has been trapped in a fiery inferno for defying the gods and snatching the power of immortality. Condemned to have his battle-hardened body licked by flames only to regenerate and be consumed all over again, Dethan has lost all hope—until the Goddess of Conflict appears. She will release him from torment—if he'll use his power and strength as a warrior to raise an army and defeat a fierce enemy faction of gods.
Free to live as a man once again, Dethan meets Selinda—heir to the throne of Hexis—and his thoughts quickly turn from the conquest of cities to the conquest of this headstrong beauty. Betrothed to a cruel, calculating powermonger, Selinda needs a champion, and so Dethan enters into another bargain: If she will share her bed—and her body—with him, Dethan will save her city from destructive forces within and without. As the lovers ignite a searing passion, Dethan will risk all—even the wrath of the Goddess of Conflict—for a chance to make Selinda his forever.
No Author Comment Available.
Libbie Says 
Hello bad shadows and positioning. His face looks cut off and maybe it's me, but there appears to be a random nipple right in the middle there. I know what they're going for…but I think they missed. 
Kristina Says 
That shadow is doing something horrible to his neck. Is that her blurry hand on his chest? I don't get it.
Hungry Like the Wolf (SWAT #1) by Paige Tyler
Expected publication: January 6th 2015 by Sourcebooks Casablanca
Source: Goodreads
Covers in Series
N/A
INTRODUCING SWAT: SPECIAL WOLF ALPHA TEAM
They're tight
They're on target
They're as alpha as men can get.
The Dallas SWAT team is hiding one helluva secret . . . they're a pack of wolf shifters.
The team of elite sharpshooters is ultra-secretive—and also the darlings of Dallas. This doesn't sit well with investigative journalist Mackenzie Stone. They must be hiding something . . . and she's determined to find out what.
Keeping Mac at a distance proves impossible for SWAT team commander Gage Dixon. She's smart, sexy, and makes him feel alive for the first time in years. But she's getting dangerously close to the truth—and perilously close to his heart…
No Author Comment Available.
Libbie Says 
Being a child of the 80s, this one gets points for getting Duran Duran going in my mind while I studied the cover. Nice arms on the guy, though he appears to have some unfortunate vein problems. Not much of a UF feel to it save the wolf in the title, but has a dark feel going on. 
Kristina Says 
He sort of looks like Jim Caviezel from Person of Interest at first glance. Arbitrary points for wearing a bulletproof vest. Smart and sexy.
The Wicked Will Rise (Dorothy Must Die #2) by Danielle Paige
Expected publication: March 30th 2015 by HarperCollins
Source: Goodreads
Covers in Series
In this dark, high-octane sequel to the New York Times bestselling Dorothy Must Die, Amy Gumm must do everything in her power to kill Dorothy and free Oz.
To make Oz a free land again, Amy Gumm was given a mission: remove the Tin Woodman's heart, steal the Scarecrow's brain, take the Lion's courage, and then Dorothy must die….
But Dorothy still lives. Now the Revolutionary Order of the Wicked has vanished, and mysterious Princess Ozma might be Amy's only ally. As Amy learns the truth about her mission, she realizes that she's only just scratched the surface of Oz's past—and that Kansas, the home she couldn't wait to leave behind, may also be in danger. In a place where the line between good and evil shifts with just a strong gust of wind, who can Amy trust—and who is really Wicked?
No Author Comment Available.
Libbie Says 
Something about the stereotypical witch outline on the cover appeals to me, especially with the use of contrasting grayscale. The change in font size within the title was off-putting and, call me a geek, the fact that the S was super huge and across the chest of the witch outline made me think Superman more than witch. 
Kristina Says 
I like the style of these covers and the clouds in the witch are a nice touch.
The Shadow Revolution (Crown & Key #1) by Clay Griffith & Susan Griffith
Expected publication: June 2nd 2015 by Del Rey
Source: Goodreads
Covers in Series
N/A
No Description Available.
No Author Comment Available.
Libbie Says 
Now this is all kinds of lovely. A nice steampunk/gothic feel to it, both in the clothes and the background images. I can't figure if the bright green is meant to be a tattoo or just a contrast, but it works for me. So does the scrollwork bookending the title. 
Kristina Says 
I am assuming the tattoo is supposed to be magically rising from his skin because that is pretty cool. I like the dark gritty vibe and on a very shallow note I kind of love his hair.
Tobias and the Super Spooky Ghost Book by Tom Percival
Expected publication: September 16th 2014 by HarperCollinsChildren'sBooks
Source: Goodreads
Covers in Series
N/A
A lonely ghost finds an unexpected friend in this fantastically atmospheric story which marks the debut of an exciting new picture book talent.
Night after night, Tobias the ghost hangs around the empty house where he lives, longing for something interesting to happen. That is, until one day, a girl named Eliza moves in with her family…
Armed with his grandad's book of spells, Tobias starts to play tricks on Eliza, but has he met his match in this feisty little girl?
Tobias might just be in for a few surprises himself… not to mention finding an amazing new friend!
A delightfully energetic book, full of fun!
No Author Comment Available.
Libbie Says 
Great work for a children's book and made my mind jump to ParaNorman without being a complete copy of it. Would have greatly appealed to my boys when they were in their scary story stage. 
Kristina Says 
So cute looking. I love the little ghosts and bats coming out of the book. I kind of want to read this book. Must find a small child to read it with.
Published May 2014 by Seventh Star Press
Source: Goodreads
Covers in Series
Terrifying creatures exist all around us, hiding in plain sight. Ancient. Deadly. They gather in secret, conspiring, dreaming of nothing less than humanity's destruction, and their numbers are growing.
Earl Preston knows the danger all too well. After tangling with a horde of mythological sea monsters in Colonial Bay, he has been tasked with finding these beasts and exposing their plans whatever they may be. But Earl is not the only one with a mystery on their hands. At the very top of the world, Carol Miyagi has stumbled onto an artifact from Earth's past, something magnificent held captive in a prison of ice and snow. Now, Carol and Earl must work quickly to decipher the will of the gods–a plot that defies imagination–and to stop their followers from carrying it out.
They thought the nightmare was over, but they are about to discover that the horror has only just begun.
No Author Comment Available.
Libbie Says 
Not something I'd ever look at and say "hey, I wonder what this one is about" but I know a few people who would. In fact, this one might just give me a few uneasy moments when I walk up through my dark house to go to bed wondering if one of those creepy things are in the shadows. Effective cover. 
Kristina Says 
Is this set in the 70's? The afro having, foxy dress wearing werewolf is funky fresh and kind of silly. That cool cat detective is looks tough and ready to take down the Man. Right On! The cover is gritty and hardcore. That mutant croc is far out! *closes website of 70's slang terms*
The Girl at Midnight (The Girl at Midnight #1) by Melissa Grey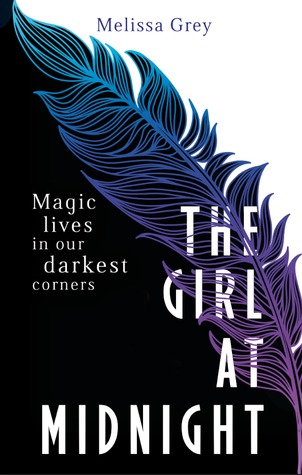 Expected publication: April 28th 2015 by ATOM
Source: Goodreads
Covers in Series
N/A
Beneath the streets of New York City live the Avicen, an ancient race of people with feathers for hair and magic running through their veins. Age-old enchantments keep them hidden from humans. All but one. Echo is a runaway pickpocket who survives by selling stolen treasures on the black market, and the Avicen are the only family she's ever known.
Echo is clever and daring, and at times she can be brash, but above all else she's fiercely loyal. So when a centuries-old war crests on the borders of her home, she decides it's time to act.
Legend has it that there is a way to end the conflict once and for all: find the Firebird, a mythical entity believed to possess power the likes of which the world has never seen. It will be no easy task, but if life as a thief has taught Echo anything, it's how to hunt down what she wants . . . and how to take it.
But some jobs aren't as straightforward as they seem. And this one might just set the world on fire.
No Author Comment Available.
Libbie Says 
Beautiful use of color with the feather and nicely juxtaposed with the extreme black and white at the corners. I could stare at this cover for a long time. Nice touch with the tag line sitting in the black space since it references darkness. 
Kristina Says 
I love how the words are floating through the feather. Very simple and clean looking. I like it.
The Exile (The Fae #1) by C. T. Adams
Expected publication: March 10th 2015 by Tor Books
Source: Goodreads
Covers in Series
N/A
Brianna Hai runs an occult shop that sells useless trinkets to tourists—and real magic supplies to witches and warlocks. The magical painting that hangs in Brianna's apartment is the last portal between the fae and human worlds.
A shocking magical assault on her home reveals to Brianna that her father, High King Liu of the Fae, is under attack. With the help of her gargoyle, Pug, her friend David, and Angelo, a police detective who doesn't believe in magic, Brianna recovers what was stolen from her and becomes an unwilling potential heir to the throne.
A suspenseful urban fantasy with a hint of romance, The Exile is the first solo novel by C. T. Adams, who is half of USA Today bestselling author Cat Adams. Like the Cat Adams Blood Singer novels, The Exile is set in a world where magic is real and contains Adams's trademark blend of suspense, action, humor, and strongly emotional writing.
No Author Comment Available.
Libbie Says 
Going to mark this one down because of the really bad, bad font choice of that floating script "The" which matches nothing else on the cover. Makes me think someone in layout didn't check their font settings before they went to print. The colors are beautiful though, as is the clearly "take no shit" cover model. But I can't get over that scripted The. 
Kristina Says 
I agree that the 'The' is out of place and I almost missed it as its so small. There is no justification for it being a different font here. I do like the cover model. She looks tough and awesome without needing any leather pants.
Hallow Point (Mick Oberon #2) by Ari Marmell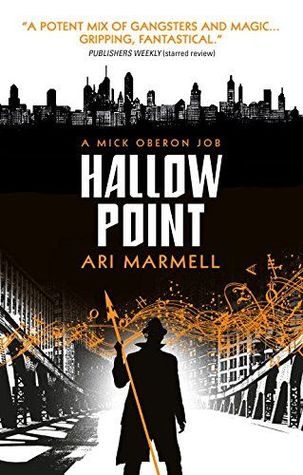 Expected publication: May 12th 2015 by Titan Books
Source: Goodreads
Covers in Series
Chicago, 1932. Mick Oberon may look like just another private detective, but beneath the fedora and the overcoat, he's got pointy ears and he's packing a wand.
Oberon's used to solving supernatural crimes, but the latest one's extra weird. A mobster's daughter was kidnapped sixteen years ago, replaced with a changeling, and Mick's been hired to find the real child. The trail's gone cold, but what there is leads Sideways, to the world of the Fae, where the Seelie Court rules. And Mick's not really welcome in the Seelie Court any more. He'll have to wade through Fae politics and mob power struggles to find the kidnapper–and of course it's the last person he expected.
No Author Comment Available.
Libbie Says 
I can't help it. I'm a sucker for things with a Noir feel, add in Noir with a UF bent and I'm sold. Brilliant use of the single color to balance out the black and white silhouettes. 
Kristina Says 
I love the little shapes and symbols floating across the cover. I like the mix of gangster shadow man and the mystical shapes.
Dreamfire by Kit Alloway
Expected publication: February 24th 2015 by St. Martin's Griffin
Source: Goodreads
Covers in Series
N/A
Joshlyn Weaver has always lived with a big secret. Ordinary kids spend their free time going to the movies, hanging out with friends, and searching on the internet.  But for her, an evening at home usually means entering people's dreams.  For many generations, her family has been part of a very powerful and very secretive society of dream walkers. Tasked with the responsibility of lowering the world's general anxiety—which only leads to war and strife in the waking world—their job has always been to stop nightmares before they go too far.  By stopping nightmares while sleeping, they help to stop nightmares in real life. But when an ancient feud within the dream walker society resurfaces right when a seemingly unconnected series of very strange and very scary events start occurring during her dream walks, Josh finds herself in a race against time. The one true dream walker has never been known. Could she be the one?
No Author Comment Available.
Libbie Says 
Some truly artistically beautiful covers this week. This one is simply gorgeous, the dreamlike-floating image tying to the title, the subtle colors, the font and scrollwork, and the not-quite touching hands. Just looking at this cover makes me want to pick up the book. 
Kristina Says 
Wow. I love the soft colors and the sense that the girl is floating. Also, the color effect on the title font is really nice.
Expected publication: September 23rd 2014 by Orbit
Source: Goodreads
Covers in Series
THE WEREWOLVES HAVE A NEW LEADER…AND HE CANNOT BE STOPPED.
Something is rotten in the state of Wisconsin.
Werewolf packs are being united and absorbed into an army of super soldiers by a mysterious figure who speaks like an angel and fights like a demon. And every Knight Templar—keepers of the magical peace between mankind and magickind—who tries to get close to this big bad wolf winds up dead. No knight can infiltrate a group whose members can smell a human from a mile away…no knight except one.
John Charming. Ex knight. Current werewolf. Hunted by the men who trained him, he now might be their only salvation. But animal instincts are rising up to claim John more powerfully than ever before, and he must decide if this new leader of wolves is a madman…or a messiah.
DARING is the second novel in an urban fantasy series which gives a new twist to the Prince Charming tale.
Short Fiction in the Pax Arcana world:
Charmed I'm Sure
Don't Go Chasing Waterfalls
Pushing Luck
Surreal Estate
Dog-Gone
No Author Comment Available.
Libbie Says 
Follows the other cover from the series well, and yeah, sword placement is a little on the phallic side, but I don't know if you can have any guy holding a sword and not go there. Nice effect with the smoke/mist at the bottom. 
Kristina Says 
We are on a roll this week with mostly fully covered models! I like the stylized 'D' although I wonder what the non-daring princes are doing while the daring ones are out there finding princesses to rescue. Creating a stock portfolio?
Corruption (Disruption #2) by Jessica Shirvington
Expected publication: November 20th 2014 by HarperCollins Australia
Source: Goodreads
Covers in Series
How do you live with yourself
when you've deceived the one you love?
How do you move on when the person
you've been fighting to save betrays you?
Two years ago, Maggie Stevens began the hunt.
Four weeks ago, Maggie's world fell apart, when she finally
found what she'd been looking for. And when Quentin,
who had blindly trusted her, unravelled her web of lies.
Now, Maggie lives in the dark. But she's not about to stay there.
Not when she still has to bring M-Corp down.
Not when there is still a chance she could win him back.
In the exhilarating conclusion to Disruption, Maggie must do
whatever it takes to show the world the truth.
And the price for her quest?
Everything.
No Author Comment Available.
Libbie Says 
Very interesting use of grayscale and silhouettes and I'm immediately wondering how the UPC codes relate to the story. Beautifully drawn and the illusion of a glare bisecting the cover itself is a nice touch. 
Kristina Says 
Nice illustration and those barcodes are interesting. I appreciate the fact that they don't get in the way of the image.

And our picks for Best & Worst covers of the week…
Best
Worst
---
Have a cover we should include in an upcoming post? Fill out our Cover Submit form