We do our best to only accept books for review that we think we will enjoy, but it is impossible to safeguard 100% against bad reads.  These are the books we Did Not Finish (DNF). We do not give up on books lightly.  In fact we hate not finishing a book, even a bad book, but there are times when for one reason or another, we just can't bring ourselves to reach the end.  We'll be posting them when we collect a few DNF reads once or twice a year depending.
Copied
by S.M. Anderson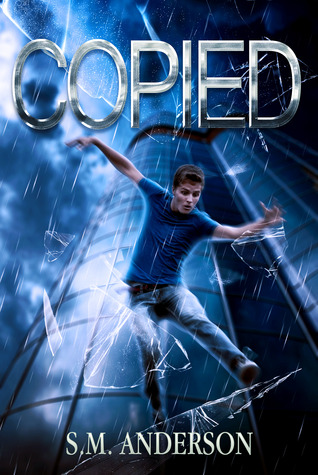 Adopted off the black market, Alexander Mitchell, has no idea his DNA is copyrighted and property of military weapons giant Texacom Defense. Nor that his DNA is being used to develop an army of clones. When the company discovers he was not properly disposed of 17 years ago, they send an assassin copy, BETA23, to terminate Xan and cover it up.
After he narrowly escapes BETA23's first attempt, Xan teams up with Lacey, a genetically engineered genius he's surprised to find common ground with— only they're awkward together. Half of the time she stares at Xan like the science project he is and the other half…let's just say Xan can't keep his eyes off her lips.
When they manage to capture a company copy by luck and sheer stupidity on Xan's part, Lacey is determined to see the good in their prisoner to the point she believes BETA23 can be persuade to give them the intelligence they need to keep the company forever off Xan's back. Xan's not sure if he can trust the darker version of himself, not when it means gambling with the lives of his family and the possibility of losing Lacey.
COPIED rather unfortunately lives up to its title. It's not plagiarized, but it's hardly original either. The writing is very exposition-heavy, but what made it hard for me to continue reading was that everything happens so fast – there's no time to set the scene, no chance to understand who the characters are before everything is thrown at them, and jumping from scene to scene with no bridge made me dizzy. In just twenty pages the protagonist gets popcorn at the movies, has an altercation with a girl, gets sick in the bathroom, wakes up in a burning barn, wakes up again in the hospital, and accidentally overhears that he might be adopted.
-Megan
Dust (Silo, #3)
by Hugh Howey
In a time when secrets and lies were the foundations of life, someone has discovered the truth. And they are going to tell.
Jules knows what her predecessors created. She knows they are the reason life has to be lived in this way.
And she won't stand for it.
But Jules no longer has supporters. And there is far more to fear than the toxic world beyond her walls.
A poison is growing from within Silo 18.
One that cannot be stopped.
Unless Silo 1 step in.
I love the Silo series but listening to the audiobook of DUST just didn't do it for me. Unfortunately, what could have been a really awesome experience fell flat due to a rather monotone narrator. Jules sounded way too much like a boy for my taste, and it was hard to distinguish the voices of the various characters. That made it way too hard to get into the story and hold my interest.
-Kate
Ghost Seer (Ghost Seer,#2)
by Robin D. Owens
There's just something about Clare. Apart from the ghosts……
When her eccentric aunt passes away, no-nonsense accountant Clare Cermac inherits more than just a small fortune. She receives the gift of communicating with ghosts. While Clare may not believe in spirits, it's hard to overlook the shadowy talking dog appearing on her bed or spectral cowboys tipping their hats to her in the streets of Denver. And when she locks eyes with sexy—and living—Zach Slade, there's certainly no ignoring him either.
A former deputy sheriff, Zach is leaving a painful past behind in Montana for a new life in Denver as a private investigator, a job that has him crossing paths with beautiful Clare. Not that she minds. After the restless ghost of a Wild West gunman demands her assistance, Clare finds herself needing Zach more and more—and not just for help.
When I stop reading to look the book up to make sure – again – that the book wasn't self-published, I know it's only a matter of time. I wanted to like the story and it had some meat to it, and an interesting Old-West twist in there, but the massacre of the English language was just too much of a hurdle. Either the author needs an editor, or needs to listen to the one she has. Random thoughts in the middle of exposition, repetitive wording and one memorable dialogue/descriptive passage that had my eyes, and those of my friends, bleeding.
-Libbie
Dangerous Creatures (Dangerous Creatures, #1)
by Kami Garcia and Margaret Stohl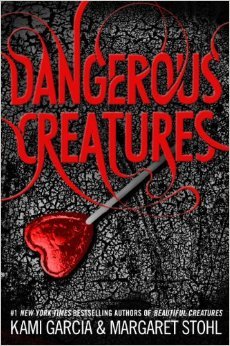 A new series returns to the world of Beautiful Creatures. Some loves are cursed…others are dangerous.
Ridley Duchannes will be the first to tell you that she's a bad girl. She's Dark. She's a Siren. You can never trust her, or even yourself when she's around. Lucky for her, Wesley "Link" Lincoln can never seem to remember that; quarter Incubus or not, his heart is Mortal when it comes to Ridley. When Link heads to New York City to start a music career, Ridley goes along for the ride-and she has her own reasons. As if leaving small-town Gatlin for the big city, trying to form a band, and surviving life with a partially reformed Siren isn't hard enough already, Link soon learns he has a price on his head that no Caster or Mortal can ever pay.
Kami Garcia and Margaret Stohl, the #1 New York Times bestselling coauthors of Beautiful Creatures, are back and casting another magical spell. Their signature mixture of mystery, suspense, and romance, along with a dash of fun and danger, will pull fans in and leave them begging for more..
Dangerous Creatures is the first book in a spin-off of the Beautiful Creatures series which is not a good thing for someone who hasn't read the Beautiful Creatures series. I really had trouble picking up on who was who and who was what. I would have liked some better explanation as to the world building which would have eased my confusion. Also, I just couldn't get into the plot or figure out what the plot even was. Most of the beginning was just conversation between characters I didn't know with apparent abilities I didn't understand. I gave it a good try but just couldn't get into the story or relate to the characters.
-Kristina