Omnibuses and compendium's abound, from C. C. Hunter's SHADOW FALLS: THE NEXT CHAPTER, which includes books 3 and 4 of the series, to Amanda Hocking's TRYLLE: THE COMPLETE TRILOGY.
 If you're a blogger interested in joining in on the commenting fun, fill out our Guest Commentator form here!
Shifter Mates by Jennifer Ashley
Expected publication: March 3rd 2015 by Berkley
Source: Goodreads
Covers in Series
N/A
This print anthology combines the stories of Lone Wolf (Ellison and Maria) and Feral Heat (Jace and Deni).
No Author Comment Available.
Megan Says 
I agree with Kristina that it looks like his fly is open, but otherwise it's fine for what it is. At least he has a head. 
Kristina Says 
It's actually not too bad except that it looks like his fly is open. He isn't posing for the camera flexing to show his horrible tat because he doesn't have one! The composition is well done and fits with the fact that this anthology features different types of shifters.
The Dangers of Dating a Rebound Vampire (Half Moon Hollow #3) by Molly Harper
Expected publication: March 31st 2015 by Pocket Books
Source: Goodreads
Covers in Series
In the next book in Molly Harper's beloved Half Moon Hollow paranormal romance series, Gigi starts her first job (at Vampire Headquarters), gets over her first love, and may even fall for her first vampire!
Gigi is no longer an innocent teen. All grown up and looking for love, her family and friends worry she'll go for the sexy, alluring vampire instead of a nice, safe human. But sexy and alluring, with a penchant for biting, could be just what Gigi wants…
No Author Comment Available.
Megan Says 
What exactly is a rebound vampire? It looks more like he's a recovering vampire – recovering from a lobotomy. This cover might have been saved if not for the terrible photoshop on his eyes.
Kristina Says 
He looks mentally ill or on some drug. The girl does not look like she wants to be there much less date him. I feel like his name is Cletus and he owns a banjo that he plays in the woods on occasion with his brother cousin. 
Earth & Sky (Earth & Sky #1) by Megan Crewe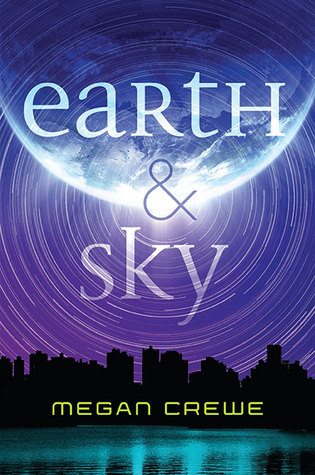 Expected publication: October 28th 2014 by Razorbill Canada
Source: Goodreads
Covers in Series
N/A
Seventeen-year-old Skylar has been haunted for as long as she can remember by fleeting yet powerful sensations that something is horribly wrong. But despite the panic attacks tormenting her, nothing ever happens, and Sky's beginning to think she's crazy. Then she meets a mysterious, otherworldly boy named Win and discovers the shocking truth her premonitions have tapped into: our world no longer belongs to us. For thousands of years, Earth has been at the mercy of alien scientists who care nothing for its inhabitants and are using us as the unwitting subjects of their time-manipulating experiments. Win belongs to a rebel faction seeking to put a stop to it, and he needs Skylar's help–but with each shift in the past, the very fabric of reality is unraveling, and soon there may be no Earth left to save.
No Author Comment Available.
Megan Says 
I like the earth, and the skyline, I'm just not sure about the swirly bit in the middle. It looks like time lapse photography, but nothing else on the cover has that kind of movement, so it seems awkward to me. 
Kristina Says 
I love the colors and the awesome vortex of light overlapping the moon.
Purr-fect Mating by Sheryl Winters
Published July 21st 2014 by Roane Publishing
Source: Goodreads
Covers in Series
N/A
Fhina and Wulfar have a little problem.
On their wedding night, at the stroke of midnight, Wulfar changes into his shifted wolf form and cannot shift back. Not even to communicate with the woman he loves.
Fhina upon waking the day after their mating, no longer recognizes her mate. Pregnant and confused, she's convinced herself that her mate has run away and left her to live alone. With his dog.
Can they find a counter charm before Fhina gives birth? Will Wulfar be able to curb his inclination to run?
Or will their mutual curses break their love before it's really even started.
No Author Comment Available.
Megan Says 
Ow, my eyes. All the romance novel cliches congealed here, and I still have no idea what's going on. 
Kristina Says 
It looks like they had many ideas for this book cover and just decided to throw them all haphazardly onto one cover.
Shadow Falls: The Next Chapter (Shadow Falls #3 – 4) by C. C. Hunter
Expected publication: October 28th 2014 by St. Martin's Griffin
Source: Goodreads
Covers in Series
Now available together for the first time, don't miss books three and four in C. C. Hunter's spectacular Shadow Falls series!
Even at a camp for supernatural teens, Kylie Galen has never been normal, and the more she discovers about her true identity, the more she wants to know. The truth about who her real family is, the truth about which boy she's meant to be with—and the truth about what her emerging powers mean. But she's about to discover that some secrets can change your life forever…and not always for the better.
Just when she and Lucas are finally getting close, she learns that his pack has forbidden them from being together.  Was it a mistake to pick him over Derek? And it's not just romance troubling Kylie. An amnesia-stricken ghost is haunting her, delivering the frightful warning, someone lives and someone dies. As Kylie races to unravel the mystery and protect those she loves, she finally unlocks the truth about her supernatural identity, which is far different—and more astonishing—than she ever imagined.
No Author Comment Available.
Megan Says 
The literal shadow on the falls falls flat since it's artificial, and the 2 books in 1 thing just clutters up the cover. I have no clue what the paranormal element in this book is.
Kristina Says 
It's a nice image but it looks like its promoting the coming book and is not the actual book cover. There is something off about this cover that I can't really put my finger on to explain why I don't really like it.
Beastkeeper by Cat Hellisen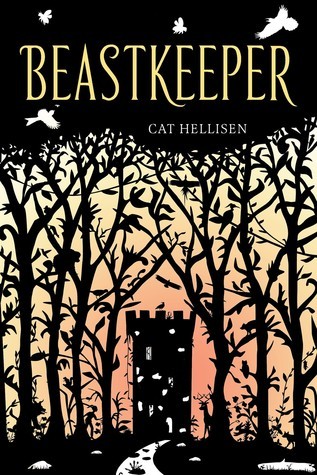 Expected publication: February 3rd 2015 by Henry Holt and Co.
Source: Goodreads
Covers in Series
N/A
Sarah has always been on the move. Her mother hates the cold, so every few months her parents pack their bags and drag her off after the sun. She's grown up lonely and longing for magic. She doesn't know that it's magic her parents are running from.
When Sarah's mother walks out on their family, all the strange old magic they have tried to hide from comes rising into their mundane world. Her father begins to change into something wild and beastly, but before his transformation is complete, he takes Sarah to her grandparents—people she has never met, didn't even know were still alive.
Deep in the forest, in a crumbling ruin of a castle, Sarah begins to untangle the layers of curses affecting her family bloodlines, until she discovers that the curse has carried over to her, too. The day she falls in love for the first time, Sarah will transform into a beast . . . unless she can figure out a way to break the curse forever.
No Author Comment Available.
Megan Says 
Simple, but still expressive, and I love the animal silhouettes that are hidden in the trees. 
Kristina Says 
I like the paper cutout look. If you look closer you can pick out the different shapes of animals.
Trylle: The Complete Trilogy (Trylle #1 – 3) by Amanda Hocking
Expected publication: January 6th 2015 by St. Martin's Griffin
Source: Goodreads
Covers in Series
Discover the magical world of the Trylle with the complete New York Times bestselling Trylle trilogy together in one volume for the first time!
When Wendy Everly was six years old, her mother was convinced she was a monster and tried to kill her. Eleven years later, Wendy discovers her mother might have been right. She's not the person she's always believed herself to be, and her whole life begins to unravel—all because of Finn Holmes.
Finn is a mysterious guy who always seems to be watching her. Every encounter leaves her deeply shaken…though it has more to do with her fierce attraction to him than she'd ever admit. But it isn't long before he reveals the truth: Wendy is a changeling who was switched at birth—and he's come to take her home.
Now Wendy's about to journey to a magical world she never knew existed, one that's both beautiful and frightening. And where she must leave her old life behind to discover who she's meant to become…
No Author Comment Available.
Megan Says 
The color contrast doesn't work for me, and there's something off about the perspective on the model between her arms and her hips. 
Kristina Says 
We have a lot of multiple books in one this week. I like the vibrant red sky and the orange colors. Lots of intensity in this cover.
Night Sky (Night Sky #1) by Suzanne Brockmann & Melanie Brockmann
Expected publication: October 7th 2014 by Sourcebooks Fire
Source: Goodreads
Covers in Series
N/A
In Night Sky, sixteen-year-old Skylar Reid is thrown into a strange world when she discovers that she has unique telekinetic and telepathic powers. After Sasha, the child she babysits, is kidnapped and believed to be murdered, Sky and her best friend Calvin are approached by Dana, a mysterious girl who has super-abilities similar to Sky's. With the help of Dana and her sidekick Milo, the four teens — two from the rich part of town, and two living hand-to-mouth on the streets — embark on a quest to discover who killed Sasha, and to bring the killers to justice.
With Dana as Skylar's surly and life-toughened mentor, Sky attempts to harness her powers to aid them in their quest. Complicating an already complex relationship with the older girl, Sky starts to fall for the dangerously handsome and enigmatic Milo–and begins to suspect that the attraction is mutual. But then Sky realizes that Sasha might still be alive, and the unlikely foursome's mission becomes one of search and rescue, pitting the heroic teens against a very deadly enemy.
Night Sky is the first book in a YA trilogy set in the same dark future as Suzanne Brockmann's Born to Darkness, a New York Times bestselling hardcover, published last year as the first installment in her Fighting Destiny series. Night Sky has the same mix of suspense, romance, humor, and the paranormal, and deals with many of the same themes, including society's relentless exploitation and devaluation of females, and the empowerment that comes when women and girls recognize their strength and intellect, and stand up, fight back, and save the day.
No Author Comment Available.
Megan Says 
I like the tough-clique vibe, though I agree with Kristina, the angle doesn't quite work. Also, for a book called 'Night Sky,' maybe there should be, you know, a night sky. 
Kristina Says 
Why are they all leaning to one side. I appreciate the use of a dutch angle (movie camera shot) but I don't get it here. They aren't connected to the background because they don't seem to be responding to the explosion in the corner there.
Stone in the Sky (Tin Star #2) by Cecil Castellucci
Expected publication: February 24th 2015 by Roaring Brook Press
Source: Goodreads
Covers in Series
In this thrilling follow-up to Tin Star, Tula will need to rely on more than just her wits to save her only home in the sky.
After escaping death a second time, Tula Bane is now even thirstier for revenge. She spends much of her time in the Tin Star Café on the Yertina Feray—the space station she calls home. But when it's discovered that the desolate and abandoned planet near the station has high quantities of a precious resource, the once sleepy space station becomes a major player in intergalactic politics. In the spirit of the Gold Rush, aliens from all over the galaxy race to cash in—including Tula's worst enemy.
No Author Comment Available.
Megan Says 
It reminds me of young adult books from my childhood, like Ella Enchanted, and I really dig that painted look. It's a little unfortunate that the Death Star seems to be hanging behind her… 
Kristina Says 
That's not a stone star that's the Death Star! I like the shot of the night sky and how some of the yellow leaves kind of mirror the shooting star zooming by in a blur.
The Immortal Who Loved Me (Argeneau #21) by Lynsay Sands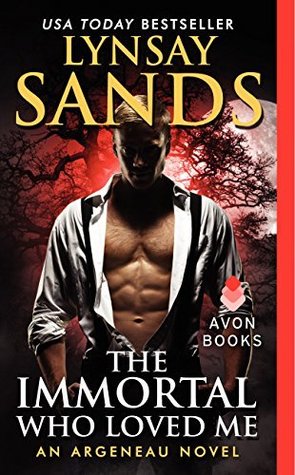 Expected publication: February 24th 2015 by Avon Books
Source: Goodreads
Covers in Series
A few hours ago, Sherry Carne would have sworn that vampires didn't exist. That's before rogue immortals rampage through her store, leaving bloody chaos (literally) in their wake. The kicker comes when Sherry learns that one of the vamps on the bad guys' trail may be her life mate. Her head says it's impossible. The rest of her takes one look at Basileios Argeneau, and has much more interesting ideas. Whatever Basil expected in a life mate, funny, outspoken Sherry isn't it. But mind-blowing chemistry and instinct don't lie. They tell him something else too – that Sherry's connection to the immortal world goes deeper than she knows. And that she's in the kind of danger only Basil can save her from – if she'll just trust him, now and forever…
No Author Comment Available.
Megan Says 
Um, I think he has muscles where there are no muscles on the human body. Otherwise t's sort of classic in a romance cover way, so I don't hate it. 
Kristina Says 
*falls off chair* Is that chest hair on a cover model?! Wait, no its not. Darn. It looks like some veiny scar or a tattoo. Its a decent cover but I feel like I've seen it many times before.
Mercy Mode (Contaminated #2) by Em Garner
Expected publication: August 26th 2014 by EgmontUSA
Source: Goodreads
Covers in Series
A gripping survival story, the second in a series by a best-selling author, of a strong girl rebuilding her life in a post-apocalyptic society where a contaminated drink makes victims act like zombies; just right for fans of James Dashner, Carrie Ryan, and The Walking Dead.
Seventeen-year-old Velvet, her little sister, Opal, their mom, who is recovering from the Contamination, and Velvet's sweet boyfriend, Dillon, are attempting to build a new life amid the rationing and regulations of the post-outbreak nation. But the outbreak isn't over: more people turning into "Connies," more madness erupting, more killings occurring. And what they are being told is not the truth; the truth is far darker and more threatening.
No Author Comment Available.
Megan Says 
Eh. The colors are pretty, but I'm not sure what the ribbons are supposed to represent. And I've seen too many covers stare back at me to be swayed by this one. 
Kristina Says 
I like the color combinations. It looks almost peaceful and clean; a drastic contrast from the previous book with its grimy yellow and dirty image of the hand.

And our picks for Best & Worst covers of the week…
Best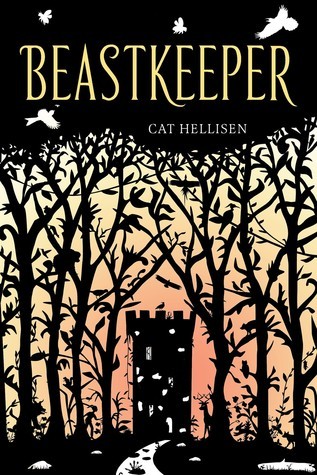 Worst
---
Have a cover we should include in an upcoming post? Fill out our Cover Submit form