Kick ass heroines, movie-poster-perfect covers, and a glimpse of the next Karen Marie Moning book, what more could we ask for on a Wednesday afternoon?
 If you're a blogger interested in joining in on the commenting fun, fill out our Guest Commentator form here!
Expected publication: March 3rd 2015 by Roc
Source: Deadline Dames
Covers in Series
Return to national bestselling author Devon Monk's heartpounding House Immortal series, where eleven powerful Houses control the world and all its resources. But now, the treaty between them has been broken, and no one—not even the immortal galvanized—is safe….
Matilda Case isn't normal. Normal people aren't stitched together, inhumanly strong, and ageless, as she and the other galvanized are. Normal people's bodies don't hold the secret to immortality—something the powerful Houses will kill to possess. And normal people don't know that they're going to die in a few days.
Matilda's fight to protect the people she loves triggered a chaotic war between the Houses and shattered the world's peace. On the run, she must find a way to stop the repeat of the ancient time experiment that gifted her and the other galvanized with immortality. Because this time, it will destroy her and everything she holds dear.
Caught in a cat-and-mouse game of lies, betrayal, and unseen foes, Matilda must fight to save the world from utter destruction. But time itself is her enemy, and every second brings her one step closer to disaster….
"The artist is Eric Williams, and I think he did a fabulous job giving us a kick ass, stitched up, take-no-prisoners cover." – Devon Monk
Kate Says 
I like the combo of colors on book one better, but this one is pretty awesome. Reasonable clothing, badass weapons, and not posed all funny. Great! 
Julia Says 
The setting and her outfit gives me a strong Firefly vibe (squee!), and the stitches are subtle and well done.  This is definitely a badass heroine I look forward to reading about.
Apocalypse Now Now by Charlie Human
Published July 16th 2013 by Umuzi (Random House)
Source: Goodreads
Covers in Series
N/A
Baxter Zevcenko is your average 16-year-old-boy. If by average you mean kingpin of a porn-peddling schoolyard syndicate, and a possible serial killer who suffers from weird historical dreams.
Baxter is the first to admit that he's not a nice guy. After all, high school IS a gaping, icy abyss and Baxter is not about to allow anybody to drag him down. That is until his girlfriend, Esme, is kidnapped and the clues point toward supernatural forces at work. Faced with navigating the increasingly bizarre landscape of Cape Town's supernatural underworld, Baxter turns to the only person drunk enough to help: bearded, booze-soaked, supernatural bounty hunter, Jackson "Jackie" Ronin.
On a mission that takes them through the realms of possibility, they face every conceivable nightmare to rescue Esme, including the odd brush with the Apocalypse.
No Author Comment Available.
Kate Says 
I can't tell how I feel about this one. It's a little busy, but also not too busy, somehow. I'm not a huge fan of his smile, but I really can't pinpoint any reason I don't really like this one. 
Julia Says 
This is certainly a freaky cover with a retro vibe, and I like the image a hell of a lot more than I like the title.
Mechanica by Betsy Cornwell
Expected publication: August 4th 2015 by Clarion Books
Source: Goodreads
Covers in Series
N/A
Nicolette's awful stepsisters call her "Mechanica" to demean her, but the nickname fits: she learned to be an inventor at her mother's knee. Her mom is gone now, though, and the Steps have pushed her into a life of dreary servitude. When she discovers a secret workshop in the cellar on her sixteenth birthday—and befriends Jules, a tiny magical metal horse—Nicolette starts to imagine a new life for herself. And the timing may be perfect: There's a technological exposition and a royal ball on the horizon. Determined to invent her own happily-ever-after, Mechanica seeks to wow the prince and eager entrepreneurs alike.
No Author Comment Available.
Kate Says 
I love this! It could be a movie poster, it's so dreamy and fits the description really well. 
Julia Says
I love the cover a lot more than I like the description (CINDER is going to be a hard steampunk Cinderella to follow).  This cover, though, wow.  Like Kate says, it's movie-poster, suck-you-right-in perfect.
The Eterna Files by Leanna Renee Hieber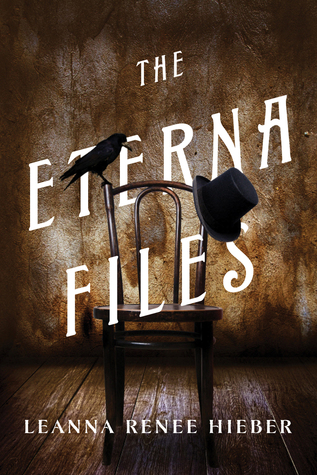 Expected publication: February 3rd 2015 by Tor Books
Source: Goodreads
Covers in Series
N/A
Imagine The X-Files meets Jim Butcher's Harry Dresden series and set in Victorian London and New York City–welcome to The Eternal Files,written by Leanna Renee Hieber, "the brightest new star in literature"(True-Blood.net)
London, 1882: Queen Victoria appoints Harold Spire of the Metropolitan Police to Special Branch Division Omega. Omega is to secretly investigate paranormal and supernatural events and persons. Spire, a skeptic driven to protect the helpless and see justice done, is the perfect man to lead the department, which employs scholars and scientists, assassins and con men, and a traveling circus. Spire's chief researcher is Rose Everhart, who believes fervently that there is more to the world than can be seen by mortal eyes.
Their first mission: find the Eterna Compound, which grants immortality. Catastrophe destroyed the hidden laboratory in New York City where Eterna was developed, but the Queen is convinced someone escaped—and has a sample of Eterna.
Also searching for Eterna is an American, Clara Templeton, who helped start the project after the assassination of Abraham Lincoln nearly destroyed her nation. Haunted by the ghost of her beloved, she is determined that the Eterna Compound—and the immortality it will convey—will be controlled by the United States, not Great Britain.
No Author Comment Available.
Kate Says 
Would have been a total thumbs up if the bird wasn't in front of the writing. Distracting and makes it hard to read, which makes it hard to grab somebody's attention from a distance. 
Julia Says 
I like all the elements here, but I think they had a little more tweaking to go.  The way the raven overlaps with the title detracts from both items.  Perhaps he needs to be bigger?  More contrast to highlight his face?  And the author's name looks a little lonely down there.  As Kate said, a few slight changes and this one would have been a thumbs up.
Expected publication: October 7th 2014 by Skyscape
Source: Goodreads
Covers in Series

With Juri in control and everything in absolute chaos, Lela plunges into the depths of hell to free Malachi from creatures that have waited decades to exact their revenge. But the Judge has her own way of doing things, and Lela must work with Ana, the new Captain, who has a very personal mission of her own. Together, they infiltrate the most horrifying realm either has yet encountered in the Shadowlands… the bitter landscape ruled by the Mazikin.
The stakes could not be higher, and Lela must accept the help (and love) of people she barely knows or trusts. As alliances and loyalties shift and she realizes the soul she came to save isn't the only one in need of rescue, can Lela summon the strength to see the fight through to the very end?
No Author Comment Available.
Kate Says 
Clearly part of the series. I like the stars behind the title, but the three sections feel really disparate and don't blend well. 
Julia Says 
Oh boy.  Just as a cover can look like a great movie poster, it can also look like a terrible game cover.  The cover model looks like CGI, the lighting and those chairs look cheesy, there's nothing here that I'd be tempted to pick up.
Cold Burn of Magic (Black Blade #1) by Jennifer Estep
Expected publication: April 28th 2015 by K-Teen
Source: Goodreads
Covers in Series
N/A
THERE BE MONSTERS HERE…
It's not as great as you'd think, living in a tourist town that's known as "the most magical place in America." Same boring high school, just twice as many monsters under the bridges and rival Families killing each other for power.
I try to keep out of it. I've got my mom's bloodiron sword and my slightly illegal home in the basement of the municipal library. And a couple of Talents I try to keep quiet, including very light fingers and a way with a lock pick.
But then some nasty characters bring their Family feud into my friend's pawn shop, and I have to make a call—get involved, or watch a cute guy die because I didn't. I guess I made the wrong choice, because now I'm stuck putting everything on the line for Devon Sinclair. My mom was murdered because of the Families, and it looks like I'm going to end up just like her…
No Author Comment Available.
Kate Says 
Hard to divorce excitment over the author name from the cover, but this cover has a lovely color combo, and I really like the silhoutte combined with the slight depth in the trees. Really cool looking. 
Julia Says 
The title treatment is pretty awesome, but the stark outline of her legs and the trees detracts from enjoying it.  The balance of "sharp silhouette" to the rest of the cover elements is off…
Demon Storm (Belador #5) by Dianna Love
Expected publication: October 20th 2014 by Pocket Books
Source: Goodreads
Covers in Series
With Treoir Island in shambles after a Medb attack that left the survival of the missing Belador warrior queen in question and Belador powers compromised, the Beladors have one hope for their queen's return and their own future: Evalle Kincaid, whose recent transformation has turned her into an even more formidable warrior. First Evalle has to locate Storm, the Skinwalker she's bonded with who she believes can find the Belador queen, but Storm stalks the witch doctor threatening Evalle's life. The hunter becomes the hunted, and Evalle must face her greatest nightmare to save Storm and the Beladors-or watch the future of mankind fall to deadly preternatural predators…
No Author Comment Available.
Kate Says 
So sterotypical. The glasses are a nice touch, I suppose. 
Julia Says 
I would have liked this cover better with either more or less Jaguar, the way the fur blends with the rest of the background is distracting.
Undead and Unwary (Undead #13) by MaryJanice Davidson
Expected publication: October 7th 2014 by Berkeley Hardcover
Source: Goodreads
Covers in Series
Vampire queen Betsy "don't call me Elizabeth" Taylor is back – and there's going to be Hell to pay – in MaryJanice Davidson's New York Times bestselling series . . .
Following on from Undead and Unsure, Betsy Taylor is back in the hit paranormal series chock full of wit, sass and a little bit of romance……
No Author Comment Available.
Kate Says 
What's up with the awful red background? Ugh. 
Julia Says 
I've never been a big fan of the fashionista/Andy Warhol look of second half of this series, but from what I've read in the descriptions, it's a good fit for Queen Betsy's style.
Binding Ties (Sentinel Wars #9) by Shannon K. Butcher
Expected publication: March 3rd 2015 by Signet
Source: Goodreads
Covers in Series
They are the Sentinels. Three races descended from ancient guardians of mankind, each possessing unique abilities in their battle to protect humanity against their eternal foes: the Synestryn. Now a warrior must protect his onetime enemy—without succumbing to his darkest desires. 
Lyka Phelan is a Slayer, sent to live among her enemy to guarantee lasting peace with the Theronai. Yet she has a secret—and it could make her a slave to their power. But when a pack of Synestryn destroys her home and captures her packmates, Lyka realizes her freedom is a small price to pay for the safety of her people. So she strikes a bargain with the leader of the Theronai—one that reveals her true identity and binds her to him forever.
Joseph thought he knew better than to tangle with the beautiful, hot-blooded Lyka. One misstep could send their races straight back to war. But now he has no choice other than to help her. Forced to protect her with his life, Joseph finds himself increasingly drawn to Lyka. As they risk everything in their fight against the demons, he realizes he must convince her to surrender to him completely—otherwise she will never truly be his.
No Author Comment Available.
Kate Says 
Kristina is not commenting, so I will make a comment about that terrible tattoo for her. How could they! It's a tree. A giant tree tattoo. This is not what we mean when we say stop with the tribal tattoos, people. 
Julia Says 
"Got body odor so funky plants grow out of it?  Old Spice will weed wack you right back into studdliness!" Ok, clearly marketing isn't my thing, but neither is this cover.  This is a cliche PNR cover, but one I would find less offensive without the tree growing out of his armpit.
Hunter Reborn (Moon Shifter #5) by Katie Reus
Expected publication: February 3rd 2015 by Signet
Source: Goodreads
Covers in Series
The thrilling new Moon Shifter novel from New York Times bestselling author Katie Reus.
Losing her was the hardest thing he'd ever endured…
Warrior shifter Aiden's investigation of the trafficking of vampire blood leads to a startling discovery: the beautiful vampire bondmate he thought was dead. Decades ago, they'd defied their powerful families to be together, but then Larissa disappeared without a trace. When their mating link broke, it nearly destroyed Aiden. Now she's back with no memory of where she's been. Even more shattering—Larissa claims she has no idea who Aiden is.
Now she's back…
It's a race against time to bring down an operation more evil than his pack ever suspected, and Aiden finds himself working side by side with a mate who no longer trusts him—and she wants out. But he lost her once, and he won't let her go again. Unfortunately, Larissa's blood is the key to a powerful monster's dangerous plan—and he'll stop at nothing to destroy her, sparking off a war between the supernaturals and humans that no one will win.
No Author Comment Available.
Kate Says 
Another normal human pose! I love how the title really stands out, but the yellow may be a bit too much. Also, the magic in her hand kind of blends in with the background and I had to look twice before I saw her left arm, which is not something you want to be missing. 
Julia Says 
I'd like this cover so much more without that pee-yellow title block right at her crotch.
Burned (Fever #7) by Karen Marie Moning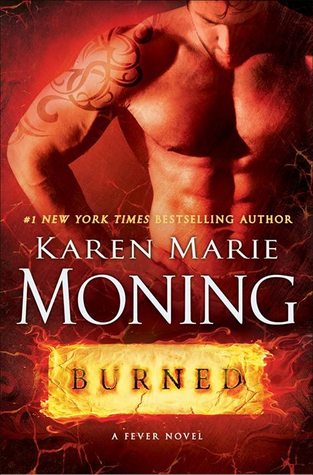 Expected publication: January 20th 2015 by Delacorte Press
Source: Goodreads
Covers in Series
MacKayla Lane and Dani "Mega" O'Malley are back with a vengeance inBurned, the seventh novel in the blockbuster Fever series from #1 New York Times bestselling sensation Karen Marie Moning.
No Author Comment Available.
Kate Says 
I know everybody is likely excited for this book, but aside from the title treatment, I can't get behind this cover. I mean, it's a half naked guy with tattoos….I think we already discussed my feelings about those. 
Julia Says 
Tribal tattoos (boo), but I like the color wash and the lighting, oh who am I kidding, JUST GIMME!  I DON'T CARE WHAT IT LOOKS LIKE, SWEET MOTHER OF GOD JUST PUBLISH IT ALREADY!

And our picks for Best & Worst covers of the week…
Best
Worst
---
Have a cover we should include in an upcoming post? Fill out our Cover Submit form