If you're a blogger interested in joining in on the commenting fun, fill out our Guest Commentator form here!
The Gifted Dead by Jenna Black
Expected publication: September 23rd 2014 by Aardwolf Press
Source: Goodreads
Covers in Series
N/A
Politics and magic make dangerous bedfellows.
Deep within the Order, the seeds of corruption have taken root. While younger generations of the Gifted have embraced modern democratic values, a secret society of old-guard zealots seek a return to the past, when only European men of distinguished bloodlines held power.
Now, three venerable European families and a maverick American each plot to seize control of the Order and shape it to their will. A cutthroat game of political intrigue will decide the winner; and the stakes couldn't be higher, for ruling the Order carries with it the power to grant—or deny—an afterlife.
What begins as a battle of wills could turn into an all-out war. And magic could prove deadlier than any missile.
No Author Comment Available.
Megan Says 
I love the mix of textures between the fabric and the dirt, as well as the subtlety of the dragon. It looks like you could just reach out and touch it. 
Julia Says 
Simple and effective, I like how this cover looks like an ancient banner.  A little plain, though.
Publisher
Source: Goodreads
Covers in Series
WARNING! Contains major spoilers for WORDLESS, Book One of the Words Made Flesh series:
When Tavin Barnes escaped Eden City with Khaya, the Word of Life, he went from being a wordless trash collector to the world's most wanted fugitive overnight. His instantaneous rise to infamy was no great surprise considering the Words Made Flesh, Khaya included, were the basis of Eden City's tremendous political power. What he never expected, when finally captured, was to be punished with the ultimate curse: becoming the next Word of Death.
With his new power, Tavin can kill with a touch, and Eden City's leadership now expects him to behave like the elite assassin he is–whether he wants to or not. The luxuries of life as a Word are little consolation, since Tavin knows he's only a glorified prisoner and he fears Khaya, wherever she is, will never look at him again once she finds out how much blood is on his hands. To save himself and the world from the Eden City's plots, he must rely on his wits, his fellow Words, and the death-touch he's still learning to control… if it doesn't destroy him first.
No Author Comment Available.
Megan Says 
The repetition of the title looks more like a watermark than an echo, and the font looks a bit amateurish. Points for consistency with the cover of the first novel.
Julia Says 
I'm not a fan of the cover style for this series, too stark and photoshopped.
The Girl and the Clockwork Cat by Nikki McCormack
Expected publication: September 2nd 2014 by Entangled Teen
Source: Goodreads
Covers in Series
N/A
Feisty teenage thief Maeko and her maybe-more-than-friend Chaff have scraped out an existence in Victorian London's gritty streets, but after a near-disastrous heist leads her to a mysterious clockwork cat and two dead bodies, she's thrust into a murder mystery that may cost her everything she holds dear.
Her only allies are Chaff, the cat, and Ash, the son of the only murder suspect, who offers her enough money to finally get off the streets if she'll help him find the real killer.
What starts as a simple search ultimately reveals a conspiracy stretching across the entire city. And as Maeko and Chaff discover feelings for each other neither was prepared to admit, she's forced to choose whether she'll stay with him or finally escape the life of a street rat. But with danger closing in around them, the only way any of them will get out of this alive is if all of them work together.
No Author Comment Available.
Megan Says 
It's not terrible, but it's off-putting for me. The cat looks really creepy, and what we can see of the girl makes her look like an escapee from a grunge concert, rather than a Victorian street urchin. 
Julia Says 
I have a hard time making out the individual elements of this picture.  The cat seems separate from it's clockwork leg, and the figure(?) standing behind him is hard to make out.
Marked (Servants of Fate #1) by Sarah Fine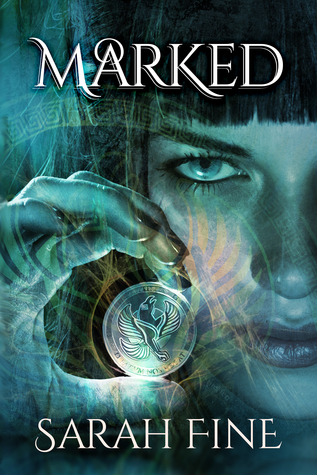 Expected publication: January 1st 2015 by 47North
Source: Goodreads
Covers in Series
N/A
In a broken landscape carved by environmental collapse, Boston paramedic Cacia Ferry risks life and limb on the front lines of a fragile and dangerous city. What most don't know?including her sexy new partner, Eli Margolis?is that while Cacy works to save lives, she has another job ferrying the dead to the Afterlife. Once humans are ?Marked? by Fate, the powerful Ferrys are called to escort the vulnerable souls to either eternal bliss or unending fire and pain.
Unaware of Cacy's other life, Eli finds himself as mesmerized by his fierce and beautiful partner as he is mistrustful of the influential Ferry clan led by the Charon?who happens to be Cacy's father. Cacy, in turn, can no longer deny her intense attraction to the mysterious ex-Ranger with a haunted past. But just as their relationship heats up, an apparent hit takes the Charon before his time. Shaken to the core, Cacy pursues the rogue element who has seized the reins of fate, only to discover that Eli has a devastating secret of his own. Not knowing whom to trust, what will Cacy have to sacrifice to protect Eli?and to make sure humanity's future is secure?
No Author Comment Available.
Megan Says 
It's a bit over-the-top with the symbology, but I like it when urban fantasy books don't try to hide the fantasy. This one promises magic, and something eerie. 
Julia Says 
The lighting on this cover, both the washed out background and the swirls of magic, had me thinking this was going to be boring at first glance.  However, this is a legitimately neat cover.  The magic swirls form actual images, and I like both the coin and the cover model's expression.
Expected publication: March 3rd 2015 by Putnam Juvenile
Source: Goodreads
Covers in Series
To escape Blake Sutton's army at the end of the enthralling The Well's End, Mia and her friends jump into the newly gurgling fountain of youth and swim to its very bottom. When they resurface, an astounding world awaits them—an entire underground civilization of humans, the Keepers of the Well.
But instead of finding a safe haven, Mia and her gang are quickly embroiled in a dangerous, high-stakes battle royale. If Mia wants to save everyone she loves and make it back home alive, she's got to get to the water's Source before Sutton and his troops, who are still hot on her trail.
With new characters and new threats, Seth Fishman has upped the ante fantastically and delivers another tense, fast-paced adventure in a richly imagined world just below our feet.
No Author Comment Available.
Megan Says 
This is a really nice example of making the words part of the graphic design. I like the curve of the well wall behind the water, and the title reminds me of crime procedurals that show slow-motion test fires into water tanks. 
Julia Says 
Pretty perfect for a young reader, the cover image is totally on the nose and the title/author font colors keep things from tipping from creepy into horror.
Expected publication: November 11th 2014 by HarperCollins
Source: Goodreads
Covers in Series
There's a new Wicked Witch in Oz—and her name is Dorothy. This digital original novella is the second installment in the prequel arc to the edgy and exciting New York Times bestseller Dorothy Must Die.
Dorothy Gale is back . . . and she's not the sweet little heroine of Oz anymore. She's power-hungry and vicious, and she leaves a trail of destruction beneath her spike-heeled, magical shoes. But behind the scenes, there's someone else pulling the strings. Someone who doesn't want fame or glory—just control.
Glinda of the North brought Dorothy back to Oz for a reason. And in The Witch Must Burn, a young maid is about to discover that a witch who says she's Good might be the most dangerous kind of Wicked.
The Witch Must Burn, by debut author Danielle Paige, is a dark and compelling reimagining of a beloved classic and is perfect for fans of Cinder by Marissa Meyer, Beastly by Alex Flinn, and Wicked by Gregory Maguire.
No Author Comment Available.
Megan Says 
Uninspired and a bit eye-searing. It basically looks like someone applied a light filter to her other book's cover. 
Julia Says 
This fits the other series novella (and the full length novels), but woof, did they have to burn my retinas along with the witch?  The series style doesn't leave much room for gradients in the background, but this color is searing.
The Collectors' Society by Heather Lyons
Expected publication: October 23rd 2014 by Cerulean Books
Source: Goodreads
Covers in Series
N/A
From the author of the Fate series and The Deep End of the Sea comes a fantastical romantic adventure that has Alice tumbling down the strangest rabbit hole yet.
After years in Wonderland, Alice has returned to England as an adult, desperate to reclaim sanity and control over her life. An enigmatic gentleman with an intriguing job offer too tempting to resist changes her plans for a calm existence, though. Soon, she's whisked to New York and initiated into the Collectors' Society, a secret organization whose members confirm that famous stories are anything but straightforward and that what she knows about the world is only a fraction of the truth.
It's there she discovers villains are afoot—ones who want to shelve the lives of countless beings. Assigned to work with the mysterious and alluring Finn, Alice and the rest of the Collectors' Society race against a doomsday clock in order to prevent further destruction . . . but will they make it before all their endings are erased?
No Author Comment Available.
Megan Says 
It definitely caught my eye, but the closer I looked, the less the image made sense. I like the series' compass symbol, but I think the purple blur was a misstep.
Julia Says 
I love how vibrant the colors and images are in this one, arresting!
The Tethered Trilogy by Jennifer Snyder
Published June 30th 2014 by Smashwords Edition
Source: Goodreads
Covers in Series
N/A
"Magick, Mystery, and a Sexier Than Sin Romance…"
*NEW ADULT and contains all three novels in the Tethered Trilogy.*
CATALYST:
Sometimes who we really are lies buried just beneath the surface…
After learning she's inherited a house in the beachside town of Soul Harbor, Georgia, Addison Harmon and her best friend decided to take a much needed vacation before the pressures of life after high school suffocate them too heavily.
But what Addison finds isn't a chance to recoup from a bad break up and hang out with her best friend while she decides what she wants to do with her future. What she finds is Kace Sullivan—a sexy guy she can't seem to get enough of—someone who with one touch reveals a seductive world full of magick and secrets Addison isn't sure she's ready to be a part of.
CONJURE:
Sometimes to understand the present you have to conjure up the past…
The last thing Addison Harmon needed was to become tethered to the broody, often seemingly cold, Theo Van Rooyen, but that's exactly what happened.
Forced to partner up with Theo to figure out a way to break the tether, Addison soon realizes she may have bitten off more than she can chew.
CONFINED:
Sometimes the things in life that seem to confine us most are often the ones that save us…
To Addison Harmon becoming initiated appeared to hold the answers to her every problem—all except what she would do after, when the tether was finally broken. But when the after Addison imagined isn't the one unfolding before her, she finds herself tangled even further in a web of secrets, lies, and betrayal.
It's not until Addison is captured by the last person she ever suspected would betray her that she's forced to rely on herself for survival.
Questions will be answered. Trust will be misplaced. And hearts will be broken.
No Author Comment Available.
Megan Says 
I will never unsee the flames from the girl's arm tickling the belly button of the man on the left. And are both guys supposed to be made of smoke? Is this a genie book? 
Julia Says 
Over exposed, the lighting and the magic looks bleached out.  These three cover models could have worked so well together, but the magic on and around them makes it all look cheesy.
Valiant by Sarah McGuire
Expected publication: June 9th 2015 by Egmont USA
Source: Goodreads
Covers in Series
N/A
A debut fairy tale reimagining featuring a strong female character and a daring quest just right for fans of Shannon Hale, Jessica Day George, and Gail Carson Levine.
Saville hates sewing. How can she not when her father, the Tailor, loves his bolts of velvet and silk far more than he's ever loved her? Yet, when he is struck ill shortly after they arrive in the city of Reggen, Saville must don boy's clothes in the hopes of gaining a commission from the king to keep them fed.
The kingdom is soon on edge when stories spread of an army of giants led by a man who cannot be killed. But giants are just stories, and no man is immortal.
And then the giants do come to the city gates, two larger-than-life scouts whom Saville cunningly tricks into leaving. The Tailor of Reggen is the hero of the kingdom, the king promises his sister's hand in marriage, and by the time Saville reaches the palace doors, it is widely known that the Tailor single-handedly killed the giants.
When her secret—that she's a girl—is quickly discovered by Lord Galen Verras, the king's cousin, Saville's swept into the twists and turns of court politics. The deathless man is very real, and he will use his giant army to ensure he is given the throne freely or by force.
Now, only a tailor girl with courage and cunning can see beyond the tales to discover the truth and save the kingdom again.
Valiant is a rich reimaging of "The Brave Little Tailor," artfully crafting a story of understanding, identity, and fighting to protect those you love most.
No Author Comment Available.
Megan Says 
Cute, but a little too 'Disney logo' for my tastes. And this cover makes the book seem a little more juvenile than I think it's meant to be. 
Julia Says 
Simple and charming, I love it.
Expected publication: September 16th 2014 by World Weaver Press
Source: Goodreads
Covers in Series


When Adam left Eve, abandoning his wife and their newborn daughter Elah, he thought he was saving the world. But he hadn't counted on the influence of Michael, twisting Elah's love for her parents into paranoia, or the slow, leaching death of the world she rules. How could he have known the blame for the world turning barren would fall on Eve?
Eve only had two years to teach her daughter love, to cement Elah's sense of morality and ensure the safety of all Creation. Even with the help of Raphael, Elah is becoming her father's daughter, a master manipulator, and she's determined to have her way, even if it means betraying her own mother's trust.
With Loki and the Aesir gone, Thor thinks he's protected Eve from the ravages of Ragnarok, but there are forces in play even the gods can't see. When Thor arrives in Eve's next life, offering her everything she ever wanted from Adam, and more — eternity without death or rebirth, and the freedom to live outside of her daughter's reach — Eve is more than tempted. Being part of the world has grown physically painful. If she can escape to Asgard, maybe she can live again. Maybe she can love again.
But can the world survive with only Adam to protect it?
No Author Comment Available.
Megan Says 
Aside from the celtic knot, this could be any historical-ish romance novel book. The model looks good, but it's just not very evocative. 
Julia Says 
Lovely elements, but the impression that the cover model is dramatically staring up at the title adds a bit of silliness that detracts.
God's Play by H. D. Lynn
Expected publication: September 18th 2014 by Curiosity Quills Press
Source: Goodreads
Covers in Series
N/A
Sixteen-year old Toby was trained by a family of hunters to kill shape-shifters — but he has a unique weapon in his arsenal. With a touch of his hand, Toby can lift the magical protection shape-shifters use to disguise themselves as human. It's an unusual skill for a hunter, and he prefers to kill monsters the old-fashioned way: with a blade.
Because of his special skill, Toby suspects he may be a monster himself. His suspicions deepen when William, a jackal-headed shape-shifter, saves him from an ambush where Toby's the only survivor. And Toby doubts William helped him for purely altruistic reasons. With his list of allies running thin, Toby must reconcile his hatred of shifters and the damning truth that one saved his life. It'll take both of them to track down the monster who ordered the ambush.
And Toby needs his unlikely alley because he has a vicious enemy — the infamous Circe, who has a vendetta to settle against the hunters. Toby has to unravel the mystery of his dual nature. And he has to do it on the run — before Circe finds him and twists him to her own ends.
No Author Comment Available.
Megan Says 
X 
Julia Says 
Ick.  Smarmy teens, amateurish color effects, overall boring cover.

And our picks for Best & Worst covers of the week…
Best
Worst
---
Have a cover we should include in an upcoming post? Fill out our Cover Submit form