The quality of color in a few colors this week made the difference between thumbs up or less, which cover had all the elements and the color that you love?
 If you're a blogger interested in joining in on the commenting fun, fill out our Guest Commentator form here!
The Hidden Rune of Iron (Spellcrackers.com #5) by Suzanne McLeod
Expected publication: December 2014 by Gollancz
Source: Goodreads
Covers in Series
The fifth novel in the Spellcrackers series, and the final book featuring sidhe Genevieve (Genny) Taylor as the main character, is a brilliant and action-filled adventure. Packed with humour, magic, romance and even a few revelations, THE HIDDEN RUNE OF IRON is a cracking end to Genny's fantastic story.
No Author Comment Available.
Kate Says 
She looks oversaturated and weird, plus awkward holding the sword. 
Julia Says 
The colors on this cover seem harsh and distracting, her hair and eyes in particular turn me off.
Kristina Says 
She looks like she is dress for some business meeting and needed her sword for said meeting…I am not a big fan of the worn out look around the edges of the cover.
Published June 29th 2014 by Zebra Books
Source: Goodreads
Covers in Series

Originally published in "Predatory"
"In Dianne Duvall s world of Immortal Guardians, the stakes for mortals are high, but the cost especially to the heart might be higher "
It s not the first time Immortal Guardian Richart d Alencon has saved a human life from eternal damnation. Usually, he moves on, a nameless savior like a ghost in the night. But this time he can t seem to forget the woman who rewarded him with a sensuous kiss after he rescued her from a trio of vampires. While Richart knows that loving a human can only bring trouble, the taste of forbidden lust is too great to resist
Jenna never imagined she d end up a single mom working overtime to put her son through school. But she might have daydreamed once that a devastatingly gorgeous Frenchman would sweep her off her feet. Now that a package of tall, dark, and handsome seems intent on doing just that, doctors are telling her she may not have long to live. But Richart is telling her just the opposite. All she has to do is abandon her humanity
Includes a special sneak peek of Night Unbound
Duvall is a major player. "RT Book Reviews"
The Immortal Guardians series is one you ll want to follow. "The Romance Review"
No Author Comment Available.
Kate Says 
Not a bad novella cover, but not great either. I don't like that the author name is bigger than the title. 
Julia Says 
The full length covers feature chests and partial faces, the novella gets full on face with no chest.  I wouldn't have guessed this cover matches the full length series, and I'm not a big fan of the colors, but it's not bad.
Kristina Says 
While this is yet another floating head cover I like the lighting and his eye color.
Expected publication: February 3rd 2015 by St. Martin's Paperbacks
Source: Goodreads
Covers in Series
No Description Available.
No Author Comment Available.
Kate Says 
Why? Why does the shirt need to be torn like that? Why not just sacrifice it and go completely topless? That would be better (for as much as we complain about it). 
Julia Says 
Well, we always ask them to wear a shirt, this guy at least tried.  Thumbs up for making me smile.
Kristina Says 
I am confused by his left arm. It looks like its in a sleeve still yet there is non-sleeve like fabric covering his arm. Also what or who tore up a perfectly good shirt? I must know!
The Glass Arrow by Kristen Simmons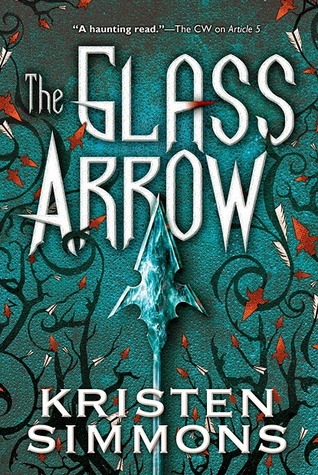 Expected publication: February 10th 2015 by Tor Teen
Source: Goodreads
Covers in Series
N/A
From the author of Article 5 comes the haunting tale of a girl on the run from the men who hunt her, men who want to auction off breeding rights to the highest bidder.
In a world where females are scarce and are hunted, then bought and sold at market for their breeding rights, 15-year old Aya has learned how to hide. With a ragtag bunch of other women and girls, she has successfully avoided capture and eked out a nomadic but free existence in the mountains. But when Aya's luck runs out and she's caught by a group of businessmen on a hunting expedition, fighting to survive takes on a whole new meaning.
No Author Comment Available.
Kate Says 
Ditto to Kristina's comment on the vines and arrows. Plus teal and red is one of my favorite color combos, so it's hard for me to dislike this cover on any level. 
Julia Says 
An intriguing mix of realism and a more abstract style, I like it.
Kristina Says 
I like how the vines have little arrows in place of flowers though they kind of look like fleur-de-lis. Also glass arrows are probably not going to work well as weapons.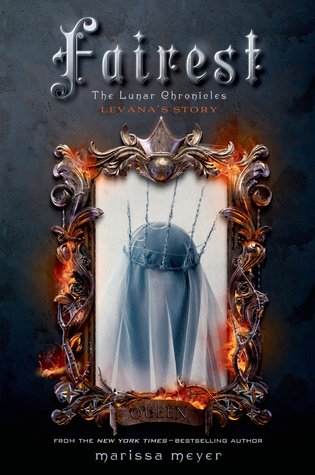 Expected publication: January 27th 2015 by Feiwel & Friends
Source: Goodreads
Covers in Series

Mirror, mirror on the wall,
Who is the fairest of them all?
Fans of the Lunar Chronicles know Queen Levana as a ruler who uses her "glamour" to gain power. But long before she crossed paths with Cinder, Scarlet, and Cress, Levana lived a very different story – a story that has never been told . . . until now.
Marissa Meyer spins yet another unforgettable tale about love and war, deceit and death. This extraordinary book includes full-color art and an excerpt from Winter, the next book in the Lunar Chronicles series.
No Author Comment Available.
Kate Says 
Really, really good for a prequel novella. Super creepy, like Kristina says, and different, but somewhat similar, to the rest of the Lunar Chronicles. 
Julia Says 
Compared to the full length covers, the novella covers have been a disappointment.  This is the first one I've seen that sort of evokes the fairy tale vibe, though it doesn't work for me in comparison to the gorgeous reds of the full length covers.
Kristina Says 
Haunting and very pretty. The veiled head reminds me of a veiled Virgin Mary statue I saw somewhere.
The Cemetery Boys by Heather Brewer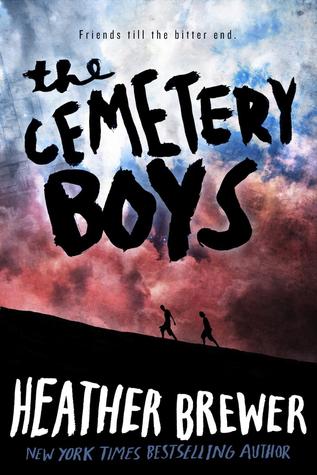 Expected publication: March 31st 2015 by Harper Collins
Source: Goodreads
Covers in Series
N/A
When Stephen is forced to move back to the nowhere town where his father grew up, he's already sure he's not going to like it. Spencer, Michigan, is like a town straight out of a Hitchcock movie, with old-fashioned people who see things only in black-and-white. But things start looking up when Stephen meets the mysterious twins Cara and Devon. They're total punks–hardly the kind of people Stephen's dad wants him hanging out with–but they're a breath of fresh air in this backward town. The only problem is, Cara and Devon don't always get along, and as Stephen forms a friendship with the charismatic Devon and something more with the troubled Cara, he starts to feel like he's getting caught in the middle of a conflict he doesn't fully understand. And as Devon's group of friends, who hang out in a cemetery they call The Playground, get up to increasingly reckless activities to pass the summer days, Stephen worries he may be in over his head.
Stephen's fears prove well-founded when he learns of Spencer's dark past. It seems the poor factory town has a history of "bad times," and many of the town's oldest residents attribute the bad times to creatures right out of an urban legend. The legend goes that the only way the town will prosper again is if someone makes a sacrifice to these nightmarish creatures. And while Stephen isn't one to believe in old stories, it seems Devon and his gang might put a lot of faith in them. Maybe even enough to kill for them.
Now, Stephen has to decide what he believes, where his allegiances lie, and who will really be his friend in the end.
No Author Comment Available.
Kate Says 
Doesn't really convey much paranormal to me, other than the title, and cemetary does not necessarily equal ghosts or paranormal. Otherwise, a bit boring, really, with such a big title. 
Julia Says 
Those little figures manage to seem pretty ominous, maybe it's the title that primed me to see them shambling.  A powerful counterpoint to the oversized fonts.
Kristina Says 
I understand the reasoning for the font type but the whole lower case 'the' bothers me. Capitalize it! I like the mixture of the colors though minus points for a lack of cemetery.
Shutter by Courtney Alameda
Expected publication: 2015 by Feiwel & Friends
Source: Goodreads
Covers in Series
N/A
Micheline Helsing is a tetrachromat—a girl who sees the auras of the undead in a prismatic spectrum. As one of the last descendants of the Van Helsing lineage, she has trained since childhood to destroy monsters both corporeal and spiritual: the corporeal undead go down by the bullet, the spiritual undead by the lens. With an analog SLR camera as her best weapon, Micheline exorcises ghosts by capturing their spiritual energy on film. She's aided by her crew: Oliver, a techno-whiz and the boy who developed her camera's technology; Jude, who can predict death; and Ryder, the boy Micheline has known and loved forever.
When a routine ghost hunt goes awry, Micheline and the boys are infected with a curse known as a soulchain. As the ghostly chains spread through their bodies, Micheline learns that if she doesn't exorcise her entity in seven days or less, she and her friends will die. Now pursued as a renegade agent by her monster-hunting father, Leonard Helsing, she must track and destroy an entity more powerful than anything she's faced before . . . or die trying.
Lock, stock, and lens, she's in for one hell of a week.
No Author Comment Available.
Kate Says 
This cover is creep-tastic. And really uncomfortable making. It doesn't seem to convey the book's vibe at all, based on the description I read. 
Julia Says 
Horrifying, though I think it would have been creepier with less of a bulbous head.
Kristina Says 
Looks like a Muppet at a flashlight in the dark.
The Perilous Journey of the Not-So-Innocuous Girl by Leigh Statham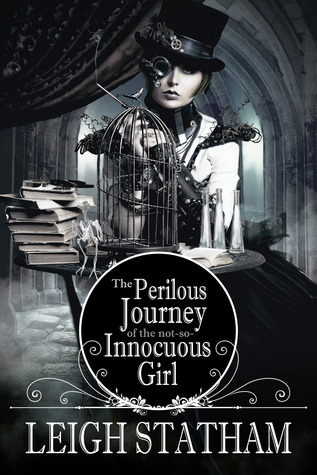 Expected publication: 2015 by Month9Books
Source: Goodreads
Covers in Series
N/A
Lady Marguerite lives a life most 17th century French girls can only dream of: money, designer dresses, suitors and a secure future. Except she suspects she may be falling for her best friend Claude, a common smithie in the family's steam forge. When Claude leaves for New France in search of a better life, Marguerite decides to follow him and test her suspicions of love. But the trip proves more harrowing than she had anticipated, revealing secrets and testing her strength as well as her heart. Love, adventure and restitution await her in Canada, but only if she can survive the voyage.
No Author Comment Available.
Kate Says 
A little too busy, and fake-y feeling. Like there was a lot of photo editing used on this one. 
Julia Says 
A little too icy and static.  It's ok, but somehow doesn't manage to make much of the details included.
Kristina Says 
Upon first glance I like this cover as I tend to like steampunk style eventhough most of it is impractical. The curtain in the background has some nice details. And…OMG there is a bird skeleton sitting next to an empty bird cage! What happened to the bird?!
The Sorcerer Heir (The Heir Chronicles #5) by Cinda Williams Chima
Expected publication: October 21st 2014 by Disney-Hyperion
Source: Goodreads
Covers in Series
The delicate peace between Wizards and the underguilds (Warriors, Seers, Enchanters, and Sorcerers) still holds by the thinnest of threads, but powerful forces inside and outside the guilds threaten to sever it completely.
Emma and Jonah are at the center of it all. Brought together by their shared history, mutual attraction, and a belief in the magic of music, they now stand to be torn apart by new wounds and old betrayals. As they struggle to rebuild their trust in each other, Emma and Jonah must also find away to clear their names as the prime suspects in aseries of vicious murders. It seems more and more likely that the answers they need lie buried in the tragedies of the past. The question is whether they can survive long enough to unearth them.
Old friends and foes return as new threats arise in this stunning and revelatory conclusion to the beloved and bestselling Heir Chronicles series.

Praise for The Heir Chronicles: The Warrior Heir
*"Chima offers a pitch-perfect blend of high fantasy and small-town reality…" –The Bulletin of the Center for Children's Books (starred review)
* "Twists and turns abound in this remarkable, nearly flawless debut novel that mixes a young man's coming-of-age with fantasy and adventure." –VOYA (starred review)
The Wizard Heir

* "Chima uses her pen like a wand and crafts a wonderfully rich web of magic, while thankfully leaving some dangling threads for subsequent tales." –VOYA (starred review)


"Chima is a talented storyteller…a strong choice for teens seeking a rousing read." –The Cleveland Plain-Dealer


The Dragon Heir 
* "A superlative accomplishment." –Kirkus Reviews (starred review)
"Chima spins a finely structured tale that roars to a satisfying conclusion." –School Library Journal
The Enchanter Heir

* "A smoldering story soaked in tears, sweat and blood, constantly threatening to blaze into an inferno. Spellbinding." –Kirkus Reviews(starred review)
"Chima continues to excel at building tension and populating her well-told tales with new and returning characters we want to know better." –Booklist
No Author Comment Available.
Kate Says 
Not completely sold on the sideways title, but otherwise I like how it fits in with the series and it is a pretty shade of red. 
Julia Says 
That's quite an intimidating vessel.  I'm not a big fan of "one object" covers, but the colors and lighting on this one is eye catching.
Kristina Says 
That is a very pretty shade of red. I like the variety of objects featured on each of the covers in this series. This one fits well with the themes of the plot very well.
Amalie Howard
Source: Goodreads
Covers in Series
They say that love is the death of duty …
Speio Marin is land-bound, tied to the side of the Waterfell queen-to-be, Nerissa. There's only one problem–she wants nothing to do with any of the Aquarathi or her undersea kingdom, preferring instead the freedom of pretending to be human. Torn between his own desires and his duty to serve his future queen, he spirals into an abyss of malcontent. Speio's mistrust of humans is no secret, and he sees them only as a threat to the existence of his people.
Until he meets Anya Delmonico–a mysterious and enigmatic girl, teetering on the edge of survival. Anya is sedate and secretive, yet reckless enough to brave a hundred-foot cliff jump. Caught between a dark past and an ex-boyfriend who refuses to let her go, Anya knows that getting involved with anyone new is the last thing she should do. But when her past catches up to her, Speio turns out to be the only one she can trust, refusing to let her face her demons alone.
When Anya discovers the truth about Speio, putting her life in mortal danger from the Aquarathi as well as her own sinister pursuers, will he risk everything to protect her? Or will he choose duty above all?
No Author Comment Available.
Kate Says 
Both halfs of this cover are a little strange looking. The sea monster's eye is weird, and is it supposed to be similar to the boy's eye? 
Julia Says 
The colors and the eye are very cool, but I think it's being wasted in this arrangement.  As bland and handsome as this boy is, he's a completely worthless half of the cover.  
Kristina Says 
The sea monster's eye is very cool looking. The wide eyed stare by that guy is creeping me out. *hides behind sea monster*
Etherworld (Elusion #2) by Claudia Gabel & Cheryl Klam
Expected publication: March 31st 2015 by Katherine Tegen Books
Source: Goodreads
Covers in Series
No Description Available.
No Author Comment Available.
Kate Says 
I can't tell how I feel about this one. I'm not super in love but I don't think it's a bad cover either. It goes with book one but it does contrast nicely, and I like the colors. 
Julia Says 
These iridescent colors against the bland, brown, Puritan clothing doesn't work for me.
Kristina Says 
I like how this one contrasts with the previous book's cover. That one was full of color where this one is kind of bleak with hints of color around the rim of the circle.
The Prey (The Hatchery #1) by Tom Isbell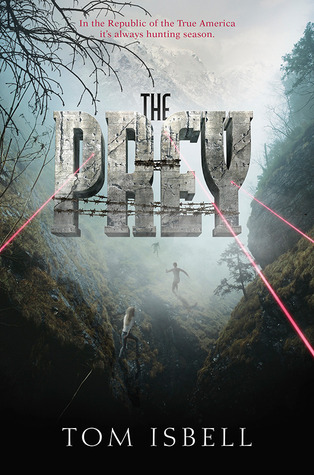 Expected publication: January 20th 2015 by HarperTeen
Source: Goodreads
Covers in Series
N/A
A hot debut trilogy and a riveting story of survival, courage, and romance in a future where creating a master civilization is the only thing prized, no matter the method. After the Omega (the end of the end), 16 year old guys known as LTs discover their overseers are raising them not to be soldiers (lieutenants) as promised, but to be sold as bait because of their Less Than status and hunted for sport. They escape and join forces with a girls' camp, the Sisters, who have been imprisoned and experimented on for the "good of the Republic," by a government eager to use twins in their dark research. In their plight for freedom, these heroes must find the best in themselves to fight against the worst in their enemies.
No Author Comment Available.
Kate Says 
The cover seems to go exactly with the description, and I totally think it will attract the kind of reader that will like this book. (Plus I like the barbed wire on the letters too!) 
Julia Says 
I think I would have liked this cover without the little figures awkwardly floating through terrain, they seem out of proportion with the perspective of the rest of the cover.
Kristina Says 
I like the barbed wire holding the letters together. The laser pointers are a nice touch especially with the people being hunted for sport idea in the description.
Expected publication: March 31st 2015 by HarperTeen
Source: Goodreads
Covers in Series
No Description Available.
No Author Comment Available.
Kate Says 
I didn't even notice the smoke tiger until I saw Kristina's comment, but I did notice the weird pointy things coming down from the crown that look like they'd make it rather uncomfortable to wear. Just a bit strange. 
Julia Says 
I like the color green, but the crown has weird proportions.
Kristina Says 
I am not a fan of the crown but I love the smoke tiger next to it!

And our picks for Best & Worst covers of the week…
Best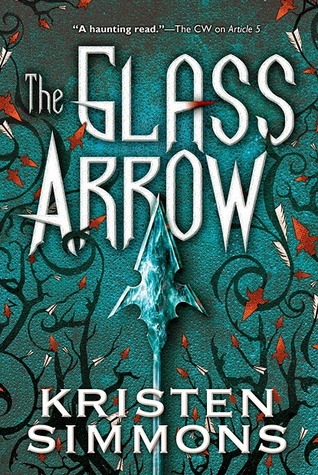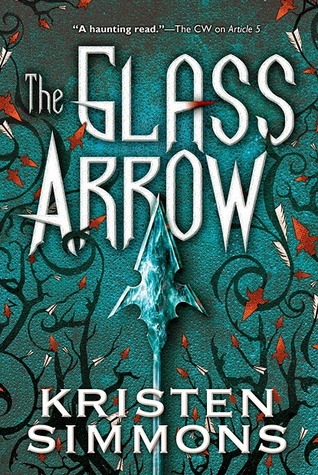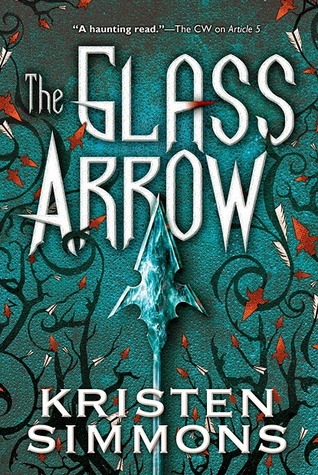 Worst
---
Have a cover we should include in an upcoming post? Fill out our Cover Submit form