If you're a blogger interested in joining in on the commenting fun, fill out our Guest Commentator form here!
Bengal's Quest (Breeds #30) by Lora Leigh
Expected publication: March 3rd 2015 by Berkley Hardcover
Source: Goodreads
Covers in Series
New York Times bestselling author Lora Leigh tells a story of two Breeds who are united by animal desires, only to find it's vengeance that stirs the mating heat…
He was a shadow, ever shifting and insinuating, able to blend in everywhere and anywhere. The elusive ideal conceived and created by the Genetics Council, he went by just as many names as he had identities—the last one being Gideon.
Now calling himself Graeme, he hides in plain sight, terrifyingly close to his goal. A rogue Bengal Breed, he has loyalties to no one but himself. And he has a need for vengeance that surges hot and swift through his veins.
Graeme plans to exact an extreme and ruthless vendetta against those who wronged him—Breed and human alike. All will suffer his wrath: those who created him, those who pretended to love him, and those who betrayed him.
That includes the one at the center of it all: a seductive, enigmatic woman helpless against the man whose desire is just as desperate as his need to destroy.
And he's on her scent…
No Author Comment Available.
Megan Says 
Why, oh, why would you place a man's headless torso next to a close-up of a tiger? The tiger would have been enough, but if you're going to have a half-naked model photoshopped on top of it, at least give the poor guy a head. 
Julia Says 
The gritty effect on this cover is a nice finish, but the elements are predictably boring.  Giving the guy no head and putting his hands behind his back makes this a little more threatening than normal (is he a hostage of some kind?), but overall, not offensive.
Libbie Says 
Am I the only one that finds the ghostly ear lurking between the letters of the author's name just a little disconcerting? That and I'm not feeling the hands behind his back. Don't know why but the posture of it seems off. Said it before, I'll say it again – less is more.
Viper Game (GhostWalkers #11) by Christine Feehan
Expected publication: January 27th 2015 by Jove
Source: Goodreads
Covers in Series
Hailed as "the queen of paranormal romance" by J.R. Ward, #1 New York Times bestselling author "Christine Feehan continues to amaze readers" (The Eternal Night) with her phenomenal novels. Now, from the author of the Dark Carpathian series, comes the newest in Christine Feehan's explosive GhostWalker series…
GhostWalker Wyatt Fontenot knows the price he paid for the secret military experiments that gave him his special catlike abilities. After all, he left his bayou home a healer and came back a killer. While Wyatt and his GhostWalker brother Gator may have known exactly the sort of game they were getting into, Wyatt never anticipated where it would lead—or to whom.
The swamps hold many mysteries, but few are as sinuously seductive as Le Poivre de Cayenne. The woman the locals call Pepper is every bit as enigmatic as the three little girls she's desperately trying to protect. From what, Wyatt is soon to discover. Right now Pepper needs a man like Wyatt. Passionately. But her secrets are about to take them both deeper into the bayou than either imagined—where desire is the deadliest poison of all.
NEVER BEFORE PUBLISHED
INCLUDES A BONUS EXCERPT FROM CHRISTINE FEEHAN'S GHOSTWALKER NOVEL, NIGHT GAME
No Author Comment Available.
Megan Says 
It's got a cheesy romance cover look – especially the font, and though I like the snake motif in the model's make-up, I don't know why there's a snake dangling over her ear, or why her hair has a scale pattern, or why she's fading out at the bottom. 
Julia Says 
I would like the scale effect more if it were used less, pick the eye or the braid.  Splashing it all over emphasizes the fake that it's a rather poor looking overlay.
Libbie Says 
I'm actually okay with the scales under her eyes and the snake braid. Even the cheesy romance feel because, yeah, I eat those things up like candy. I just can't help wondering why they'd put writing on the snake braid like a badly dangling earring? Also – and this is just me – but the snake motif is one thing seeing that it's part of a Ghost Walker series just confuses me. Nothing ghostly here?
Ghost Killer (Ghost Seer #3) by Robin D. Owens
Expected publication: February 3rd 2015 by Berkley
Source: Goodreads
Covers in Series
From the bestselling author of the Celta novels and the Ghost Seer novels…
Something wicked this way comes…
When her aunt died, level-headed accountant Clare Cermak inherited a fortune—as well as a phantom dog and the power to help ghosts move on. Her new gift led her to Zach Slade, a sexy private investigator with a unique psychic gift of his own, and the man who's slowly opening her heart. But as they work toward building a future together, a sinister threat emerges.
An evil ghost is ravaging Creede, Colorado, threatening to devour the spirit of an innocent boy. Inexperienced in facing such a powerful ghost—and knowing her spirit, too, could be ripped away—Clare still can't refuse to help. With Zach's support she uncovers the ghost's identity, and the ancestral weapon required to slay it. But does Clare dare to use that weapon before the ghost destroys the man she loves—and her own spirit?
No Author Comment Available.
Megan Says 
Sensibly dressed heroine always earns points, but that position doesn't look comfortable for hanging around. I'm a fan of purple, but the color is over-saturated and makes her skin too magenta. 
Julia Says 
A good fit for the series, though I'm not a big fan of the headband.
Libbie Says 
I don't know exactly why I don't like one. Maybe it's the odd look on her face, or the extremely awkward leg-stretch stance of the cover model. But something about it makes me want to close the window, rapidly, and never look at it again.
Panther Prowling (Otherworld #17) by Yasmine Galenorn
Expected publication: January 27th 2015 by Jove
Source: Goodreads
Covers in Series
We're the D'Artigo sisters: savvy half-human, half-Fae operatives for the Otherworld Intelligence Agency. My sister Camille is a wicked-good witch with three gorgeous husbands. Menolly is a vampire married to a werepuma. And me? I'm Delilah, a two-faced werecat and a Death Maiden. While the war in Otherworld is expanding, so is my newly renamed PI business. And my next case is about to make life very interesting… 
While waiting for Shadow Wing's next move, I decide to revamp my ragtag PI agency into the Cat's Eye Investigations firm. My first client turns out to be our cousin Daniel. During the grand reopening for the Wayfarer, he shows up while being chased by a rampaging ghost. Daniel has procured a rare and valuable sword, and a ring of ghostly warriors comes attached to it. Protectors of the soul trapped within it, the spirits are out to stop anybody who threatens the weapon. As my sisters and I unravel the history of the sword, we quickly realize that the entity locked within the blade is a dangerous king from times gone by—and he's about to break free and try to recover his crown…
No Author Comment Available.
Megan Says 
The story sounds ridiculous, but I like the cover. Nice outfit for fighting evil, and super-cool glowing sword. I also dig the model's slightly challenging expression. 
Julia Says 
Cute hair, shiny sword!  That overpowers the fact that I'm not a big fan of the P's in the title.
Libbie Says 
First thought – someone got their sword enchanted in Origmaar, and then I got lost in a haze of WoW memories. Other than that, it's a great cover just enough dark and light with the near-neon green, that "come on, lets go see what my enchanted sword can kill" look on the heroine's face. Not bad.
The Paper Magician (The Paper Magician Series #1) by Charlie N. Holmberg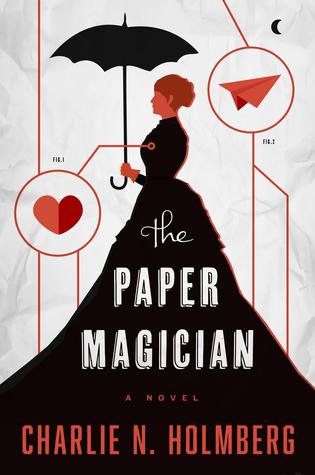 Expected publication: September 1st 2014 by 47North
Source: Goodreads
Covers in Series
N/A
Ceony Twill arrives at the cottage of Magician Emery Thane with a broken heart. Having graduated at the top of her class from the Tagis Praff School for the Magically Inclined, Ceony is assigned an apprenticeship in paper magic despite her dreams of bespelling metal. And once she's bonded to paper, that will be her only magic…forever.
Yet the spells Ceony learns under the strange yet kind Thane turn out to be more marvelous than she could have ever imagined—animating paper creatures, bringing stories to life via ghostly images, even reading fortunes. But as she discovers these wonders, Ceony also learns of the extraordinary dangers of forbidden magic.
An Excisioner—a practitioner of dark, flesh magic—invades the cottage and rips Thane's heart from his chest. To save her teacher's life, Ceony must face the evil magician and embark on an unbelievable adventure that will take her into the chambers of Thane's still-beating heart—and reveal the very soul of the man.
From the imaginative mind of debut author Charlie N. Holmberg, The Paper Magician is an extraordinary adventure both dark and whimsical that will delight readers of all ages.
No Author Comment Available.
Megan Says 
Love this simple, minimalist design. The faux-paper brush on the background may be overused in graphic design, but it's perfect for this title. I wanted to read this book as soon as I saw this image. 
Julia Says 
Gorgeous cover, I like the details that they call out, especially the paper airplane overhead.
Libbie Says 
See? Now this is how it's done. Perfect tie in with the title because it all looks like paper cut-outs. Love the flow down from the very small to the utterly epic skirt of her dress. Straight, simple lines and curves. In a word: awesome (Pssst – this is what they mean aobut less being more.)
Frostfire (Kanin Chronicles #1) by Amanda Hocking
Expected publication: January 6th 2015 by St. Martin's Griffin
Source: Goodreads
Covers in Series
N/A
ryn Aven is an outcast among the Kanin, the most powerful of the troll tribes. Set apart by her heritage and her past, Brynn is a tracker who's determined to become a respected part of her world. She has just one goal: become a member of the elite King's Guard to protect the royalty. She's not going to let anything stand in her way, not even a forbidden romance with her boss Ridley Dresden. But all her plans for the future are put on hold when Konstantin– a fallen hero who she once loved – appears to be up to something dangerous, kidnapping changelings. Bryn is sent in to help stop him, but will she lose her heart in the process?
No Author Comment Available.
Megan Says 
White for winter-themed books with a splash of red for contrast, pretty much guaranteed to catch the eye. This one has a nice delicate hand. 
Julia Says 
Normally I'm a fan of a little filigree, but I'd prefer a closer look at her in the snow.
Libbie Says 
This is one of those times I have to work to be objective – because just thinking about the series this book comes from fills me with throwing-things rage. Okay. So. That said – nice use of contrasting color. I do have to say I'm not sure where the bunny leaping over the title comes from.
Ticker by Lisa Mantchev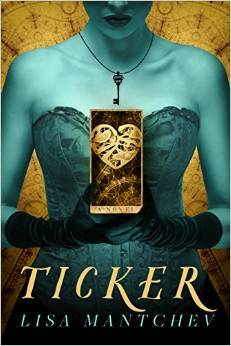 Expected publication: December 1st 2014 by Skyscape
Source: Goodreads
Covers in Series
N/A
A girl with a clockwork heart makes every second count.
When Penny Farthing nearly died, the brilliant surgeon Calvin Warwick managed to implant a brass "Ticker," transforming her into "the first of the Augmented!" But soon it was discovered that Warwick kidnapped and killed dozens of people striving to perfect another Ticker for Penny.
The last day of Warwick's trial, the Farthing factory is bombed, Warwick disappears, and Penny and her brother, Nic, receive a ransom demand for all of their Augmentation notes if they want to see their parents again. Who is trying to stop their work? Or to control it? Or is the motive more sinister?
Determined to solve the mystery and reunite their family, the Farthings recruit their closest friends: fiery baker Violet Nesselrode and gentleman-about-town Sebastian Stirling. Unexpectedly leading the charge is Marcus Kingsley, the young army general who has his own reasons for wanting to lift the veil between this world and the next. Wagers are placed, friends are lost, romance stages an ambush, and time is running out for the girl with the clockwork heart.
No Author Comment Available.
Megan Says 
Reminds me of Gail Carriger's Finishing School series, though I'm not sure about the turquoise. For a book with a title like 'Ticker' the clock motif is a must. It's pretty striking. 
Julia Says 
I love the colors and the simplicity of this cover, reminiscent of the Gail Carriger books.
Libbie Says 
I kept seeing the movie The Ring. Or the Blue Man Group. But that doesn't mean it isn't striking and beautiful, in its way. If anything, it makes me want to know more about the story, and that's what a good cover should do.
Deadeye (Mutant Files #1) by William C. Dietz
Expected publication: January 27th 2015 by Ace
Source: Goodreads
Covers in Series
N/A
The national bestselling author of the Legion of the Damned novels, "a must-read for any fan of Mil Fic," (Archaeologist's Guide to the Galaxy) begins a brand new science fiction police procedural series…
In the year 2038, an act of bioengineered terrorism decimated humanity. Those who survived were either completely unaffected or developed horrible mutations. Across the globe, nations are now divided between areas populated by "norms" and lands run by "mutants"…
Detective Cassandra Lee of Los Angeles's Special Investigative Section has built a fierce reputation taking down some of the city's most notorious criminals. But the serial cop killer known as Bonebreaker—who murdered Lee's father—is still at large. Officially, she's too personally involved to work on the Bonebreaker case. Unofficially, she's going to hunt him to the ends of the earth.
In the meantime, duty calls when the daughter of Bishop Screed, head of the Church of Human Purity, is kidnapped by mutants and taken into the red zone to be used for breeding. Assigned to rescue her, Lee must trust her new partner—mutant lawman Deputy Ras Omo—to guide her not only through the unfamiliar territory but through the prejudicial divisions between mutants and norms…
No Author Comment Available.
Megan Says 
Badass PoC, always nice to see. She might be copying Black Widow's pose from the Captain America 2 posters, but she's making it work. If it weren't for 'mutant' on the cover though, I'm not sure I'd peg this as paranormal. 
Julia Says 
Badass and gritty, I like this one.
Libbie Says 
I know she's holding guns…and maybe I'm showing my age. But that posture…my head started thinking "When you're a Jet…" from West Side Story. That and she appears to have lost a leg or she's doing a Rockette kick and showing us the bottom of her spike-soled boots? Eh. Not doing a lot for me.
The Dragon Conspiracy (SPI Files #2) by Lisa Shearin
Expected publication: January 27th 2015 by Ace
Source: Goodreads
Covers in Series
We're Supernatural Protection & Investigations, known as SPI. We battle the real monsters of myth and legend, but this Halloween, we're searching for diamonds…
A gala opening at the Metropolitan Museum of Art has attracted the upper crust of Manhattan—and thieves. A trio of vile harpies attacks the crowd and steals the stars of the exhibition: a colorful cluster of seven cursed diamonds known as the Dragon Eggs.
In the right mage's hands, each stone can pack a magical wallop. Together they have the power to "cure" the supernaturals of the tristate area—but for many of those vampires and werewolves, that means turning into dust.
I'm Makenna Fraser, a seer for SPI. With the help of my partner, Ian, and the other agents, I have twenty-four hours to prevent total global panic, find the diamonds, and save the supernatural community. No biggie…
No Author Comment Available.
Megan Says 
Keeps with the first in the series, and I think I like this one better. The dragon silhouette tells you all you need to know while keeping some mystery. The only negative is that the illustration makes the characters look a little simple. 
Julia Says 
A match for book one, but this time the elements don't work well together.  The colors are jarring, the figures are too small and blurry, overall the combination of the eye popping title color and fire and small figures makes me wince.  Still, the cover composition is close and I love the shadow cast on the stairs.  
Libbie Says 
Love the retro almost comic or retro feel to it. And, hello, dragons. How can you not? There is a dragon. And fire. And women in full length dresses/men in tuxes packing weaponry like perfectly selected accessories. It's not quite my kind of book, but I can appreciate some serious beauty in the cover.
Tales from the Nightside by Simon R. Green
Expected publication: January 6th 2015 by Ace Hardcover
Source: Goodreads
Covers in Series
N/A
New York Times bestselling author Simon R. Green returns to the "bizarre and gleefully dangerous backdrop" (Jim Butcher, #1 New York Times bestselling author of the Dresden Files) of the Nightside with this landmark collection of short fiction.
Welcome to the Nightside. It's the secret heart of London, beating to its own rhythm, pumping lifeblood through the veins of its streets and alleys hidden in eternal darkness, where creatures of the night congregate and where the sun is afraid to shine. It's the place to go if you're looking to indulge the darker side of your nature—and to hell with the consequences.
Tales from the Nightside presents ten macabre mysteries that shine a dim beam into the neighborhood's darkest corners to reveal things that shouldnever come to light. Take a walk with such deadly and dangerous denizens of the Nightside as Razor Eddie, Dead Boy, and Larry Oblivion as they encounter things even more inhuman and inhumane than they are. And join John Taylor, the PI with a knack for finding lost things, as he confronts Sir Francis Varney, King of the Vampires, in a never-before-published novella-length adventure.
There may be nothing to be afraid of in the dark, but there's plenty to be afraid of in the Nightside…
Includes "The Big Game," a Never-Before-Published Nightside Novella and Nine Other Favorite Nightside Stories.
No Author Comment Available.
Megan Says 
Macabre, certainly, but a little too dark, color-wise. Also, I'm not that big a fan of an author's name being so huge in respect to the title. 
Julia Says 
Very creepy, I love the floating figure in the center.
Libbie Says 
Hello floaty freaky guy just hanging out in the middle there of a red hall surrounded by skulls. I guess it does it's job of letting the reader know this probably isn't going to be a feel good kind of book that will have me giggling. There's also a good chance freaky floaty guy will show up in a nightmare in the near future.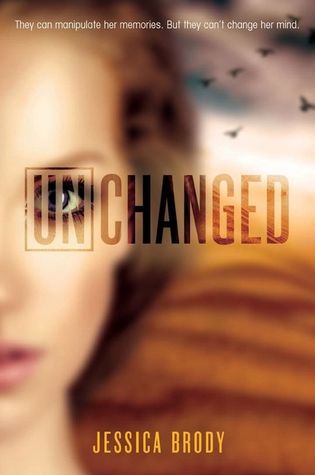 Expected publication: March 2015 by Farrar, Straus, and Giroux Books for Young Readers.
Source: Goodreads
Covers in Series
So many secrets are buried within these compound walls.
I used to be one of those secrets. 
After returning to the Diotech compound and undergoing an experimental new memory alteration, Seraphina is now a loyal, obedient servant to Dr. Alixter and the powerful company that created her. Happy and in love with Kaelen, another scientifically-enhanced human designed to be her perfect match, Sera's history with a boy named Zen is just a distant memory from a rebellious past she longs to forget.
But as Sera and Kaelen embark on a nationwide tour to promote Diotech's new product line—a collection of controversial genetic modifications available to the public—Sera's mind starts to rebel. She can't stop the memories of Zen from creeping back in.
As more secrets are revealed, more enemies are uncovered, and the reality of a Diotech-controlled world grows closer every day, Sera will have to choose where her true loyalties lie, but it's a choice that may cost her everything she's ever loved.
No Author Comment Available.
Megan Says 
I'm not sure I'd immediately think 'paranormal,' but the cover draws me in. I think blurring the photo and sharpening the bits to form the title is pretty neat. It focuses the eye, and plays to the theme of brainwashing. Her mask is fuzzy, but her memories are in there somewhere. 
Julia Says 
I really like the impact of the unfrosted lettering, it makes her eye a creepy focal point.  Still, unless I'm focusing closely the overall blurriness is rather boring.
Libbie Says 
Sorry, but I looked at that cover and immediately checked to see if I had taken my glasses off without realizing it. The more I looked, the more my eyes kept trying to make the cover go into focus and then I started to get sick. Probably for others who don't have vertigo issues, it'd be fine. I'm not that person (I had to crawl out of the Planetarium because I couldn't orient myself once.)

And our picks for Best & Worst covers of the week…
Best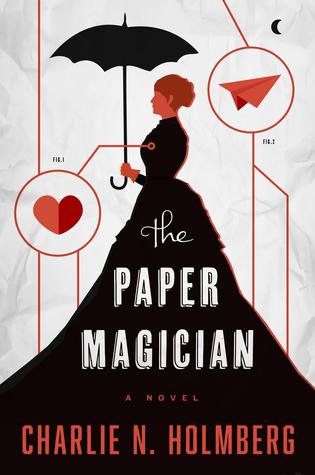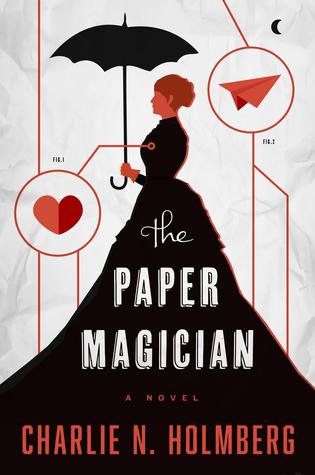 Worst
---
Have a cover we should include in an upcoming post? Fill out our Cover Submit form