Familiar characters, shapeshifter romance gone awry, and textile semantics that can ruin a whole cover, this week's new reveals have it all!
 If you're a blogger interested in joining in on the commenting fun, fill out our Guest Commentator form here!
Expected publication: March 3rd 2015 by NAL Trade
Source: Author's Website
Covers in Series
No Description Available.
No Author Comment Available.
Kate Says 
Not a huge fan – I wish she was wearing more practical shoes (they almost got her outfit right) and her hair is annoyingly in her face. But I am excited about this book so it's hard to remove that excitement from whether or not I like the cover. 
Julia Says 
Good to know those leather pants have some stretch in them.
Kristina Says 
Why is she squatting like that? She is streching out her hamstring I think. Can you do that in tight leather? How long was that poor model put in that position? So many questions.
The Danger of Destiny (Mystwalker #4) by Leigh Evans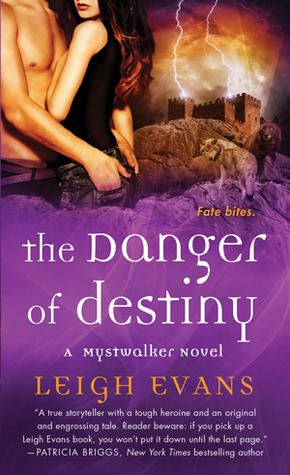 Expected publication: March 3rd 2015 by St. Martin's Paperbacks
Source: Goodreads
Covers in Series
WHY WHISTLE IN THE DARK…
There are very few days off when you're on an epic quest. Believe me, I know. I'm Hedi Peacock—one half Fae, the other Were—and if being a half-breed with one foot in each world isn't tough enough to manage, there are the four chambers of my heart to consider. The one who holds the strings? Robson Trowbridge, the Alpha of Creemore. If I had my way, he and I would be locked in a bedroom, for eternity, but a pressing family matter needs my attention. It's true what they say: A woman's work is never done.
WHEN YOU CAN HOWL AT THE MOON?
My twin brother is being held captive by the Old Mage in another realm. Lo and behold, as soon as Trowbridge and I arrive in Merenwyn, we're separated in spectacular, dramatic fashion—and I'm left to figure out how to maintain the fragile balance between my Fae magic and my wolf's blood in a realm that cries to both. Not easy, particularly when I'm keeping an iron-grip on my temper so as not to dispatch with extreme prejudice the odd wizard or smart-mouthed mutt servant who crosses my path. My mama never told me there'd be days like these, but I'm not going down without a fight…or my mate.
No Author Comment Available.
Kate Says 
Some of this series' covers haven't been great but this one takes the cake. Half the cover isn't even an image, just purple! What's up with that?! 
Julia Says 
Wow, another book in the series, another completely different cover style.  This one seems very generic and PNR, not bad but not memorable.
Kristina Says 
The images just don't fit. The purple is just weird and it looks like the wolf stepped in some purple paint. Poor wolf.
Death Marked (Death Sworn #2) by Leah Cypress
Expected publication: March 3rd 2015 by Greenwillow Books
Source: Goodreads
Covers in Series
A young sorceress's entire life has been shaped to destroy the empire controlling her world. But if everything she knows is a lie, will she even want to fulfill her destiny? The sequel to Death Sworn is just as full of magic and surprising revelations, and will thrill fans of Leigh Bardugo and Robin LaFevers.
At seventeen, Ileni lost her magical power and was exiled to the hidden caves of the assassins. She never thought she would survive long. But she discovered she was always meant to end up, powerless, in the caves as part of an elder sorcerer's plan to destroy the evil Empire they'd battled so long. Except that Ileni is not an assassin, and she doesn't want to be a weapon. And, after everything, she's not even sure she knows the truth. Now, at the very heart of the Empire—its academy for sorcerers—the truth is what she seeks. What she finds challenges every belief she holds dear—and it threatens her fledgling romance with the young master of assassins.
Leah Cypess spins an intricate and beautiful conclusion to Ileni's story. In the end, it may not be the epic decisions that bring down an empire, but the small ones that pierce the heart.
No Author Comment Available.
Kate Says 
There's just a bit much going on here with this cover. I don't like the way the images seem superimposed on one another, I wish it was just a clean image once you looked through the window. 
Julia Says 
Another book, another creepy tower. This cover is fine, but not memorable.
Kristina Says 
The lighthouse is pretty eerie and I like that it looks like we are looking through a mirror rather than a window.
Published July 5th 2014
Source: Goodreads
Covers in Series
"Are you ready to be kissed?" he breathes against the corner of my mouth.
My knees start to tremble and there are butterflies in my belly now. Way too many. "I don't think this is a good idea."
"I think it's the best idea I had in a long time."
Desperate to leave Neverland and find his love in this notorious town called London, James Hook makes a grave mistake. He puts his own wishes above those of his half-brother and once-arch-enemy, Peter Pan.
The consequences alter Peter's life in a way no one could have foreseen. The boy who wouldn't grow up swears revenge, and what better way than by stealing Hook's girl?
The first to arrive in London, Peter finds Angel once again without any memory of ever being in Neverland. That gives him time to plant the idea of a ruthless pirate captain in her mind—someone who tried to kill her once and is now on his way to kidnap her again. If only this stubborn girl would stop playing with Peter's head. He'd completely forgotten how beautiful she was. Or is it only because he sees her through different eyes now?
Through a shower of falling stars, a loop around the moon, and then a hard left at the Clock Tower—when James Hook finally arrives in London, he has to fight with a vengeance for his love and face a boy who grew up after all…
No Author Comment Available.
Kate Says 
This is a bit racey for a young adult cover- aren't the boys in those usually fully clothed? 
Julia Says 
There's a lot going on in this cover, and it doesn't work so as well for me as the first one.  All the elements on NEVERLAND clearly tie back to the story we all know, PAN'S REVENGE still has the same flavor, but the necklace and forlorn man on the title seems like too much.
Kristina Says 
Pretty and magical looking. I don't like the red heart though. It sticks out and looks odd.
Timebomb by Scott K. Andrews
Published June 5th 2014 by Hodder & Stoughton
Source: Goodreads
Covers in Series
N/A
New York City, 2141: Yojana Patel throws herself off a skyscraper, but never hits the ground.
Cornwall, 1640: gentle young Dora Predennick, newly come to Sweetclover Hall to work, discovers a badly-burnt woman at the bottom of a flight of stairs. When she reaches out to comfort the dying woman, she's knocked unconscious, only to wake, centuries later, in empty laboratory room.
On a rainy night in present-day Cornwall, seventeen-year-old Kaz Cecka sneaks into the long-abandoned Sweetclover Hall, determined to secure a dry place to sleep. Instead he finds a frightened housemaid who believes Charles I is king and an angry girl who claims to come from the future.
Thrust into the centre of an adventure that spans millennia, Dora, Kaz and Jana must learn to harness powers they barely understand to escape not only villainous Lord Sweetclover but the forces of a fanatical army… all the while staying one step ahead of a mysterious woman known only as Quil.
No Author Comment Available.
Kate Says 
At first glance this is really cool, and as I look at it more, it doesn't get any less awesome. I love the combined future and past images with the blurry girl in the middle- conveys perfectly the feeling I get from the book description. 
Julia Says 
A cool visual for involuntary time travel.
Kristina Says 
The blurriness denotes time displacement I imagine. I kind of like it but the whole city being upside down is confusing me. Which way is up?!
Aces Abroad (Wild Cards #4) edited by George R. R. Martin
Expected publication: January 13th 2015 by Tor Books
Source: Goodreads
Covers in Series
Book four of the original Wild Cards series now in trade paperback—featuring two brand-new stories
The action-packed alternate fantasy returns for a new generation, featuring fiction from #1 New York Times bestselling author George R. R. Martin, Michael Cassutt, Melinda M. Snodgrass, Lewis Shiner, and more—plus two completely new stories from Kevin Andrew Murphy and bestselling author Carrie Vaughn. Forty years after the Wild Card Virus's release, the World Health Organization decides it's time to take a delegation of Aces, Jokers, politicians, and journalists on a fact-finding mission to learn how other countries are dealing with the virus that reshaped humanity. Leading the team is Gregg Hartmann, a senator with presidential aspirations and a dangerous ace up his sleeve. Joining him is a menagerie of some of the series' best and most popular Wild Cards, including Dr. Tachyon, aces Peregrine and Golden Boy, and jokers Chrysalis, Troll, and Father Squid. From the jungles of Haiti and Peru to the tumultuous political climate of Egypt, from a monastery in Japan to the streets of the most glamorous cities of Europe, the Wild Cards are in for an eye-opening trip. While some are worshiped as actual gods, those possessing the most extreme mutations are treated with a contempt that's all too familiar to the delegates from Jokertown. New alliances will be formed, new enemies will be made, and some actions will fulfill centuries-old prophecies that make ripples throughout the future of the Wild Cards universe.
No Author Comment Available.
Kate Says 
I really dislike the "Edited by" George R. R. Martin font size difference, it is clear they're trying to capitalize on his name. Makes it hard for me to look past that to the rest of the cover. 
Julia Says 
Nothing says "exotic mutations" like Shrek vacationing at a butterfly sanctuary.  All snark aside, this cover is arresting and interesting. The visual impact plus George R. R. Martin's billboard make this a very effective cover for random shelf browsing.
Kristina Says 
OMG its Shrek! I love the butterflies and Shrek just hanging around with a camera waiting for the perfect butterfly shot.
Woven by Michael Jensen
Expected publication: January 27th 2015 by Scholastic Press
Source: Goodreads
Covers in Series
N/A
Two unlikely allies must journey across a kingdom in the hopes of thwarting death itself.
All his life, Nels has wanted to be a knight of the kingdom of Avërand. Tall and strong, and with a knack for helping those in need, the people of his sleepy little village have even taken to calling him the Knight of Cobblestown.
But that was before Nels died, murdered outside his home by a mysterious figure.
Now the young hero has awoken as a ghost, invisible to all around him save one person—his only hope for understanding what happened to him—the kingdom's heir, Princess Tyra. At first the spoiled royal wants nothing to do with Nels, but as the mystery of his death unravels, the two find themselves linked by a secret, and an enemy who could be hiding behind any face.
Nels and Tyra have no choice but to abscond from the castle, charting a hidden world of tangled magic and forlorn phantoms. They must seek out an ancient needle with the power to mend what has been torn, and they have to move fast. Because soon Nels will disappear forever.
No Author Comment Available.
Kate Says 
Agree with Kristina- kind of boring. Also makes me think it is some kind of fairy tale re-telling, and it is most definitely not. 
Julia Says 
Based on the title, this cover annoys me.  That's a needle and thread, the title should be "sewn", not "woven".  Given the blurb (which describes a hunt for a magical needle), the image makes more sense than the title.  Semantics aside, the image quality of this cover is a bit too bright, sharp, and simplistic.  It looks cheap.
Kristina Says 
Kind of boring and I am taking points for no actual weaving on the cover.
Silvern (Gilded #2) by Christina L. Farley
Expected publication: September 23rd 2014 by Skyscape
Source: Goodreads
Covers in Series
Jae Hwa Lee has destroyed Haemosu, the dangerous demi-god that held her ancestors captive, and now she's ready to forget about immortals and move on with her life. Then the god of darkness, Kud, sends an assassin to kill her. Jae escapes with the knowledge that Kud is seeking the lost White Tiger Orb, and joins the Guardians of Shinshi to seek out the orb before Kud can find it.
But Kud is stronger and more devious than Haemosu ever was. Jae is soon painfully reminded that by making an enemy of Kud, she has placed her closest friends in danger, and must decide how much she can bear to sacrifice to defeat one of the most powerful immortals in all of Korea.
No Author Comment Available.
Kate Says 
Aside from the title (which I think is not great) this cover is awesome. I love the color combo and the tiger. 
Julia Says 
Slap this puppy on black velvet, and you have a wall hanging guaranteed to scare the beejeebers out of any stoner. The title font seems overdone next to the tiger, or perhaps the tiger with the empty eyes seems overwhelming next to the title… either way, this is too much.
Kristina Says 
Spirit tiger with glowing eyes is awesome.
Expected publication: March 3rd 2015 by Ace
Source: Goodreads
Covers in Series
THE NEW CHARLES AND ANNA NOVEL
Praised as "the perfect blend of action, romance, suspense and paranormal,"* the Alpha and Omega novels transport readers into the realm of the werewolf, where Charles Cornick and Anna Latham embody opposite sides of the shifter personality. Now, a pleasure trip drops the couple into the middle of some bad supernatural business…
For once, mated werewolves Charles and Anna are not traveling because of Charles's role as his father's enforcer. This time, their trip to Arizona is purely personal, as Charles plans to buy Anna a horse for her birthday. Or at least it starts out that way…
Charles and Anna soon discover that a dangerous Fae being is on the loose, replacing human children with simulacrums. The Fae's cold war with humanity is about to heat up—and Charles and Anna are in the cross fire.
No Author Comment Available.
Kate Says 
This looks more like the graphic novels than the rest of the books that I recall. I'm not a huge fan of the glowey eyes so that could also be it. 
Julia Says 
Wow, and interrupted vacation sure as heck pisses off Charles and Anna.  Anna's eyes are gold, her wolf's eyes are blue, it's such a cool detail that this cover shows her on her way to wolf.  Still, wish they both still don't look so freaking angry.
Kristina Says 
I like their glowing eyes and the little wolf in the background.
The Witches of Echo Park (The Witches of Echo Park #1) by Amber Benson
Expected publication: January 6th 2015 by Ace Trade
Source: Goodreads
Covers in Series
N/A
From beloved author, director, and actress, Amber Benson…
Unbeknownst to most of humankind, a powerful network of witches thrives within the shadows of society, using their magic to keep the world in balance. But they are being eliminated—and we will all pay if their power falls…
When Elyse MacAllister's great-aunt Eleanora, the woman who raised her, becomes deathly ill, Lyse puts her comfortable life in Georgia on hold to rush back to Los Angeles. And once she returns to Echo Park, Lyse discovers her great-aunt has been keeping secrets—extraordinary secrets—from her.
Not only is Lyse heir to Eleanora's Victorian estate; she is also expected to take her great-aunt's place in the Echo Park coven of witches. But to accept her destiny means to place herself in deadly peril—for the world of magic is under siege, and the battle the witches now fight may be their last…
No Author Comment Available.
Kate Says 
Super hard to read the title! And it barely looks paranormal, like Kristina points out. Really rather blah. 
Julia Says 
This cover has great colors and composition, eye catching and intriguing.  
Kristina Says 
So they added some glowey globes and strands to make this cover look paranormal. Good call because otherwise it would look like some contemporary story about a girl 'blossoming into womanhood, dealing with life while chilling out with her trusty cat, Ted'.
Overcome (Breeds #6, 13, 15) by Lora Leigh
Expected publication: February 3rd 2015 by Berkley Trade
Source: Goodreads
Covers in Series
The #1 New York Times bestselling author of Bengal's Questignites the most dangerous instincts known to man, woman, and beast in these Breed novellas, collected in one volume for the first time. 
The Breed Next Door 
Lyra thinks her new neighbor looks too good to be true. But Tarek Jordan is even more than he seems: a Breed Enforcer on the run. And even though he wants her, Tarek knows Lyra could get burned—unless she embraces the danger that comes with loving a Breed.
In a Wolf's Embrace 
Matthias and Grace are meant to mate—until he commits an act too shocking to ignore. Grace knew that the hot Breed was dangerous, but now, she fears for her own life. Yet she wonders: could it be part of some insidious plan? For there are forces determined to tear them apart and destroy what's left of the man within.
A Jaguar's Kiss 
Jaguar Breed Saban Broussard has a job to do: guard the first instructor chosen to teach Breed children. But with just one kiss and his touch, the mating phenomena begins that will tie Natalie Ricci to him forever. Unless a shadow from her past gets them both killed.
No Author Comment Available.
Kate Says 
Oh this is terrible on so many levels. Ditto about the afterthought title placement (though at least it's readable and not tiny) and the other elements just look so disparate! 
Julia Says 
This book looks like a love story between a man and his jaguar.  Oh, boy.
Kristina Says 
Why is the cat's paw pushing down the guy's arm? Is the guy dancing or stretching? Maybe the cat doesn't enjoy the dancing and wants him to stop. Also I don't like the title placement. It looks like an afterthought.

And our picks for Best & Worst covers of the week…
Best
Worst
---
Have a cover we should include in an upcoming post? Fill out our Cover Submit form