Today one of the tried and true Paranormal Romance tropes is turned on it's head, "transparent, floating animal head behind dude" becomes "transparent, floating dude head behind animal".  Which version do you like best?
 If you're a blogger interested in joining in on the commenting fun, fill out our Guest Commentator form here!
Firestorm (Deadtown #6) by Nancy Holzner
Expected publication: March 31st 2015 by Ace
Source: Goodreads
Covers in Series
They call it Deadtown: the city's quarantined section for its inhuman and undead residents. Most humans stay far from its borders—but Victory Vaughn, Boston's only professional demon slayer, isn't exactly human…
When Vicky allowed an ancient goddess to possess her, she had no regrets—it was the only way to protect the people she loved. But now Ceridwen, locked in a power struggle with the Hellion that long ago claimed Vicky with its mark, refuses to leave. Both beings believe controlling Vicky is the key to winning the coming war for the human realm.
Despite the forces pulling her apart, Vicky needs all her wits about her. The demons of Hell are growing bold and she can barely keep up with the attacks plaguing the city: sirens in the Mystic River, goblins snarling traffic on Storrow Drive, imps tearing the gold from the State House dome. As the signs of war multiply and Hell threatens to overrun its boundaries, Vicky finds herself torn between her duty to save the world and her desire to save something of herself…
No Author Comment Available.
Megan Says 
Her back leg's in an awkward position, but I like the look of the character (short hair's always a plus for me), as well as the fire motif. 
Julia Says 
I like how the fire from her sword blends in with city.
Kristina Says 
There always seems to be something on fire in this series's covers. I like it except she seems too clean looking to be surrounded by all of that destruction.
Wickedly Magical (Baba Yaga #0.5) by Deborah Blake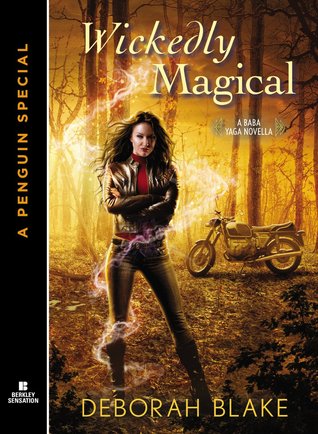 Expected publication: August 5th 2014 by Berkley
Source: Goodreads
Covers in Series
Known as the wicked witch of Russian fairy tales, Baba Yaga is not one woman, but rather a title carried by a chosen few. They keep the balance of nature and guard the borders of our world, but don't make the mistake of crossing one…
Barbara Yager loves being one of the most powerful witches in the world, but sometimes she'd rather kick back in her enchanted Airstream with a beer in her hand than work out how to grant the requests of the worthy few who seek her out.
But when a man appears with the token of a family debt of honor, Barbara must drop everything to satisfy the promise owed by her predecessor—and she isn't above being a little wicked to make sure the debt is paid in full…
No Author Comment Available.
Megan Says 
The 'Penguin Special' stripe detracts from the otherwise great cover. I like the model's attitude, the use of the bike in the background, and the limited color palette. 
Julia Says 
I'm not a fan of the black banner on the left-hand side, it overwhelms the cool half of the cover.  
Kristina Says 
She is much better dressed than in this novella than the first book. I like the swirl of magic wrapping around her leg and moving up to the title.
Bound by Flame (Night Prince #3) by Jeaniene Frost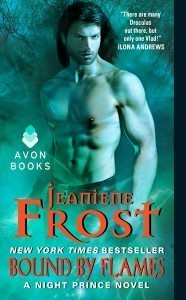 Expected publication: January 27th 2015 by Avon
Source: Goodreads
Covers in Series
Per Jeaniene's blog "Once I was done writing Twice Tempted, I realized that the Night Prince series will be a trilogy, with Vlad and Leila's story ending at book three."
No Author Comment Available.
Megan Says 
If you're going to put 'flames' in the title… The stubble with the Fabio hair just isn't working, and he's got a bit of a Derek Zoolander thing going on. 
Julia Says 
I've never been a particular fan of the flowing locks this series puts on their cover model (narrative accuracy be damned), and his facial expression on this one is particularly derpy.
Kristina Says 
I love these books but I don't love the sexy open mouthed look for Vlad. Vlad would not approve I say as if he were real…
Foxglove Summer (Peter Grant #5) by Ben Aaronovitch
Expected publication: September 25th 2014 by Gollancz
Source: Goodreads
Covers in Series
In the fifth of his bestselling series Ben Aaronovitch takes Peter Grant out of whatever comfort zone he might have found and takes him out of London – to a small village in Herefordshire where the local police are reluctant to admit that there might be a supernatural element to the disappearance of some local children. But while you can take the London copper out of London you can't take the London out of the copper.
Travelling west with Beverley Brook Peter soon finds himself caught up in a deep mystery and having to tackle local cops and local gods. And what's more all the shops are closed by 4pm…
No Author Comment Available.
Megan Says 
It's in line with the las two books in the series, but there's something about this style that seems like a dated YA book. By itself it's rather uninteresting, but it does fit with the stylized covers on the newer books in the series. 
Julia Says 
I like the topographical aesthetic they've adopted for this series, perfect for a series so tied to a sense of place.
Kristina Says 
I like this map and would love to be able to see it more clearly. The splash of blood(?) is a nice touch.
Centaur Rising by Jane Yolen
Expected publication: October 21st 2014 by Henry Holt and Co. (BYR)
Source: Goodreads
Covers in Series
N/A
One night during the Perseid meteor shower, Arianne thinks she sees a shooting star land in the fields surrounding her family's horse farm. About a year later, one of their horses gives birth to a baby centaur. The family has enough attention already as Arianne's six-year-old brother was born with birth defects caused by an experimental drug—the last thing they need is more scrutiny. But their clients soon start growing suspicious. Just how long is it possible to keep a secret? And what will happen if the world finds out?
At a time when so many novels are set in other worlds, Jane Yolen imagines what it would be like if a creature from another world came to ours in this thoughtfully written, imaginative novel.
A Christy Ottaviano Book
No Author Comment Available.
Megan Says 
The cover seems a lot more romancy than the description suggests. Mostly, the watercolor style feels like a throwback to old childrens' books, and doesn't pull me in. 
Julia Says 
This is the best they can offer Jane Yolen?!  The title font looks amateurish, and the centaur's silhouette in the background looks pasted on. THose two elements ruin an otherwise quality image.
Kristina Says 
While I love the color composition and smokey lighting of the moon I want to know if that is a weathervane in the distance. I don't think the cover artist wanted me to be squinting at the tiny thing infront of the moon though. Nice prancing centaur.
Crown of Ice by Vicki L. Weavel
Expected publication: December 16th 2014 by Month9Books
Source: Goodreads
Covers in Series
N/A
Thyra Winther's seventeen, the Snow Queen, and immortal, but if she can't reassemble a shattered enchanted mirror by her eighteenth birthday she's doomed to spend eternity as a wraith.
Armed with magic granted by a ruthless wizard, Thyra schemes to survive with her mind and body intact. Unencumbered by kindness, she kidnaps local boy Kai Thorsen, whose mathematical skills rival her own. Two logical minds, Thyra calculates, are better than one. With time rapidly melting away she needs all the help she can steal.
A cruel lie ensnares Kai in her plan, but three missing mirror shards and Kai's childhood friend, Gerda, present more formidable obstacles. Thyra's willing to do anything – venture into uncharted lands, outwit sorcerers, or battle enchanted beasts — to reconstruct the mirror, yet her most dangerous adversary lies within her breast. Touched by the warmth of a wolf pup's devotion and the fire of a young man's desire, the thawing of Thyra's frozen heart could be her ultimate undoing.
CROWN OF ICE is a YA Fantasy that reinvents Hans Christian Andersen's "The Snow Queen" from the perspective of a young woman who discovers that the greatest threat to her survival may be her own humanity.
No Author Comment Available.
Megan Says 
I feel like I commented on this cover already, which either means I did, and forgot, or there are just so many similar winter-themed book covers that I'm getting them mixed up. The make-up is great, as is her icy blue stare, but I think they could have dropped the hands behind the title as once you realize they're there, they look out of proportion to her face. 
Julia Says 
I can't decide if I like the frosted eyelashes, but they're certainly eye catching.  Her badass expression makes matters of appearance irrelevant, though, I like this woman's style.
Kristina Says 
Wow, she looks like a snow queen with the frozen eyelashes and icy color tones.
Riding the Unicorn (Different Kingdoms) by Paul Kearney
Expected publication: October 28th 2014 by Solaris
Source: Goodreads
Covers in Series
Released in the US for the first time, this is Paul Kearney's stunning novel of second chances in a world of battle and danger.
John Willoughby is being pulled between worlds. Or he is going mad, "riding the unicorn" as his prison officer colleagues would say. It's clear to Willoughby it must be the latter. Disappearing in the middle of his prison shift from among convicts, appearing in a makeshift medieval encampment for minutes before tumbling back to the real world, Willoughby believes his mind is simply breaking apart.
He finds no solace at home, with a wife who has grown to dislike him and a daughter who can barely hide her disgust. He's realized he isn't worth anyone's time, barely even his own, and falls into drinking and violence guaranteed to bring about his downfall. Except in this other world, in this winter land of first-settlers he is a man with a purpose, a man upon whom others must rely. Persuaded to kill a King so as to save a people, Willoughby finds that in another world, with a second chance he may be the kind of man he had always wanted to be after all.
No Author Comment Available.
Megan Says 
I agree with Kristina that it doesn't seem that fantastical, and is definitely lacking a unicorn, but since I thought the title was really stupid until I read the description, I don't mind that. The slight angle on the center circle makes the image pop, and suggests alien landscapes to me. 
Julia Says 
Mixing the silhouette of a house with a book titled after a metaphorical unicorn is confusing enough to distract from an otherwise eye catching cover.  This looks more like a Western than anything fantastical.
Kristina Says 
"That, sir, is not a unicorn" was my thought before reading the actual description. I like the skewed angle but other than that it doesn't say fantasy really. Perhaps they should have made that horse a unicorn…
Endgame: The Calling by James Frey & Nils Johnson Shelton
Expected publication: October 7th 2014 by HarperCollins
Source: Goodreads
Covers in Series
N/A
Twelve ancient cultures were chosen millennia ago to represent humanity in Endgame, a global game that will decide the fate of humankind. Endgame has always been a possibility, but never a reality…until now. Twelve meteorites have just struck Earth, each meteorite containing a message for a Player who has been trained for this moment. At stake for the Players: saving their bloodline, as well as the fate of the world. And only one can win.
Endgame is real. Endgame is now. Endgame has begun.
Google Niantic is building a mobile location-based augmented reality videogame inextricably tied to the books and mythology, a major prize will be tied to a puzzle in each book, and Twentieth Century Fox has bought the movie rights.
Read the Books. Find the Clues. Solve the Puzzle. Who will Win?
No Author Comment Available.
Megan Says 
You can't use that shade of yellow as a solid background color, and the words floating on top of it are just distracting. I haven't the slightest clue what this book might be about, and the black font is just cheap looking. 
Julia Says 
Maybe this cover will have gold foil?  That's the only way I can see this color working. The symbol is eye-catching, but this cover is definitely about the author names.
Kristina Says 
I do like the fact that the snakes appear to be eating each other but other than that its kind of boring.
The Whispering Skull (Lockwood & Co. #2) by Jonathan Stroud
Expected publication: September 16th 2014 by Disney Hyperion
Source: Goodreads
Covers in Series
In the six months since Anthony, Lucy, and George survived a night in the most haunted house in England, Lockwood & Co. hasn't made much progress. Quill Kipps and his team of Fittes agents keep swooping in on Lockwood's investigations. Finally, in a fit of anger, Anthony challenges his rival to a contest: the next time the two agencies compete on a job, the losing side will have to admit defeat in the Times newspaper.
Things look up when a new client, Mr. Saunders, hires Lockwood & Co. to be present at the excavation of Edmund Bickerstaff, a Victorian doctor who reportedly tried to communicate with the dead. Saunders needs the coffin sealed with silver to prevent any supernatural trouble. All goes well-until George's curiosity attracts a horrible phantom.
Back home at Portland Row, Lockwood accuses George of making too many careless mistakes. Lucy is distracted by urgent whispers coming from the skull in the ghost jar. Then the team is summoned to DEPRAC headquarters. Kipps is there too, much to Lockwood's annoyance. Bickerstaff's coffin was raided and a strange glass object buried with the corpse has vanished. Inspector Barnes believes the relic to be highly dangerous, and he wants it found.
The author of the blockbuster Bartimaeus series delivers another amusing, chilling, and ingeniously plotted entry in the critically acclaimed Lockwood & Co. series.
No Author Comment Available.
Megan Says 
Other than the fact that it looks like 'Lockwood & Co.' is the title, I like the spooky vibe. Nicely executed skull in a jar, and I like the way the chains wrap around the jar in a sort of pinwheel formation. Looks purposeful. 
Julia Says 
As a kid, this book would totally catch my eye.  Any Harry Dresden fans think Bob may have spend a few years in this state?
Kristina Says 
Skull in jar + random chains + eerie smoke = very good cover.
The Spiritglass Charade (Stoker & Holmes #2) by Colleen Gleason
Expected publication: October 7th 2014 by Chronicle Books
Source: Goodreads
Covers in Series
After the Affair of the Clockwork Scarab, Evaline Stoker and Mina Holmes are eager to help Princess Alix with a new case. Seventeen-year-old Willa Aston is obsessed with spiritual mediums, convinced she is speaking with her mother from beyond the grave. What seems like a case of spiritualist fraud quickly devolves into something far more menacing: someone is trying to make Willa "appear lunatic," using an innocent-looking spiritglass to control her. The list of clues piles up: an unexpected murder, a gang of pickpockets, and the return of vampires to London. But are these events connected? As Uncle Sherlock would say, "there are no coincidences." It will take all of Mina's wit and Evaline's muscle to keep London's sinister underground at bay.
No Author Comment Available.
Megan Says 
It's a little difficult to make out in the small size shown on Goodreads, but it seems to be a solid cover, though the description interests me a lot more than the art. 
Julia Says 
Clear period placement and fantastical elements, I like this.
Kristina Says 
I like the giant marble's colors. I am aware it is not a marble but that was my first thought upon seeing it. Its an okay cover and is in keeping with the previous book's theme.
Locks by Sarah J. Pepper
Expected publication: July 1st 2014 by Smashwords Edition
Source: Goodreads
Covers in Series
N/A
Rapunzel isn't the stereotypical Damsel in Distress. Her Bad-Boy Prince Charming is a renowned mercenary, and their Happy Ending plays out like a bad movie. However, she is determined to breakout from her tower prison—love be damned—and do it in a fabulous pair of heels.
***
Gunned down by the hottest killer in the history of the Badass Archives wasn't exactly Rapunzel's end-game. But when her reputable extraction skills fail, she uses unorthodox methods to gain her freedom from the Mercenary, whose icy blue eyes have serious panty-dropping capabilities. Even though most girls wouldn't fall for their would-be assassin, Rapunzel isn't like most dames. Her major girl-boner for the Mercenary is so pathetically intense it verges on cliché.
Regardless, Rapunzel's hands are tied. Love chooses its victims, not the other way around. She isn't the stereotypical Damsel in Distress. Her Bad-Boy Prince Charming is a renowned mercenary, and her "Happy Ending" plays out like a bad movie. However, she is determined to find her freedom—love be damned—and she'll do it in a fabulous pair of heels.
No Author Comment Available.
Megan Says 
Punk Rapunzel is great, but this cover looks like it was made using a 'comic book' filter over a photograph. Someone was having a lot of fun with their distressed grunge brush in Photoshop. 
Julia Says 
To balance this complex image, I feel like they should have taken it easy on the title/author fonts.  All together, this cover is way too much.
Kristina Says 
I love punk Rapunzel. That's all I have to say.
Expected publication: January 1st 2015 by InterMix
Source: Goodreads
Covers in Series
No Description Available.
No Author Comment Available.
Megan Says 
It's one thing to have a fade on a human, but the wolf looks like its legs are disappearing into the rock. And the creeper in the corner looks to be plotting the wolf's demise. 
Julia Says 
Finally!  The wolf gets center stage and the dude is relegated to "floating head" status.  All kidding aside, I actually like this arrangement much better than the usual.
Kristina Says 
This is in keeping with the rest of the covers in the series but I just don't like the floating face in the corner. And what is that blinding light that is apparently taking out the wolf's rear end?
Expected publication: October 21st 2014 by InterMix
Source: Goodreads
Covers in Series
Some people need something to fight for…
With the attacks on their homes escalating and human half-breeds seeking sanctuary among them, the loup garou are reaching their breaking point. Two, in particular.
After failing to stop his little brother's kidnapping years ago, Bishop McQueen angrily broods on his shame, though no one else blames him.
Jillian Reynolds is still dealing with a tragic accident that took everything she ever wanted from life. And her attraction to Bishop is only making things more difficult.
When word reaches them that Jillian's hometown is under attack, the Alpha takes Bishop, Jillian, and a group of enforcers to assist in the battle. And it is in this chaos that both Bishop and Jillian will have to face their pasts—and the true feelings they have for each other—if they are going to survive…
No Author Comment Available.
Megan Says 
Two from the same series, but there's definitely a contrast. The forest is used more subtly than the rock of the first one, and the male model is more clearly in focus, and looks less like a malevolent spirit. 
Julia Says 
Real wolf, thumbs up.  Dude in the background?  Meh, kind of ambivalent, but I like the scruff.
Kristina Says 
I only gave this one a middle due to the lack of blinding light slicing up the wolf and the fact that the floating face is sharper than the previous book's cover. Oh and it looks like the face is attached to the tree.
The Last American Vampire by Seth Grahame-Smith
Expected publication: January 13th 2015 by Grand Central Publishing
Source: USA Today
Covers in Series
N/A
New York Times bestselling author Seth Grahame-Smith returns with the follow-up to Abraham Lincoln: Vampire Hunter--a sweeping, alternate history of 20th Century America as seen through the eyes of vampire Henry Sturges.
THE LAST AMERICAN VAMPIRE

In Reconstruction-era America, vampire Henry Sturges is searching for renewed purpose in the wake of his friend Abraham Lincoln's shocking death. It will be an expansive journey that will first send him to England for an unexpected encounter with Jack the Ripper, then to New York City for the birth of a new American century, the dawn of the electric era of Tesla and Edison, and the blazing disaster of the 1937 Hindenburg crash. Along the way, Henry goes on the road in a Kerouac-influenced trip as Seth Grahame-Smith ingeniously weaves vampire history through Russia's October Revolution, the First and Second World Wars, and the JFK assassination. Expansive in scope and serious in execution, THE LAST AMERICAN VAMPIRE is sure to appeal to the passionate readers who made Abraham Lincoln: Vampire Hunter a runaway success.
No Author Comment Available.
Megan Says 
The spin on the iconic photo is pretty great, but it feels like the designer gave up after – also, it seems as though a large bite was taken out of the nurse's backside. 
Julia Says 
Forrest Gump with fangs, thanks for ruining one of the best kisses ever photographed.  Still, kind of awesome.
Kristina Says 
Arbitrary points given for the awesome altering of an iconic image! That vampire sailor is a pretty messy eater though.

And our picks for Best & Worst covers of the week…
Best
Worst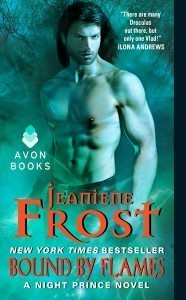 ---
Have a cover we should include in an upcoming post? Fill out our Cover Submit form