It's the last day of the month which means it's time to check out what we're reading next month in: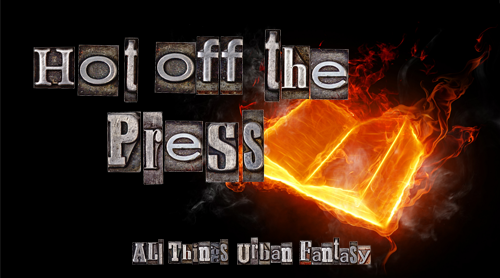 Want to know what titles came out in previous months? View previous Hot Off The Press posts
—————————————–
*Release dates are subject to change.  Click '+ Description' to reveal the full description. Please visit our Titles Received For Review page to see which of these titles will be reviewed this month.
30 Adult Titles Releasing in June

---
How do you out-devil the devil? For Vampire queen Betsy Taylor, the answer is relative—literally—as MaryJanice Davidson's "sexy, steamy, and laugh-out-loud funny" (Booklist) New York Times bestselling series continues…
---
Book two of Magic Born

In 2066, the Magic Born are segregated in urban reservations. The laws do not protect them, or their allies.

Councilwoman Elizabeth Marsden is a powerful player in New Corinth politics, but a closely guarded secret could destroy her life—she's a hidden Magic Born. Her family has gone to great lengths to erase all her magic-related records, until a trancehacking outlaw discovers the last remaining one…

Vadim Bazarov smuggles Magic Borns through the underground railroad and threatens to reveal Elizabeth's secret unless she helps him access blank ID cards. Elizabeth wants to hate him for having a stranglehold on her life, but can't help being attracted to someone so sure of who and what he is.

Vadim initially sees her as a political ice queen, but is intrigued by her suppressed magical abilities. He trains Elizabeth to use her magic, and before long finds himself falling for her. But their newfound love may be shortlived; an anti-magic ordinance forces one of them to make a choice that will change both their lives for good.

86,000 words
---
Cassidy Kincaide owns Trifles & Folly, an antique/curio store and high-end pawn shop in Charleston, South Carolina that is more than what it seems. Dangerous magical and supernatural items sometimes find their way into mortal hands or onto the market, and Cassidy is part of a shadowy Alliance of mortals and mages whose job it is to take those deadly curiosities out of circulation.

Welcome to Trifles & Folly, an antique and curio shop with a dark secret. Proprietor Cassidy Kincaide continues a family tradition begun in 1670—acquiring and neutralizing dangerous supernatural items. It's the perfect job for Cassidy, whose psychic gift lets her touch an object and know its history. Together with her business partner Sorren, a 500 year-old vampire and former jewel thief, Cassidy makes it her business to get infernal objects off the market. When mundane antiques suddenly become magically malicious, it's time for Cassidy and Sorren to get rid of these Deadly Curiosities before the bodies start piling up.
---
Author of the beloved Half Moon Hollow series of vampire romances (Nice Girls Don't Have Fangs), Molly Harper has created a standalone paranormal romance in which a dilapidated haunted house could bring star-crossed lovers together—if it doesn't kill them first!

When Nina Linden is hired to landscape a private island off the New England coast, she sees it as her chance to rebuild her failing business after being cheated by her unscrupulous ex. She never expects that her new client, software mogul Deacon Whitney, would see more in her than just a talented gardener. Deacon has paid top dollar to the crews he's hired to renovate the desolate Whitney estate—he had to, because the bumps, thumps, and unexplained sightings of ghostly figures in nineteenth-century dress are driving workers away faster than he can say "Boo."

But Nina shows no signs of being scared away, even as she experiences some unnerving apparitions herself. And as the two of them work closely together to restore the mansion's faded glory, Deacon realizes that he's found someone who doesn't seem to like his fortune more than himself—while Nina may have finally found the one man she can trust with her bruised and battered heart.

But something on the island doesn't believe in true love…and if Nina and Deacon can't figure out how to put these angry spirits to rest, their own love doesn't stand a ghost of a chance.
---
Taking sides could be deadly…The war between good and evil is on, and nephilim Emma Jane is caught in the middle. Both sides want her working for them. And both sides know how to make her suffer if they don't like her choice. Now someone has raised the stakes and is using innocent humans as pawns in the ultimate fight for humanity…Emma Jane isn't sure which side is responsible. What she used to believe about right and wrong, good and evil—even what she used to believe about herself—is changing. Because whether she likes it or not, the final reckoning comes down to Emma Jane Hellsbane. And she'll have to choose between humanity…and the man she was never supposed to love.
---
Joanne Walker has two choices: 

Defeat the enemy…or lose her soul trying 

For over a year, Joanne has been fighting the Master—the world's most abiding evil entity. She's sacrificed family, friendships, even watched potential futures fade away…and now the Master is bringing the final battle to Joanne's beloved Seattle. 

Lives will be lost as the repercussions of all Joanne's final transformation into her full Shamanic abilities come to her doorstep. Before the end, she'll mourn, rejoice—and surrender everything for the hope of the world's survival. She'll be a warrior and a healer. Because she is finally a Shaman Rising. 

"The twists and turns will have readers shaking their heads while devouring the next page."  —USA TODAY on Raven Calls
---
Combining the sorcery of The Night Circus with the malefic suspense of A Secret History, Thorn Jack is a spectacular, modern retelling of the ancient Scottish ballad, Tam Lin—a beguiling fusion of love, fantasy, and myth that echoes the imaginative artistry of the works of Neil Gaiman, Cassandra Clare, and Melissa Marr.
In the wake of her older sister's suicide, Finn Sullivan and her father move to a quaint town in upstate New York. Populated with socialites, hippies, and dramatic artists, every corner of this new place holds bright possibilities—and dark enigmas, including the devastatingly attractive Jack Fata, scion of one of the town's most powerful families.
As she begins to settle in, Finn discovers that beneath its pretty, placid surface, the town and its denizens—especially the Fata family—wield an irresistible charm and dangerous power, a tempting and terrifying blend of good and evil, magic and mystery, that holds dangerous consequences for an innocent and curious girl like Finn.
To free herself and save her beloved Jack, Finn must confront the fearsome Fata family . . . a battle that will lead to shocking secrets about her sister's death.
---
Tough, smart, and seriously ambitious, reporter Jacqueline "Jack" Dolan despises the secretive clan of shape-shifters known as the Ikati—and has become determined to destroy them. After she writes an editorial arguing for their extermination and turns public opinion against them, the Ikati vow to fight back. They plot to send one of their own to seduce the reporter, then blackmail her into writing a retraction.
Women practically fall at the feet of hulking, handsome Hawk Luna, and Hawk relishes the idea of conquering and destroying the fiery redhead who's caused so much trouble for his kind. The last thing he expects is to develop real feelings for her, but their liaison awakens a hunger in him that he cannot deny. He kidnaps Jack and brings her to his Amazon jungle colony, but the two lovers are soon embroiled in deadly colony politics and threatened by a looming global species war.
As the danger around them grows closer, Jack and Hawk's forbidden passion may build a bridge between two ancient enemies—or cost them both their lives.
2015 Golden Quill Award Finalist for Best Paranormal2015 Daphne du Maurier Award Finalist for Best Paranormal
---
Innocence is relative, and evil is damned hard to kill . . . Kat Redding would love to take a break from the gruesome, dangerous work of hunting down rogue vampires and werewolves, battling for innocent lives. But there's no peace for Lady Death. Until Kat's young charge, Sienna, appears on her doorstep, escaped from the shadow-paradise of Delai. Sienna is weak, confused, desperate-human in the utmost. If Kat is going to have any hope of breaking the hold of Delai, she'll have to infiltrate the walls around the false sanctuary. And the only way she can do that is to trade in her battle-hardened, bloodthirsty vampire's body-for Sienna's human form. With no weapons but her wits, Kat has to trust a demon, defeat an angel, and wrestle with her own rebel soul-because with all the fear and death she's conquered, no one has ever offered her another day under a warm yellow sun . . . Praise for E.S. Moore's To Walk the Night "Fans of Underworld will not want to miss this fast-paced, action-packed debut" -Jess Haines, author of Enslaved by the Others "Kat is a complex, compelling character who takes us on a wild ride. Hold on and enjoy" -Alexandra Ivy, New York Times bestselling author
---
Second rule in this line of business: be careful who you kill.
My name's Kate Kane. And right now, I don't know which is more dangerous: my job, or my girlfriend. My job makes me the go-to girl for every supernatural mystery in London. My girlfriend's an eight-hundred-year-old vampire prince. Honestly, I think it's probably a tie.
A few weeks ago, I was hired for a simple missing person case. Next thing I know, I'm being arrested for murder, a vampire army is tearing up London, and even my dreams are out to get me. Something ancient, evil, and scary as hell is on the loose and looking for payback. The vampires are in chaos, the werewolves are culling everything, and the Witch Queen can't protect everyone.
Which means it's down to me. And all I've got to hold back the shadows is a stiff drink, a quirky sidekick, my creepy ex-boyfriend, and the woman who left me for a tech startup. It's going to be another interesting day.
---
Even in the fathomless depths of the underworld and the bleak chambers of a damaged heart, the bonds of love can heal…or destroy. He holds the ability to annihilate souls in the palm of his hand. He commands the respect of the most dangerous of demons and the most powerful of angels. He can seduce and dominate any female he wants with a mere look. But for all Azagoth's power, he's bound by shackles of his own making, and only an angel with a secret holds the key to his release. She's an angel with the extraordinary ability to travel through time and space. An angel with a tormented past she can't escape. And when Lilliana is sent to Azagoth's underworld realm, she finds that her past isn't all she can't escape. For the irresistibly sexy fallen angel known as Azagoth is also known as the Grim Reaper, and when he claims a soul, it's forever…
---
When Daniel Blackland was six, he ingested his first bone fragment, a bit of kraken spine plucked out of the sand during a visit with his demanding, brilliant, and powerful magician father, Sebastian.
When Daniel was twelve, he watched Sebastian die at the hands of the Hierarch of Southern California, devoured for the heightened magic layered deep within his bones.
Now, years later, Daniel is a petty thief with a forged identity. Hiding amid the crowds in Los Angeles―the capital of the Kingdom of Southern California―Daniel is trying to go straight. But his crime-boss uncle has a heist he wants Daniel to perform: break into the Hierarch's storehouse of magical artifacts and retrieve Sebastian's sword, an object of untold power.
For this dangerous mission, Daniel will need a team he can rely on, so he brings in his closest friends from his years in the criminal world. There's Moth, who can take a bullet and heal in mere minutes. Jo Alverado, illusionist. The multitalented Cassandra, Daniel's ex. And, new to them all, the enigmatic, knowledgeable Emma, with her British accent and her own grudge against the powers-that-be. The stakes are high, and the stage is set for a showdown that might just break the magic that protects a long-corrupt regime.
Extravagant and yet moving, Greg van Eekhout's California Bones is an epic adventure set in a city of canals and secrets and casual brutality–different from the world we know, yet familiar and true.
---
For fans of Jeaniene Frost and Kresley Cole, the third in D.L. McDermott's fast-paced and sexy paranormal romance series—a full-length novel available exclusively in ebook!

Sorcha Kavanaugh knows better than to tangle with the Fae. She's been aware of the Fair Folk, the Gentry, the Good Neighbors since she was a little girl. Her Gran used to warn her not to sing, not to play music, not to even hum, lest the Beautiful People hear her remarkable voice and spirit her away. Sorcha never believed Gran's stories, until one of the creatures walked into a bar where she was singing and stole a year of her life. So when Elada Brightsword, the right hand of South Boston's renegade Fae patriarch, interrupts her set at the Black Rose, Sorcha knows trouble has found her…again.

The Fae warrior has admired Sorcha from afar for months, but he's aware of her unhappy history with the Fae, and has been waiting for the right time to approach her. Unfortunately for Elada, time has just run out. An old enemy, the malign Prince Consort, has identified Sorcha as a Druid descendent with the potential to become a stone singer, a bard with a voice that can shatter the strongest magical constructs. He will stop at nothing to enslave Sorcha and use her voice to bring down the wall between worlds, freeing the decadent, deadly Fae Court to return—and rule again.
---
Wicked fun not to be missed – USA Today Bestselling Author Rebecca Zanetti Trust Your Instincts Rowan Harper is nothing but a smart-mouthed bookstore clerk with a crappy love life on the night she walks into Rosie's Bar. Most of the drama in her life is borrowed from her best friend's adventures. But when she meets Gabriel-tall and movie star gorgeous-everything changes. Never mind that she turns down the drink he offers, or that he brims with secrets she can't begin to guess at. He ignites a desire in her she never suspected-and shows a fascination with her she can't explain. He has no family, no job, no bank account; he knows where she lives and her favorite flower. An aura of mystery cloaks him, even as Rowan grasps for facts, even as she fears an answer that could destroy her happiness. Gabriel can guide her through a wonderland of new sensations. But only if Rowan trusts him enough to follow . . . Winner of the OKRWA "Finally a Bride" contest.
---
A bloodthirsty evil stalks the Connor Clan…
Brave, beautiful, and haunted by her past, demon hunter Anna MacKinley will do anything to help the Connors. Under divine orders, the headstrong warrior travels the world, slaying demons and vampires. When she stumbles upon a hidden stone fortress while searching for her clan's lost Book of Battles, dark forces swiftly imprison her—and she discovers her cell mate is a gorgeous Scottish warrior who has no memories, but looks strikingly familiar.
And only a secret from the past can win the day…and her heart.
The warriors of the centuries-old Connor Clan search for their missing time-vault and the powerful relic within. What they find is a grave…and a kilt-clad body they fear is the long-lost Tavis Connor. But there may yet be more to the Highland warrior's fate than a pile of bones. Desperate to save his brother and his clan's Book of Battles from a demon hell-bent on destruction, Tavis begins a 150-year quest that will end in modern-day New York. But when he wakes, he discovers he's the one in need of help. His only hope of rescue is a bonny lass who claims to be a warrior. A warrior waging war on demons…and his heart.
---
Book 3 in the Heart of the Jaguar Series
Two deadly predators…One hot mission
As a feline Enforcer, Tammy Anderson has one objective: locate the missing jaguar and return it to the States. She doesn't have time for distractions, and she definitely doesn't have time for sexy shifters with more muscles than sense.
Everyone and their brother has warned JAG agent David Patterson that Tammy is Ms. Hands-Off…which only makes him more determined to get very hands-on. But things heat up in the steamy jungles of Belize and their simple mission gets a whole lot more complicated. Now it's going to take everything David's got to protect the gorgeous she-cat who somehow managed to claw her way past his defenses…and into his heart.
Heart of the Jaguar Series:
Savage Hunger (Book 1)
Jaguar Fever (Book 2)
Jaguar Hunt (Book 3)
Jaguar Pride (Book 4)
Praise for A Seal Wolf Christmas:
"A pulse-pounding ride." ―Publishers Weekly
"Thrilling…edge-of-your-seat action." ―RT Book Reviews
Praise for Jaguar Fever:
"A fantastic shifter romance. I loved reading this amazing book." ―Imagine a World
"Readers will enjoy this thrilling tale as love and danger collide." ―Midwest Book Review
---
From
New York Times
and
USA Today
bestselling author, Marie Hall, comes the second installment in the Eternal Lovers, sexy, dark, paranormal romance series!
As a Seer, Mila O'Fallen is one of the last humans capable of channeling visions of the past and future. The one thing she can't see is her own fate, but she knows it's grim. All types of ruthless, supernatural creatures want to use her abilities, and they will do anything to gain access to her powers. When vampires descend upon her, it looks like the end-until a formidable figure appears. She feels a connection to him that is instant, unearthly, and explosive.
Grim reaper Frenzy never thought he would see the eyes of his lover again. She was murdered centuries ago, but her amber eyes are alive in Mila. Though it's not his job to protect humanity, something tells him protecting this human is what he was born to do. Yet vampires are the least of their worries. Frenzy and Mila quickly learn that a dark force is matching their every step. And even as they crave each other, the darkness craves them . . .
Approx. 90,000 words.
---
It's the Roaring Twenties in foggy San Francisco. Prohibition is on, inhibitions are low, and dark magic is rolling into town…
 
Archaeologist Lowe Magnusson is packing something everyone wants. The djed amulet, a priceless Egyptian artifact, will fetch Lowe a hefty paycheck from one of San Francisco's wealthiest. But when the handsome Swede runs into his patron's uptight daughter, what he once considered easy money becomes maddeningly complicated… 
 
Cursed with deadly spirits as her constant companions, curator Hadley Bacall must keep calm to hold her dangerous specters at bay and prevent them from lashing out at anything—or anyone. Trouble is, Lowe is driving her crazy, but her father needs the artifact he's transporting. While Hadley can feel the amulet's power, she can't fathom the destruction—or the desire—it's about to stir up.
---
I am Princess Meredith NicEssus. Legal name Meredith Gentry, because "Princess" looks so pretentious on a driver's license. I was the first faerie princess born on American soil, but I wouldn't be the only one for much longer…
Merry Gentry, ex–private detective, now full-time princess, knew she was descended from fertility goddesses, but when she learned she was about to have triplets, she began to understand what that might mean. Infertility has plagued the high ranks of faerie for centuries. Now nobles of both courts of faerie are coming to court Merry and her men, at their home in exile in the Western Lands of Los Angeles, because they will do anything to have babies of their own.
Taranis, King of Light and Illusion, is a more dangerous problem. He tried to seduce Merry and, failing that, raped her. He's using the human courts to sue for visitation rights, claiming that one of the babies is his. And though Merry knows she was already pregnant when he took her, she can't prove it.
To save herself and her babies from Taranis she will use the most dangerous powers in all of faerie: a god of death, a warrior known as the Darkness, the Killing Frost, and a king of nightmares. They are her lovers, and her dearest loves, and they will face down the might of the high courts of faerie—while trying to keep the war from spreading to innocent humans in Los Angeles, who are in danger of becoming collateral damage.
---
In Jaime Lee Moyer's A Barricade in Hell, Delia Martin has been gifted (or some would say cursed) with the ability to peer across to the other side. Since childhood, her constant companions have been ghosts. She used her powers and the help of those ghosts to defeat a twisted serial killer terrorizing her beloved San Francisco. Now it's 1917―the threshold of a modern age―and Delia lives a peaceful life with Police Captain Gabe Ryan.
That peace shatters when a strange young girl starts haunting their lives and threatens Gabe. Delia tries to discover what this ghost wants as she becomes entangled in the mystery surrounding a charismatic evangelist who preaches pacifism and an end to war. But as young people begin to disappear, and audiences display a loyalty and fervor not attributable to simple persuasion, that message of peace reveals a hidden dark side.
As Delia discovers the truth, she faces a choice―take a terrible risk to save her city, or chance losing everything?
---
For centuries, the Dragon Kings have battled heaven and earth to protect their dragon magic. But when a beautiful mortal seeks refuge in their lair, she ignites a warrior's love, an enemy's wrath, and a firestorm of passion that could destroy them all…
A WOMAN ON THE RUN
Sammi Miller lives a quiet life as a pub owner in the Scottish Highlands?until the mob bursts in with guns blazing, looking for her ex-lover. Taking a bullet in the shoulder, she manages to escape and make her way to her half-sister Jane. Hidden away in the mountain fortress of the mysterious Dreagan Industries, Sammi finds more than a safe haven. She finds Tristan?the most gorgeous, beguiling, and haunted man she has ever known…
A WARRIOR ON FIRE
Newest of the Dragon Kings, Tristan fell from the sky in a snowstorm naked with a sword?but with no memories of his ancient struggles. When he meets the wounded Sammi, something powerful stirs within his heart. When he sees the dragon symbol etched into the bullet from her shoulder, something fierce burns within his soul. With his darkest enemies closing in, Tristan must take wing, take sides?and take no prisoners?to save the woman he's destined to love…in Fire Rising, second novel in the Dark Kings series

"Donna Grant spins a searing and intense tale will keep readers spellbound."?Romance Reviews Today on the Dark Sword series
---
"The alpha author of paranormal romance" (Booklist) draws us back into her extraordinary Psy-Changeling world, a world torn between violence and peace, passion and ice…
Assassin. Soldier. Arrow. That is who Vasic is, who he will always be. His soul drenched in blood, his conscience heavy with the weight of all he's done, he exists in the shadows, far from the hope his people can almost touch—if only they do not first drown in the murderous insanity of a lethal contagion. To stop the wave of death, Vasic must complete the simplest and most difficult mission of his life.
For if the Psy race is to survive, the empaths must wake…
Having rebuilt her life after medical "treatment" that violated her mind and sought to suffocate her abilities, Ivy should have run from the black-clad Arrow with eyes of winter frost. But Ivy Jane has never done what she should. Now, she'll fight for her people, and for this Arrow who stands as her living shield, yet believes he is beyond redemption. But as the world turns to screaming crimson, even Ivy's fierce will may not be enough to save Vasic from the cold darkness…
---
My name is Drood, Eddie Drood, aka Shaman Bond. For generations my family has protected you ordinary mortals against things that lurk in the darkness, just out of sight, but not at all out of mind.
 
Unfortunately, I've had a falling-out with my near and dear (some of whom were trying to kill me), so my true love and powerful witch, Molly Metcalf, and I are now in the employ of the Department of the Uncanny. We've been given an Extremely Important Assignment: Attend Casino Infernale, an annual event held by the Shadow Bank, financiers of all global supernatural crime. Our mission: Rig the game and bring down the Shadow Bank.
 
But at Casino Infernale, the stakes are high indeed—winner takes all, and losers give up their souls….
 
26 YA Titles Releasing in June
---
When she first moved to Japan, American Katie Green had no idea she would get caught in a battle between the Japanese mafia and the supernatural forces that have governed Japan for most of its history. Despite the danger, Katie is determined to stay put. She's started to build a life in the city of Shizuoka, and she can't imagine leaving behind her friends, her aunt and especially Tomohiro, the guy she's fallen in love with.  
But the decision to stay is not as simple as she thought. She's flunking out of Japanese school and committing cultural faux pas wherever she goes. Tomohiro is also struggling—as a Kami, his connection to the ancient gods of Japan and his power to bring drawings to life have begun to spiral out of control. 
When Tomo decides to stop drawing, the ink finds other ways to seep into his life—blackouts, threatening messages and the appearance of unexplained sketches. Unsure how to help Tomo, Katie turns to an unexpected source for help—Jun, her former friend and a Kami with an agenda of his own. But is Jun really the ally he claims to be? In order to save themselves, Katie and Tomohiro must unravel the truth about Tomo's dark ancestry, as well as Katie's, and confront one of the darkest gods in Japanese legend.
---
The thrilling conclusion to the survival story In the After, set in a near future where Earth has been overrun by vicious, predatory creatures.
It's been three months since Amy escaped New Hope, and she's been surviving on her own, like she did in the After. Then one day, her former fellow Guardian's voice rings out in her earpiece. And in a desperate tone, Kay utters the four words Amy had hoped she would never hear: Dr. Reynolds has Baby. Now it's a race against time. In order to save Baby, Amy must make her way to Fort Black, a prison turned survivor colony, where she will need to find Ken, Kay's brother. He alone holds the key to Baby's survival.
But one small slipup could set off a downward spiral that would not only cost Baby and Amy their lives, but threaten the very survival of the people in the After.
---
While browsing in a rare book store in Arkham, Sean finds an occult book with an ad seeking an apprentice sorcerer, from a newspaper dated March 21, 1895. Even more intriguing, the ad specifically requests applicants reply by email.
Sean's always been interested in magic, particularly the Lovecraftian dark mythology. Against his best friend Edna's ("call-me-Eddy-or-else") advice, he decides to answer the ad, figuring it's a clever hoax, but hoping that it won't be. The advertiser, Reverend Redemption Orne, claims to be a master of the occult born more than 300 years ago. To prove his legitimacy, Orne gives Sean instructions to summon a harmless but useful familiar-but Sean's ceremony takes a dark turn, and he instead accidentally beckons a bloodthirsty servant to the Cthulhu Mythos god Nyarlathotep. The ritual is preemptively broken, and now Sean must find and bind the servitor, before it grows too strong to contain. But strange things are already happening in the town of Arkham….
Welcome to the darker side of New England in the first of a new series from Anne Pillsworth.
"Summoned is a fantastic debut…this YA gothic is infused with sly wit and occult tremors in equal measure. Finally, a novel for readers who like their magic dangerous, and their hexes irrevocable." -Sean Beaudoin, author of The Infects and Wise Young Fool
---
One minute, twenty-four-year-old Sophie Hansa is in a San Francisco alley trying to save the life of the aunt she has never known. The next, she finds herself flung into the warm and salty waters of an unfamiliar world. Glowing moths fall to the waves around her, and the sleek bodies of unseen fish glide against her submerged ankles.
The world is Stormwrack, a series of island nations with a variety of cultures and economies―and a language different from any Sophie has heard.
Sophie doesn't know it yet, but she has just stepped into the middle of a political firestorm, and a conspiracy that could destroy a world she has just discovered…her world, where everyone seems to know who she is, and where she is forbidden to stay.
But Sophie is stubborn, and smart, and refuses to be cast adrift by people who don't know her and yet wish her gone. With the help of a sister she has never known, and a ship captain who would rather she had never arrived, she must navigate the shoals of the highly charged politics of Stormwrack, and win the right to decide for herself whether she stays in this wondrous world…or is doomed to exile, in Child of a Hidden Sea by A.M. Dellamonica.
---
The moment seventeen-year-old Samantha Thompson crawls out of her grave, her second chance at life begins. She died of cancer with her long-time boyfriend, Ethan, by her side–a completely unfair shot at life. But Ethan found a way to bring her back, like he promised he would. Only Sam came back wrong. She's now a monster that drains others' lives to survive. And after she kills, she's tortured by visions–glimpses into her victims would have- been futures had she not killed them. Barely able to live with herself and trying to make things right, Sam ends up a pawn in a vicious game of payback within the local coven of witches. But when the game reveals what Ethan had to do to save Sam, she must make a choice that will change all their lives forever.
---
People are disappearing. Sixteen-year-old Thea Holder hears the rumors, but she can barely make ends meet, let alone worry about strangers who've gone missing. Her mother is cursed with a spell that's driving her mad, and whenever they touch, Thea is chilled by the magic, too. Thea must make a living for both of them in this sinister city, where danger lurks and greed rules.

Thea spends her nights waitressing at the decadent Telephone Club, attending to the glitzy clientele. But when her best friend, Nan, vanishes, Thea is compelled to find her. She meets Freddy, a young, magnetic patron at the club, and he agrees to help her uncover the city's secrets-even as he hides secrets of his own.

Together, they discover a new side of the city. Unrest is brewing behind closed doors as whispers of a gruesome magic spread. And if Thea and Freddy aren't careful, the masterminds behind the growing disappearances will be after them, too.

Perfect for fans of Cassandra Clare, this is a chilling thriller with a touch of magic where the dead don't always seem to stay that way.
---
She wants to put an end to the Testing
In a scarred and brutal future, The United Commonwealth teeters on the brink of all-out civil war. The rebel resistance plots against a government that rules with cruelty and cunning. Gifted student and Testing survivor, Cia Vale, vows to fight.
But she can't do it alone.
This is the chance to lead that Cia has trained for – but who will follow? Plunging through layers of danger and deception, Cia must risk the lives of those she loves–and gamble on the loyalty of her lethal classmates.
Who can Cia trust?
The stakes are higher than ever—lives of promise cut short or fulfilled; a future ruled by fear or hope–in the electrifying conclusion to Joelle Charbonneau's epic Testing trilogy. Ready or not…it's Graduation Day.
The Final Test is the Deadliest!
---
Enter the Grishaverse with Book Three of the Shadow and Bone Trilogy by the #1 New York Times–bestselling author of Six of Crows and Crooked Kingdom.
Soldier. Summoner. Saint. The nation's fate rests with a broken Sun Summoner, a disgraced tracker, and the shattered remnants of a once-great magical army.
The Darkling rules from his shadow throne while a weakened Alina Starkov recovers from their battle under the dubious protection of the zealots who worship her as a Saint. Now her hopes lie with the magic of a long-vanished ancient creature and the chance that an outlaw prince still survives.
As her allies and enemies race toward war, only Alina stands between her country and a rising tide of darkness that could destroy the world. To win this fight, she must seize a legend's power―but claiming the firebird may be her ruin.
A New York Times Bestselling Series
A USA Today Bestseller
This title has Common Core connections.
Praise for the Grishaverse
"A master of fantasy." ―The Huffington Post
"Utterly, extremely bewitching." ―The Guardian
"The best magic universe since Harry Potter." ―Bustle
"This is what fantasy is for." ―The New York Times Book Review
"[A] world that feels real enough to have its own passport stamp." ―NPR
"The darker it gets for the good guys, the better." ―Entertainment Weekly
"Sultry, sweeping and picturesque. . . . Impossible to put down." ―USA Today
"There's a level of emotional and historical sophistication within Bardugo's original epic fantasy that sets it apart." ―Vanity Fair
"Unlike anything I've ever read." ―Veronica Roth, bestselling author of Divergent
"Bardugo crafts a first-rate adventure, a poignant romance, and an intriguing mystery!" ―Rick Riordan, bestselling author of the Percy Jackson series
"This is a great choice for teenage fans of George R.R. Martin and J.R.R. Tolkien." ?RT Book Reviews
Read all the books in the Grishaverse!
The Shadow and Bone Trilogy
(previously published as The Grisha Trilogy)
Shadow and Bone
Siege and Storm
Ruin and Rising
The Six of Crows Duology
Six of Crows
Crooked Kingdom
The Language of Thorns: Midnight Tales and Dangerous Magic
---
Nolan doesn't see darkness when he closes his eyes. Instead, he's transported into the mind of Amara, a girl living in a different world. Nolan's life in his small Arizona town is full of history tests, family tension, and laundry; his parents think he has epilepsy, judging from his frequent blackouts. Amara's world is full of magic and danger–she's a mute servant girl who's tasked with protecting a renegade princess. Nolan is only an observer in Amara's world–until he learns to control her. At first, Amara is terrified. Then, she's furious. But to keep the princess–and themselves–alive, they'll have to work together and discover the truth behind their connection.
A fascinating premise, clearly and compellingly written and imagined by a startlingly original debut writer.
Praise for Otherbound
FOUR STARRED REVIEWS
"Original and compelling; a stunning debut."
—Kirkus Reviews, starred review
"Numerous plot twists drive the story along, and it's grounded in worldbuilding that creates a believable, authentic setting.  Duyvis makes ingenious use of a fascinating premise."
—Publishers Weekly, starred review
"While Duyvis's debut is an exciting take on the fantasy genre, as it alternates between our world and that of the Dunelands, the true strength of the novel is in its positive portrayal of LGBT issues."
—School Library Journal, starred review
"Fantasy and speculative fiction fans will no doubt enjoy the ride, while authors should take note–this is how you do fantasy in a global world."
—The Bulletin of The Center for Children's Books, starred review
"Duyvis creates a humdinger of an adventure that contains the agony of loyalty, the allure of magic, and, most gratifyingly, the element of surprise."
—The Horn Book Magazine
"Debut author Duyvis has written a nice twist on the classic bodysnatchers theme and keeps the pace moving smoothly, even when jumping between Nolan's and Amara's perspectives. Her racially diverse characters struggle with both disabilities and sexual identity, but she keeps her focus solidly on the story and character development so that diversity integrates naturally into both Nolan's and Amara's experiences."
—Booklist
"[C]ompelling twists and turns … this is an intelligent, satisfying YA novel."
—SFX Magazine
---
Following the cliffhanger ending of
Phoenix
, Natalie finds herself separated from Ash and unexpectedly reunited with her parents, including the father she thought was dead. But she can only think of Ash. She hasn't heard a word of him since she and Elijah were brought to the underground headquarters of the Sentry Rebellion. But she vows to find him.
Ash, meanwhile is back in Black City; it's the perfect place to hide from the Sentry government. But not for long. He won't give up on Natalie or bringing an end to the terrible reign of Purian Rose.
A pulse-racing end to an exciting series.
---
Bethany Neal's suspenseful debut novel is about the power of first love and the haunting lies that threaten to tear it apart.
What if your last kiss was with the wrong boy?

Cassidy Haines remembers her first kiss vividly. It was on the old covered bridge the summer before her freshman year with her boyfriend of three years, Ethan Keys. But her last kiss–the one she shared with someone at her seventeenth birthday party the night she died–is a blur. Cassidy is trapped in the living world, not only mourning the loss of her human body, but left with the grim suspicion that her untimely death wasn't a suicide as everyone assumes. She can't remember anything from the weeks leading up to her birthday and she's worried that she may have betrayed her boyfriend.

If Cassidy is to uncover the truth about that fateful night and make amends with the only boy she'll ever love, she must face her past and all the decisions she made–good and bad–that led to her last kiss.
---
Fans of Neil Gaiman, Holly Black, and Maggie Stiefvater will embrace the richly drawn, Norse-influenced alternate world of the United States of Asgard, where cell phones, rock bands, and evangelical preachers coexist with dragon slaying, rune casting, and sword training in schools. Where the president runs the country alongside a council of Valkyries, gods walk the red carpet with Hollywood starlets, and the U.S. military has a special battalion dedicated to eradicating Rocky Mountain trolls.
Signy Valborn was seven years old when she climbed the New World Tree and met Odin Alfather, who declared that if she could solve a single riddle, he would make her one of his Valkyrie. For ten years Signy has trained in the arts of war, politics, and leadership, never dreaming that a Greater Mountain Troll might hold the answer to the riddle, but that's exactly what Ned the Spiritless promises her. A mysterious troll hunter who talks in riddles and ancient poetry, Ned is a hard man to trust. Unfortunately, Signy is running out of time. Accompanied by an outcast berserker named Soren Bearstar, she and Ned take off across the ice sheets of Canadia to hunt the mother of trolls and claim Signy's destiny.
---
An amazing, award-winning speculative fiction debut novel by a major new talent, in the vein of Ursula K. Le Guin.
Global warming has changed the world's geography and its politics. Wars are waged over water, and China rules Europe, including the Scandinavian Union, which is occupied by the power state of New Qian. In this far north place, seventeen-year-old Noria Kaitio is learning to become a tea master like her father, a position that holds great responsibility and great secrets. Tea masters alone know the location of hidden water sources, including the natural spring that Noria's father tends, which once provided water for her whole village.
But secrets do not stay hidden forever, and after her father's death the army starts watching their town—and Noria. And as water becomes even scarcer, Noria must choose between safety and striking out, between knowledge and kinship.
Imaginative and engaging, lyrical and poignant, Memory of Water is an indelible novel that portrays a future that is all too possible.
---
With a "headstrong heroine on par with Katniss Everdeen and Tris Prior" (Kirkus) this debut thriller combines a pulse-pounding scifi thriller with a new adult coming-of-age story set at Texas A&M University. 

When Ren Sharpe was fourteen, she was kidnapped by a shadowy organization called FATE and trained to be a human weapon.
 
Now, four years later, she receives her assignment: protect Gareth Young at all costs. Currently a student at Texas A&M, Gareth will someday change the world. FATE calls people like Gareth "FIPs"—future important people—and they're everywhere, each with a FATE-trained shadow.
 
But when disaster strikes, Ren will have to turn on her maker. Together with Junie, a fellow abductee and the one person she trusts, Ren takes Gareth on the run.
 
Because whatever else happens, failure is not an option.
---
"Thrilling action, addictive romance—a mind-bending rush of a read!"— Pittacus Lore, author of the New York Times bestselling I Am Number Four series.
Fans of The 5th Wave will devour Push, the riveting second installment in Eve Silver's the Game trilogy about teens pulled in and out of an alternate reality where battling aliens is more than a game—it's life and death.
Miki's always found comfort in rules. But when the rules of the Game change on the night of her high school Halloween dance, everyone Miki's ever loved is threatened, including her dad, her best friend, and her boyfriend. Can Miki find the strength to push through even as her world comes crumbling down?
The Game trilogy by bestselling and award-winning author Eve Silver promises science fiction and gaming fans pulse-pounding romance at a breakneck pace.
---
The first novel in the spellbindingly sexy two-book series about a teenage witch in L.A. by Michelle Krys, author of DEAD GIRLS SOCIETY!  
Victoria Scott, author of Fire & Flood raves that HEXED is  "Fast-paced with sizzling tension!" and Amy Plum, author of the Die For Me series, calls it "Wicked fun!" 

Indie Blackwood is a popular cheerleader with a football-star boyfriend. On the surface, her life looks perfect. But when a guy dies right before her eyes and an ancient family Bible is stolen, Indie's world spirals into darkness. Turns out, Indie has a destiny. And it involves much more than pom-poms and parties.
If she doesn't get the Bible back, every witch on the planet will die. And that's seriously bad news for Indie, because according to Bishop, the hot warlock who has an uncanny knowledge of everything that matters, she's a witch too.
Indie is about to uncover the many dark truths about her life—and a future unlike any she ever imagined on top of the cheer pyramid.
Want more HEXED? Don't miss the next HEXED book, CHARMED.
***

"A perfect mix of action, romance, and humor – HEXED kept me riveted until the very last page!"—Amy Tintera, author of the REBOOT duology and the RUINED trilogy 

"Seriously fun, deliciously enjoyable."—The Huffington Post
---
FOR USE IN SCHOOLS AND LIBRARIES ONLY. Not every gift is a blessing. Every morning, Melanie waits in her cell to be collected for class. When they come for her, Sergeant Parks keeps his gun pointing at her while two of his people strap her into the wheelchair. She thinks they don't like her. She jokes that she won't bite. But they don't laugh. Melanie is a very special girl. Emotionally charged and gripping from beginning to end, The Girl With All The Gifts is the most powerful and affecting thriller you will read this year.
---
An action-packed, blood-soaked, futuristic debut thriller–set in a world where the murder rate is higher than the birthrate–that
Booklist called "carefully crafted . . . chilling." "Legend meets La Femme Nikita in this dark and dangerous bloody thriller. The nonstop action of The Murder Complex kept us guessing at every twist and turn. It's a must for fans of action-packed dystopians like The Hunger Games and Divergent."–Justine Magazine

Meadow Woodson, a sixteen-year-old girl who has been trained by her father to fight, to kill, and to survive in any situation, lives with her family on a houseboat in the futuristic Florida Everglades. The state is controlled by The Murder Complex, a secret organization that tracks the population with precision. The plot starts to thicken when Meadow meets Zephyr James, who is–although he doesn't know it–one of the MC's programmed assassins. Is their meeting a coincidence? Destiny? Or part of a terrifying strategy? And will Zephyr keep Meadow from discovering the haunting truth about her family? Action-packed, blood-soaked, and chilling, this is a dark and compelling debut novel by Lindsay Cummings.
---
Stephen King meets Tuck Everlasting in this eerie, compulsively page-turning tale of a girl haunted by the loss of her sister—and trapped by the mysterious power that fuels her small town.
Gardnerville seems like a paradise. But every four years, a strange madness compels the town's teenagers to commit terrible crimes. Four years ago, Skylar's sister, Piper, led her classmates on a midnight death march into a watery grave. Now Piper is gone. And to get her back, Skylar must find a way to end Gardnerville's murderous cycle.
From Kate Karyus Quinn, author of Another Little Piece, comes a mesmerizing and suspenseful novel that will thrill fans of Maggie Stiefvater's The Raven Boys and Brenna Yovanoff's The Replacement.
---
Perfect for fans of Libba Bray and Anna Godbersen, this thrilling historical suspense novel—and sequel to Born of Illusion—tells the story of a teen illusionist who must harness her special powers and navigate the underworld of magic before her murderous enemies catch up with her.
After scoring a spot on a European vaudeville tour, Anna Van Housen is moving to London to chase her dream and to join an underground society for people like her with psychic abilities. But when Anna arrives, she finds the group in turmoil—one of its members has been kidnapped, and members of the society are starting to turn on one another. Her life in danger and her relationship with her boyfriend, Cole, fizzling, can Anna track down the kidnapper before he makes her his next victim—or will she be forced to pay the ultimate price for her powers?
Lovers of historical fiction and stories filled with romance and intrigue will fall for Born of Deception and its world of magic set in Jazz Age London.
---
The boy Eden loves just saved her life. Now she must save his. To do so she must make a huge sacrifice. Eden can never see her friends or family again, as she travels a hundred years into the future. But the dangerous risk Ryan took to rescue Eden has been uncovered, and now Ryan faces exile …which will leave Eden separated from him – the one person she can't live without – and stuck in the future. She must fight to save both of them. The mesmerising sequel to the author's wonderful debut, After Eden.
---
London, 1880.

Eighteen-year-old Witch Hunter Luke Lexton has failed his initiation into the Malleus Maleficorum – the secretive brotherhood devoted to hunting witches. Instead of killing the witch he picked from the Book of Witches, he has committed the worst possible crime: he has fallen for her.

Sixteen-year-old witch girl Rosa Greenwood has failed to secure her struggling family's future by marrying the handsome, cruel, rich and powerful Sebastian Knyvet. Instead she has set fire to his factory and has brought disgrace on her family.

Now together they are on the run – from Rosa's ex-fiancé and from Luke's former brothers in the Malleus. As they flee across England, and with the danger of their past catching up to them … can they overcome their differences?

Can a witch hunter ever find love with a witch girl?


'Gorgeously romantic.' Amanda Craig, The Times
---
Autumn escaped a cult, but now she realizes she's fallen into another. Growing up in San Francisco's Centrist Movement, sixteen year-old Autumn Grace has always believed emotions–adrenaline, endorphins, even happiness–drain your Essence and lead to an early death. But her younger brother's passing and a run-in with a group of Outsiders casts her faith into question. Ryder Stone, the sexy, rebellious leader of the Outsiders, claims Essence drain is nothing more than a Centrist scare tactic — and he can prove it. Autumn follows Ryder to his Community of adrenaline junkies and free spirits in Yosemite National Park, and they introduce her to a life of adventure, romance, sex, drugs and freedom. But as she discovers dark secrets beneath the Community's perfect exterior, she realizes the more she risks in search of the perfect rush, the further she has to fall. 
---
Cinderella's Dress by Shonna Slayton is a YA fairy-tale retelling set in 1940's New York.
Being a teen-ager during World War II is tough. Finding out you're the next keeper of the real Cinderella's dress is even tougher.
Kate simply wants to create window displays at the department store where she's working, trying to help out with the war effort. But when long-lost relatives from Poland arrive with a steamer trunk they claim holds the Cinderella's dress, life gets complicated.
Now, with a father missing in action, her new sweetheart shipped off to boot camp, and her great aunt losing her wits, Kate has to unravel the mystery before it's too late.
After all, the descendants of the wicked stepsisters will stop at nothing to get what they think they deserve.
---
Desperate to escape an arranged marriage and the life her high-ranking government official father planned for her, Cat Hunter does the unthinkable. She runs away from her homeland Tellus, disguises herself as a boy, and stows away on an air ship. She's ready for life in a new land where the general population isn't poverty stricken and at the mercy of the cruel officials. What she isn't quite ready for is meeting Fox, a crew member aboard the Stormdancer-which turns out to be a smugglers' ship. So begins an epic adventure that spans both land and sea.
This explosive debut starts a unique six-book series. Each novel will be set in a different land within the Tellus world, with repeating characters and related, nonlinear storylines that combine to create a one-of-a-kind, addictive reading experience.
What are your must have titles for June? Tell us in the comments.
---
Authors/Publishers: have a book coming out soon?
Request a Review or schedule a visit/giveaway
Please leave a comment if we missed a title and we will update this post.