I feel like I'm part of the problem when I call out Missy Jane's TRUSTING AN ANGEL cover for not airbrushing out all the real skin on the cover model's back, but not enough to change my comment.  Are there ever times when too much "realism" ruins a cover for you?
 If you're a blogger interested in joining in on the commenting fun, fill out our Guest Commentator form here!
Tainted Blood (Generation V #3) by M. L. Brennan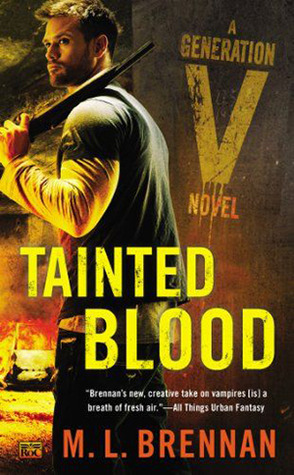 Expected publication: November 4th 2014 by Roc
Source: Goodreads
Covers in Series
In the third Generation V novel, Fortitude Scott proves that working with family can be deadly…
Former film student Fortitude Scott is finally gainfully employed. Unfortunately, said employment happens to be with a group of sociopathic vampires—his family. And as much as Fort is loath to get too deep into the family business, when his brother, Chivalry, is temporarily unable to run the territory, it's up to Fort to keep things under control.
So when the leader of a powerful faction of shifters turns up murdered, Fort finds himself tracking down a killer while navigating dangerous rivalries, longtime grudges, and hidden agendas. Even with the help of his foxy kitsune sidekick, Suzume, he'll need to pull out all the stops to hunt for the paranormal assassin.
But as he calls on fairies, witches, and ghouls for help, he discovers that the problem is much bigger than a single dead werebear. The supernatural community is preparing for a massive shift in power within the Scott family leadership—and Fort has landed right in the middle of the gathering storm.…
No Author Comment Available.
Julia Says 
I feel like this cover model gains a little more gravitas with each cover… or is that just facial hair?  Either way, it's working for me.
Kristina Says 
I like the colors and the model is just sucking up to us now with wearing two shirts. Its a nice look.
The Witch with No Name (The Hollows #13) by Kim Harrison
Expected publication: September 9th 2014 by Harper Voyager
Source: Goodreads
Covers in Series
At long last… The final book in the New York Timesbestselling Hollows series by Kim Harrison!
Rachel Morgan's come a long way from the clutzy runner of Dead Witch Walking. She's faced vampires and werewolves, banshees, witches, and soul-eating demons. She's crossed worlds, channeled gods, and accepted her place as a day-walking demon. She's lost friends and lovers and family, and an old enemy has become something much more.
But power demands responsibility, and world-changers must always pay a price. That time is now.
To save Ivy's soul and the rest of the living vampires, to keep the demonic ever after and our own world from destruction, Rachel Morgan will risk everything.
No Author Comment Available.
Julia Says 
This white background is totally unique for the series, a nice touch for the series finale.  I wish the flames climbed higher into the white space (or at least didn't cut off in a square), but wrap this book in brown paper and I'd still stand in line all night to get my hands on a copy.
Kristina Says 
With the mostly white background this is a contrast from the previous books. Is this a game changing book? Either way I like the lighter look.
Atlantia by Ally Condie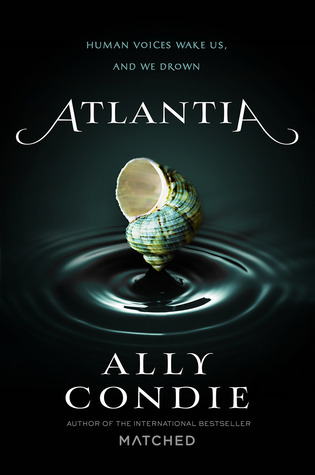 Expected publication: November 4th 2014 by Dutton Juvenile
Source: Goodreads
Covers in Series
N/A
"In Atlantia, the heroine, Rio, is thrown into a precarious and upsetting situation after her twin sister, Bay, opts to leave their underwater world for "Above" first. Since only family member can leave for the surface, Rio is then, as PYRG executive director of publicity Shanta Newlin explained, 'left with increasingly dangerous questions about the complex political and religious system constructed to govern the fragile divide between land and sea.'" -Publishers Weekly
No Author Comment Available.
Julia Says 
The image of the shell balanced right on the ripples is cool, but the font for both title and author aren't working for me.  They're close enough and different enough that they clash (as opposed to matching or being noticeably different yet complimentary).
Kristina Says 
Thumbs up for the very pretty shell. I like how its almost held in suspended animation.
Infected by Sophie Littlefield
Expected publication: January 6th 2015 by Delacorte Press Books for Young Readers
Source: Goodreads
Covers in Series
N/A
No Description Available.
No Author Comment Available.
Julia Says 
Other than Sophie Littlefield's name (which is totally underplayed), nothing about this cover really excites me.  The skyline is well done, the running silhouettes are a little goofy, and it looks like just about every other YA dystopian of kids fleeing or approaching a city.
Kristina Says 
I am not liking the title font but the rest of the cover looks pretty good for a dystopian like story
Opposition (Lux #5) by Jennifer L. Armentrout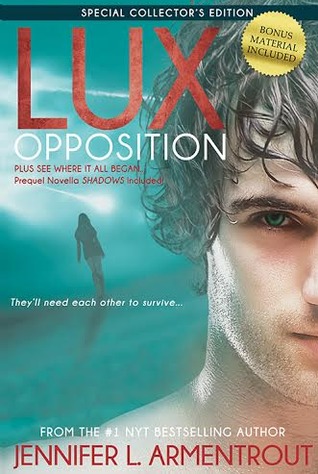 Expected publication: August 5th 2014 by Entangled: Teen
Source: Goodreads
Covers in Series
In the stunning climax to the bestselling Lux series, Daemon and Katy join forces with an unlikely enemy to ensure the survival of not only their love for each other, but the future of all mankind.
Opposition will bring forth a new dawn to the Lux universe, where man must stand with alien to survive, and the future, no matter the outcome, will never be the same.
No Author Comment Available.
Julia Says 
Zooming in on Daemon offers a little more intensity than the prior heart throbby covers, I like it.
Kristina Says 
I don't know how I feel about this cover. It doesn't fit with the rest of the covers except for the ones for the 2 stories in one books. Its okay but I kind of like the look of the previous books.
Invisible (The Twixt #2) by Dawn Metcalf
Expected publication: September 30th 2014 by Harlequin Teen
Source: Goodreads
Covers in Series
Some things lie beneath the surface.
Joy Malone wants it all: power, freedom and the boyfriend who loves her. Yet when an unstoppable assassin is hired to kill her, Joy learns that being the girl with the Sight comes with a price that might be too high to pay. Love will be tested, lives will be threatened, and everyone Joy knows and cares about will be affected by her decision to stand by Ink or to leave the Twixt forever. 
Her choice is balanced on a scalpel's edge and the consequences will be more shattering than anyone can know.
No Author Comment Available.
Julia Says 
Though the design aesthetic is undoubtably the same, I didn't immediately pair this book with INDELIBLE.  For some reason the rose seemed more "tattoo-y".
Kristina Says 
I like the style of these covers. I don't know what is up with the knight chess piece but it looks cool.
Coral & Bone by Tiffany Duane
Expected publication: July 7th 2014
Source: X
Covers in Series
N/A
Halen knows the sparks igniting under her fingertips are dangerous. She has spent her entire life trying to quell the tingly feelings that make her destroy things, but now that she is back in Rockaway Beach, where she watched her father drown, the flames have become impossible to tame.Halen is trying to hold on, but when she is thrust into a mysterious new world, the underwater realm of Elosia, she unravels the secrets of her past and can't help but ignite. As she explores Elosia, she realizes her life has been a lie. And when those who have deceived her come to her for help, Halen must choose—walk away or unleash the magick that could destroy them all.
No Author Comment Available.
Julia Says 
Well, she has both coral and bone in her hair.  I like how her eyebrow is smoke, but I feel like the skeletal hand could have been better integrated with her hair-do.  Right now it just looks like a they're checking a box, "Yup, got both coral and bone in her hair."  
Kristina Says 
Creepy girl with creepy things in her hair. I like.
The Scarlets: An Asylum Novella by Madeleine Roux
Expected publication: August 5th 2014 by HarperTeen
Source: Goodreads
Covers in Series
In this chilling e-original story set in the world of Madeleine Roux's New York Times bestselling novel Asylum, which Publishers Weekly called "a strong YA debut," one teen's descent into the ranks of a secret society leaves him with a secret he'll have to take to his grave.
When Dan and his friends meet Cal in Sanctum–the sequel to Asylum–their impression of the privileged New Hampshire College student is less than stellar. But Cal wasn't always the cold, sarcastic guy he is now. In this digital original story preceding the events of Sanctum, we meet Cal when he is experiencing college like any other kid with a group of close friends and a dad who piles on the pressure. Only, when the pressure starts getting to him and Cal accepts an invitation to meet a selective group of students and alumni known only as the Scarlets, the course of Cal's life changes forever. And the price of joining the Scarlets might be higher than he can pay.
With plenty of twists, turns, and thrills, The Scarlets is an exhilarating installment in the Asylum series that can stand on its own for new readers or provide a missing piece of the puzzle for series fans.
HarperTeen Impulse is a digital imprint focused on young adult short stories and novellas, with new releases the first Tuesday of each month.
No Author Comment Available.
Julia Says 
I feel like the "HarperTeen Impulse" masthead totally ruins the overall vibe of this cover.  It goes from creepy to "made for TV".
Kristina Says 
Those roses look kind of dusty but I like the cover dusty roses and all. Why do secret societies have to be dark and spooky. I'm starting a secret society with rainbows and unicorns as the mascot.
Expected publication: August 26th 2014 by Kensington
Source: Goodreads
Covers in Series
FLUSHING OUT EVIL There's something fishy going on in the Unnatural Quarter. Bodies are floating face-down, the plumbing is backing up, and something smells rotten?even to a zombie detective like Dan Shamble. Diving into the slimy underbelly of a diabolical plot, Dan comes face-to-tentacles with an amphibious villain named Ah'Chulhu (to which the usual response is "Gesundheit!"). With his snap-happy gang of gator-guys?former pets flushed down the toilet?Ah'Chulhu wreaks havoc beneath the streets. While feuding weather wizards kick up storms and a gang of thieving lawn gnomes continues their reign of terror, Dan Shamble is running out of time?before the whole stinking city goes down the drain….
No Author Comment Available.
Julia Says 
Wow, Dan does *not* look happy about those tentacles, I think this is the most unhealthy this zombie has ever looked.  Love the style of these covers, even when Dan looks like he wants to hurl.
Kristina Says 
He looks drunk or something. I don't really like the simplistic background. Its a contrast from the other covers.
Blue Lily, Lily Blue (The Raven Cycle #3) by Maggie Stiefvater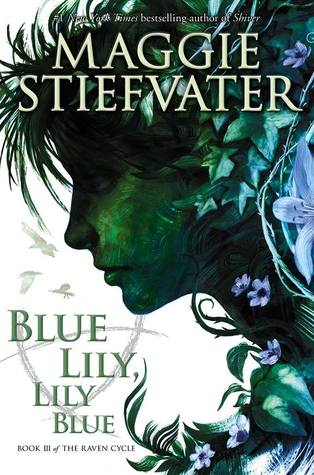 Expected publication: October 28th 2014 by Scholastic Press
Source: Goodreads
Covers in Series
The third installment in the mesmerizing series from the irrepressible, #1 NEW YORK TIMES bestselling author Maggie Stiefvater.
No Author Comment Available.
Julia Says 
I love the color and brambles in Blue, and how her bangs are reminiscent of a bird's feathers.  Can't *wait* to read this series.
Kristina Says 
I like the flowers. It looks like the head is growing out of the flowers though.
Grimm Memories (Grimm Tales #2) by Janna Jennings
Published by Patchwork Press
Source: Goodreads
Covers in Series
It has been six months since Quinn and her friends returned home after barely escaping Elorium—but no one ever really leaves the world where fairy tales are born. Not a day has gone by where they haven't thought about returning to save Jack. Even their dreams are urging them to return to the strange world.
Falling back into the fairy tale world, they find the situation even more dire than the way they left it. Jack has disappeared, and he's not the only one. Elorium's citizens are near panic as characters are missing and rumors are spreading about massive creatures roaming the sky. A rising darkness is enslaving the dreamers, and in a land filled with water nymphs and malevolent mazes, it's hard to find any allies.
Despite the risks of their rescue mission, Fredrick is determined to bring back his grandfather, no matter how personal the cost.
No Author Comment Available.
Julia Says 
Though the image quality for this cover isn't the best, when viewed in thumbnail this is quite pretty.  It reminds me of every fairy tale computer path I've ever walked down, and certainly compliments the Grimm side of things.
Kristina Says 
It looks sort of fairy tale-ish with the house in the woods look.
The Light Fantastic (Discworld #2) by Terry Pratchett
Expected publication: August 7th 2014 by Gollancz
Source: Goodreads
Covers in Series
It is known as the Discworld. It is a flat planet, supported on the backs of four elephants, who in turn stand on the back of the great turtle A'Tuin as it swims majestically through space. And it is quite possibly the funniest place in all of creation . . .
As it moves towards a seemingly inevitable collision with a malevolent red star, the Discworld has only one possible saviour. Unfortunately, this happens to be the singularly inept and cowardly wizard called Rincewind, who was last seen falling off the edge of the world.
No Author Comment Available.
Julia Says 
I think this is a color and a style you can only get away with when you're re-printing a classic that people want in hardcover on their shelf.  If I had been waiting since 1986 to replace my paperback copy of THE LIGHT FANTASTIC, this BEOWULF woodcut would thrill me down to my socks.  
Kristina Says 
So there is a redesign of Terry Prachett's Discworld going on and this is one of them. I kind of like it and kind of don't. The phases of the moon are cool but it just isn't doing it for me for some reason.
Expected publication: January 6th 2015 by Simon & Schuster Books for Young Readers
Source: Goodreads
Covers in Series
Can Evie convince her rival loves to work together? Their survival depends on it in this third book of #1 New York Times bestselling author Kresley Cole's Arcana Chronicles, a nonstop action tale of rescue, redemption, and a revenge most wicked.
Heartbreaking decisions 
Evie was almost seduced by the life of comfort that Death offered her—until Jack was threatened by two of the most horrific Arcana, The Lovers. She will do anything to save him, even escape Death's uncanny prison, full of beautiful objects, material comforts…and stolen glances from a former love.
Uncertain victory 
Despite leaving a part of her heart behind with Death, Evie sets out into a frozen and perilous post-apocalyptic wasteland to meet up with her allies and launch an attack on The Lovers and the vast army they command. Such formidable enemies require a battle plan, and the only way to kill them once and for all may mean Evie, Jack, and Death allying. Evie doesn't know what will prove more impossible: surviving slavers, plague, Bagmen and other Arcana—or convincing Jack and Death to work together.
Two heroes returned 
There's a thin line between love and hate, and Evie just doesn't know where she stands with either Jack or Death. Will this unlikely trio be able to defeat The Lovers without killing one another first?
No Author Comment Available.
Julia Says 
Wait, what?!  This is an Arcana book?!  I seriously had no idea until I clicked on the series link.  This cover looks like a boring police procedural, perhaps with some cultish crimes thrown in to justify the arcane symbol.  I never, in a million years, would have put this together with POISON PRINCESS.
Kristina Says 
I agree with the title. The cover does look like the dead of winter.
Trusting an Angel (Archangels #1) by Missy Jane
Published April 28th 2014 by Entangled: Covet
Source: Goodreads
Covers in Series
N/A
As the owner of a string of successful nightclubs all over the world, Zerach can have any woman–except for his assistant Isadora O'Donnell. First off, Isadora isn't a one-night-stand kind of girl, and second, her dominating godparents don't approve of him. There's also the fact that he is an archangel with a mission to protect humans from demons, something Isadora can never find out about.
Isadora secretly longs for Zerach's attention but her scarred body and his playboy ways keep her from acting on her feelings. With her only family on the brink of bankruptcy, shes determined to help them, even if it means trying to forget Zerach and marrying the womanizing Jake, a man she'll never love.
Zerach tries to keep Isadora at arm's length, but when a demon starts stalking her, Zerach will stop at nothing to protect the woman he loves. But protecting her could cost him his wings.
No Author Comment Available.
Julia Says 
Wow, I never realized how much they airbrush these covers until I saw one that wasn't.  Though I don't mind freckles in person (and man, I'm hoping those are freckles), this #NoFilter look doesn't work for a book cover.  Also, the gap between the title and the author… you know, the place where his butt should have been but instead there's just a black void?  Yeah, that makes the proportions of this cover look pretty awkward.
Kristina Says 
Boring. There isn't even a tattoo for me to not like!
Autumn Falls (Autumn Falls #1) by Bella Thorne
Expected publication: November 11th 2014 by Delacorte Press
Source: Goodreads
Covers in Series
N.A
The first book in the Autumn Falls series tells the story of a 14-year-old girl whose high school life changes after an encounter with magic.
No Author Comment Available.
Julia Says 
I would expect AUTUMN FALLS, like October Rush, to have little or nothing to do with magic.  This cover says I'm right, the description says I'm wrong.
Kristina Says 
It looks like it could be some contemporary coming of age book. There isn't really anything paranormal about it.

And our picks for Best & Worst covers of the week…
Best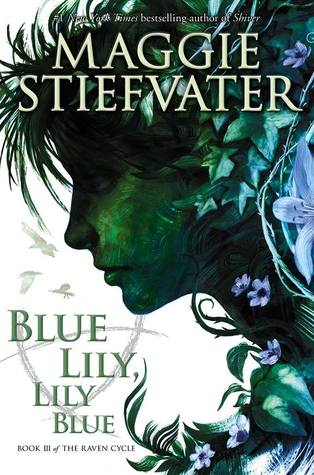 Worst
---
Have a cover we should include in an upcoming post? Fill out our Cover Submit form