Our crop of covers this week ranges fairly broadly though the digital publishing offerings this month, without stellar results.  Most of these covers are Ok, in the way that there's one or two things wrong but the total package isn't completely offensive, but very few of them get the green hand of Good.  What was your favorite this week?
 If you're a blogger interested in joining in on the commenting fun, fill out our Guest Commentator form here!
Fae edited by Rhonda Parrish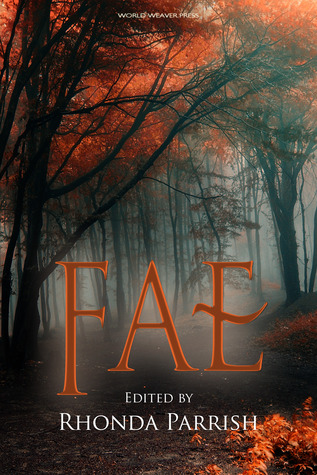 Expected publication: July 2014 by World Weaver Press
Source: Goodreads
Covers in Series
N/A
Meet Robin Goodfellow as you've never seen him before, watch damsels in distress rescue themselves, get swept away with the selkies and enjoy tales of hobs, green men, pixies and phookas. One thing is for certain, these are not your grandmother's fairy tales.
Fairies have been both mischievous and malignant creatures throughout history. They've dwelt in forests, collected teeth or crafted shoes. Fae is full of stories that honor that rich history while exploring new and interesting takes on the fair folk from castles to computer technologies and modern midwifing, the Old World to Indianapolis.
Fae covers a vast swath of the fairy story spectrum, making the old new and exploring lush settings with beautiful prose and complex characters. Enjoy the familiar feeling of a good old-fashioned fairy tale alongside urban fantasy and horror with a fae twist.
With an introduction by Sara Cleto and Brittany Warman, and all new stories from Sidney Blaylock Jr., Amanda Block, Kari Castor, Beth Cato, Liz Colter, Rhonda Eikamp, Lor Graham, Alexis A. Hunter, L.S. Johnson, Jon Arthur Kitson, Adria Laycraft, Lauren Liebowitz, Christine Morgan, Shannon Phillips, Sara Puls, Laura VanArendonk Baugh, and Kristina Wojtaszek.
No Author Comment Available.
Kate Says 
There isn't much detail on this cover to draw me in. I like the colors, but it's rather bland. 
Julia Says 
I love the mood of the background picture, but I think I'd like the title more if it incorporated another tone (like a contrast border), or had a different font.  This one isn't quite working for me.
Libbie Says 
I'm a huge fan of all things Autumn, so the colors pulled me immediately. Beautiful and artistically creepy and made me want to know more about it. What else can you ask of a book cover?
Expected publication: November 4th 2014 by Berkley Trade
Source: Goodreads
Covers in Series
NEVER BEFORE PUBLISHED
On the planet Celta, accepting a HeartMate can be the greatest challenge in the universe… 
Antenn, an architect hired to build a cathedral in Druida City, dares not think of his HeartMate. Even though he yearns for her, he's taken steps to ensure she will be forever unknown to him. After all, how could he, a commoner who grew up in the slums, the brother of a murderer, be worthy of any woman?
Tiana, a priestess, has her own fears about being a HeartMate. She's watched her friends struggle with such a stormy destiny. She's sure her HeartMate has never claimed her due to a terrible scandal involving her Family, and she's set aside hopes for love.
Antenn's gotten the commission of his life. The cathedral will make him famous, but more, it will last for ages and prove to others he can contribute to Celta…if the controversial structure isn't destroyed while being built. Tiana, too, is an integral part of this process, but the villain who wrecked her Family is ready with firebombs. Can they trust each other in dangerous circumstances to succeed…and to love?
No Author Comment Available.
Kate Says 
Looks like a romance cover, half naked man with a ridiculous tattoo and no shirt….I don't like that his head is being covered by the title, and he is in a really weird pose, but it's not terrible. 
Julia Says 
The composition and coloring of this cover give it a very old school flavor, and I'm not sure I'd expect any fantasy elements at all.  But the cover model has an uncharacteristically sweet face and proportional build, something I heartily applaud.
Libbie Says 
I think someone went a wee bit overboard with the muscle photoshopping, especially in the happy V area unless he's had a seriously painful groin muscle pull. Not a good focal point for the middle of the cover. And, yeah, gotta say it. Interesting sword position.
Broken Souls (Eric Carter #2) by Stephen Blackmoore
Expected publication: August 5th 2014 by DAW
Source: Goodreads
Covers in Series
When necromancer Eric Carter returned to Los Angeles after fifteen years on the run he knew things were bad, but he never imagined how bad they could get. Sister murdered, best friend dead, married to the patron saint of death, Santa Muerte.
And things are just getting worse.
His link to the Aztec death goddess is changing his powers, changing him, and he's not sure how far it will go. He's starting to question his own sanity, wonder if he's losing his mind. No mean feat for a guy who talks to the dead on a regular basis.
While searching for a way to break Santa Muerte's hold over him, Carter finds himself the target of a psychopath who can steal anyone's form, powers and memories. Identity theft is one thing, but the guy does it by killing his victims and wearing their skins like a suit. He can be anyone. He can be anywhere.
Now Carter has to change the game, go from hunted to hunter. All he has for help is a Skid Row Bruja and a ghost who's either his dead friend Alex or Carter's own guilt-fueled psychotic break.
If things go right, he just might survive a week where everything is trying to kill him and nothing is as it seems.
No Author Comment Available.
Kate Says 
I like the color scheme and the gritty picture feel. It wasn't until I enlarged it that I saw his creepy eyes- pretty awesome looking.
Julia Says 
Holy crap this man is terrifying, and looks nothing like the cover model from book one.  Based on the color (or lack) of eyebrows, I think this guy is a blond covered in shadows.  I liked the Constantine-esque guy from book one, better.  That being said, this cover is terrifically intimidating, though the author/ title font seems to be slapped on.
Libbie Says 
In keeping with the first book cover – both of which will no doubt be showing up in my nightmares tonight. Might scare me, but that can only be a good thing, especially for a book about a necromancer.
Lark Ascending (Skylark #3) by Meagan Spooner
Expected publication: October 9th 2014 by Carolrhoda Lab
Source: Goodreads
Covers in Series
Lark thought returning home to face her city was the hardest thing she'd ever do. She was wrong.
No longer the girl who ran for her life, Lark's ready for the Institute. She never dreamed she'd find a rebellion, a Renewable, and those she used to love embroiled in the fight of their lives. She's mastered her magic, but she still doesn't know if she can master the darkness stirring inside her.
Nothing is simple anymore, and finding her place in this war—and discovering the terrible secrets behind her ruined world—might cost her everything she has left.
No Author Comment Available.
Kate Says 
This is really strange looking, and I can't decide what it is I'm looking at. Is it a hole in a planet that leads to a beach? Weird, and distracting. 
Julia Says 
This title has been and continues to be nigh unreadable.  They've also taken a very pretty view and managed to make it look utterly flat, not a fan of the final effect.
Libbie Says 
I like the return to a cover like the first in the series. Colors blend well and the mystical wisps of what could be smoke, could be lightning, could be something eerie and creepy or magical, too. A beautiful example of why Less is More is a thing
Chaos (Fates #2) by Lanie Bross
Expected publication: February 1st 2015 by Delacorte Press
Source: Goodreads
Covers in Series
Can they change their destiny?
They kissed only once—and it was electric, like the air before a storm. But Corinthe and Luc broke the rules of the universe, and learned too late that their love would have consequences. In the dizzying aftermath, Luc refuses to accept his destiny—not if it means a life without Corinthe. As a fire rages through the Crossroads that connect worlds, Luc must find a way to turn back time and save Corinthe once and for all.
Meanwhile, Luc's 15-year-old sister Jasmine starts to realize things are not as they seem when time begins stuttering, sending her everyday life in San Francisco spinning into chaos. She's thrown into the path of Ford, a troubled soul with a secret past, who helps her unravel the mysterious threads that connect them all.
Two breathtaking romances interweave across time in this story of what lies on the other side of Fate, as both Jas and Luc discover the incredible lengths they will go for love.
No Author Comment Available.
Kate Says 
So I liked the cover of the first book in the series but this one does not go at all. It looks far more contemporary, and why is he carrying the girl in the fireman's hold? She looks kind of dead, not exactly what I want on the covers of my books.
Julia Says 
These two are intriguing, much more so than the sky and grass that is given so much real estate on this cover.  I'd like a closer look at this couple, but I love the leaves coming out of her hair.
Libbie Says 
At first, I thought we were back to wings and he was molting. When I looked closer, squinting, I realized he's got a girl in a fireman's carry and that's her hair…which isn't molting but spawning birds or moths. I know the series, and who these two are, and it doesn't inspire me about the second book. 
Blood of a Mermaid by Katie O'Sullivan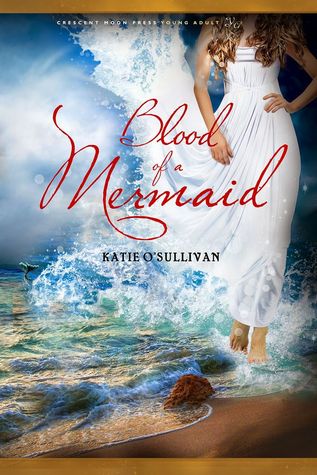 Expected publication: May 15th 2014 by Crescent Moon Press
Source: Goodreads
Covers in Series
N/A
Mermaid blood.
When Shea MacNamara fell into the ocean for the first time, he found he could breathe underwater. The son of a mermaid, the sea is in his blood. Literally. The best part of Shea's new life? His girlfriend Kae, who also happens to be a beautiful mermaid.
But darkness lurks under the sea. When evil mermen kidnap Kae, the king reminds Shea that having royal blood means making tough choices.
An Arctic dungeon, a fiery plane crash, the legendary halls of Atlantis…and narwhals?
Having mermaid blood just got a lot more complicated.
No Author Comment Available.
Kate Says 
If his girlfriend is a mermaid, why does she have feet? But I do like the ocean part of the cover, the girl just totally ruins it for me. 
Julia Says 
This is one of the poorer "dress into water" covers I've seen.  Her positioning and proportion relative to the water is off, and both of her arms seem awkwardly posed.  Having those tan borders at the top and bottom just make it more apparent that she doesn't have a head, either.  And it's a little nit picky, but this book's main character is a dude, why do we get some headless runway model?
Libbie Says 
Is it just me or does the title make you expect to *not* see feet? When I think mermaid, I think tail. Maybe she's Ariel, maybe Daryl Hannah on her weekend pass, or maybe I'm just a mermaid purist? That and the Marilyn Monroe action on the dress/wave, the cover lost me.
Published April 17th 2014
Source: Goodreads
Covers in Series
Casey isn't human. The revelation should terrify her, but it doesn't. Instead it excites her. Too bad not everyone is as excited as she is.
Torn between two lives, the only one she's ever known and her life as a paranormal princess, Casey has to decide whether she can trust the man she loves.
Sometimes being a princess isn't all it's cracked up to be.
No Author Comment Available.
Kate Says 
They look like they're having sex on the cover of the book, which is fine for erotica, but this book also gives off the YA vibe, so not so great. And what is up with her clothes? Not a fan of that shirt. 
Julia Says 
This cover is pretty badly composed, from the lighting on top of her head  to her clunky wings.  For whatever reason, his shirtlessness makes things even more awkward, like this cover is caught between B movie and erotica.
Libbie Says 
All righty then. We've gone from an embrace on the first book straight to Ride 'em Cowgirl in the second (or would it be Ride 'em CowAngel given the 'shopped black wings). It's got the fantasy, it's got the sexy pull, but I sorta want to tell them to get a room.
Kindle
Source: Goodreads
Covers in Series
Spring is here and Abigail, with her Pet Zombie and friends, are off to play. They have waited patiently through the cold days of winter for the warmth of the sun's return. The birds are back, singing their soft songs. The flowers are bright, blooming with their many colors. Won't you too come play with them?
No Author Comment Available.
Kate Says 
Actually super cute. I'm not a fan of zombies, but this cover is adorable, and I love the colors and fonts. 
Julia Says 
Abigail has no where close to the personality her zombie does, I sure hope that problem doesn't perpetuate through all the illustrations.
Libbie Says 
Very appealing for a children's book. One I probably would have picked up for my son when he was going through his Zombie Fear stage. "See, honey, the zombie's sniffing the flower. He's not going to come to our house and eat your brain."
The Merman and the Barbarian Pirate by Kay Berrisford
Kindle
Source: Goodreads
Covers in Series
N/A
Raef, a lonely merman, spends his days watching the dashing Lord Haverford from afar and dreaming of love. When Haverford is robbed by a pirate, Raef vows to reclaim the stolen goods, hoping his victory will buy him the happiness he yearns for with Haverford.
But Jon Kemp does not match what Raef knows about pirates, and the simple quest Raef anticipated turns out to be an epic journey. For while Jon might be a nobler man than Raef believed, he's still a pirate. Love and loyalty are not on Jon's agenda, and he certainly has no plans to love someone not entirely human …
No Author Comment Available.
Kate Says 
This cover is georgeous. I love the drawing. Aside from the fact that the pirate likely can't breath underwater, it's super cool looking, and the merman actually has a tail, unlike some other mermaid books this week…. 
Julia Says 
Mer-person genitalia being as ambiguous as it is, I think they can get away with where the Barbarian Pirate is putting his hand.  Just barely.  Pretty colors, I love this Merman.
Libbie Says 
I was about to point with glee "See! Mermaids and Tails just go together, man!" Until I looked at the Mer arm, and read the title more carefully, and then I shouted in glee for an entirely different reason. But I digress. I sort of want to print this cover out and frame it or something. I think sticking with pure illustration seriously worked for this and made it more appealing than models and all the graphic arts skills ever could.
Expected publication: September 30th 2014 by Harlequin MIRA
Source: Goodreads
Covers in Series
To save innocent lives, they'll have to risk their own.
Self-help superstar Rachel de Luca and Detective Mason Brown have finally given in to their overwhelming attraction to each other, but neither of them is ready to let physical passion turn into full-blown romance, so they carefully maintain an emotional distance. Then a judge's daughter disappears, and Mason has a terrible sense that it's connected to the most recent case they solved together: the abduction of Rachel's assistant.
The discovery of a string of missing women—all young, all troubled—seems like a promising lead. But there's no clear connection between the missing girls and the high-profile young woman Mason is trying to find. He realizes that once again he'll have to rely on his own well-honed instincts and Rachel's uncanny capacity to see through people's lies in order to catch a predator and rescue his captives. But can they do it before Rachel becomes his next victim?
No Author Comment Available.
Kate Says 
Looks a little like a suspensful romance novel instead of paranormal – but after checking out the other covers in the series, it is better then those, so points for that. The girl in sillouhette is much better than a creepy face super close up behind the title. 
Julia Says 
The prior covers have a modern flair, this one is very V. C. Andrews.  Not a fan.
Libbie Says 
I've heard it said here before, and I agree – I'm not a fan with the author name being not only center stage, but huge. It's very distracting. I get the marketing angle of going for name recognition, but the cover's appealing enough with the creepy bare tree branches and woman looking off at something that's not making her smile pretty without the Huge Pink Name.
Expected publication: March 10th 2015 by Simon & Schuster Books for Young Readers
Source: Goodreads
Covers in Series
After escaping through the bottom of Internment, Morgan and her fellow fugitives aboard the great mechanical bird land on the ground to finally learn what has lived beneath their floating island home all these eons.
The ground is a strange place where water falls from the sky as snow, and customers watch moving pictures and visit speakeasies. A place where families can have as many children as they want, their dead are buried in vast gardens of bodies, and Internment is the feature of an amusement park.
It is also a land at war.
Everyone who fled Internment had their own reasons to escape their corrupt haven. But caught under the watchful eye of another king that wants to dominate his world, they wonder if coming to the ground will drag Internment down with them.
No Author Comment Available.
Kate Says 
I can kind of see what they're going for, and I appreciate consistency in covers in a series, but this one is not really great. Its a bit of a mess, like Libbie says, and distracting from the title.
Julia Says 
The first sentence of the descriptions mentions a giant mechanical bird and a floating island, why is this cover a boring black background for a statue someone shot?!
Libbie Says 
BURNING KINGDOMS changed my previous rating from Down to Middle because this one is kind of a trainwreck. Cracked plaster statue head (at first I thought it had ivy growing on it) combined with scrollwork didn't work for me at all. 
Expected publication: October 28th 2014 by Berkley Trade
Source: Goodreads
Covers in Series
From #1 New York Times bestselling author Nora Roberts comes a trilogy about the land we're drawn to, the family we learn to cherish, and the people we long to love…
Book Three of The Cousins O'Dwyer Trilogy
Blood Magick
County Mayo is rich in the traditions of Ireland, legends that Branna O'Dwyer fully embraces in her life and in her work as the proprietor of The Dark Witch shop, which carries soaps, lotions, and candles for tourists, made with Branna's special touch.
Branna's strength and selflessness hold together a close circle of friends and family—along with their horses and hawks and her beloved hound. But there's a single missing link in the chain of her life: love…
She had it once—for a moment—with Finbar Burke, but a shared future is forbidden by history and blood. Which is why Fin has spent his life traveling the world to fill the abyss left in him by Branna, focusing on work rather than passion.
Branna and Fin's relationship offers them both comfort and torment. And though they succumb to the heat between them, there can be no promises for tomorrow. A storm of shadows threatens everything that their circle holds dear. It will be Fin's power, loyalty, and heart that will make all the difference in an age-old battle between the bonds that hold their friends together and the evil that has haunted their families for centuries.
Don't miss the first two books in the Cousins O'Dwyer Trilogy
Dark Witch
and
Shadow Spell
No Author Comment Available.
Kate Says 
I'm a big Norah Roberts fan, but I haven't yet read this trilogy. I love the cover illustrations though, however, this one has got to be the least paranormal looking of the bunch. It would definitely not be out of place on any one of her contemporary novels. 
Julia Says 
I can't stop laughing at this cover.  It's not poorly done, but it's a perfect example of different genre expectations.  Nora Roberts comes from a Romance background, so her book gets a Thomas Kinkade cottage and an iridescent wolfhound.  If an UF or PNR author wrote a book called BLOOD MAGICK, there would be skin and fire and *so many* pairs of leather pants on the cover…  This cover is fine, but nothing other than the completely mismatched title says "magic" to me.
Libbie Says 
I don't know what besides the title that distinguishes this as UF, or even paranormal aside from the title and as much as it pains me (because I love Nora Roberts) it doesn't even distinguish it from other trilogies she's done. Its a beautiful illustration, but not much more than that.
Desires of the Soul (Prophecy of Souls #1) by Gina L. Maxwell
Expected publication: December 30th 2014 by Entangled: Select
Source: Goodreads
Covers in Series
N/A
For a half-angel who's prophesied to save humanity, Angelica Hart leads a fairly predictable life as a pediatric oncologist. Until the night her dead best friend resurfaces as a vampire—and his new presence stirs up feelings a lot more intense than those of friendship. But the cryptic instructions of the prophecy tell her that to fulfill her destiny, she must have a child with her one true love.
Dom Russo finally has the woman he loves in his arms, and he's not about to let anything happen to her. But protecting Angelica becomes increasingly difficult as the vampire clan attempting to strip the souls of all mankind struggles to take out the one woman who stands in their way. And their relationship comes to a grinding halt when he finds out he isn't the one in the prophecy.
Angelica refuses to accept a fate she doesn't want, so Dom tries pushes her toward saving humankind the only way he knows how—by driving her away. But his body doesn't get the memo, and he begins to wonder how long he can keep denying his desire before the vampire in him takes what he wants, to hell with the rest of the world. Literally.
No Author Comment Available.
Kate Says 
Well then. Awful bright red font and sepia toned half naked man (for real, why are you wearing a sweatshirt with the hood up without a shirt on underneath?!) do not a good cover make. 
Julia Says 
I don't mind a hairy chest or man nipples, but for proper cover flow one should really be strategic about the placement of a hairy man nipple.  His nestled amongst the letters of the title is all I can stare at.  PS – Totally thought he was holding a sword vertically next to his head, but it turns out he's wearing a hoodie.  I'm a mess with this cover.
Libbie Says 
I'm sorry, I really am, but his boobs are lopsided and that was seriously distracting. The scruffy, broody-eyed, hoodie wearing hot guy gives it some points, though. At least we avoided the bad tat on this one, so that's something, too.

And our picks for Best & Worst covers of the week…
Best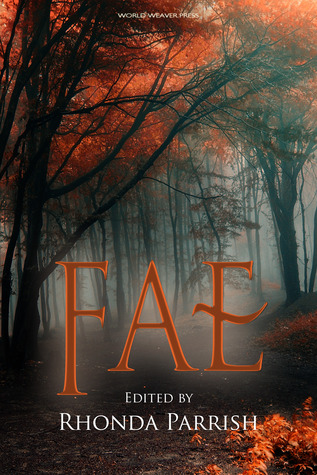 Worst
---
Have a cover we should include in an upcoming post? Fill out our Cover Submit form