It's a sad day when one of the "Best" covers isn't actually a cover (leaving off the title and author text is cheating, Tor), but thumbs up enthusiasm was hard to find this week.  Think we were too harsh?  What was your favorite?
 If you're a blogger interested in joining in on the commenting fun, fill out our Guest Commentator form here!
A is for Apocalypse edited by Rhonda Parrish
Expected publication: August 2014 by Poise and Pen Publishing
Source: Editor's Website
Covers in Series
N/A
What do you get when you take twenty-six amazing writers, randomly assign them a letter of the alphabet and give them complete artistic freedom within a theme?
A is for Apocalypse
A is for Apocalypse contains twenty-six apocalyptic stories written by both well-known and up-and-coming writers. Monsters, meteors, floods, war–the causes of the apocalypses in these tales are as varied as the stories themselves.
This volume contains work by Ennis Drake, Beth Cato, Kenneth Schneyer, Damien Angelica Walters, K. L. Young, Marge Simon, Milo James Fowler, Simon Kewin, C.S. MacCath, Steve Bornstein and more!
No Author Comment Available.
Megan Says 
The font, the color, and the placement of the authors' names are all too busy and not cohesive. I also don't see how it conveys anything about an apocalyptic short story collection. 
Julia Says 
I like the M.A.S.H. font, but the tone is surprisingly hopeful for an apocalyptic wasteland.  I'm curious to know if the stories support that.
Kate Says 
A little too busy for my tastes, between the giant A, plus all the authors' names, and the picture with the birds, it is hard to focus on any one element.
A Darker Shade of Magic (A Darker Shade of Magic #1) by Victoria Schwab
Expected publication: February 24th 2015 by Tor
Source: Tor.com
Covers in Series
N/A
From V.E. Schwab, the critically acclaimed author of Vicious, comes a new universe of daring adventure, thrilling power, and parallel Londons, beginning with A Darker Shade of Magic.
Kell is one of the last Travelers—magicians with a rare, coveted ability to travel between parallel universes—as such, he can choose where he lands.
There's Grey London, dirty and boring, without any magic, ruled by a mad King George. Then there's Red London, where life and magic are revered, and the Maresh Dynasty presides over a flourishing empire. White London, ruled by whoever has murdered their way to the throne—a place where people fight to control magic, and the magic fights back, draining the city to its very bones. And once upon a time, there was Black London…but no one speaks of that now.
Officially, Kell is the Red Traveler, personal ambassador and adopted Prince of Red London, carrying the monthly correspondences between the royals of each London. Unofficially, Kell is a smuggler, servicing people willing to pay for even the smallest glimpses of a world they'll never see—a dangerous hobby, and one that has set him up for accidental treason. Fleeing into Grey London, Kell runs afoul of Delilah Bard, a cut-purse with lofty aspirations, who first robs him, then saves him from a dangerous enemy, and then forces him to spirit her to another world for a proper adventure.
But perilous magic is afoot, and treachery lurks at every turn. To save all of the worlds, Kell and Lila will first need to stay alive—and that is proving trickier than they hoped.
No Author Comment Available.
Megan Says 
The simplicity and Victorian-esque woodcuts make for a solid style. 
Julia Says 
This cover works better for me up close, I had a hard time making out the jumping figure in smaller versions.  I'm not sure the stark black and red works for me, as I'm having a hard time picking out what the red signifies (it's on his coat, the map, and all over the title…).
Kate Says 
Reminds me a bit of the covers of the Peter Grant series but just as good, if not better. I like the vintage-y looking font, and the two colors. Very cool.
Legally Undead (Vampirarchy #1) by Margo Bond Collins
Published May 27th 2014 by World Weaver Press
Source: Goodreads
Covers in Series
N/A
A reluctant vampire hunter, stalking New York City as only a scorned bride can.
Elle Dupree has her life all figured out: first a wedding, then her Ph.D., then swank faculty parties where she'll serve wine and cheese and introduce people to her husband the lawyer.
But those plans disintegrate when she walks in on a vampire sucking the blood from her fiancé, Greg. Horrified, she screams and runs—not away from the vampire, but toward it, brandishing a wooden letter opener.
As she slams the improvised stake into the vampire's heart, a team of black-clad men bursts into the apartment. Turning to face them, Elle realizes Greg's body is gone—and her perfect life falls apart.
No Author Comment Available.
Megan Says 
If this is a vampire chick-lit book, then I think it delivers on its promise. Unfortunately the lighting on the model is very distracting, and if she's going to be clutching her neck, then maybe there should be signs of puncture wounds – presuming 'vampiric' is what they're going for. 
Julia Says 
Her neck and chin look cartoony, but the body and hands are a real person.  I can't see anything else.
Kate Says 
This book's description grabbed me, not the cover. It isn't terrible, but it isn't great, either. The girl gripping her neck is a bit strange and only serves to emphasize that we don't see her face – plus it makes her neck look abnormally long.
Expected publication: November 25th 2014 by Harlequin HQN
Source: Goodreads
Covers in Series
From New York Times bestselling author Gena Showalter comes the long-awaited story of Torin, the most dangerous Lord of the Underworld yet…
Fierce immortal warrior. Host to the demon of Disease. Torin's every touch causes sickness and death—and a worldwide plague. Carnal pleasure is utterly forbidden, and though he has always overcome temptation with an iron will, his control is about to shatter.
She is Keeley Cael. The Red Queen. When the powerful beauty with shocking vulnerabilities escapes from a centuries-long imprisonment, the desire that simmers between her and Torin is scorching. His touch could mean the end for her, but resisting her is the hardest battle he's ever fought—and the only battle he fears he can't win.
No Author Comment Available.
Megan Says 
Ho hum, another shirtless male model in leather pants with a Photoshopped tribal tattoo. I agree with Kate, the placement is just awful. 
Julia Says 
Bad butterfly tattoos are part of this series aesthetic (unfortunately), but this one seems particularly aggressive.  The placement is just so… ridiculous.  This guy doesn't look intimidating, I just want to know what poor personal decision on spring break lead to that awful, awful tattoo placement.    
Kate Says 
The symbol that looks like a butterfuly, I see from previous covers, appears to be a thing, however, tattooed on his stomach centered on his belly button? Does not work for me at all. Without the tattoo, this maybe would have earned higher marks, but not by much since his upper body and face seem to blend into the background and that's a bit strange.
Light My Fire (Dragon Kin #7) by G. A. Aiken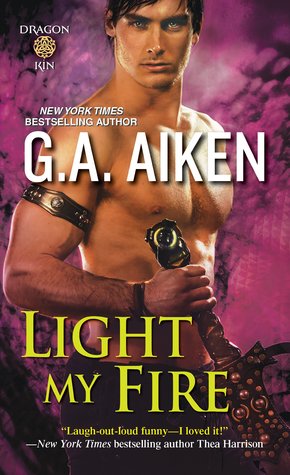 Expected publication: December 2nd 2014 by Zebra
Source: Goodreads
Covers in Series

The trouble with humans is that they're far too sensitive. You forget you put a woman in the local jail for a few months—and she takes it so personally! And yet she is the one trying to assassinate my queen. And now I'm trapped with Elina Shestakova of the Black Bear Riders of the Midnight…gods! That endless name!
But what am I to do? I am Celyn the Charming with direct orders from my queen to protect this unforgiving female.
Even more shocking, this unforgiving female is completely unimpressed by me. How is that even possible? But I know what I want and, for the moment, I want her. But I'm sure that she, like all females, will learn to adore me. How could she not when I am just so damn charming?
No Author Comment Available.
Megan Says 
I'm starting to wonder if there will ever be a romance novel cover that I think highly of. In this case, his head and neck don't match his torso, and I'm honestly put off by the blurb. 'Laugh out loud funny,' is not what I get from the model's flat stare. 
Julia Says 
These covers have never been anything special, but with the writing and covers in Aiken's other series taking off (she writes the Pride books as Shelly Laurenston), I'd expect a similar quality jump in the Dragon Kin.  Nothing other the badges indicates that this cover has shifters in it, and the ridiculous, zany, slap-stick soul of these books isn't shown anywhere.
Kate Says 
Is it just me or is he missing his left arm? (Also insert obligatory large sword joke here.)
The Curse Defiers (Curse Keepers #3) by Denise Grover Swank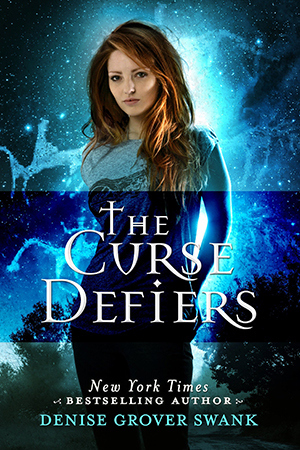 Expected publication: September 30th 2014 by 47 North
Source: Goodreads
Covers in Series
No Description Available.
No Author Comment Available.
Megan Says 
Maybe it's the size of the image, but I don't really know what's going on with that blue strip in the center. If it's meant to be a window of sorts, I can't see the difference, and it cuts awkwardly across her chest. I like that she looks like a real girl though. 
Julia Says 
Her shirt should be blank and a solid color so it doesn't compete with the complex sky behind her.
Kate Says 
By itself, maybe nothing that awesome, but if you look at the progression of the covers, from being turned away and slightly looking forward, to staring the camera down, the colors going from light to dark as the series progresses, plus now we have the main character all by herself? The overall effect is really neat.
Dream Stalkers (Shadow Watch #2) by Tim Waggoner
Expected publication: October 28th 2014 by Angry Robot
Source: Goodreads
Covers in Series
A new drug – Shut-Eye – has been developed in the dreamland, and smuggled into our world. It's addictive, and dangerous, and Shadow Watch agents Audra and Mr Jinx are on the case, preparing new recruits to deal with the problem.
Meanwhile, a wave of ancient, bodiless Incubi are entering the dreams of humans in an attempt to possess them and live new lives. Only the criminally insane would ever risk a confrontation with them.
Thank goodness, then, for Mr Jinx: clown, Shadow Watch agent, psychopath.
No Author Comment Available.
Megan Says 
I'm immediately intrigued, and I don't know whether to be amused or creeped out. I'm not sure about the red, which I think is meant to be a map of some sort, but I have to say I'd pick up this book, just to see what it's all about. 
Julia Says 
This is horrifying on so many levels, perhaps the clown's cartoony tie and condom balloon shoes are supposed to represent "dream" features, but the blend of bland/ real elements and the blood, etc. just looks amateurish.  
Kate Says 
Creepy and bloody, two things I do not like in a cover. So this one is down because of my personal dislikes. Sorry.
In the Afterlight (The Darkest Minds #3) by Alexandra Bracken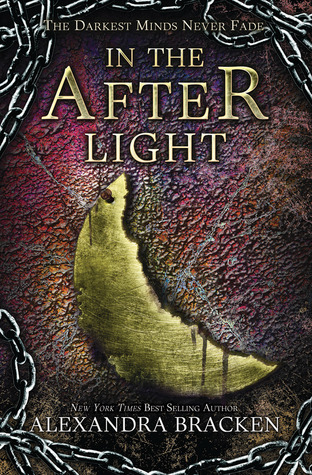 Expected publication: October 28th 2014 by Disney-Hyperion
Source: Goodreads
Covers in Series
Ruby can't look back. Fractured by an unbearable loss, she and the kids who survived the government's attack on Los Angeles travel north to regroup. With them is a prisoner: Clancy Gray, son of the president, and one of the few people Ruby has encountered with abilities like hers. Only Ruby has any power over him, and just one slip could lead to Clancy wreaking havoc on their minds.
They are armed only with a volatile secret: proof of a government conspiracy to cover up the real cause of IANN, the disease that has killed most of America's children and left Ruby and others like her with powers the government will kill to keep contained. But internal strife may destroy their only chance to free the "rehabilitation camps" housing thousands of other Psi kids.
Meanwhile, reunited with Liam, the boy she would-and did-sacrifice everything for to keep alive, Ruby must face the painful repercussions of having tampered with his memories of her. She turns to Cole, his older brother, to provide the intense training she knows she will need to take down Gray and the government. But Cole has demons of his own, and one fatal mistake may be the spark that sets the world on fire.
No Author Comment Available.
Megan Says 
I'm not sure what I'm looking at exactly, but I like the color, and the use of a focal object. Unfortunately I think the chains look like some kind of clip-art border stamp you could get from an old Microsoft program. 
Julia Says 
The texture/ treatment of the chains on the border makes the rest of this cover look kind of cheap.  
Kate Says 
Interesting. I like pretty much all of the elements of this cover, from the moon symbol, to the chains, to the background colors. The only thing is while I see some consistency throughout the series, they're also rather disjointed, and I couldn't immediately place this one.
Published by Clever Crow Press
Source: Goodreads
Covers in Series
It's Renna's biggest job yet – convincing MYTH leadership that she's put away her lock picks and is ready to save the galaxy, despite the dangerous implant in her brain. But with the Athena on the run, she's working solo and facing her most ruthless enemy, the traitor Pallas, who'll go to any lengths to destroy the MYTH organization. Including framing Renna for a devastating assault on MYTH HQ that leaves their defenses crippled and hundreds dead.
Now that MYTH believes she's a dangerous double-agent, Renna escapes their firing squad before they put more holes in her than a pair of fishnet stockings. But the ticking time-bomb in her head is the one thing Pallas needs to complete his master plan and he's not about to let her get away. Even worse, he's discovered the only thing that will bring Renna to her knees – threatening Captain Nick Finn.
Out of time and options, Renna's got one shot to take down the traitor before he annihilates everything she loves, even though winning this battle may cost her everything.
No Author Comment Available.
Megan Says 
The hoop is a little strange, but I like the sci-fi pulp vibe, sort of like old-school Battlestar Galactica, though there's something off about her arms. 
Julia Says 
I like the reds in this cover, but the model seems too clean and sexy to support the drama of her backdrop.
Kate Says 
It is strange that she's just sitting in this random hoop that doesn't appear to be held up by anything. Plus, her stare looks a little vacant, no interesting expression to capture my attention.
The Walking-Stick Forest by Anna Tambour
Publisher
Source: Tor.com
Covers in Series
N/A
Original fiction from the publisher's site (tor.com, Tor Books).
"The Walking-Stick Forest," by Anna Tambour, is a dark fantasy about a recluse who creates collectible walking sticks in post-WWI Scotland by manipulating the woods somewhat like bonsais. He refuses a commission from a very rich, powerful man, never considering or caring about the consequences.
Like some other stories published on Tor.com, "The Walking-Stick Forest" contains scenes and situations some readers will find upsetting and/or repellent. [—The Editors]
This short story was acquired and edited for Tor.com by consulting editor Ellen Datlow.
No Author Comment Available.
Megan Says 
A little hard to judge since it seems more like an illustration than a cover. It has a good tone, and a nice style, though it doesn't tell me much about the story. 
Julia Says 
This short story is available on Tor's website, so this really is less of a cover than an illustration.  I love the image, though, the brushstrokes support the tears in her skirt and her movement through the branches.  I'm not sure how they'd integrate a title and author, so it's cheating a little bit comparing it to finished covers.
Kate Says 
Some great art for a short story. Not sure why the main character is referenced as a man but the art has a woman, but it is still cool with dark vibes nonetheless.
Expected publication: February 3rd 2015 by Sourcebooks Casablanca
Source: Goodreads
Covers in Series
JAG Special Forces operatives like Golden Claw agent Melissa Overton and her partner, Huntley Anderson, are trained for the most dangerous missions in the harshest environments. These hardened jaguar shifters can handle any variable, even . . . babies?
When Huntley and Melissa find two jaguar shifter cubs snoozing in their jungle hut while on assignment, they have to keep the cubs and each other safe from ruthless poachers, bringing these partners closer in ways they never expected…
No Author Comment Available.
Megan Says 
Why is the model so mad at me? What did I ever do to him? 
Julia Says 
I like this guy's expression and scruff, think his posture is silly.  I would have given this cover *all* the thumbs up if they could have gotten the jaguar to furrow his brow like the cover model.
Kate Says 
What's up with the disappearing arms this week? This one seems to have both arms dissolving into smoke, plus, he looks super grumpy. Not a fan at all.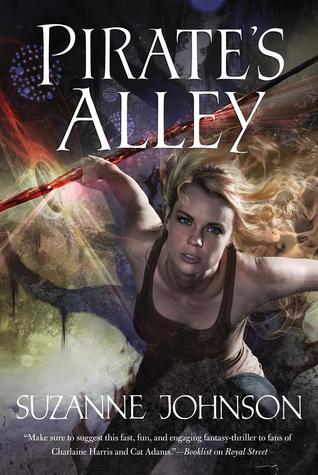 Expected publication: April 2015 by Tor Books
Source: Goodreads
Covers in Series
No Description Available.
No Author Comment Available.
Megan Says 
Movement is good, but I'm so confused about what she's standing on, if she's standing, or maybe she's crouching, though at first I thought she was falling… I have no idea what she's holding in her hand, or why there's a disco ball in the corner. It's not awful, just perplexing. 
Julia Says 
This image is great, though someone new to the series is probably looking for pirates.  Also, something about the title treatment seems too stark and flat, it lowers the cover quality over all.  
Kate Says 
There's a lot going on here, and I am a bit confused by her pose, but, this cover also has the most action of any of the series, and I appreciate how the heroine isn't just standing letting her hair blow in the wind.

And our picks for Best & Worst covers of the week…
Best
Worst
---
Have a cover we should include in an upcoming post? Fill out our Cover Submit form