The yellow-gold color prevalent in several of the covers isn't my favorite, but often crops up when a series cycles through bold colors.  With this color palette, I have a hard time overcoming my gut dislike to tease apart the elements.  I *think* DREAMS OF GODS & MONSTERS is a good cover, but the brassy yellow makes it hard for me to tell. Do you have one cover element that you can't see beyond?
 If you're a blogger interested in joining in on the commenting fun, fill out our Guest Commentator form here!
Expected publication: April 1st 2014 by Little, Brown & Company
Source: Koneko's Pinterest
Covers in Series
By way of a staggering deception, Karou has taken control of the chimaera rebellion and is intent on steering its course away from dead-end vengeance. The future rests on her, if there can even be a future for the chimaera in war-ravaged Eretz.
Common enemy, common cause.
When Jael's brutal seraph army trespasses into the human world, the unthinkable becomes essential, and Karou and Akiva must ally their enemy armies against the threat. It is a twisted version of their long-ago dream, and they begin to hope that it might forge a way forward for their people.
And, perhaps, for themselves. Toward a new way of living, and maybe even love.
But there are bigger threats than Jael in the offing. A vicious queen is hunting Akiva, and, in the skies of Eretz … something is happening. Massive stains are spreading like bruises from horizon to horizon; the great winged stormhunters are gathering as if summoned, ceaselessly circling, and a deep sense of wrong pervades the world.
What power can bruise the sky?
From the streets of Rome to the caves of the Kirin and beyond, humans, chimaera and seraphim will fight, strive, love, and die in an epic theater that transcends good and evil, right and wrong, friend and enemy.
At the very barriers of space and time, what do gods and monsters dream of? And does anything else matter?
No Author Comment Available.
Chris Says 
I like everything about this cover except for the vines. Way too distracting. 
Julia Says 
As much as it kills me to say it, I didn't like this one initially.  I  know the elements are pure Daughter of Smoke & Bone, but that yellow pulls apart the individual elements and really takes me out of the whole.  The shadowing on the eyes is great, I understand why they have the antlers, but even the familiar text looks strange and industrial against this color.  My least favorite of the series.
Kristina Says 
Its an interesting contrast to the previous two covers where Karu (I assume that's who it's supposed to be) is behind a mask. Here she looks dark, intense, and even a little older.
Half-Off Ragnarok (Incryptid #3) by Seanan McGuire
Expected publication: March 4th 2014 by DAW
Source: Author's Live Journal
Covers in Series
When Alex Price agreed to go to Ohio to oversee a basilisk breeding program and assist in the recovery of his psychic cousin, he didn't expect people to start dropping dead. But bodies are cropping up at the zoo where he works, and his girlfriend—Shelby Tanner, an Australian zoologist with a fondness for big cats—is starting to get suspicious.
Worse yet, the bodies have all been turned partially to stone…
The third book in the InCryptid series takes us to a new location and a new member of the family, as Alex tries to balance life, work, and the strong desire not to become a piece of garden statuary. Old friends and new are on the scene, and danger lurks around every corner.
Of course, so do the talking mice.
"So it's no secret around here that I love, love, love my DAW covers, or that showing them off is one of my true pure joys in life. Aly Fell, who designs the covers for the InCryptid books, has been everything I could have hoped for in a cover artist. He's incredible. Want proof? Go ahead. Take a peek." – Seanan McGuire
Chris Says 
Fun, campy style. That's a whole lotta Army green though! 
Julia Says 
Poor, Alex, it's his book and he still takes second place to the hot blond.  I mean, the other hot blond, the one with the hair.  If only he could crouch like that in shorts, maybe he could… ok, no, that image won't go away now.  
Kristina Says 
I love the comic book-ness of these covers and Yay for Alex Price getting his own book!
Expected publication: August 14th 2014 by Putnam Juvenile
Source: Glinda Atelier Dei Libri Pinterest
Covers in Series
A fever ravages New London, but with the Brotherhood sending suspected witches straight to the gallows, the Sisters are powerless against the disease. They can't help without revealing their powers—as Cate learns when a potent display of magic turns her into the most wanted witch in all of New England.
To make matters worse, Cate has been erased from the memory of her beloved Finn. While she's torn between protecting him from further attacks and encouraging him to fall for her all over again, she's certain she can never forgive Maura's betrayal. And now that Tess's visions have taken a deadly turn, the prophecy that one Cahill sister will murder another looms ever closer to its fulfillment.
No Author Comment Available.
Chris Says 
It's three girls. Sitting on a log. Where's the magic??? 
Julia Says 
I'm not sure what time period this is expected to be, but those girls sure are creepy.
Kristina Says 
Pretty and simple. I am getting a bit creeped out by her staring…she can see my soul….*hides under blanket*
Expected publication: 2014 by Orbit
Source: Amy K's Pinterest
Covers in Series
No Description Available.
No Author Comment Available.
Chris Says 
Ha, Kristina's Breaking Bad comment cracked me up, Kristina. Now this cover's no Breaking Bad, but it is a nicely done cover. 
Julia Says 
Love it, this girl looks real, angry, and ready to kick some butt.
Kristina Says 
Gritty, dark, and props for the fully clothed model! Oh and you know you've been watching too much Breaking Bad when upon noting the busted chemistry equipment you think 'She destroyed a Meth Lab?'
Nightlife by Matthew Quinn Martin
Expected publication: October 21st 2013 by Pocket Star
Source: Goodreads
Covers in Series
N/A
For centuries an ancient evil has slept beneath the streets of New Harbor. This Halloween, it wakes up.
An action-packed debut horror novel from talented new writer Matthew Quinn Martin, Nightlife pits a feisty bartender and a mysterious loner against bloodthirsty terrors as alluring as they are deadly.
Nightclub bartender and serial heartbreaker Beth Becker might be a cynic. But when her best friend goes missing Halloween night, Beth knows it's up to her to find out what happened.
Her quest will take her on an odyssey through the crumbling city of New Harbor, Connecticut. Along the way she meets a homeless prophet warning of something he calls the "Night Angel"-a bloodthirsty creature that feeds on the forgotten. And she will form an unlikely bond with a hunted stranger who knows all too well what stalks the streets at night.
No Author Comment Available.
Chris Says 
Creepy. Cool. I like it. A lot. 
Julia Says 
The colors and blurring are very "Starry Night".
Kristina Says 
Yeah, this cover does shout horror with the creepy darkened street, skewed angle, and blurry looking people.
Oblivion (Nevermore #3) by Kelly Creagh
Expected publication: 2014
Source: Goodreads
Covers in Series
No Description Available.
No Author Comment Available.
Chris Says 
I dated a goth girl in college for about a week. This cover reminds me of that. Like that relationship this cover is a whole lotta meh. 
Julia Says 
I'm not grabbed by the black and white, but the shading and shadows of this image certainly give an otherworldly quality.
Kristina Says 
This looks like the aftermath of my first attempt at photo manipulation on Photoshop. A much better version of my attempt that is.
Odin's Ravens (The Blackwell Pages #2) by K. L. Armstrong & M. A. Marr
Expected publication: May 13th 2014 by Little, Brown Books for Young Readers
Source: Tez Miller's Pinterest
Covers in Series
Seven kids, Thor's hammer, and a whole lot of Valkyries are the only things standing against the end of the world.
When thirteen-year-old Matt Thorsen, a modern day descendant of the Norse god Thor, was chosen to represent Thor in an epic battle to prevent the apocalypse he thought he knew how things would play out. Gather the descendants standing in for gods like Loki and Odin, defeat a giant serpent, and save the world. No problem, right?
But the descendants' journey grinds to a halt when their friend and descendant Baldwin is poisoned and killed and Matt, Fen, and Laurie must travel to the Underworld in the hopes of saving him. But that's only their first stop on their journey to reunite the challengers, find Thor's hammer, and stop the apocalypse–a journey filled with enough tooth-and-nail battles and larger-than-life monsters to make Matt a legend in his own right.
Authors K.L. Armstrong and M.A. Marr return to Blackwell in the epic sequel to Loki's Wolves with more explosive action, adventure and larger-than-life Norse legends.
No Author Comment Available.
Chris Says 
I would have totally picked up this book based on the cover back when I was a younger lad. 
Julia Says 
Wow, gorgeous!  The raven is so striking it took me a moment to realize how great the little characters are, too.  I love the guy's hair, intrepid!  
Kristina Says 
I like the style of these covers. Gives the vibe of YA and looks interesting. Also, that is one massive raven.
Sweet Revenge (Sins Brothers #2) by Rebecca Zanetti
Expected publication: December 3rd 2013 by Forever
Source: Goodreads
Covers in Series
The One Man She Can't Have
Matt Dean was born to fight…and kill. A member of a secret black-ops military unit, he and his brothers were genetically engineered by the government to be the perfect soldiers with an expiration date. Now, with time running out, he's gone rogue in a relentless quest for the one person who can save them. His mission leads him to Charmed, Idaho…and to a beautiful woman with eyes like emeralds and a body made for pleasure.
The One Woman He Can't Resist
Laney Jacobs knows the mysterious, handsome stranger is trouble from the moment he walks into her bar, looking for a job. She's spent years running from her own past—the last thing she needs is a romantic entanglement. But Matt's strong arms offer her protection, and his gentle touch promises passion unlike anything she's ever known. As lethal forces surround them, revealing explosive secrets about Matt's past and putting everything—and everyone—he holds dear in danger, can he save them all before time runs out?
No Author Comment Available.
Chris Says 
He had time to put on his holster, but not to toss on a t-shirt. Lame. 
Julia Says 
There's a certain demographic of Khal Drogo fans that will be all over this guy.  Was he genetically engineered to have a manly chest, is that what it was?
Kristina Says 
So I get he's supposed to be a genetically engineered super soldier but does that mean he's bullet proof (where's the vest!)? I have so many questions! Does he fight in only boxers or briefs? Going "Full Monty" would bring the element of surprise.
The Ripper Affair (Bannon & Clare #3) by Lilith Saintcrow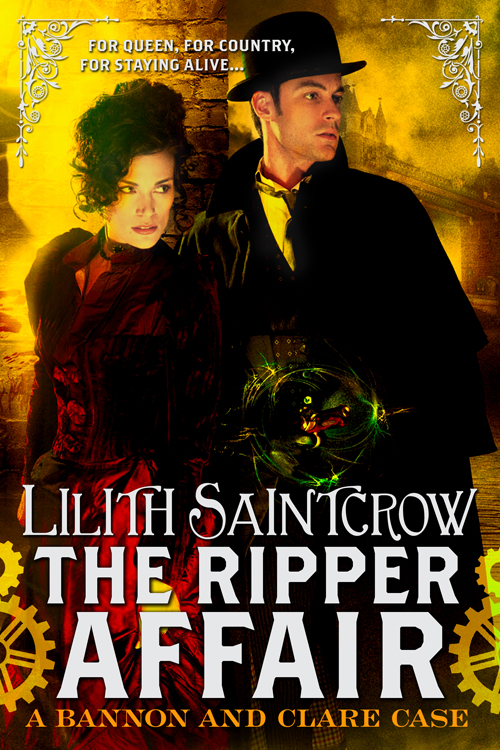 Expected publication: August 19th 2014 by Orbit
Source: Orbit Books
Covers in Series
New York Times bestselling author Lilith Saintcrow continues her dazzling new series set in an alternate Victorian world starring a forensic sorceress, a detective, and a conspiracy that will shake the Empire.
Sorcery. Treason. Madness. And, of course, murder most foul…
Archibald Clare, mentath in the service of Britannia, is about his usual business–solving crimes and restoring public order until a shattering accident places him in the care of Emma Bannon, sorceress Prime, who once served…and now simply remains at home, tending her solarium in reasonably quiet contentment. What Clare needs now is time to recover, and not so incidentally, a measure of calm to repair his faculties of Logic and Reason. Without them, he is not his best. One could even say that without them, he is not even properly a mentath at all.
Unfortunately, calm and rest will not be found. There is a killer hiding in the sorcerous steam-hells of Londinium, stalking the Eastron End and unseaming poor women of a certain reputation. A handful of drabs murdered on cold autumn nights would make no difference…but the killings echo in the highest circles possible, and threaten to bring the entire edifice of Empire down in smoking ruins.
Now Emma Bannon, once more, is pressed into service and Archibald Clare, once more, is determined to aid her. The secrets between these two old friends may give an ambitious sorcerer the means to bring down the Crown. And there is still no way to reliably find a hansom when one needs it most.
Britannia is threatened. Londinium quakes. Sorcery births an unholy monster.
The game is afoot…
No Author Comment Available.
Chris Says 
I don't know why I enjoy the covers in this series so much, but I do. Maybe it's the awesome hats? 
Julia Says 
Really not a fan of this yellow, and these live action steampunk covers always look a little campy.
Kristina Says 
It's pretty good and consistent with the rest of the series. Apparently they don't own more than one outfit if we go by the covers alone….
Before the Devil Knows You're Dead (Speak of the Devil #3) by Patricia Eimer
Expected publication: February 25th 2014 by Entangled: Select
Source: Goodreads
Covers in Series
No Description Available.
No Author Comment Available.
Chris Says 
Seems like a rushed cover, but nothing about it makes me able to work up any sort of witty snark. 
Julia Says 
Very flat and photoshopped, I think the straight arrangement of the title words makes this look homemade.
Kristina Says 
I am just not a fan of the illustrations for this series.
Renegade (MILA 2.0 #2) by Debra Driza
Expected publication: May 13th 2014 by Katherine Tegen Books
Source: Goodreads
Covers in Series
No Description Available.
No Author Comment Available.
Chris Says 
I have no idea what's going on with this cover, but I totally dig it. 
Julia Says 
Perfect for a Sci-Fi thriller, eery and futuristic.
Kristina Says 
I don't get what the gold glitter/computer stuff is supposed to be exactly but I like it.
Divided (Dualed #2) by Elsie Chapman
Expected publication: May 27th 2014 by Random House
Source: Goodreads
Covers in Series
The hunter becomes the hunted. . . .
West Grayer is done killing. She defeated her Alternate, a twin raised by another family, and proved she's worthy of a future. She's ready to move on with her life.
The Board has other plans. They want her to kill one last time, and offer her a deal worth killing for. But when West recognizes her target as a ghost from her past, she realizes she's in over her head. The Board is lying, and West will have to uncover the truth of the past to secure her future.
How far will the Board go to keep their secrets safe? And how far will West go to save those she loves? With nonstop action and surprising twists, Elsie Chapman's intoxicating sequel to Dualed reveals everything.
No Author Comment Available.
Chris Says 
I like urban fantasy. I like swords. I like covers that feature characters wearing normal clothes. This cover has all of that. Thumbs up! 
Julia Says 
Haha, something about the guy's shadow amongst the funhouse mirrors reminds me of Scooby Doo.  Trippy and tense, this is a fun thriller cover.
Kristina Says 
The reflections are a great way to represent the whole Alternate concept in the book. And yet another fully clothed character in normal clothes. Yay!

And our picks for Best & Worst covers of the week…
Best
Worst
---
Have a cover we should include in an upcoming post? Fill out our Cover Submit form