A big welcome to Michael R. Underwood who is here counting down the Top 10 Pop Culture References in Celebromancy and celebrating the release of Celebromancy, Ree Reyes #2 (published on July 15th, 2013 by Pocket Star). Want to win a copy? Enter via the widget below.
Michael R. Underwood's Top 10 Top 10 Pop Culture References in Celebromancy
When I asked Abigail about doing a guest post, she suggested a 'Top 10 Favorite Pop Culture References" for Celebromancy, which was about as fun and perfect a topic as I could ask for.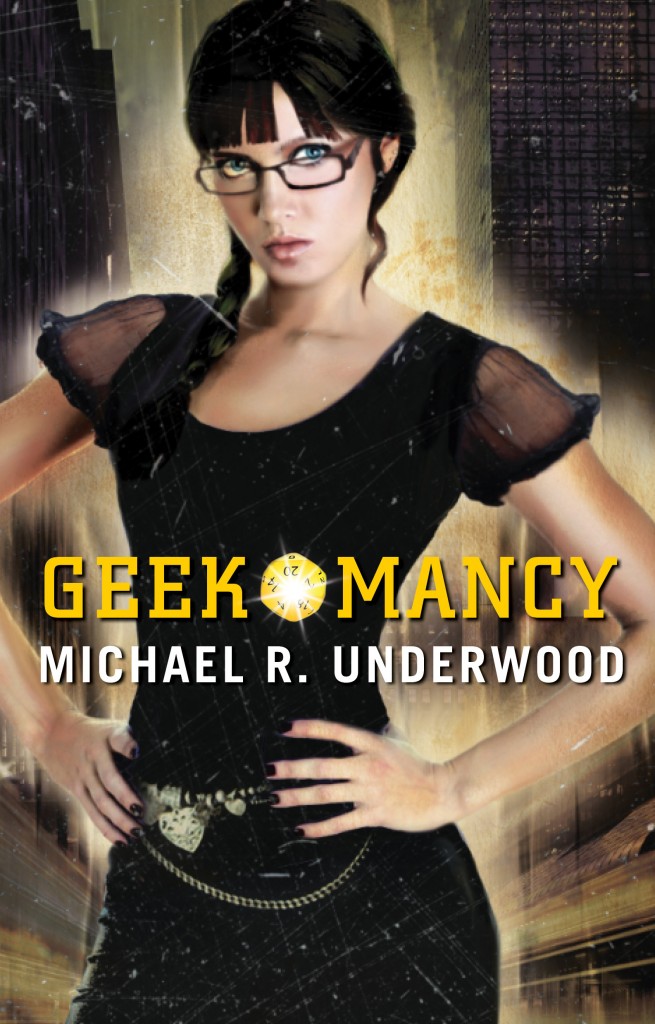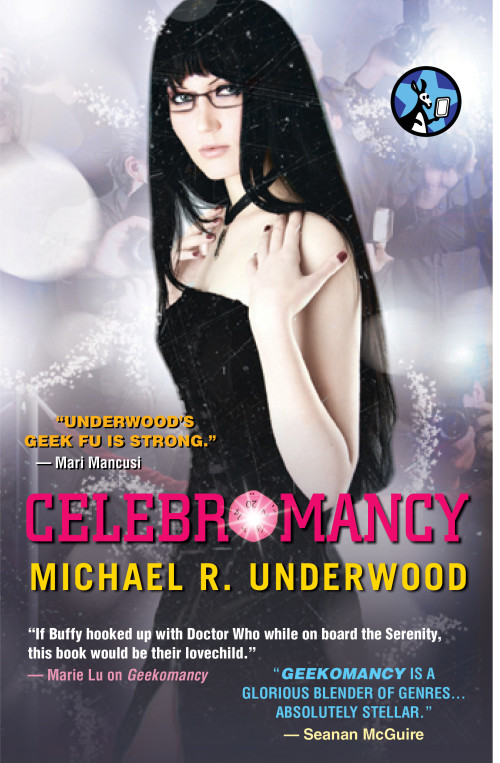 Pop culture references aren't just a sideline in the Ree Reyes series, they're crucial plot points. Or at least, some of them are. The list I made are a mix of 'references that were fun' and ones that held a lot of story weight.
10
"Fifteen Minutes of Fame"
Andy Warhol said "In the future everyone will be famous for fifteen minutes." – It's become increasingly possible thanks to social media for any given person to become momentarily famous, thanks to social media and 24-hour news cycles. In this case, I tied the 15 minutes of fame and the idea that fame could be fleeting to the magic of Celebromancy, and designed an artifact that could neutralize some of the magical power of Celebromancy by showing a clock turned to 12:16 – after the fifteen minutes of fame.
9

Castle's "The Late Shaft"
I really enjoy Castle, mostly for the character interactions, as I'm not a huge fan of procedural dramas. even if it is giving an entire generation of writers totally unrealistic expectations on what being a writer really means (when does Castle actually write?). When Ree is powering up to get through her first press conference, I pulled "The Late Shaft" out of the episode list to give Ree a reference point for how to be a cool and calm in a public writing persona.
8

"Come with me if you want to live…or look good on camera."
I saw Terminator and Terminator 2 at a fairly young age, and Terminator 2 in particular stuck with me. I'm from that older edge of Generation Y that remembers the Cold War, that got a stiff shot of that time period's 'OMG COMPUTERS COULD RISE UP AND DESTROY US!' growing up before tech fetishism (iPod, iPhone, etc.) and the participatory panopticon sidelined those fears to a certain degree.
"Come with me if you want to live" is one of the lines that has become a calling card for the Terminator series, and the use of the line also signals readers who are familiar with the Terminator series that the adventure is about the begin. Plus, it's an excuse for Ree to think using an Arnold Schwarzenegger voice.
7

The Burger Bin (aka Shake Shack)
When designing Pearson, OR, I decided to fill it with cool places I'd like to exist. And since I love food, one of the biggest ways I made it happen was with restaurants. Burger Bin is a very thinly-veiled analogue of Shake Shack, the burger-and-shakes chain which was all the rage in NYC a few years back and still has some substantial buzz. I learned about Shake Shack when I was visiting New York for work, and quickly made a habit of visiting one or another of their locations whenever I was in the city.
Now, as the Ree Reyes series grows, Burger Bin is becoming a fixture of Ree's world, and of one of the ways that Ree and Drake connect – through this very modern and trendy food that Drake is enchanted by (if not as dependent on in the way Ree is, caffeine addict that she is).
6

Top O' The Morning
From spring 2009 through summer 2012, I was a traveling book rep. This meant that I spent Monday-Friday on the road for 10-12 weeks twice a year, traveling around the Midwest and visiting bookstores (independent bookshops, museum bookshops, wholesalers, etc.)
This meant a lot of eating out. And in big chunks of the countryside I drove across, there weren't many options for food – even fewer if you removed fast food from the equation. This means that I ate a lot of dinners at the consistently okay chain restaurants (Applebee's, Chili's, etc.). The trying-to-be-homey kitsch of Applebee's really stuck with me, so when I was picking a brunch restaurant for Ree and the Rhyming Ladies to visit, I smooshed together that idea of kitschiness with a brunch-appropriate pun, partially inspired by a great Irish pub that my girlfriend and I frequented while we lived in Queens – and there you are, Top O' The Morning, a self-consciously ridiculous kitschy Irish brunch joint.
5

"God, my life has become a CW drama"
CW has a type of show they do – one that resonates with a lot of young people and in some cases, does a great job of engaging male and female audiences (Smallville, Supernatural, Arrow. Also talk about the Love Triangle Trope).
CW gets kind of a bad rap for unashamedly programming to a specific demographic. Most TV channels do it, and maybe some of the folks that give the CW crap are jealous. The CW isn't as big as ABC/NBC/CBS/FOX, but they do just fine, and one of the things that has helped them stay strong is that consistency in programming for a specific demographic. When you think CW show, you're probably talking about a female-fronted show with friends, frienemies, backstabbing, and lots of romantic plots. You'll also get a few male-driven shows like Smallville, Supernatural, or Arrow, but the CW bread-and-butter these days seems to be the supernatural female-fronted show with older teens/early 20-somethings with a big focus on romance plots.
So when Ree finds herself in a complicated tangle of romance plots (not just a love triangle, a love rhombus!), she takes pot shots at the CW and herself. I say this as someone who loved much of Supernatural for the first five seasons and who enjoys what he's seen of Arrow, cheese and all.
4

Everyone Important Has Stats (Dungeons & Dragons and others)
One of the things that stayed from the very first writing session when I let the idea that would become Geekomancy free to play on the page was the idea of stats.
In the series, Ree gives everyone important (herself included) statistics like they were a D&D-esque character – these stats give Ree's evalutation of the character, their relative abilities, and so on. It's a characterization shorthand and a shout-out to the geeky tendency to want to give everyone and everything stats – lots of gamers play what I call 'avatar' (not the Cameron movie or the awesome cartoon) games, playing themselves in weird/magical settings. It was really fun to stat out the main characters, and now it's stuck – it's a thing. Some readers don't necessarily like it, but I hope most will find it amusing and/or useful and forgive me the silliness.
3

Hypothetical Kidnapping Is The Name of My Leverage Cover Band
This is another several-layered joke. First, it's important to know that geek music comedy duo Paul & Storm have a running gag of "X is the name of my Y cover band"
Example: ""Start Being Quiet" is the name of my Belle and Sebastian cover band."
Second, you want to know Leverage, a TNT show starring Timothy Hutton and other awesome people, about a group of thieves who become modern-day Robin Hoods, righting wrongs with their cool thief skills. It's a marvelous show that I recommend to most everyone.
Third, this phrase is the chapter title for a part in the book where Ree is going after Rachel MacKenzie, a rival Celebromancer. And in the scene, Ree uses her Geekomantic powers to emulate the characters from Leverage in order to sneak through a fancy hotel to get to Rachel. Before the scene starts, Ree consults bodyguard Danny Park, asking him how, hypothetically, one might go about kidnapping a celebrity.
All of these little bits combine to make what is probably my favorite chapter title for the Ree Reyes series so far.
2

Sunday in the Park With George (Lucas)
Here's another chapter title gag. In this chapter, Ree is taking a run at the Big Bad in a park. Ree watches a mega-dose of Star Wars and goes full-on-Jedi, bringing her lightsaber, wearing a brown hoodie, and so on. I haven't actually see Sunday in the Park With George, I just took the structure because the scene happens in a park and uses Star Wars.
The scene has some of my favorite uses of Geekomancy, largely because Ree's just so excited by what she can do. Since Star Wars is one of her biggest fandoms, she gets a big magical bang for her buck, and gets to do things many geeks have wished they could do for years – the Jedi Mind Trick and Force Telekinesis (which allows a bonus Mallrats reference).
1

FUS RO DAH!
Like many gamers, I fell into the end-of-2011-pit that was Skyrim. I climbed out pretty fast, since I had writing to do, but the world was so expansive, the game so immersive, that it didn't surprise me at all that it became as big as it did.
What was surprising (and fun!) was the way that FUS RO DAH! became a general internet meme. IF you go to YouTube and enter "Fus Ro Dah," you get over 231,000 hits.
So when I put a dragon in Celebromancy, I realized that I had a prime opportunity to give a shout-out not only to an awesome game, but to the general geek zeitgeist of late 2011/early 2012. I compounded the geekiness by having Ree access the shout by donning a woven Dovakiin helmet (a knitted version of the iconic helmet shown in all the covers/posters for the game).
Michael R. Underwood is the author of GEEKOMANCY, CELEBROMANCY, and the forthcoming YOUNGER GODS. By day, he's the North American Sales & Marketing Manager for Angry Robot Books.
Mike lives in Baltimore with his girlfriend, an ever-growing army of books, and a super-team of dinosaur figurines and stuffed animals. In his rapidly-vanishing free time, he studies historical martial arts and makes homemade pizza.
Website | Blog | Twitter | Facebook

One copy of Celebromancy by Michael R. Underwood
Available on July 15th, 2013 by Pocket Star
Description:
Fame has a magic all its own in the no-gossip-barred follow-up to Geekomancy. Ree Reyes gets her big screenwriting break, only to discover just how broken Hollywood actually is.
Things are looking up for urban fantasista Ree Reyes. She's using her love of pop culture to fight monsters and protect her hometown as a Geekomancer, and now a real-live production company is shooting her television pilot script.
But nothing is easy in show business. When an invisible figure attacks the leading lady of the show, former child-star-turned-current-hot-mess Jane Konrad, Ree begins a school-of-hard-knocks education in the power of Celebromancy.
Attempting to help Jane Geekomancy-style with Jedi mind tricks and X-Men infiltration techniques, Ree learns more about movie magic than she ever intended. She also learns that real life has the craziest plots: not only must she lift a Hollywood-strength curse, but she needs to save her pilot, negotiate a bizarre love rhombus, and fight monsters straight out of the silver screen. All this without anyone getting killed or, worse, banished to the D-List.
Read an excerpt
Enter the giveaway via the widget below – Open Internationally
---
Interested in being a guest on All Things Urban Fantasy? Fill out our Guest Request Form