It's the last day of the month which means it's time to check out what we're reading next month in: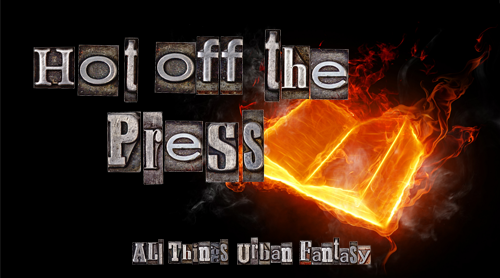 Want to know what titles came out in previous months? View previous Hot Off The Press posts
Lots of new releases coming out in July, including new books from D.B. Jackson, Laurell K. Hamilton, Ilona Andrews, Richard Kadrey and Mira Grant. And be sure to check back later today for our full Deadly Destinations schedule.  62 authors, 62 giveaways, 62 new releases.  It all starts tomorrow!
—————————————–
*Release dates are subject to change.  Click '+ Description' to reveal the full description. Please visit our Titles Received For Review page to see which of these titles will be reviewed this month.
55 Adult Titles Releasing in July, 2013
Cover
Title & Description
Beautiful Danger by Hauf, Michele

As a member of an ancient order of hunters, Lark has found that eliminating dangerous vampires is about more than duty. It's personal—a kill for every day her husband was held captive before his death. Staking her prey isn't a challenge until she confronts Domingos LaRoque. Mad with vengeance and the blood of a powerful phoenix, Domingos tests her skills…and seduces her soul.Once a talented musician, Domingos can't escape the constant music in his head…or his need to destroy the werewolf pack that tortured him. Though trusting the hunter ordered to kill him could be his gravest mistake, the dark desires between them can't be refused. Yet as he and Lark become allies to defeat a mutual threat, loving the enemy may be the ultimate sacrifice.




Paperback, 304 pages

Expected publication: July 1st 2013 by Harlequin

In their new Keeper roles, these extraordinary women must balance the fate of the world with their desires.

Alessande Salisbrooke has been warned about the legend of the old Hildegard Tomb, how human sacrifices are being carried out by the followers of a shape-shifting magician. As a Keeper, Alessande understands the risks of investigating, but she can't shake the nagging feeling that the killings are tied to a friend's recent murder, and she can't turn her back.With the help of Mark Valiente, a dangerously sexy vampire cop, Alessande narrowly escapes becoming a sacrifice herself. But as the bodies continue piling up, completely drained of blood, one truth becomes all too clear: life is an illusion, and no one, not even those you care about the most, is who they seem.




Paperback, 304 pages

Expected publication: July 1st 2013 by Harlequin

  

Boston, Province of Massachusetts Bay, September 28, 1768Autumn has come to New England, and with it a new threat to the city of Boston. British naval ships have sailed into Boston Harbor bearing over a thousand of His Majesty King George III's soldiers. After a summer of rioting and political unrest, the city is to be occupied.Ethan Kaille, thieftaker and conjurer, is awakened early in the morning by a staggeringly powerful spell, a dark conjuring of unknown origin. Before long, he is approached by representatives of the Crown. It seems that every man aboard the HMS Graystone has died, though no one knows how or why. They know only that there is no sign of violence or illness. Ethan soon discovers that one soldier — a man who is known to have worked with Ethan's beautiful and dangerous rival, Sephira Pryce — has escaped the fate of his comrades and is not among the Graystone's dead. Is he the killer, or is there another conjurer loose in the city, possessed of power sufficient to kill so many with a single dark casting?Ethan, the missing soldier, and Sephira Pryce and her henchmen all scour the city in search of a stolen treasure which seems to lie at the root of all that is happening. At the same time, though, Boston's conjurers are under assault from the royal government as well as from the mysterious conjurer. Men are dying. Ethan is beaten, imprisoned, and attacked with dark spells.And if he fails to unravel the mystery of what befell the Graystone, every conjurer in Boston will be hanged as a witch. Including him.




Hardcover, 320 pages

Expected publication: July 2nd 2013 by Tor Books

  

In this pulse-pounding Immortals After Dark tale, #1 

New York Times

bestselling author Kresley Cole delves into the darkest mysteries and deepest passions of Clan MacRieve. . .

A Beast In Torment

Uilleam MacRieve believed he'd laid to rest the ghosts of his boyhood. But when a brutal torture revives those ancient agonies and destroys his Lykae instinct, the proud Scot craves the oblivion of death. Until he finds her—a young human so full of spirit and courage that she pulls him back from the brink.

A Beauty In Chains

Seized for the auction block, Chloe Todd is forced to enter a terrifying new world of monsters and lore as a bound slave. When offered up to creatures of the dark, she fears she won't last the night. Until she's claimed by him—a tormented immortal with heartbreaking eyes, whose touch sets her blood on fire.

A Full Moon On The Rise

With enemies circling, MacRieve spirits Chloe away to the isolated Highland keep of his youth. But once he takes her to his bed, his sensual mate becomes something more than human, evoking his savage past and testing his sanity. On the cusp of the full moon, can he conquer his worst nightmare to save Chloe . . . from himself?




Hardcover, 368 pages

Expected publication: July 2nd 2013 by Gallery Books

  

When a zombie movie starts filming in town, things get crazy, and white trash zombie Angel Crawford suspects it's not just the plot of the movie that's rotten. With zombies both real and fake roaming the streets, it's up to Angel to fit all the pieces — and body parts — together to save herself, her town, and quite possibly the human race.

Mass Market Paperback, 320 pages

Expected publication: July 2nd 2013 by DAW

  

Eons ago, vampires tried to turn the dark Fae in order to harness their magic, only to create a demonic enemy more powerful than they could have imagined. Now, even with Myst, the Queen of the Indigo Court, temporarily out of action, the new Queens of the Golden Wood finds themselves facing incredible danger…Destined to become the Fae Queens of Winter and Summer, Wind Witch Cicely and her cousin Rhiannon are eager to assume their roles and marry the loves of their lives. But while Myst hides in the shadows, seeking to regroup her forces, a closer danger is lurking. Renegade vampires Geoffrey and Leo manage to free the Blood Oracle and set him upon New Forest, Washington. Not satisfied with wreaking havoc on the town, Leo ups the ante by kidnapping Rhiannon. Now, Cicely must lead her forces in a bloody battle to save her cousin before everything they've worked for crumbles to dust




Paperback, 336 pages

Expected publication: July 2nd 2013 by Berkley

  

Caspian Mort can feel the history in anything he touches, a gift he inherited from his father, the Crown Prince of Annwyn. Devastated over his ex-wife's infidelity, Caspian has withdrawn from human contact except when working as an antiques dealer.While assessing the contents of the historic Callaway House he encounters the beautiful Lydia Callaway and senses that her home is haunted by a banished fairy. But what does the dangerous exile want? Unbeknownst to Lydia, she's the owner of the last remaining portal to Annwyn—a mirror hidden somewhere in the house. To keep Lydia safe, Caspian will have to divulge the secrets of his heritage, and risk losing his heart again.




Paperback, 320 pages

Expected publication: July 2nd 2013 by Sourcebooks Casablanca

  

Micah is called back home by his estranged family, because his father, a county sheriff, has been attacked and is terribly injured. Anita and Nathaniel are going with him for moral support and to meet his family under very trying circumstances.Micah has been estranged from his family for a decade, deliberately turning his back on them to protect them from the sadistic killer who once led his leopard pack. But now Micah's father lies dying, rotting away inside from some strange ailment that has his doctors whispering about "zombie disease."Anita—who understands zombies better than anyone—knows there's more to it than that. While zombies have unlovable traits, being one doesn't cause human beings to rot in agony. She needs to solve that mystery—but now a more immediate issue is pressing: Micah's father may have only five days to live.




Hardcover, 576 pages

Expected publication: July 2nd 2013 by Berkley Hardcover

  

Zoe Adams and her grandmother Irma are witches who have been banished from Boston. With nowhere to go, they accept an invitation to come to Chicago . . . but what they don't realize is that their new space puts them right in the heart of the most dangerous spot of all: Vamptown.

Paperback, 320 pages

Expected publication: July 2nd 2013 by St. Martin's Paperbacks

  

Bound by the gods. Champions against evil. The Dark Warriors have taken their battle from ancient Scotland to the modern world—where a woman's love is the greatest danger of all…

ENSLAVED BY DESIRELaura Black knows her boss is a man of many secrets—haunted by some unknowable force, driven by some unspeakable destiny—and yet it makes her crave the devilishly handsome, roguishly charming Charon all the more. When she uncovers a betrayal that will send her into a world of magic, she turns to the only one she trusts: Charon. Even when she's in jeopardy of losing her heart…UNLEASHED IN FURYCharon Bruce endures a relentless yearning to have Laura for his own, an ache he knows will never be fulfilled. After the town he has protected for centuries is targeted by a ruthless Druid, he has no choice but to reveal his secret to Laura. He must fight the deadliest foe he's ever known if he's to keep her safe. But when Laura is captured by his nemesis, he must choose between winning the battle of good versus evil—or losing the woman he loves…




Paperback, 384 pages

Expected publication: July 2nd 2013 by St. Martin's Paperbacks

  

He's a lone wolf—for now.

In Polecat, Alaska, Rachel Miller and Jake Hunter have a mutual admiration for each other—from across a lake. There's nothing Rachel likes more than spying on the very fit wilderness guide when he skinny-dips each night. And Jake has always been curious about his reclusive artist neighbor. He even bought Rachel's first wood carving: a wolf who looks suspiciously like him…Jake is a werewolf, but not just any werewolf. He's the founder of WARM (Werewolves Against Random Mating). And that means a human like Rachel is off-limits, no matter how attractive he finds her.But when Rachel is threatened by a bear, and Jake shifts to save her, their lives collide with an intense passion, one that could change everything they've ever felt about themselves—and each other…




Paperback, 352 pages

Expected publication: July 2nd 2013 by Signet

  

When one of their own ties the knot with a dominatrix (no pun intended), The Impalers—a vampire rock band—are ready to party down. But trouble awaits them once again when they wake up…

Attending their bandmate Saxon's wedding seemed simple enough for Johnny Malone and Drake Hanover. But after waking up in a dominatrix's dungeon, they realize their cash and cell phones have been stolen—along with the bride's wedding dress and the groom. And then there's the matter of the two women in the room…Loose cannon Johnny is handcuffed to Lizette, an uptight paper pusher. She wants to help save Johnny from the horrible fate in store for him at the hands of the Vampire Alliance, but he won't sign the paperwork. Then there's Josie, the waifish caterer from the reception, who rescues Drake from a sex swing. Josie may be cute and make a great cupcake, but Drake knows she might also be the thief. Or it could have been that gang of drag queens all dressed as Cher…Regardless, Johnny and Lizette need to get out of these handcuffs. Drake and Josie need to find their missing belongings. And Saxon needs to be located before the Vampire Alliance comes down on them hard…




Paperback, 304 pages

Expected publication: July 2nd 2013 by Berkley Trade

  

Celia Wird and her three sisters are just like other twenty-something girls—with one tiny exception: They are the products of a curse that backfired and gave each of them unique powers that made them, well, a little weird…After Celia Wird and her sisters help master vampire Misha save his family, their powers are exposed to the supernatural community of the Lake Tahoe region. But fame comes at a price, and being "weird" isn't always welcome.To make matters worse, Celia desires the love of Alpha werewolf Aric, but his pack is bent on destroying their relationship to preserve his pureblood status. And once weres start turning up dead—with evidence pointing to the vampires—she must face the prospect of losing Aric forever. But the chaos only masks a new threat. An evil known as the Tribe has risen—and their sights are set on Celia and her sisters.

Paperback, 368 pages

Expected publication: July 2nd 2013 by Signet

Vicious Moon (Earth Witches, #3) by Roland, Lee


"A powerful witch might live a long time, but a single well-placed bullet could change that. While my preferred weapon was magic, I was not averse to shooting anyone or anything offering my sister or me harm."Ex-soldier and earth witch Nyx Ianira is working as a PI in San Francisco when she sees the last thing she ever wants to see: the Sisters of Justice—the mysterious earth witch police force. A Triad of Sisters usually means an execution mission, but the Sisters' only goal is to capture and escort Nyx across the country.Nyx is badly needed back in Twitch Crossing, Georgia, the place she ran away from ten years ago to escape the stiff rules and duties of being a true witch. She wanted a life of her own. Now she's being dragged back to her swampy hometown because another life is in danger: Her little sister is missing, and Nyx is the only one who can track her down in Duivel, Missouri.But the key to finding her may lie with dark and tempting Etienne—a sinister criminal with a fearsome reputation, a ruthless attitude, and a total immunity to magic….




Paperback, 320 pages

Expected publication: July 2nd 2013 by Signet

Jinx is a Dire wolf without a pack. Kicked out of the house by his king, and living with a vampire named Jez, Jinx has been trying to undo the damage he unintentionally caused during the reign of the Dire ghost army, which unleashed some of Purgatory's worst monsters on the world at large. But when he hears that an unshifted Were is being held in a psychiatric hospital, he immediately drops everything to help her.Gillian Black has no idea what's happening to her—and Jinx discovers that she's not just any Were, but a Dire wolf from the original Green- land pack. He helps her escape and promises to keep her safe from the men—and the wolves—who are hunting her and to teach her everything about being a wolf.He must also fight his feelings, wanting to claim her as his mate…at least until after he defeats the supernatural enemies that threaten all of them.




Paperback, 400 pages

Expected publication: July 2nd 2013 by Signet

In steam age America, men, monsters, machines, and magic battle to claim the same scrap of earth and sky. In this madness, one man struggles to keep his humanity, his honor, and his hell-bent mission intact…

Bounty hunter and lycanthrope Cedar Hunt vowed to track down all seven pieces of the Holder—a strange device capable of deadly destruction. And, accompanied by witch Mae Lindson and the capricious Madder brothers, he sets out to do just that. But the crew is forced to take refuge in the frontier town of Des Moines, Iowa, when a glacial storm stops them in their tracks. The town, under mayor Killian Vosbrough, is ruled with an iron fist—and plagued by the steely Strange, creatures that pour through the streets like the unshuttered wind.But Cedar soon learns that Vosbrough is mining cold copper for the cataclysmic generators he's manufacturing deep beneath Des Moines, bringing the search for the Holder to a halt. Chipping through ice, snow, and bone-chilling bewitchment to expose a dangerous plot, Cedar must stop Vosbrough and his scheme to rule the land and sky…




Paperback, 400 pages

Expected publication: July 2nd 2013 by Roc Trade

England in the fourteenth century: a land of poverty and opulence, prayer and plague, witchcraft and necromancy. Where the medieval barber-surgeon Elisha seeks redemption as a medic on the front lines of an unjust war, and is drawn into the perilous world of sorcery by a beautiful young witch. In the crucible of combat, utterly at the mercy of his capricious superiors, Elisha must attempt to unravel conspiracies both magical and mundane, as well as come to terms with his own disturbing new abilities. But the only things more dangerous than the questions he's asking are the answers he may reveal…




Hardcover, 304 pages

Expected publication: July 2nd 2013 by DAW Hardcover

The Others–vampires, werewolves, things that go chomp in the night–don't just live in nightmares anymore. They've joined with he mortal world. And for private investigator Shiarra Waynest, that means mayhem…Have a one night stand with a vampire, and you can end up paying for it for eternity. P.I. Shiarra Waynest, an expert on the Others, knows that better than most. Yet here she is, waking up beside charismatic vamp Alec Royce with an aching head…and neck. Luckily, Shia has the perfect excuse for getting out of town–namely, a couple of irate East Coast werewolf packs who'd like to turn her into a chew toy.On Royce's suggestion, Shia temporarily relocates to Los Angeles. But something is rotten–literally–in the state of California, where local vampires are being attacked by zombies. Who could be powerful enough to control them–and reckless enough to target the immortal? Following the trail will lead Shia to a terrifying truth, and to an ancient enemy with a personal grudge…




Mass Market Paperback, 352 pages

Expected publication: July 2nd 2013 by Zebra

The Arrivals is the second novel for adults by internationally bestselling author Melissa Marr.Chloe walks into a bar and blows five years of sobriety. When she wakes, she finds herself in an unfamiliar world, The Wasteland. She discovers people from all times and places have also arrived there: Kitty and Jack, a brother and sister from the Wild West; Edgar, a prohibition bootlegger; Francis, a one-time hippie; Melody, a mentally unbalanced 1950s housewife; and Hector, a former carnival artist.None know why they arrived there–or if there is way out of a world populated by monsters and filled with corruption.Just as she did in Graveminder, Marr has created a vivid fantasy world that will enthrall. Melissa Marr's The Arrivals is a thoroughly original and wildly imagined tale about making choices in a life where death is unpredictable and often temporary.




Hardcover, 288 pages

Expected publication: July 2nd 2013 by William Morrow

A POWER TO KILL

 FBI agent Camellia "Mel" Wray is no stranger to violence but when an old friend is brutally murdered, she takes it personally. The case hits even closer to her heart when the best person to help with the investigation is Dr. Stefan Harper, the only man she ever loved-and lost. One look at the gorgeous medical expert and Mel realizes he's still impossible to resist-and still harboring a secret after all these years . . . 

A POWER TO LOVE

 Afraid Mel wouldn't accept him, Stefan never revealed his study of magical medicine or his abilities, instead allowing her to believe he'd been unfaithful. Now she's back in his life-and their mutual attraction burns hotter than ever. But when something dark and otherworldly threatens humans, Stefan must summon his mage powers to keep everyone safe. Will Mel be able to trust him again? Or will their love cost him even more than it did the first time?

Word Count: 90,000 words.




Paperback, 416 pages

Expected publication: July 2nd 2013 by Forever Yours

Garrett is a human detective in the fantastical city of TunFaire. And now he's getting tangled up in the worst sort of laws…

In-laws.Garrett is set to stow his wandering heart with his fiancée, Strafa Algarda. But for Garrett, even true love comes with its share of headaches—namely, the Algarda family.Strafa's family needs Garrett's unique skills in the worst way. Rumors are spreading that someone is organizing a Tournament of Swords—a brutal contest that magically compels the children of sorcerers to battle until only one is left alive. The winner will absorb the power from those he has killed and thus become a demigod.Strafa and her family want to protect her daughter, Kevans, from being forced to take part in the lethal contest…and they've asked Garrett to find out who is organizing the tournament and nip it in the bud. The only problem is that finding the culprit is most likely impossible. But the Algardas are used to getting what they want….




Paperback, 496 pages

Expected publication: July 2nd 2013 by Roc

I Dream of Danger (Ghost Ops, #2) by Rice, Lisa MarieThey are the Ghost Ops: a covert squad of super-elite soldiers. After their team was betrayed and massacred, the three surviving members went underground and built Haven, a community of misfits and geniuses. Now they're at a crossroads, facing a new threat capable of destroying everything they hold dear.In the second book of Lisa Marie Rice's thrilling Ghost Ops series, the Haven team is faced with a new addition to their secret society-and a threat capable of destroying everything they hold dear.When Nick Ross disappears from Elle Thomason's life, she is certain she'll never see the man she loves again—except in her dreams.Ten years later, as a respected researcher breaking new ground in psychic phenomena, she sends a desperate call for Nick's help. One by one, her colleagues have started disappearing . . . and Elle knows she's next. An elite soldier, Nick never meant to hurt Elle, duty kept him away—and then she vanished. Now troubled by unusually vivid, disturbing dreams of Elle in danger, Nick will rescue the only woman he's ever wanted and bring her back with him to Haven. Though powerful men are after Elle and her special abilities, Nick will die before leaving her side again.


Four authors leave the reader enthralled. Leigh's stubborn Breed meets her match, and can deny neither him nor herself. Day introduces the League of the Black Swan, and a woman cursed to kill the man she loves. In Brook's steampunk 

Iron Seas

 world, a man bereft of everything finds his marriage in jeopardy, and sky pirates stealing his wife. Monroe unleashes a werewolf's passions on the body, mind, and soul of his prey, his lover, his lifemate.




Paperback, 464 pages

Expected publication: July 2nd 2013 by Berkley Trade

The adventure of a lifetime might just end in turmoil, but when it includes meeting your future mate, who gives a hoot?A Novella of the Elder RacesFor a librarian with a focus on rare magic books, Olivia's new job is a dream come true. She has been hired as part of a team to help manage the safe transportation of the collection of books owned by the Vampyre sorceress Carling Severan. The fact that the library is located on a mysterious island in an Other land only heightens the adventure.Head of security for the expedition, Sebastian Hale is tired of his rootless life of adventure and finds himself attracted to the calm, beautiful librarian. But he is living a personal nightmare. He has been hit with a curse that is slowly taking away his sight, and he doesn't know if he will survive the results.But the powerful feelings growing between them, along with Sebastian's inner turmoil, take a backseat when they learn there is a traitor lurking among their expedition team. With Elder Races politics and a priceless library on the line, they'll have to rely on each other to survive the experience.Warning: When a librarian who likes to nest meets an owl Wyr who has always lived for adventure, their romance won't just be fly-by-night…




ebook, 134 pages

Expected publication: July 2nd 2013 by Samhain Publishing

Charley Davidson may not look like your everyday, run-of-the-mill grim reaper, but she has vowed to reap grimness wherever she goes despite this unfortunate fact. Sadly, she gets sidetracked when the sexy, sultry son of Satan, Reyes Farrow, moves in next door. As he is the main suspect in her arson case, she is determined to stay away from him until she can find out the truth. According to her therapist, however, she lacks conviction.When dead women start appearing in her apartment – lost, confused and terrified beyond reason – Charley has no choice but to ask for Reyes's help, especially when it becomes apparent that her own sister Gemma is the serial killer's next target. With his ability to observe incorporeally, surely he can find out who's responsible. And even if he can't, he is the one man alive who could protect Gemma no matter who or what came at her. But he wants something in return: Charley. All of her – body and soul. And to keep her sister safe, it is a price she is willing to pay…




Hardcover, 352 pages

Expected publication: July 9th 2013 by St. Martin's Press

"This is a war. The war. There is no stopping; no getting out. You're in this – just like the rest of us – to the end." • Driven out of hell and with nothing to lose, the Fallen wage open warfare against the angels on the streets. And they're winning.• As the balance tips towards the darkness, Alice – barely recovered from her own ordeal in hell and struggling to start over – once again finds herself in the eye of the storm. But with the chaos spreading and the Archangel Michael determined to destroy Lucifer whatever the cost, is the price simply too high… and what sacrifices will Alice and the angels have to make in order to pay it? • The Fallen will rise. Trust will be betrayed. And all hell breaks loose…




Paperback, 384 pages

Expected publication: July 9th 2013 by Solaris

Sharon Li: apprentice shaman and community support officer for the magically inclined. It wasn't the career Sharon had in mind, but she's getting used to running Magicals Anonymous and learning how to Be One With The City.When the Midnight Mayor goes missing, leaving only a suspiciously innocent-looking umbrella behind him, Sharon finds herself promoted. Her first task: find the Midnight Mayor. The only clues she has are a city dryad's cryptic message of doom and several pairs of abandoned shoes…Suddenly, Sharon's job feels a whole lot harder.




Paperback, 464 pages

Expected publication: July 9th 2013 by Orbit (first published July 1st 2013)

Ex-Communication (Ex-Heroes, #3) by Clines, Peter
St George, Stealth and Zzzap continue to fight for survival in the ex-human infested L.A.

But life at The Mount will never be easy, and when a potential ally the superheroes had thought long dead returns, it might just turn out to be the greatest threat they've ever faced.

The thrilling follow-up to Ex-Heroes and Ex-Patriots – with even more adventure and zombie vs. superhero action.


Paperback, 352 pages

Expected publication: July 11th 2013 by Del Rey (first published July 9th 2013)

Fame has a magic all its own in the no-gossip-barred follow-up to Geekomancy. Ree Reyes gets her big screenwriting break, only to discover just how broken Hollywood actually is.Things are looking up for urban fantasista Ree Reyes. She's using her love of pop culture to fight monsters and protect her hometown as a Geekomancer, and now a real-live production company is shooting her television pilot script.But nothing is easy in show business. When an invisible figure attacks the leading lady of the show, former-child star-turned-current-hot-mess Jane Konrad, Ree begins a school-of-hard-knocks education in the power of Celebromancy.Attempting to help Jane Geekomancy-style with Jedi mind tricks and X-Men infiltration techniques, Ree learns more about movie magic than she ever intended. She also learns that real life has the craziest plots: not only must she lift a Hollywood-strength curse, but she needs to save her pilot, negotiate a bizarre love rhombus, and fight monsters straight out of the silver screen. All this without anyone getting killed or, worse, banished to the D-List.




ebook, 400 pages

Expected publication: July 15th 2013 by Pocket Star

Kirsty's afterlife gets even more Hellish in this second installment of The Reluctant Reaper series when her soul-stealing ex-boss targets her beloved aunt. Her only chance to stop him? Becoming a Reaper herself. Fortunately, her hunkynew boyfriend, Italian-poet-turned-Reaper Dante Alighieri, is there to help.

Still trapped in the bureaucratic inferno known as Hell, Kirsty d'Arc redoubles her efforts to escape back to the Mortal Coil when she learns Conrad is after the soul of her beloved aunt. To save Aunt Carey, Kirsty must enroll at the Reaper Academy and earn a scythe of her own. Studying topics like Exor-scything 101, Riding the Death Cycle, and Reincarnation for Dummies is strange. But then, so are her classmates: a fallen angel, the Death Valley girls, and Kali—the ancient god of death, destruction, and those little earring backs that always go missing.Now time is running out thanks to a temporal crisis she 

may

 have accidentally created. Can she graduate, rescue her aunt, take down Conrad, and save Hell and every other dimension—before the clock stops ticking?As the saying goes in Hell, "Be careful what you wish for; it just might get you!"




ebook, 200 pages

Expected publication: July 15th 2013 by Pocket Star

Rancher Adam Sloan is more than meets the eye. As the heir to his Pack, the sexy werewolf's biggest challenge is keeping his kin's true nature under wraps. But a group of jaguar shifters threatens to reveal the pack, blasting into town killing humans in plain sight. And when he smells one at the local diner, his standing orders are to take her out.Lana Turpin doesn't realize she's a moving target. Raised in the foster system, she only knows that she blacks out during the new moon and wakes up without remembering a thing. But now she's being tracked by some strange organization that wants her back—even though she's never stepped foot inside their compound. And the stranger across the diner is watching her like an enemy.It should be a simple mission for Adam, but when he touches the frustratingly beautiful Lana, his inner wolf howls…mate. Now, the two must find and stop the people who hunt her…and Adam must keep his own family from killing the only woman he will ever love.

ebook, 300 pages

Expected publication: July 15th 2013 by Entangled: Edge

A new Newslfesh novella from the New York Times besteslling author that brought you Feed, Mira Grant.

Post-Rising Australia can be a dangerous place, especially if you're a member of the government-sponsored Australia Conservation Corps, a group of people dedicated to preserving their continent's natural wealth until a cure can be found. Between the zombie kangaroos at the fences and the zombie elephant seals turning the penguin rookery at Prince Phillip Island into a slaughterhouse, the work of an animal conservationist is truly never done–and is often done at the end of a sniper rifle.




ebook, 84 pages

Expected publication: July 15th 2013 by Orbit

Mist (Mist, #1) by Krinard, Susan

New York Times bestselling author Susan Krinard launches her first urban fantasy seriesCenturies ago, all was lost in the Last Battle when the Norse gods and goddesses went to war. The elves, the giants, and the gods and goddesses themselves were all destroyed, leaving the Valkyrie Mist one of the only survivors.Or so she thought.When a snowy winter descends upon modern-day San Francisco in June, Mist's quiet existence starts to feel all too familiar. In quick succession, Mist is attacked by a frost giant in a public park and runs into an elf disguised as a homeless person on the streets…and then the man Mist believed was her mortal boyfriend reveals himself to be the trickster god, Loki, alive and well after all these years.Loki has big plans for the modern world, and he's been hanging around Mist for access to a staff that once belonged to the great god Odin. Mist is certain of one thing: Loki must be stopped if there is to be any hope for Earth. But the fight is even bigger than she knows….Because Loki wasn't the only god to survive.




Paperback, 384 pages

Expected publication: July 16th 2013 by Tor Books

Consoling a sobbing dragon and serving pig buffets are just part of the job for Myrna Banks. Working for a mediation firm, it's her job to get humans compensated for damages caused by the dragons who now rule. But her "typical" day is interrupted by Trian Chobardan, an old flame who sneaked out of her bed two years ago, taking her heart and a handful of classified documents with him.Myrna would love to show Trian the door, but he's been sent by North America's reigning dragon lord for help negotiating a truce with a powerful rival to avert war. Myrna agrees to help, even though she'll be stuck with Trian as a partner.As the two work together, Myrna finds Trian to be surprisingly supportive—and still irresistibly attractive. Though her brain tells her not to forget his betrayal, her body feels differently. When they learn the enemy dragon lord is planning something no one could have imagined, Myrna has to learn who she can trust before she loses not only her heart, but her life.84,000 words




ebook

Expected publication: July 22nd 2013 by Carina Press

Carniepunk by Caine, Rachel


A star-studded urban fantasy anthology featuring bestselling authors Rachel Caine, Rob Thurman, Seanan McGuire, Jennifer Estep, and Kevin Hearne, whose stories explore the creepy, mysterious, and, yes, sometimes magical world of traveling carnivals.

The traveling carnival is a leftover of a bygone era, a curiosity lurking on the outskirts of town. It is a place of contradictions—the bright lights mask the peeling paint; a carnie in greasy overalls slinks away from the direction of the Barker's seductive call. It is a place of illusion—is that woman's beard real? How can she live locked in that watery box?And while many are tricked by sleight of hand, there are hints of something truly magical going on. One must remain alert and learn quickly the unwritten rules of this dark show. To beat the carnival, one had better have either a whole lot of luck or a whole lot of guns—or maybe some magic of one's own.Featuring stories grotesque and comical, outrageous and action-packed,

Carniepunk

 is the first anthology to channel the energy and attitude of urban fantasy into the bizarre world of creaking machinery, twisted myths, and vivid new magic.




Paperback, 448 pages

Expected publication: July 23rd 2013 by Gallery Books

A mutilated body in Crawley. Another killer on the loose. The prime suspect is one Robert Weil; an associate of the twisted magician known as the Faceless Man? Or just a common or garden serial killer?Before PC Peter Grant can get his head round the case a town planner going under a tube train and a stolen grimoire are adding to his case-load.So far so London.But then Peter gets word of something very odd happening in Elephant and Castle, on a housing estate designed by a nutter, built by charlatans and inhabited by the truly desperate.Is there a connection?And if there is, why oh why did it have to be South of the River?




Hardcover, 320 pages

Expected publication: July 25th 2013 by Gollancz

As one of Frankenstein's Creatures, Natalie Gray knows that unique parts sometimes make up a great whole. Still, leading a diverse support group for monsters—now including Cthulhu!—isn't an easy task. Especially not since the internet arrived.

New York City embraces the different and the bizarre. Still, even for such a fun-loving city, the supernatural and monstrous might be a bit too much. It's been six months since the members of "Club Monstrosity" overcame the most recent spate of anti-monster violence and they've reestablished their routine of meeting in a church basement once a week to (ugh!) talk about their feelings. Still, they also know a war against them is brewing.Natalie and Alec (the werewolf) have begun dating, and the mummies Kai and Rehu are tighter than a bug in a…well, bandage. But when modern means (YouTube, Twitter, bits and bytes) are used to chilp away at the solidarity of these ancient monsters, it's up to Natalie to save the day. #MonstersInNewYork may be trending on Twitter, but this girl's trending toward saving the day…somehow.




ebook, 224 pages

Expected publication: July 29th 2013 by Pocket Star

Atlanta is a city plagued by magical problems. Kate Daniels will fight to solve them—no matter the cost.Mercenary Kate Daniels and her mate, Curran, the Beast Lord, are struggling to solve a heartbreaking crisis. Unable to control their beasts, many of the Pack's shapeshifting children fail to survive to adulthood. While there is a medicine that can help, the secret to its making is closely guarded by the European packs, and there's little available in Atlanta.Kate can't bear to watch innocents suffer, but the solution she and Curran have found threatens to be even more painful. The European shapeshifters who once outmaneuvered the Beast Lord have asked him to arbitrate a dispute—and they'll pay him in medicine. With the young people's survival and the Pack's future at stake, Kate and Curran know they must accept the offer—but they have little doubt that they're heading straight into a trap…




Mass Market Paperback, 1st Edition, 327 pages

Expected publication: July 30th 2013 by Ace

New York Times bestselling author Gena Showalter is back with a breathtaking Lords of the Underworld tale about a warrior trapped by darkness and the woman determined to save him 

Having endured weeks of torture in the bowels of hell, Kane wants nothing to do with his beautiful rescuer, Josephina Aisling. The half-Fae female threatens to awaken the demon of Disaster inside him—a beast he's determined to kill, no matter the price.Josephina is hunted by a brutal enemy—her royal family—and Kane is her only source of protection. He's also the only male to ever set her aflame, and even he succumbs to the heat. But as they navigate the treacherous world of the Fae, they are forced to make a choice: live apart…or die together.




Paperback, 480 pages

Expected publication: July 30th 2013 by Harlequin HQN

Bestselling author Richard Kadrey continues his acclaimed Sandman Slim series with this high-octane fifth adventure that takes Stark into a dark and dangerous mirrorworld of LA

"The perfect escapist storyline . . . side-splittingly funny. . . . Gruesome slapstick mixed with down-and-dirty Hammett-esque mayhem and double-dealing. . . . If you've been hoping someone would bring the full-strength SoCal toxic waste to the urban fantasy game, then Sandman Slim is your poison."-io9.comJames Stark, aka Sandman Slim, has managed to get out of Hell, renounce his title as the new Lucifer, and settle back into life in LA. But he's not out of trouble yet. Somewhere along the way he misplaced the Qomrama Om Ya, a weapon from the banished older gods who are also searching for their lost power.The hunt leads Stark to an abandoned shopping mall-a multi-story copy of LA-infested with Lurkers and wretched bottomfeeding Sub Rosa families, squatters who have formed tight tribes to guard their tiny patches of this fake LA. Somewhere in the kill zone of the former mall is a dead man with the answers Stark needs. All Stark has to do is find the dead man, get back out alive, and outrun some angry old gods-and a few killers-on his tail.




Hardcover, 400 pages

Expected publication: July 30th 2013 by Harper Voyager

Last Blood (House of Comarré, #5) by Painter, Kristen


In the final showdown between the forces of dark and light, Mal and Chrysabelle face not only Tatiana, but the ancient evil that now controls her: the Castus Sanguis. Chrysabelle gathers her friends and family around her, forming a plan to bring an end to the chaos surrounding them. But the Castus is the most powerful being they've ever come up against. Defeating such evil will require a great sacrifice from someone on the side of light.One of them will change sides. One of them will die. No one will survive unscathed. Can Chrysabelle save those she cares about or will that love get her killed? What price is she willing to pay to draw last blood?




Mass Market Paperback, 464 pages

Expected publication: July 30th 2013 by Orbit

The Deacons of the Order are all that stand between the wicked spirits of the Otherside and the innocent citizens of the Empire. They are sworn to protect humanity, even when they cannot protect themselves…After the Razing of the Order, Sorcha Faris, one of the most powerful Deacons, is struggling to regain control of the runes she once wielded. The Deacons are needed more desperately than ever. The barrier between the world of the living and the world of the dead is weakening, and the Emperor has abandoned his throne, seeking to destroy those he feels have betrayed him.Though she is haunted by the terrible truth of her past, Sorcha must lead the charge against the gathering hordes of geists seeking to cross into the Empire. But to do so, she will need to manipulate powers beyond her understanding—powers that may prove to be her undoing…




Paperback, 320 pages

Expected publication: July 30th 2013 by Ace

The second in a fierce and sensual new paranormal romance series featuring demonic gladiators, ruthless mafia villains, and the choices made by a proud race on the brink of extinction.

As a young man, sarcastic, violent Tallis Pendray believed the Dragon Kings' survival depended on a prophecy delivered in dreams by a woman named "the Sun." His role has been to complete inexplicable, even reprehensible tasks. First, by murdering a priest, he united his fragmented clan in their hatred of him. Dubbed "the Heretic," Tallis fled his family's Highland estate. Now disillusioned, he seeks revenge on the woman he holds responsible for two decades of exile.Telepath Kavya Indranan is a charismatic, seductive cult leader born to a prominent family. However, she grew up terrorized by the ominous threat of her powerful, insane twin brother. On the run and hiding among the poor, she witnessed the destruction wrought by her clan's centuries-old civil war. Maturity nurtures Kavya's determination to end the cycle of bloodshed. Those who follow her call for peace have nicknamed her "the Sun."




Mass Market Paperback, 400 pages

Expected publication: July 30th 2013 by Pocket Books

THE HEART IS A LONELY HUNTER 

In the never-ending saga that is my love-hate relationship with Robson Trowbridge, I, half-Were Hedi Peacock, have had a change of heart. Ever since I shoved Trowbridge through the Gates of Merenwyn, I've been the leader of the pack—hard to believe, right? The thing is: I'm half-Fae. So even though my Were side is ready to heed the call of the wild, the other part of me is desperate to take flight. And much as it pains me to admit it, life without Trowbridge is really starting to were me down…

I AM WERE, HEAR ME ROAR.

To make matters worse, the wolves of Creemore want my blood—and the North American Council of Weres wants me dead. So I'm just counting the days until Trowbridge returns from the other realm…and comes to my brave rescue…and becomes my alpha mate. Wishful thinking? Of course it is. But given all the mess I've been through already, what's the harm in doing a little bit of daisy-plucking? Besides, Trowbridge owes me bigtime. A girl can dream.




Mass Market Paperback, 464 pages

Expected publication: July 30th 2013 by St. Martin's Paperbacks

In the fourth novel of the bestselling Belador paranormal series, Evalle Kincaid must turn her back on the Beladors to protect those she loves, and the world, from annihilation.To prevent a genocide, Evalle is forced to embrace her destiny…but at what cost?As an Alterant who fights everything from trolls to demons, Evalle has lived as an outcast among the Beladors, but can now change all that…and find answers to her origins as well. Those answers and a traitor hide within the Medb coven, an enemy poised to destroy the mortal world and all that Evalle holds dear. While her best friends Tzader and Quinn want to help, they have their own conflicts and face unthinkable choices as relationships with the women they love twist in unexpected directions. With time ticking down on a decision that will compel allies to become deadly enemies, Evalle turns to Storm and takes a major step that only complicates matters more when the witchdoctor he's been hunting now stalks Evalle.




Paperback, 480 pages

Expected publication: July 30th 2013 by Pocket Books

For centuries, Mara has been a creature of the night: mysterious, alluring, and fiercely independent. Although she has been pursued throughout her life—by Vampire and mortal alike—she has never allowed love to claim her. But when she discovers she's pregnant, Mara finds herself torn between two unforgettable men…Kyle Bowden is the mortal father of her unborn child. A gorgeous, golden-haired artist full of passion and life, Kyle was ready to give his soul to Mara—until he learned her terrible secret.Logan Blackwood is the Vampire she created nine-hundred years ago. Now a Hollywood millionaire with all the dark seductive power of his kind, Logan still longs for the woman who turned him.With time running out—and her Dark Gift fading—Mara must decide what is best for the miraculous new life growing inside her. But first she must embrace the feelings in her heart—and choose one lover…for all eternity.




Paperback, 352 pages

Expected publication: July 30th 2013 by Zebra

As Denver adjusts to a new master vampire, Kitty gets word of an intruder in the Denver werewolf pack's territory, and she investigates the challenge to her authority. She follows the scent of the lycanthrope through the mountains where she is lured into a trap, tranquilized, and captured. When she wakes up, she finds herself in a defunct silver mine: the perfect cage for a werewolf. Her captors are a mysterious cult seeking to induct Kitty into their ranks in a ritual they hope will put an end to Dux Bellorum. Though skeptical of their power, even Kitty finds herself struggling to resist joining their cause. Whatever she decides, they expect Kitty to join them in their plot . . . willingly or otherwise.

Mass Market Paperback, 320 pages

Expected publication: July 30th 2013 by Tor Books

In one world, they're ordinary university students. In another world, they are a company of heroes in a place of magic and myth called Anfractus……

The Cree called the area Oscana, "pile of bones," a fertile hunting ground where game abounded. The white settlers changed that to Wascana. And centuries later, it became Wascana Park, a wooded retreat in the midst of the urban sprawl of Regina.For a select few, who stay in the park until midnight, the land reverts into a magical kingdom, populated by heroes and monsters. They become warriors, bards, archers, gladiators. In the city called Anfractus, they live out a real-life role playing game.All harmless fun—until they find themselves in the middle of an assassination plot which threatens to upset the balance of everything.  Politics are changing, and old borders are about to disappear.  The magic of Anfractus is bleeding into the real world—an incursion far more dangerous than the students suspect. Only they know what is happening—and only they can stop it…




Mass Market Paperback, 336 pages

Expected publication: July 30th 2013 by Ace

Private Investigator Nikki James grew up on the tough streets of Lyndhurst and believes there's nothing left to surprise her. All that changes the night she follows teenager Monica Trevgard into the shadows-and becomes a pawn caught in a war between two very different men. One fills her mind with his madness, the other pushes his way into her life-and her heart. Nikki knows how dangerous love can be, but if she wants to survive, she must place her trust in a man who could easily destroy her.Michael Kelly has come to Lyndhurst determined to end the war between himself and another brother of the night. For 300 years he has existed in life's shadows, gradually learning to control the life from death cravings of a vampire. Nikki not only breaches his formidable barriers with her psychic abilities, but makes Michael believe he may finally have found a woman strong enough to walk by his side and ease the loneliness in his heart. But will his love be enough to protect her from a madman hell-bent on revenge? Or will it drive her into his enemy's deadly trap?Only together can they overcome the evil threatening to destroy them both. But the secrets they keep from each other might prove to be the greatest threat of all.

Paperback, 368 pages

Expected publication: July 30th 2013 by Dell (first published March 5th 2001)

MIDNIGHT IN SAVANNAH…

It's a city of beauty, history…hauntings. And one of the most haunted places in Savannah is a tavern called The Dragonslayer, built in the 1750s. The current owner, Gus Anderson, is a descendant of the original innkeeper and his pirate brother, Blue.

Gus summons his granddaughter, Abigail, home from Virginia, where she's studying at the FBI Academy. When she arrives, she's devastated to find him dead. Murdered. But Abby soon learns that Gus isn't the only one to meet a brutal and untimely end; there've been at least two other victims. Then Captain Blue Anderson starts making ghostly appearances, and the FBI's paranormal investigation unit, the Krewe of Hunters, sends in Agent Malachi Gordon.

Abby and Malachi have a similar ability to connect with the dead…and a similar stubbornness. Sparks immediately begin to fly—sparks of attraction anddiscord. But as the death toll rises, they have to trust each other or they, too, might find themselves among the dead haunting old Savannah!

Paperback, 384 pages

Expected publication: July 30th 2013 by Harlequin MIRA

Twenty-seven fantasy tales from Neil Gaiman to George R. R. Martin, plus many more, are collected in this anthology of speculative fiction. The renowned storytellers assembled here will challenge our concept of good and evil and provide us with new ways of seeing right and wrong: even angels can fall and demons will strive for redemption.

Paperback, 512 pages

Expected publication: July 30th 2013 by Running Press (first published 2013)

She doesn't want him. He doesn't need her. Like hell…

Destin Mortin's psychic gift comes with an ugly twist—she excels at tracking down violent rapists. But it's rough on relationships. Once, her partner Caleb was her everything: filter, shield, rescuer, lover. The only man who didn't think her a freak. Then he walked away.Destin turned her back on the FBI to work for a private agency, but now a particularly horrendous case has come up, and her boss wants her paired with only the best.For Caleb Durand, leaving Destin was an act of self-preservation. Every time she flung herself headlong into dangerous situations, every time he nursed her through soul-crushing visions, he'd died a little more inside.Now they are forced to work together one last time. Tragedy has changed them both, but Caleb knows if he lowers his shields for an instant, he won't have an icicle's chance in hell of resisting the temptation to lose himself in her wild power.But to catch the rapist, it's exactly what he'll have to do.

Warning: Contains tortured souls who have lost love and pined for their missing half, a woman who can see evil, and a hot FBI agent.


ebook, 143 pages

Expected publication: July 30th 2013 by Samhain

Chelsea Quinn Yarbro's first Saint-Germain novel, 

Hotel Transylvania,

was recently nominated as Vampire Novel of the Century. Her Saint-Germain cycle, now comprised of more than twenty-five books, is a masterwork of historical horror fiction. The vampire Count Saint-Germain has crisscrossed the world many times, seeking love and the blood of life and seeing humanity at its best and worst.In 

Night Pilgrims

, Saint-Germain is living in a monastery in Egypt when he is hired to guide a group of pilgrims to underground churches in southern Egypt. The vampire finds a companion in a lovely widow who later fears that her dalliance with the Count will prevent her from reaching Heaven.The pilgrims begin to fall prey to the trials of travel in the Holy Lands; some see visions and hear the word of God; others are seduced by desires for riches and power. A visit to the Chapel of the Holy Grail brings many quarrels to a head; Saint-Germain must use all his diplomacy and a good deal of his strength to keep the pilgrims from slaughtering one another.




Hardcover, 416 pages

Expected publication: July 30th 2013 by Tor Books

They call it Deadtown: the city's quarantined section for its inhuman and undead residents. Most humans stay far from its borders—but Victory Vaughn, Boston's only professional demon slayer, isn't exactly human…

Boston's zombies have suddenly become inexplicably violent—horror movie-style—resulting in a catastrophic all-out battle against humans. More troubling to Vicky is that she's had dreams and visions of herself fighting alongside the demons. At least, she hopes they're just visions—otherwise, that puts her on the front lines of the wrong side of the war.Vicky's not surprised to discover that Pryce, her demi-demon cousin and loathed adversary, is behind the outbreak of the zombie plague, having formed an unholy pact with the Old Ones. Now, as the violence escalates and alliances shift, Vicky knows she's the only one who can stop the plague. Unless the pack of hellhounds on her trail finds her first.




Paperback, 336 pages

Expected publication: October 29th 2013 by Ace

Known Devil: An Occult Crimes Unit Investigation by Gustainis, Justin


My name's Markowski. I carry a badge. Also, a crucifix, some wooden stakes, a big vial of holy water, and a 9mm Beretta loaded with silver bullets.A new supernatural gang is intent on invading Scranton – as if I didn't have enough to contend with!Supernatural gang warfare? Not on my watch!

File Under

: 

Urban Fantasy

 [ Fang Warfare | Invading Forces | Uneasy Alliances | The Devil You Know ]




Paperback

Expected publication: January 28th 2014 by Angry Robot
34 YA Titles Releasing in July, 2013
Cover
Title

On a misty cliffside, mystery and romance await. . . .Ivy Calhoun's life has been turned upside down. Her new stepdad has uprooted Ivy and her mom, bringing them to live in an actual castle in the misty Scottish countryside. There are stone-faced servants and shadowy corridors, and the ancient walls seem full of secrets. Ivy is at once frightened and intrigued.Especially when she meets Logan, a gorgeous, elusive ghost who has haunted the castle grounds for decades. Ivy is immediately drawn to him . . . but Logan is not the only spirit around. Something dark and deadly is afoot, and soon Ivy finds herself in mortal danger.

Is Logan exactly what he seems? Could his mysterious past be tied to Ivy's present? And can Ivy stop herself from falling in love with him?


Paperback, 288 pages

Expected publication: July 1st 2013 by Point

Mermaids have been sinking ships and drowning humans for centuries, and now the government is determined to put an end to the mermaid problem—by slaughtering all of them. Luce, a mermaid with exceptionally threatening abilities, becomes their number-one target, hunted as she flees down the coast toward San Francisco.There she finds hundreds of mermaids living in exile under the docks of the bay. These are the Twice Lost: once-human girls lost first when a trauma turned them into mermaids, and lost a second time when they broke mermaid law and were rejected by their tribes. Luce is stunned when they elect her as their leader. But she won't be their queen. She'll be their general. And they will become the Twice Lost Army—because this is war.




Hardcover, 480 pages

Expected publication: July 2nd 2013 by HMH Books for Young Readers

From #1 New York Times bestselling author Meg Cabot, the dark reimagining of the Persephone myth comes to a thrilling conclusion.Death has her in his clutches. She doesn't want him to let go.Seventeen-year-old Pierce Oliviera knew by accepting the love of John Hayden, she'd be forced to live forever in the one place she's always dreaded most: the Underworld. The sacrifice seemed worth it, though, because it meant she could be with the boy she loves.

But now her happiness — and safety — are threatened, all because the Furies have discovered that John has broken one of their strictest rules: He revived a human soul.

If the balance between life and death isn't fixed, both the Underworld and Pierce's home back on earth will be wiped away. But there's only one way to restore order. Someone has to die.


Hardcover, 343 pages

Expected publication: July 2nd 2013 by Point

This Strange and Familiar Place (So Close to You, #2) by Carter, Rachel

These are the things of which Lydia is now certain:The Montauk Project has been experimenting with time travel for years.The Project's subjects are "recruits" from across time, recruits like Wes, Lydia's ally, friend, and love.

The Project is now responsible for the disappearance of two members of her family…

The conspiracy theorists were right about the Montauk Project all along. In this sequel to So Close to You, they're coming for Lydia next…


Hardcover, 272 pages

Expected publication: July 2nd 2013 by HarperTeen

The impossible was just the beginning. Now in their second year as superhuman government weapons-in-training at the Pentagonal Spire, Tom Raines and his friends are mid-level cadets in the elite combat corps known as the Intrasolar Forces. But as training intensifies and a moment arrives that could make or break his entire career, Tom's loyalties are again put to the test.Encouraged to betray his ideals and friendships for the sake of his country, Tom is convinced there must be another way. And the more aware he becomes of the corruption surrounding him, the more determined he becomes to fight it, even if he sabotages his own future in the process.Drawn into a power struggle more dramatic than he has ever faced before, Tom stays a hyperintelligent step ahead of everyone, like the exceptional gamer he is—or so he believes. But when he learns that he and his friends have unwittingly made the most grievous error imaginable, Tom must find a way to outwit an enemy so nefarious that victory seems hopeless. Will his idealism and bravado cost him everything—and everyone that matters to him?

Filled with action and intelligence, camaraderie and humor, the second book in S.J. Kincaid's futuristic World War III Insignia trilogy continues to explore fascinating and timely questions about power, politics, technology, loyalty, and friendship.


Hardcover, 400 pages

Expected publication: July 2nd 2013 by Katherine Tegen Books

The battle is all but over, and hope seems to be lost. Zoe and her fellow Resistance fighters are on the run, having lost their home, their protection, and their leader. They are outnumbered and outmatched by the powerful corporation that controls the world, and the cruel Chancellor is inches away from completing a scheme that would kill most of humanity. Zoe's only remaining option is to chase the impossible dream of upending the Link system, freeing the world from the hardware that controls their thoughts and emotions, and hope it will trigger a revolution.The plot requires a nearly impossible mission to infiltrate the dangerous Community, and it is a task that Zoe must unfortunately complete alone. With challenges and surprises at every turn, nothing goes according to plan. Adrien's visions of the future now show two possible outcomes: one in which they succeed, and one in which humanity falls. It all lies in Zoe's hands.Full of romance, high-adrenaline action and shocking twists, Shutdown is a heart-pounding conclusion to an exciting sci-fi adventure trilogy for young adults.

Paperback, 320 pages

Expected publication: July 2nd 2013 by St. Martin's Griffin

After a virus claimed nearly the entire global population, the world changed. The United States splintered into fifty walled cities where the surviving citizens clustered to start over. The Company, which ended the plague by bringing a life-saving vaccine back from the future, controls everything. They ration the scant food and supplies through a lottery system, mandate daily doses of virus suppressant, and even monitor future timelines to stop crimes before they can be committed.

Brilliant but autistic, sixteen-year-old Clover Donovan has always dreamed of studying at the Waverly-Stead Academy. Her brother and caretaker, West, has done everything in his power to make her dream a reality. But Clover's refusal to part with her beloved service dog denies her entry into the school. Instead, she is drafted into the Time Mariners, a team of Company operatives who travel through time to gather news about the future.When one of Clover's missions reveals that West's life is in danger, the Donovans are shattered. To change West's fate, they'll have to take on the mysterious Company. But as its secrets are revealed, they realize that the Company's rule may not be as benevolent as it seems. In saving her brother, Clover will face a more powerful force than she ever imagined… and will team up with a band of fellow misfits and outsiders to incite a revolution that will change their destinies forever.




Paperback, 320 pages

Expected publication: July 2nd 2013 by Berkley Trade

Cash is haunted by things. Hungry, hollow things. They only leave him alone when Anaya, Heaven's beautiful reaper, is around. Cash has always been good with girls, but Anaya isn't like the others. She's dead. And with his deteriorating health, Cash might soon be as well.Anaya never breaks the rules, but the night of the fire she recognized part of Cash's soul—and doomed him to something worse than death. Cash's soul now resides in an expired body, making him a shadow walker—a rare, coveted being that can walk between worlds. A being creatures of the underworld would do anything to get their hands on.The lines between life and death are blurring, and Anaya and Cash find themselves falling helplessly over the edge. Trapped in a world where the living don't belong, can Cash make it out alive?




Paperback, 352 pages

Expected publication: July 2nd 2013 by Entangled Teen

The master of horror takes on the master of theater!Get ready for laughter to turn into screams in R.L. Stine's re-imagining of Shakespeare's classic romantic comedy A Midsummer Night's Dream.Everyone knows that Mayhem Manor is cursed. After production on the horror film was stopped due to a series of mysterious deaths, it became a Hollywood legend–which makes it perfect for Claire and her family. If they can successfully finish the film, it should be enough to save their ailing movie studio.

Sure, the old haunted house is creepy, and strange stuff has been happening, but this is Claire's chance. Her chance to become the movie star she's always dreamed and her chance to finally convince her friend Jake that she is girlfriend material. Of course, the fact that Jake thinks he's in love with her best friend, Delia, who is crushing hard on Jake's friend Shawn, who insists on following Claire around, could be a problem, but Claire is sure she can figure it out. After all, the course of true love never did run smooth.

But once shooting starts, "creepy and strange" morph into "bloody and deadly," as the lines between film and reality begin to blur…


Hardcover, 250 pages

Expected publication: July 2nd 2013 by Feiwel & Friends

A breathtaking new urban fantasy trilogy from the critically acclaimed, award winning author of The Swan Kingdom and Shadows on the Moon.When fifteen year old Mio Yamato furtively sneaks the katana – an ancestral Japanese sword – out of its hiding place in her parent's attic to help liven up her Christmas party costume, she has no idea of the darkness she is about to unleash on modern day London, or the family secrets that she is going to uncover.The paralysing paranoia that descends on her before she gets to her friend's party is her first clue. The vivid and terrifying visions that nearly get her killed are a pretty good warning too.

The giant nine-tailed cat demon that comes after the sword and tries to rip her throat out? Overkill.

Seconds away from becoming kitty-food, Mio is saved by Shinobu, a mysterious warrior boy. But it's already too late. Mio has ruptured the veil between the mortal realm and the Underworld, and now the gods and monsters of ancient Japan stalk the streets of London, searching for her and the sword.

With the help of her best friend Jack, a fox spirit named Hikaru – and the devoted protection of the betwitchingly familiar Shinobu – Mio attempts to discover the true nature of the sword and its connection to the Yamato family. Because if she doesn't learn how to control the katana's incredible powers, she's in danger of being overwhelmed by them. And if she can't keep the sword safe from the terrible creatures who want it for their own, she'll lose not only her own life… but the love of a lifetime.


Paperback, 368 pages

Expected publication: July 4th 2013 by Walker Books

I can't weep. I can't fear. I've grown talented at pretending.

Elizabeth Caldwell doesn't feel emotions . . . she sees them. Longing, Shame, and Courage materialize around her classmates. Fury and Resentment appear in her dysfunctional home. They've all given up on Elizabeth because she doesn't succumb to their touch. All, that is, save one—Fear. He's intrigued by her, as desperate to understand the accident that changed Elizabeth's life as she is herself.Elizabeth and Fear both sense that the key to her past is hidden in the dream paintings she hides in the family barn. But a shadowy menace has begun to stalk her, and try as she might, Elizabeth can barely avoid the brutality of her life long enough to uncover the truth about herself. When it matters most, will she be able to rely on Fear to save her?




Paperback, 350 pages

Expected publication: July 8th 2013 by Flux (first published June 1st 2013)

Leigh Fallon's 

Shadow of the Mark

, the sequel to 

Carrier of the Mark

, is a captivating love story set against the lush backdrop of Ireland.Megan knew she was destined to be with Adam from the first moment she saw him and now they are determined to be together. But Megan and Adam are Marked Ones, and a romance between two Marked Ones is strictly forbidden…and could cause worldwide devastation.Leigh Fallon's 

Shadow of the Mark

 is a great choice for readers who love Becca Fitzpatrick's 

Hush, Hush

.




Paperback, 1st Edition, 352 pages

Expected publication: July 9th 2013 by HarperTeen

"Addictive…When I wasn't reading, I was thinking about how I could sneak away to read some more.  I couldn't put it down.  I dreamt about this book.  And when I was finished, I couldn't get it out of my head.  This book was simply breathtaking." –Teens Read TooNow available together for the first time, don't miss the first two books in Alyson Noël's #1 New York Times bestselling The Immortals series. Enter an enchanting new world where true love never dies. . .

After a horrible accident claimed the lives of her family, sixteen-year-old Ever Bloom can see people's auras, hear their thoughts, and know someone's entire life story by touching them. Going out of her way to avoid human contact and suppress her abilities, she has been branded a freak at her new high school—but everything changes when she meets Damen Auguste.Damen is gorgeous, exotic and wealthy. He's the only one who can silence the noise and random energy in her head—wielding a magic so intense, it's as though he can peer straight into her soul.  As Ever is drawn deeper into his enticing world of secrets and mystery, she's left with more questions than answers. And she has no idea just who he really is—or what he is. The only thing she knows to be true is that she's falling deeply and helplessly in love with him.


Paperback, 608 pages

Expected publication: July 9th 2013 by St. Martin's Griffin

I learned that surviving isn't all it's cracked up to be. If you survive, you've got to live with the guilt, and that's more difficult than looking someone in the eye and pulling the trigger. Trust me. I've done both. Killing takes a twitch of the finger. Absolution takes several lifetimes

.

Seventeen-year-old Icie's parents have given her $10,000 in cash, a map of a top-secret bunker, and instructions to get there by any means necessary. They have news of an imminent viral attack and know that the bunker is Icie's only hope for survival. Along with three other teens, she lives locked away for months, not knowing what's happening in the outside world or who has survived. And are they safe in the bunker after all?

Generations in the future, a mysterious cult worships the very mountain where Icie's secret bunker was built. They never leave the mountain, they're ruled by a teenager…and they have surprising ties to Icie.

This high-stakes, original, and thought-provoking adventure from Sara Grant follows two unlikely heroes, hundreds of years apart, as they fight to survive.




Hardcover, 400 pages

Expected publication: July 9th 2013 by Little, Brown Books for Young Readers

The sequel to DON'T EXPECT MAGIC! Now that Delaney Collins knows she's a fairy godmother, she's ready to make magic happen. But first, she has to find her next client. And it's not as easy as she thought it would be.Delaney's spending the summer working at Treasures, a secondhand store at the mall, surrounded by cool vintage boots—and potential clients. But when she finally feels a connection with Jeni, a girl who needs a life-changing, happily-ever-after wish . . . Jeni doesn't want her help. And to make matters worse, Delaney finds herself competing with another f.g. Glittery, sparkly Ariella is an uber-f.g., granting wishes with a flick of her lemon candy stick, while Delaney can't seem to make anything happen. Not even a summer romance with her boyfriend, Flynn.It takes more than waving a chopstick to make big wishes come true. But what good is being an f.g. if you can't make the boy you like want to be with you as much as you want to be with him?

Praise for Don't Expect Magic:

"A supernaturally touched rom-com, this is a bright, whimsical romp featuring a suitably sassy heroine with a killer pair of black leather boots . . . excellent comfort reading." —The Bulletin of the Center for Children's Books
 
"Brilliantly timed moments of situational comedy . . . plenty to like in this debut." —Kirkus Reviews

"An enjoyable read with sprinklings of magic." —VOYA



Hardcover, 320 pages

Expected publication: July 9th 2013 by Delacorte Press

Hadley Bishop is a witch. As a descendant of the first woman executed in the Salem witch trials, Hadley understands the consequences if her secret gets out. But witchcraft has come a long way since Salem, and as far Hadley is concerned the past is past. Beauty spells, designer outfits and being in with the popular social crowd is much more her thing! But when the adults from Hadley's coven suddenly vanish, it seems that the past is catching up with the present. All the evidence points to an age-old rival coven as the culprits, and Hadley must lead the young witches of her coven in a fight to avenge their elders and rescue their missing parents. At the same time Hadley is distracted by the mysterious and gorgeous Asher, who seems to have plenty of secrets of his own, not to mention a bit of magic. But whose side is he on? With everything at stake, can Hadley trust her own magic – and her heart – to guide her coven to victory?




Paperback, 320 pages

Expected publication: July 9th 2013 by Simon & Schuster Books for Young Readers (first published November 14th 2011)

After spending the last few months wandering around London–a city filled with the dead–B Smith has given up hope for any sign of normal human existence. But then B finds strange signs all over the city–a "Z" plus red arrows. Following them, B finds The Angels– a group gathered in the hopes of combating the evil dead and the forces that introduced them. But all is not as it seems and it's up to B to find out: what battle are they truly waging?




Hardcover, 160 pages

Expected publication: July 9th 2013 by Little, Brown Books for Young Readers (first published June 1st 2013)

A cross between the Gone series and Lord of the Flies, Quarantine #2: The Saints contunues this frenetically paced and scary young adult series that illustrates just how deadly high school can be.Nothing was worse than being locked in—until they opened the door…

McKinley High has been a battle ground for eighteen months since a virus outbreak led to a military quarantine of the school. When the doors finally open, Will and Lucy will think their nightmare is finished. But they are gravely mistaken.As a new group of teens enters the school and gains popularity, Will and Lucy join new gangs. An epic party on the quad full of real food and drinks, where kids hookup and actually interact with members of other gangs seemed to signal a new, easier existence. Soom after though, the world inside McKinley takes a startling turn for the worse, and Will and Lucy will have to fight harder than ever to survive.

The Saints brings readers back to the dark and deadly halls of McKinley High and the QUARANTINE series.




Hardcover, 400 pages

Expected publication: July 9th 2013 by EgmontUSA

Neryn has finally found the rebel group at Shadowfell, and now her task is to seek out the elusive Guardians, vital to her training as a Caller. These four powerful beings have been increasingly at odds with human kind, and Neryn must prove her worth to them. She desperately needs their help to use her gift without compromising herself or the cause of overthrowing the evil King Keldec.Neryn must journey with the tough and steadfast Tali, who looks on Neryn's love for the double agent Flint as a needless vulnerability. And perhaps it is. What Flint learns from the king will change the battlefield entirely-but in whose favor, no one knows.




Hardcover, 416 pages

Expected publication: July 9th 2013 by Knopf Books for Young Readers

Breathtaking new YA SF from the author of the Faeriewalker seriesSixteen-year-old Nadia Lake comes from a high-class Executive family in the Corporate States. Her marriage has been arranged with the most powerful family in her state, which means she lives a life of privilege but also of public scrutiny, followed everywhere by photographers, every detail of her private life tabloid fodder. But her future is assured, as long as she can maintain her flawless public image — no easy feat when your betrothed is a notorious playboy.Nathan Hayes is the heir of Paxco — controller of the former state of New York, and creator of human replication technology, science that every state and every country in the world would kill to have. Though Nadia and Nate aren't in love, they've grown up close, and they (and the world) are happy enough with their match.

Until Nate turns up dead, and as far as everyone knows, Nadia was the last person to see him alive.

When the new Nate wakes up in the replication tanks, he knows he must have died, but with a memory that only reaches to his last memory backup, he doesn't know what killed him. Together, Nadia and Nate must discover what really happened without revealing the secrets that those who run their world would kill to protect.


Paperback, 368 pages

Expected publication: July 16th 2013 by Tor Teen

When Selena dreams a new boy will come to her small town, she is right, as usual. Only a few people know of her ability to dream the future, and she wants to keep it that way. What she doesn't dream about is his immediate hatred towards her… despite the crazy chemistry that sparks every time they accidentally touch. When Selena finds herself confronted with a creepy situation she quickly learns that there is much more to Dillan than she first thought. And the more she learns about his past—and his present—the more she discovers about her own abilities and how they might be connected much more closely than she had ever imagined.




Paperback, 352 pages

Expected publication: July 16th 2013 by Entangled Teen

Following an all-out battle with the walking Dead, the Spirit Hunters have fled Philadelphia, leaving Eleanor alone to cope with the devastating aftermath. But there's more trouble ahead—the evil necromancer Marcus has returned, and his diabolical advances have Eleanor escaping to Paris to seek the help of Joseph, Jie, and the infuriatingly handsome Daniel once again. When she arrives, however, she finds a whole new darkness lurking in this City of Light. As harrowing events unfold, Eleanor is forced to make a deadly decision that will mean life or death for everyone.




Hardcover, 416 pages

Expected publication: July 23rd 2013 by HarperTeen

Jodi knows that any slip-ups made by the Ophi–a special group of necromancers born under the 13th sign of the zodiac–will fall on her shoulders… and that Hades is just waiting for them to screw up so he can wipe out the Ophi line.Unfortunately, Jodi has only convinced one Ophi to join her school: A hot guy named Chase who jeopardizes her relationship with Alex. Jodi loves Alex, but Chase can enhance her powers with just a touch—making her stronger than any Ophi has ever been.Her mixed emotions send her powers surging out of control, and the dead start rising without her conscious summoning—exactly what Hades doesn't want! If she chooses Alex over Chase, she may lose the battle to Hades, leading the Ophi race to extinction. If she chooses Chase, she might be able to stop Hades for good… but lose everything else.

Jodi needs to figure things out fast–because death is stalking her at every turn.


Paperback, 320 pages

Expected publication: July 23rd 2013 by Spencer Hill Press

A shadowy figure. An intense roar. The sensation of falling—fast.That's all Callum Harris remembers from his tumble over the waterfall. But when he wakes up in a hospital bed and finds his best friend trying to kill him, Callum knows something is seriously wrong. Unfortunately for him, the mysteries are just getting started.Why are his parents acting like he's some big sports star all of a sudden? And why are all the buildings in town more run-down than Callum remembers? Worst of all…what happened to Callum's brother? Either Callum has gone seriously crazy or something happened when he went over the falls. Something impossible. Callum needs answers, and now. Because in this twisted new version of the life Callum knew, his former best friend isn't the only one who wants to see him dead.

Filled with mind-bending suspense and unsettling thrills, Undercurrent is a grippingly paced teen debut that will pull you under and never let go.


Hardcover, 320 pages

Expected publication: July 23rd 2013 by HarperTeen

Wren's world has changed. The thing that she fought for, escaping the dome has come to fruition, but it's not the paradise she thought it would be. Most of the shiners have died, and according to James, she is to blame for many of the deaths, a burden which sits heavy on her shoulders.  Still some have survived and Wren is determined to keep them safe as they fight to establish a home outside while hiding from the rovers who have weapons that can kill  from far away. But as long as she has Pace she knows everything will be fine. Still Wren wonders, as she sees the smoke that continually pours forth from the dome, how did her friends inside fare? Will they ever find out if Lucy, David, Jill and Harry, along with Pace's mother survive the explosions?Meanwhile, someone else has also seen the smoke. A band of explorers from across the sea arrive in an airship, curious about the dome, and offering help to those who survive. When Wren meets the handsome Levi Addison, she suddenly questions her love for Pace as Levi offers to show her the world from his airship. Does she really love Pace? Or was it just the circumstances that made her think she did? Meanwhile, word arrives from inside via Pip, and Wren is forced to go back inside the dome, a thing that terrifies her more than anything else, to save her friends. Once she's back inside will she be able to escape again?A whirlwind of adventure, romance, conspiracy and the struggle to stay alive in a dystopian world where nothing is as it seems




Paperback, 320 pages

Expected publication: July 23rd 2013 by St. Martin's Griffin

In the beginning was the darkness, and in the darkness was a girl, and in the girl was a secret…In the domed city of Yuan, the blind Princess Isra, a Smooth Skin, is raised to be a human sacrifice whose death will ensure her city's vitality. In the desert outside Yuan, Gem, a mutant beast, fights to save his people, the Monstrous, from starvation. Neither dreams that together, they could return balance to both their worlds.Isra wants to help the city's Banished people, second-class citizens despised for possessing Monstrous traits. But after she enlists the aid of her prisoner, Gem, who has been captured while trying to steal Yuan's enchanted roses, she begins to care for him, and to question everything she has been brought up to believe.

As secrets are revealed and Isra's sight, which vanished during her childhood, returned, Isra will have to choose between duty to her people and the beast she has come to love.


Hardcover, 400 pages

Expected publication: July 23rd 2013 by Delacorte Books for Young Readers

After the Contamination—an epidemic caused by the super-trendy diet drink SlimPro that turned ordinary citizens into violent, uncontrollable creatures—the government rounded up the "Connies" to protect the remaining population. Now, two years later, the rehabilitated are being allowed home, complete with shock collars that will either control, or kill, them.Velvet Ellis has struggled to care for her ten-year-old sister since her parents were taken in the round up. When she finds her mother in one of the "Kennels," Velvet resolves to do whatever it takes to put her family back together. But the danger isn't over. It's beginning all over again…Gritty and grabbing, Velvet is a harrowing, emotionally charged novel for fans of Carrie Ryan and The Walking Dead.

—

"Alarmingly realistic and absolutely unputdownable, Velvet will leave you reeling."–Jennifer L. Armentrout, USA Today Bestselling Author

"Relentlessly horrifying. Em Garner will make you fear… everything. Velvet is a bone-chilling, riveting debut." Ann Aguirre, USA Today Bestselling author of Outpost


Hardcover, 336 pages

Expected publication: July 23rd 2013 by EgmontUSA

Here we go again …Just when it seems life at Mythos Academy can't get any more dangerous, the Reapers of Chaos manage to prove me wrong. It was just a typical night at the Library of Antiquities — until a Reaper tried to poison me. The good news is I'm still alive and kicking. The bad news is the Reaper poisoned someone else instead.As Nike's Champion, everyone expects me to lead the charge against the Reapers, even though I'm still hurting over what happened with Spartan warrior Logan Quinn. I've got to get my hands on the antidote fast — otherwise, an innocent person will die. But the only known cure is hidden in some creepy ruins — and the Reapers are sure to be waiting for me there …




Paperback, 400 pages

Expected publication: July 30th 2013 by K-Teen

Some things are permanent.Indelible.And they cannot be changed back.

Joy Malone learns this the night she sees a stranger with all-black eyes across a crowded room—right before the mystery boy tries to cut out her eye. Instead, the wound accidentally marks her as property of Indelible Ink, and this dangerous mistake thrusts Joy into an incomprehensible world—a world of monsters at the window, glowing girls on the doorstep, and a life that will never be the same.

Now, Joy must pretend to be Ink's chosen one—his helper, his love, his something for the foreseeable future…and failure to be convincing means a painful death for them both. Swept into a world of monsters, illusion, immortal honor and revenge, Joy discovers that sometimes, there are no mistakes.

Somewhere between reality and myth lies…

Paperback, 384 pages

Expected publication: July 30th 2013 by Harlequin Teen (first published July 1st 2013)

Love, fate, and power collide in this new series by #1 

New York Times

bestselling author Aprilynne Pike!Tavia Michaels is the sole survivor of the plane crash that killed her parents. When she starts to see strange visions of a boy she's never spoken with in real life, she begins to suspect that there's much about her past that she isn't being told. Tavia will soon discover that she's an Earthbound—someone with the ability to create matter out of nothing—and that she alone holds the key to stopping the Reduciata, an evil society that manipulates global events for its own shadowy purposes. Tavia will ultimately have to make a choice: to come into her powers and save the world from the evil Reduciata or to choose free will and a love of her own.




Hardcover, 352 pages

Expected publication: July 30th 2013 by Razorbill

The first book in an exciting YA trilogy, this is the story of two best friends on the verge of a terrifying divide when they begin to encounter a cast of strange and mythical characters.Set against the lush, magical backdrop of the Pacific Northwest, two inseparable best friends who have grown up like sisters—the charismatic, mercurial, and beautiful Aurora and the devoted, soulful, watchful narrator—find their bond challenged for the first time ever when a mysterious and gifted musician named Jack comes between them. Suddenly, each girl must decide what matters most: friendship, or love. What both girls don't know is that the stakes are even higher than either of them could have imagined. They're not the only ones who have noticed Jack's gift; his music has awakened an ancient evil—and a world both above and below which may not be mythical at all. The real and the mystical; the romantic and the heartbreaking all begin to swirl together, carrying the two on journey that is both enthralling and terrifying.And it's up to the narrator to protect the people she loves—if she can.




Paperback, 240 pages

Expected publication: July 30th 2013 by St. Martin's Griffin

What happens when the reapers come for Kaylee? Don't miss Volume Three of 

New York Times

 bestselling author Rachel Vincent's compelling, spellbinding Soul Screamers series.

IF I DIE

Thanks to her mother's sacrifice, Kaylee Cavanaugh has lived most of her life on borrowed time, but now that borrowed time is almost up. Kaylee has only seven days left to prepare for the end. To say goodbye. And yeah, to stop an incubus from preying on her high school. Tick tock…

BEFORE I WAKE

Dying wasn't easy for Kaylee, but faking life is a whole new kind of struggle. The only good moments are those spent in Tod's arms. But death hasn't stopped her old enemies, and now everyone Kaylee loves is in danger….

NEVER TO SLEEP First time in print!

Sophie Cavanaugh is sick of the social fallout from her cousin Kaylee's mental issues. Doesn't she realize people think "crazy" runs in the family? But then a cute boy, a fateful scream and a trip to a nightmare world leave Sophie wondering just what's real-and how to get home….Soul Screamers… The last thing you hear before you die.




Paperback, 768 pages

Expected publication: July 30th 2013 by Harlequin Teen

"He has been taken. And you are his only chance." 

That wasn't something Jan expected to hear—especially from strangers who'd just rescued her from some mysterious and ferocious creatures. And she really hadn't expected her rescuers to be shape-shifters….

Now it turns out her boyfriend, Tyler, hasn't gone missing, he's been stolen—and Jan's the only one who might be able to get him back.

From Elfland.

Yeah, Jan's pretty sure the entire world's gone crazy. Even if the shifters claim that the naturals (like her) and the supernaturals (like them) belong in this world…but the preternaturals, what humans call elves, don't. And they've found a portal into our world. A doorway they can use to infiltrate, to take, to conquer.

And now Jan's not just Ty's only hope—she's got to rescue humanity, as well….

Paperback, 400 pages

Expected publication: July 30th 2013 by Harlequin Luna
Monthly Must Haves
These are our most anticipated July releases:
| | | | | |
| --- | --- | --- | --- | --- |
| Abigail's Pick | Julia's Pick | Kristina's Pick | Kate's Pick | Chris's Pick |
| | | | | |
What are your must have titles for July? Tell us in the comments.
---
Authors/Publishers: have a book coming out soon?
Request a Review or schedule a visit/giveaway
Please leave a comment if we missed a title and we will update this post.